As it reaches its 20th anniversary in 2023, LinkedIn remains a dominant force in the social media landscape, boasting an impressive user base of 803 million people worldwide. What's even more impressive is that 28% of American adults actively engage with the platform, and a significant portion of them, 22%, log in every single day. The appeal of LinkedIn's business strategies, including how to gain followers on your LinkedIn business page, lies in its unique offering, drawing individuals to the platform for a golden opportunity to enhance their professional networks.
While LinkedIn is commonly used by individuals to maintain connections, seek referrals, and explore job opportunities, businesses can also tap into its immense potential for effective promotion and learn how to gain followers on the LinkedIn business page. It is one of the most common platforms to grow your social media audience. With the right strategies in place, your company can leverage LinkedIn's vast user base and powerful features to reach your target audience and achieve remarkable success in the digital realm.
To help you navigate the ever-evolving world of LinkedIn marketing and learn how to gain followers on your LinkedIn business page, we created this comprehensive LinkedIn business strategy for 2023. This guide provides you with a step-by-step approach to effectively market your company on LinkedIn. From optimizing your company profile to creating engaging content and leveraging LinkedIn's advertising options, we cover everything you need to know to maximize your presence on the platform. Let's dive in and continue reading!
How To Use LinkedIn For Business To Gain Followers
Step 1: Create A Personal Profile On LinkedIn.
This personal profile can then be extended to create a business page. Make sure not to confuse your account with a business account. When creating a LinkedIn company page, here are the steps:
Log in or create a LinkedIn account: If you don't already have an account, sign up for one on the LinkedIn website. We recommend signing up with your work email address.
Let's get started with creating your Page. Once logged in, locate the square icon shaped like a briefcase in the top navigation bar and click on it. On the Work page, scroll down until you see the "Create a Company Page" option on the right-hand side. Click on it.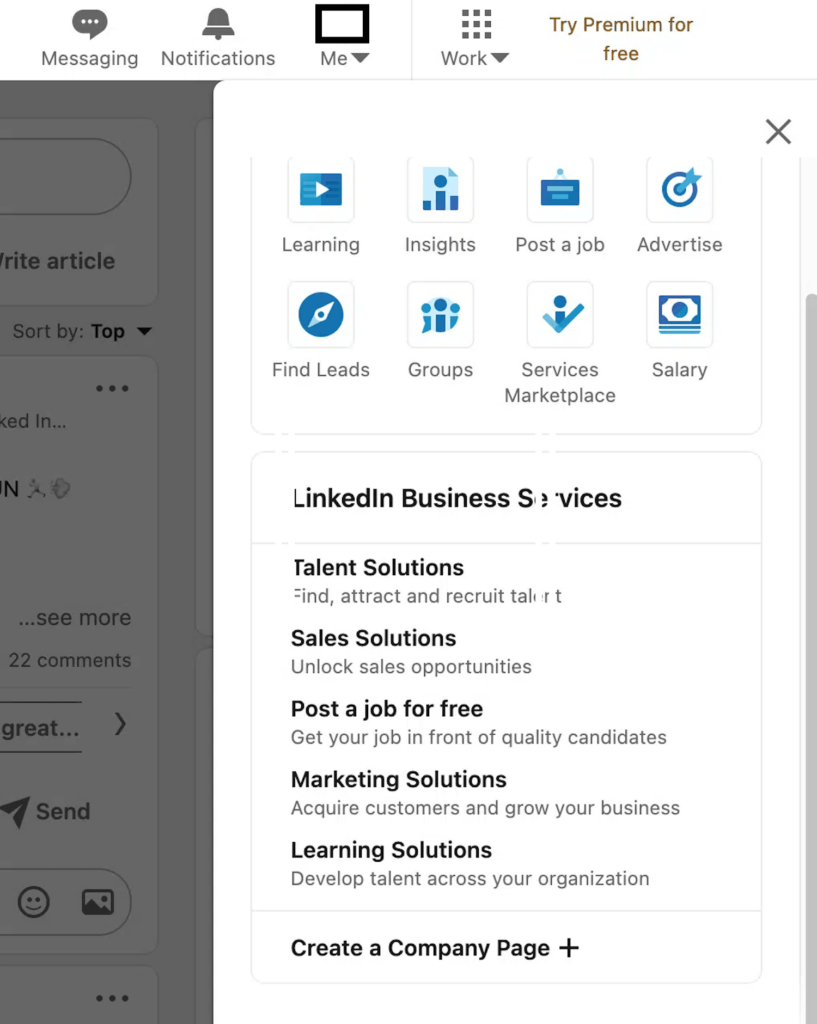 LinkedIn will prompt you to select the appropriate company size that best represents your organization.
Small business
Medium to large business
Showcase page
Educational institution


Enter your company details: Fill in all the required information about your company, including the name, industry, website, description, and company logo. Provide accurate and concise information.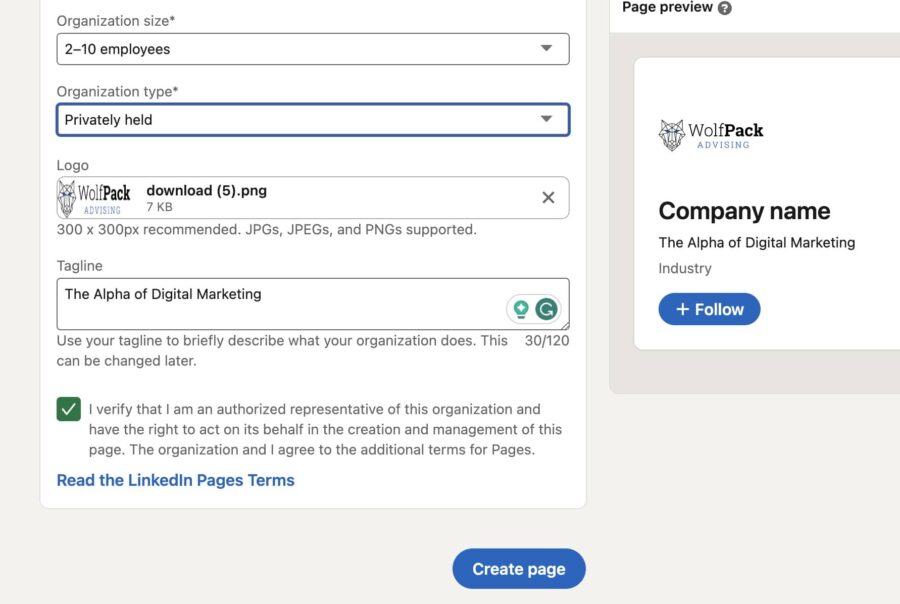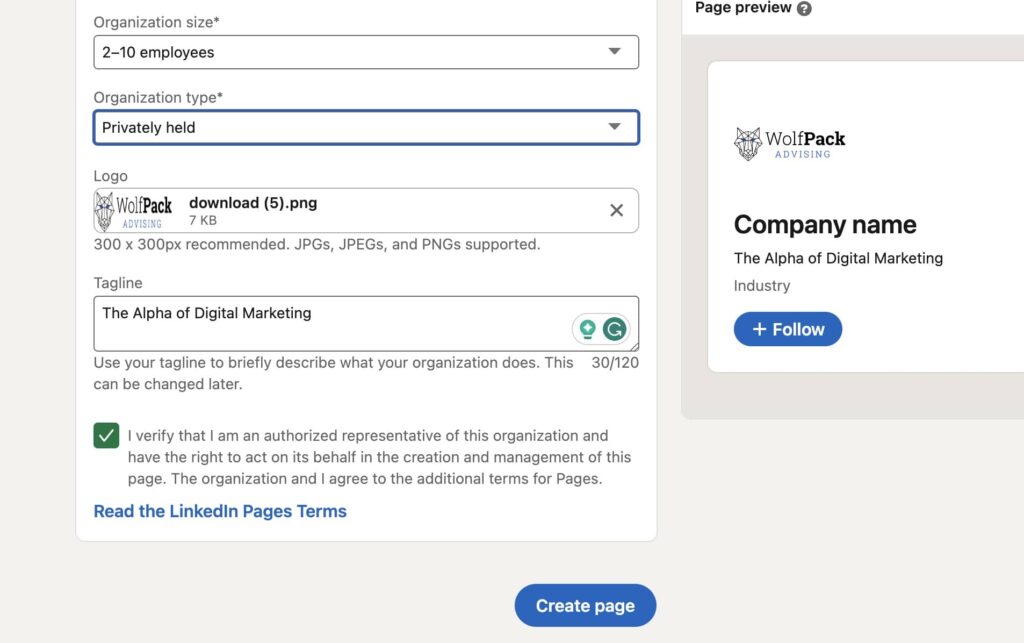 Customize your company page: Once the basic information is filled out, you can further customize your company page by adding a cover photo, showcasing your products/services, and featuring job opportunities. Highlight your company's unique value proposition and make your page visually appealing.
Optimize your company page: Use relevant keywords in your company description and incorporate them naturally throughout your content. This will help improve search visibility and attract the right audience. Avoid keyword stuffing and make sure your content is clear and engaging.
Publish your company page: Review all the information you have provided, ensuring accuracy and professionalism. Once satisfied, click on the "Publish" button to make your company page live.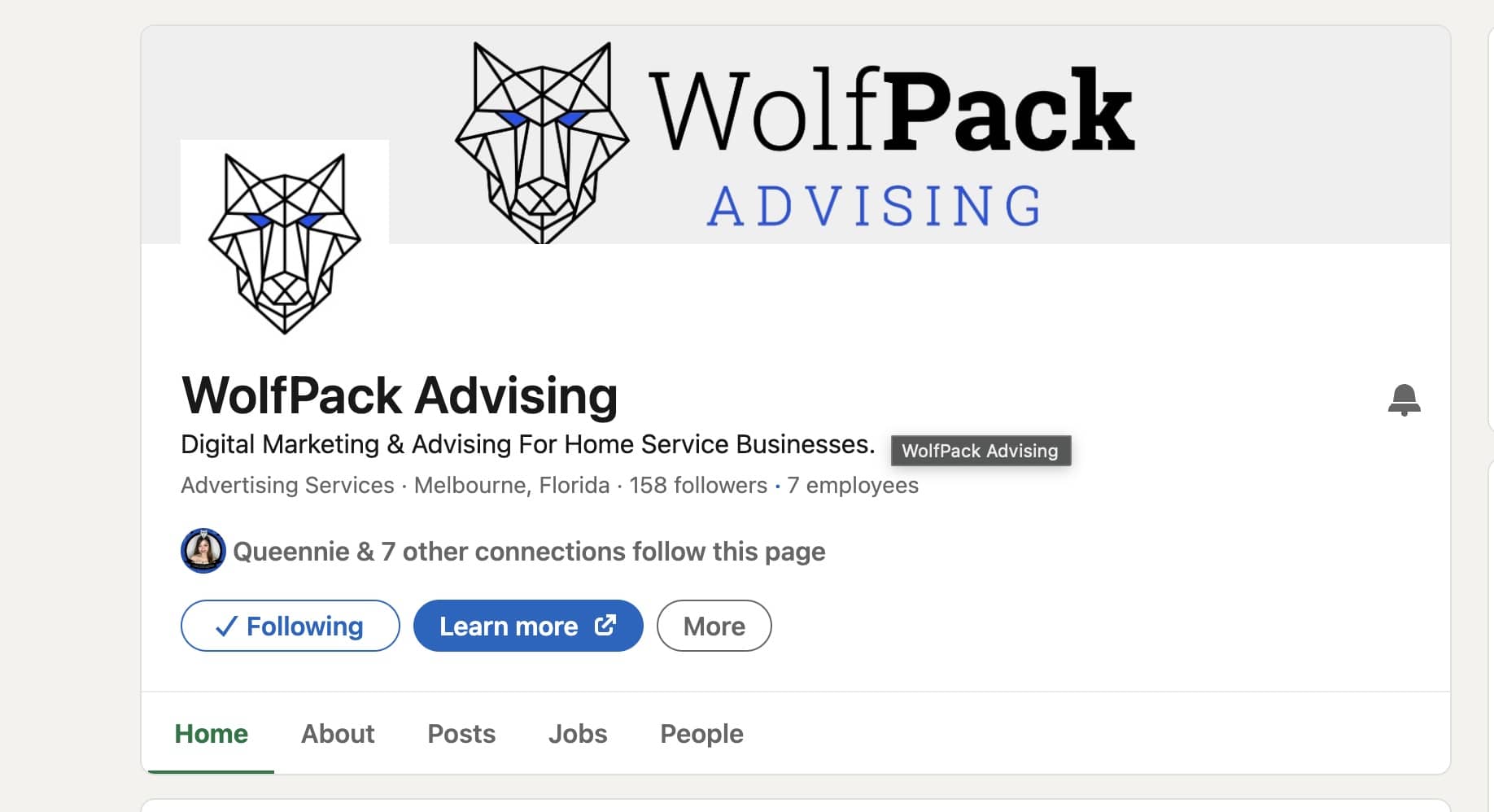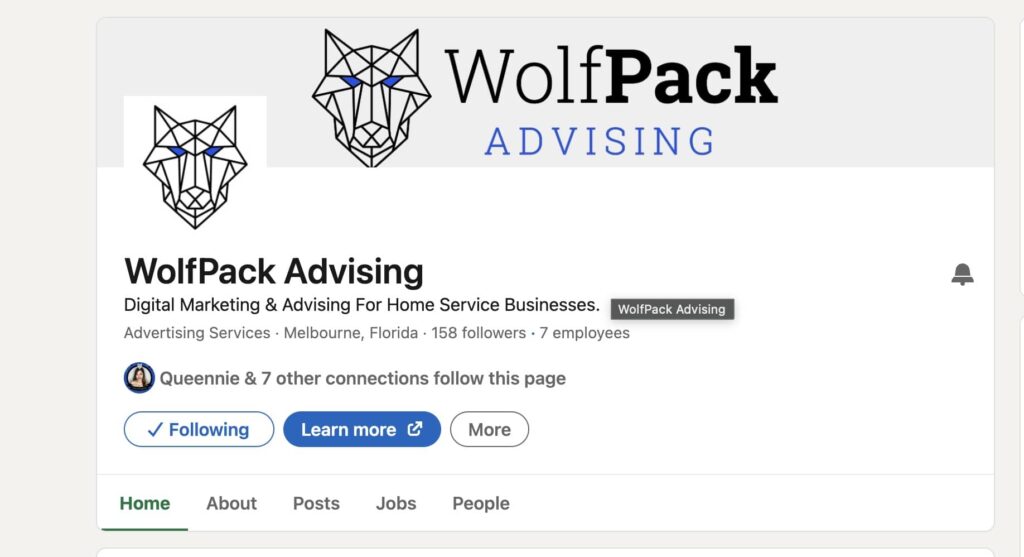 Step 2: Build Your Page Following
Invite Other Employees Of Your Business To Be LinkedIn Admins
Log in to your LinkedIn account and go to your company's LinkedIn page.
Click on the "Admin Tools" dropdown menu located at the top right corner of the page.
Select "Page Admins" from the dropdown menu.
On the "Page Admins" page, click on the "Invite" button located on the right side.

A pop-up window will appear where you can enter the email addresses of the employees you want to invite as admins. You can also customize the message that will be sent along with the invitation.
Once you have entered the email addresses and personalized your message, click on the "Send Invitations" button to send the invites.
LinkedIn Doesn't Allow Businesses To Interact Directly
When considering LinkedIn business strategies and how to gain followers on LinkedIn business page, it's vital to remember that you cannot interact as your business entity, unlike Instagram and Facebook. Your engagements are limited to using your personal profile. This distinction can make it more challenging to hire a marketing agency for handling engagement and interactions, as their employees won't be listed as employees of your business in their LinkedIn Bio.
Establish Connections On LinkedIn By Reaching Out To New Contacts Regularly
To build a strong professional network, it is essential to regularly reach out to new contacts on LinkedIn. By expanding your connections, you open up opportunities for collaborations, job prospects, and knowledge sharing. Approach potential connections who share common career interests or industry affiliations.
Invite Your Existing Connections To Like Your Business Page
Engaging your existing connections on LinkedIn and learning how to gain followers on your LinkedIn business page can greatly benefit your business. Encourage them to like your business page, which not only increases your reach but also establishes credibility. Craft a personalized message highlighting the value your page offers and how it aligns with their interests or needs.
Consistently Post Updates On Your Business Page
Consistently post content on your business page, which can mirror what your business is already doing on Facebook and Instagram. In order to stay relevant and maintain engagement on LinkedIn, posting regular content on your business page is important. Share insightful articles, industry trends, company news, or thought-provoking questions to foster meaningful discussions. Consistency in posting will help demonstrate your expertise and reinforce your brand's presence.
Share Your Business Posts To Your Personal Profile
To enhance your online presence and reach a wider audience, it is beneficial to share your business posts to your personal profile. By doing so, you can leverage your existing network and promote your business.
Present your content in a way that reflects the values and objectives of your business. Avoid using informal or overly casual language, as it may undermine your professional image.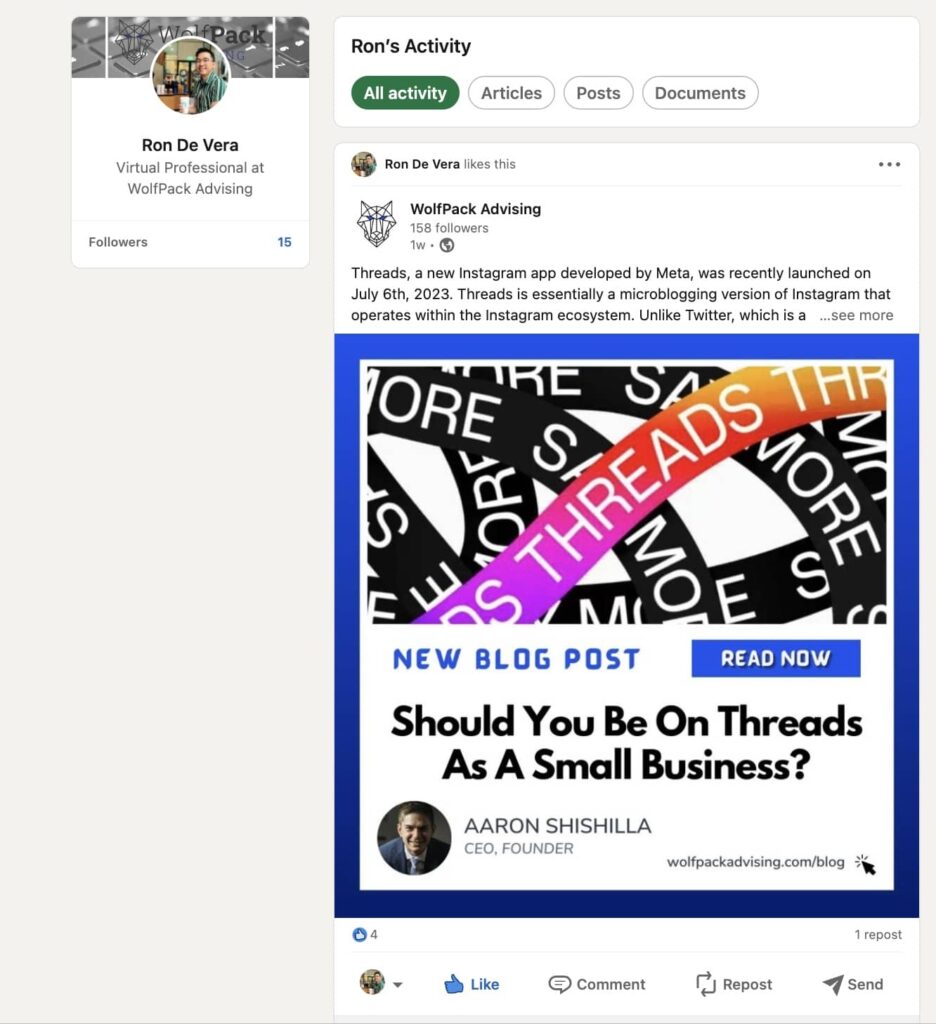 When implementing LinkedIn business strategies, pay attention to proper formatting and markdown techniques to present your posts in a well-organized and visually appealing manner. Incorporate headings, bullet points, and appropriately use bold or italicized text to enhance readability. A visually appealing and well-structured post not only grabs attention but also leaves a positive impression of your business.
Duplicate Your Content On LinkedIn's Newsletter Platform
Social media plays a vital role in inbound marketing. Utilizing the newsletter feature enables you to reach a distinct segment of your LinkedIn followers who may have a preference for this format. Engaging your audience through targeted content distribution fosters stronger connections and enhances your inbound marketing efforts
Additionally, use the newsletter as an opportunity to initiate discussions and encourage feedback from your subscribers. This can lead to valuable insights, foster a sense of community, and even provide inspiration for future content.
Step 3: Utilize Your Personal Profile To Engage With Your Connections
When it comes to LinkedIn business strategies and learning how to gain followers on your LinkedIn business page, connecting with others professionally demands leaving a lasting impression. One powerful approach is leveraging your personal profile, be it on LinkedIn, a professional networking platform, or even within your email signature. Your profile should consistently reflect your professionalism and expertise, ensuring you make a memorable mark on your audience.
First and foremost, ensure that your profile is complete and up-to-date. Include a professional headshot, a concise and compelling summary, and details about your education and work experience. This will establish credibility and help others understand your background.
When selecting your profile photo, strive for high-quality and professional images that prominently showcase your face (around 60% of the frame) to make a lasting impact. Steer clear of filters, busy backgrounds, or group photos that could divert attention. Additionally, be mindful of your attire, as this is a professional network. Choose a distinctive header photo that aligns with your business.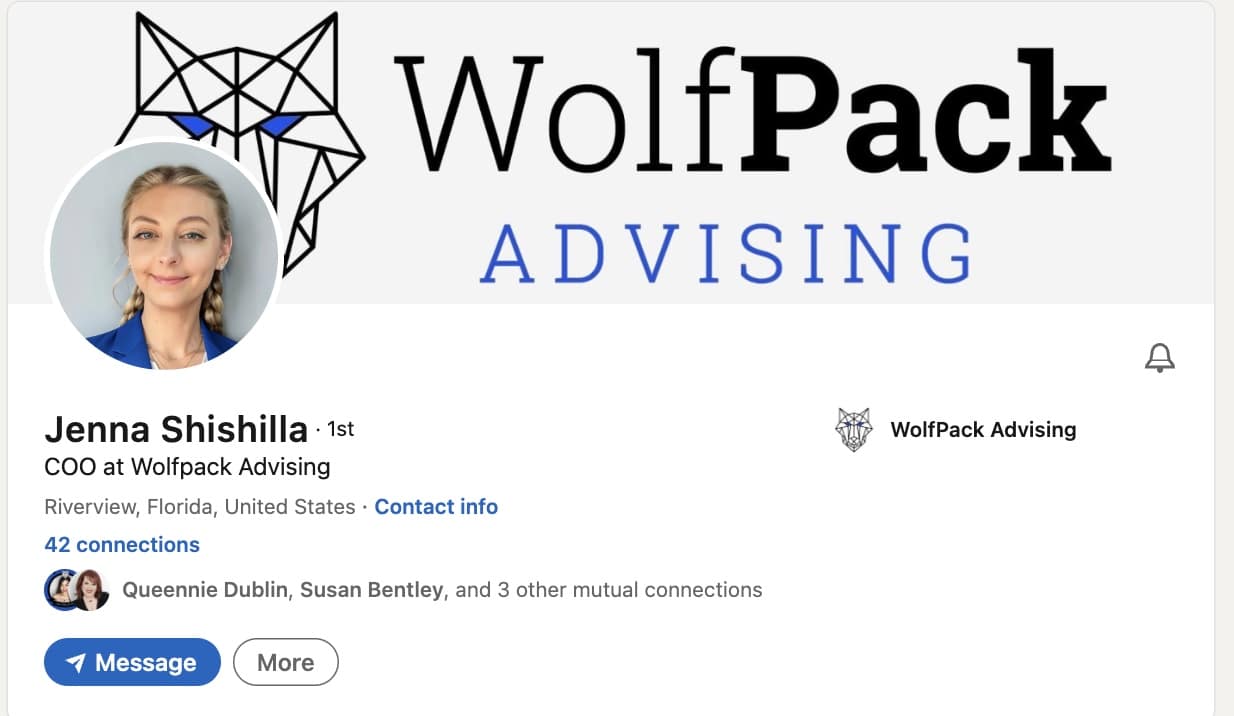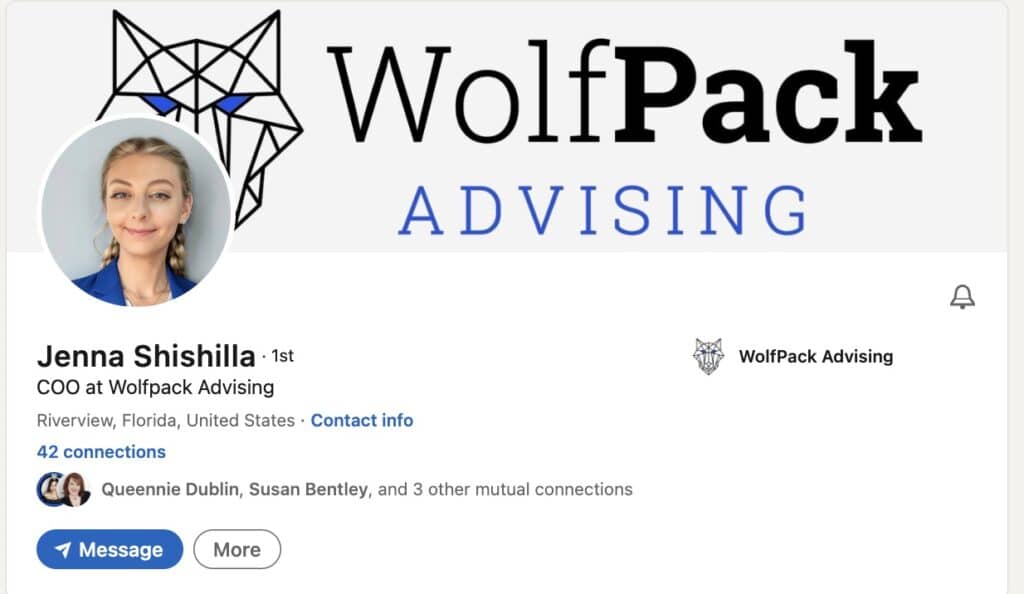 Next, take advantage of the various features and tools available on the platform you are using. Share relevant articles, industry insights, or thought-provoking questions to demonstrate your knowledge and expertise. Engage with your connections by commenting on their posts, offering valuable insights, and initiating conversations. Show genuine interest in their work and accomplishments, and be open to collaboration opportunities when they arise.
Additionally, consider joining professional groups and communities related to your field. Participate actively, contribute ideas, and connect with like-minded professionals. This will not only expand your network but also position you as an engaged and active member of your industry.
Bonus Tip: Integrate 3rd Party Resources
If you're looking to elevate your LinkedIn business strategies, Streamyard emerges as an excellent tool for live streaming, especially once you've achieved a milestone like 130 followers. With its user-friendly interface and powerful features, Streamyard empowers you to engage your audience effectively and broadcast professional-quality live content. Whether you're conducting interviews, hosting webinars, or showcasing your expertise, Streamyard streamlines the process of connecting with your growing community on LinkedIn, taking your live streams to the next level. So, when you hit that 130-follower mark, seize the opportunity to leverage Streamyard and make your live broadcasts truly stand out on this influential business platform.
Conclusion
In conclusion, LinkedIn's immense user base and its emphasis on professional networking make it a valuable platform for individuals and businesses alike, especially when looking to learn how to gain followers on the LinkedIn business page. With the right strategies, businesses can effectively promote themselves and reach their target audience on LinkedIn. Our comprehensive guide for 2023 provides you with step-by-step instructions to create an impressive company page, build a strong following, and engage meaningfully with your connections. By optimizing your personal profile and utilizing the platform's features, you can establish yourself as a credible professional and foster valuable connections. Additionally, consider using Streamyard for live streaming when you reach a milestone like 130 followers, as it can elevate your content and engagement to new heights. Embrace the power of LinkedIn and unlock its full potential for your business's success in the digital age.
Experience an elevated LinkedIn strategy with the expert guidance of Wolfpack Advising's social media specialists. Connect with us and embark on a journey of making meaningful connections, leading to remarkable results today!