If you have stepped into the digital marketing space, you might have heard of the importance of updating your website. In this post, we are going to break down why you should update your website, what it means, and ultimately offer a complete guide to updating a website.
Why Update Your Website
To start, we first must ask the question of why should you update your website in the first place. Well, keeping a website up to date helps in many areas.
First, keeping a website up to date improves web security. Hackers are constantly looking for web vulnerabilities while developers are constantly improving their applications to improve security. Therefore, to protect your site against attackers, you have to update development.
Secondly, updating a website helps keep your site high in search results. SEO optimization does take into consideration the date the content was updated as Google wants to show the latest information on a topic. So, keeping your web info up to date helps improve search results.
Finally, design trends change over time. A website is like your business's virtual office. So, you should aim to keep your office space clean and up to date with modern times. An older-looking website that is not updated to today's design trends gives off a bad impression to site visitors.
What Does Updating Your Website Mean
Now that we have discussed why you should update your website, you might have a good understanding of what it means to update your website. However, updating a website goes much deeper than just changing content, updating software, and making some design changes.
The process of updating a website can really take a lot more preparation and research rather than the actual execution.
Let's take a look at the steps you should take to update a website.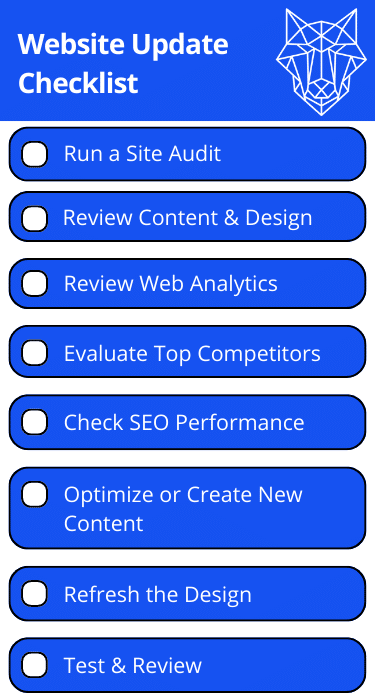 How To Update Your Website In 8 Steps
Here is the complete guide on how to update a website.
Ensure Everything Is Working & Is Up To Date
The first thing you should do to keep a website up to date is check to make sure everything is working as it should be. To do this, review every page. You should be looking at the design, content, images, and links for errors. If you are technical, you can run a site audit to automatically check for errors. Otherwise, refer to a professional to run a site audit for you.
If your website is a WordPress website, which the majority of websites are these days, you will need to update your website theme and plugins. Check the developer documentation for each theme and plugin you have for updates and see when the latest update was. If your plugins or themes have not been updated by the developer in more than a year, more than likely you will need to change plugins and themes as the developer is no longer keeping the code up to date.
A good website hosting service can automatically keep plugins and themes up to date and keep vulnerabilities at bay.
Review Content Structure & Content Design
Next up we have to review the website structure and content design. In our blog post on website organization, you learn that you will need to ensure your website architecture is simple for consumers to use and understand. This just means having the menu structures and content in easy terms as well as, laid out in a simple manner.
Your content design should also be modern, and easy to use. We will touch more on this in the future steps.
If you are looking for a new web design, check out our post on what to look for in a web designer or our web design services.
Review Website Data & Analytics
After reviewing your content structure and design, it's time to look at your website analytics. The most common software to use on this is Google Analytics which is free.
Check the user analytics for all of your pages for any anomalies such as, high bounce rates, low traffic, and poor web performance.
This is a good time to check your website's speed and mobile responsiveness. Check your web speed using GTMetrix, and you can check mobile responsiveness with Google's Test.
You can check more analytics and recommendations for improvement using Google's Search Console.
After using those tools, compile a list of things to edit/update on your website.
Evaluate Top Competitors
Spying on your top competitors can also give you valuable insights into what your website may be lacking.
Check the top competitors' websites in your space and specifically look at how modern their theme is, how their website is structured, and all of the content they have on their site.
Are there areas for improvement on your site in comparison to your competitors?
Review SEO Performance
Next, and the final step is looking at your SEO performance. You can get SEO performance data from Google Analytics and Google Search Console as we had discussed before. However, it also doesn't hurt to do a quick Google search for your key terms to see where you are ranking in search engines.
A more in-depth analysis of your SEO performance might also be useful by a professional SEO agency. At WolfPack, we would be happy to offer a free SEO audit, just schedule a consultation with us.
After reviewing your SEO performance for key terms and signals in Google Analytics and Search Console, make some notes for improvements.
Optimize or Create New Content
Finally, we have the step where you are actually making the necessary content updates. By reviewing your notes from the previous steps, you can begin to update the content structure, plugins, themes, content itself, and make SEO optimizations for your key terms.
While you are making content updates and SEO optimizations, be sure to check your Google Business Profile for optimization opportunities as well.
Refresh The Design
Next to last, we have refresh your web design. This step should be completed if your website needs an update to its theme/design. Redesigning an entire website can be expensive so be sure to budget appropriately as most redesigns start at $1,500, but can increase way beyond that figure.
Test & Review
Finally, in the last step of website updates, we have testing and reviewing. Once you complete all of the steps noted above, test your optimizations and updates for further improvement or errors.
You should also create a reoccurring schedule to review the website analytics and make website updates consistently.
Consider using A/B testing techniques to see that your new updates are being received well by your web visitors.
Start Updating Your Website Today
There you have it! The complete guide to updating a website. If you are struggling to keep your website up to date or have questions, do not be afraid to contact a professional for help.
At WolfPack Advising, we help home service companies with all things digital marketing. We update websites every single month to ensure websites are secure, fast, and up to date with our website hosting plans.
Use this guide to make sure your website stays up to date, is secure, and continues to bring you online leads.