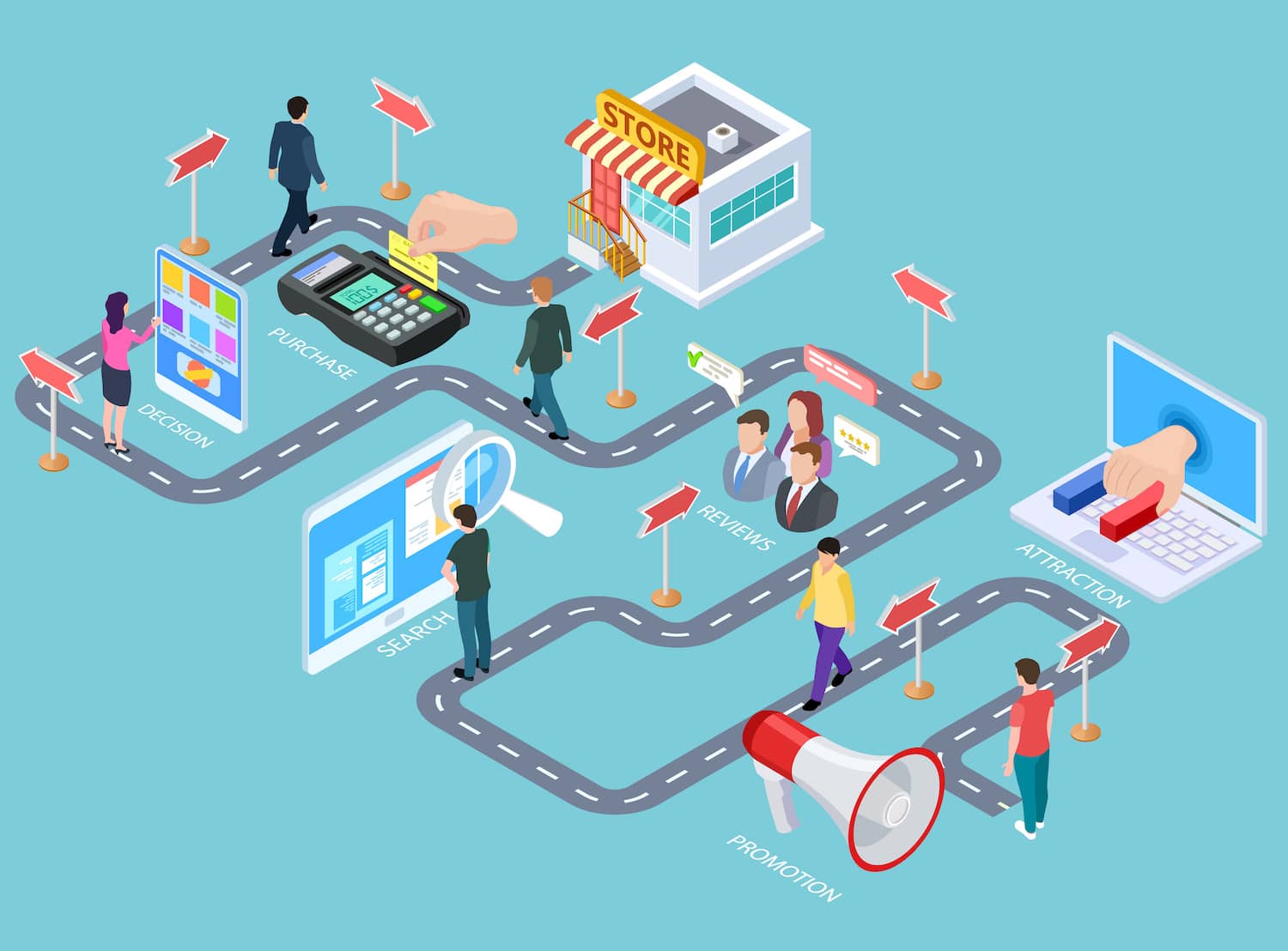 Last updated on February 7th, 2023 at 02:15 pm
Definition: Customer journey management is the process of optimizing a business's interactions with a customer.
Every business looking to expand its operations focuses on the customer. Customer Journey Management is how those companies interact with their customers throughout the customers' lifecycle with the business. This is similar to our digital marketing funnel post, except the customer journey can be non-digital and be outside marketing.
In this post, we will cover the Customer Lifecycle and how you can implement Customer Journey Management within your business.
What Is Customer Journey Management?
As mentioned, customer journey management is the process of optimizing a business's interactions with a customer. These business interactions could be through many means, such as email, SMS, direct mail, phone calls, video calls, social media, and in-person interactions.
Using the mentioned technology and behavioral science, businesses can place well-timed interactions to maximize their relationship and value to a customer. Ultimately, this can boost a customer's lifetime value, the total dollar value to a company over the course of their lifetime.
Customer Journey Management Benefits
Businesses focus on their customer journey to maximize the lifetime value of their customers and improve customer retention, and referrals from past customers.
For example, if a business simply sells a product to a customer without anything else, that typically leads to one transaction. However, with the right customer journey management techniques, businesses can turn that one sale into repeat sales from the same customer, as well as, referral sales.
Here are the main benefits of Customer Journey Management:
Increased Customer Satisfaction – well-timed communications with customers can help get ahead of issues.
More Customer Referrals – with higher customer satisfaction, customers are more likely to recommend your business to others.
Increased Customer Lifetime Value – this could be through upsells, cross-sells, and repeat purchases.
Creating & Optimizing Your Customer Journey Management
Now, let's get into how to create your customer journey management process, and optimize it if you already have one.
First, you need to define your goals and objectives.
Define Goals & Objectives
Before getting started, you should first define your goals and objectives for your customer journey management process.
Here are a few questions to help you get started:
What are your expectations after creating and optimizing your customer journey?
Do you have any specific goals?
Do you have any immediate issues you want to resolve within your customer journey?
Ultimately, your goals and objectives should be S.M.A.R.T. goals (Specific, Measurable, Attainable, Relevant, & Time-Bound) and have well-defined key performance indicators (KPIs).
Here are a few goal ideas:
Increase average customer net promoter score (NPS) rating after 6 months of implementation.
Increase customer lifetime value by 20% after 1 Year.
Increase customer referrals by 10% after 6 months.
After defining your goals and objectives, it's time to start researching.
Research Your Current Customer Journey
To get started, you first need to research your customers' journeys. To do this, consider interviewing a few different customers or simply reviewing how they have interacted with your company over their lifecycle with your business. You should choose customers at random to get a good sample.
When researching your customer journey, pay attention to these key moments with your business:
Discovery – how they discovered your business.
Pre-purchase – what were the interactions like leading up to the purchase decision?
Purchase – what led the customer to purchase, and what were the interactions?
Post-purchase – what post-interactions/experiences did the customer have with your business? Were they positive or negative? If positive, what did your business do? If negative, what happened?
Once you have researched all aspects of your customer's journey with your business, you can begin mapping a new customer journey with key interactions along the way.
An easy way to get additional information on your customer journey from online leads is to review your Google Analytics or Dynamic Call Tracking metrics.
Map Your Customer Journey
When mapping your customer journey, you should pay careful attention to the key moments in a customer's lifecycle with your business. At WolfPack, we like Joey Coleman's Phases of Customer Experience from his book, Never Lose A Customer Again.
Those phases are:
Assess – the customer is deciding if they want to work with you and are assessing your business.
Admit – the customer admits they have a problem your business can resolve.
Affirm – the customer has made a purchase and needs affirmation they made the correct decision.
Activate – the customer realizes their problems are being resolved.
Acclimate – the customer is comfortable with your way of doing business.
Accomplish – the customer achieves their desired outcome.
Adopt – the customer takes ownership of the relationship with the business and wants to strengthen the relationship.
Advocate – the customer refers others to your business.
At each phase of the customer experience, your business should consider interacting to strengthen the customer's experience with that phase in business.
Your business interactions could be from any of the following:
A phone/video call.
A text message.
An email.
A social media follow/interaction.
A physical gift.
An in-person interaction.
Direct mail.
To fully map your customer journey, use a combination of business interactions at each stage/phase of the customer lifecycle.
Implementation
After planning your customer journey map, you can begin implementation. One of the most useful pieces of implementation is using a task management system, marketing automation software, or a customer-relationship management platform. This way, you can automate and track as much as possible.
At WolfPack, we like ClickUp for task management. Your CRM or marketing automation system will depend on your individual business. We specialize in marketing automation software for small businesses.
Learn who needs marketing automation.
Finally, after implementation, we can get into tracking performance and optimizing your customer journey management.
Track Performance & Optimize
The last and one of the most critical pieces are tracking performance and making optimizations. In order to track performance, head back to the goals and objectives you listed from the beginning. Ensure your implementation methods enable you to track your goals and objectives easily.
Then, create a dashboard, like a Google Sheet, that tracks your metrics over time. After a few months, review your dashboard and look for areas of improvement.
Additionally, you can review reporting for individual moments within your customer journey. For example, you might send an email during one of the stages/phases. Are you happy with your open rate on the email? How about the click rate? Ultimately, are your optimizations leading to an effect on your bottom line?
Your customer journey management should be reviewed consistently. Moreover, optimizations should constantly be made in order to continue improving overall customer satisfaction with your business.
Ready To Take Your Customer Journey To The Next Level?
Customer journey management is the process of optimizing a business's interactions with a customer. Now that you know what it is, the benefits, and how to implement it within your business, are you ready to scale your marketing efforts? Let us know how it goes within your company!
At WolfPack Advising, we help businesses set up and optimize their customer management systems. Schedule a consultation today to learn more.