Nearly 50% of Google searches are for local businesses. Google Screening helps businesses who want to advertise with Google for local searches. Google does this by endorsing your advertisement by saying your business is Google Screened and showing a green checkmark next to your ad.
In this post, we are going to cover what Google Screened is, how to do it, and if you should. Let's get started.
What Is Google Screened?
As mentioned above, Google Screened is an endorsement by Google of your local business advertisement. They will endorse companies with a green checkmark that meets certain criteria. According to Google, Google Screened means the following:
Google Screened professionals have passed extensive business checks. The process varies by business category and location and may include background, business registration, insurance, and license checks, and minimum review requirements.

View Source
The Google Screened badge helps builds trust with consumers from your advertisement with Google. Businesses that meet the Google screened criteria could also be eligible for becoming Google Guaranteed. Google Guaranteed businesses have a different checkmark and their services are financially backed by Google (up to $2,000). However, Google Guaranteed businesses are generally available to home service companies while Google Screening is for professional services such as tax accountants.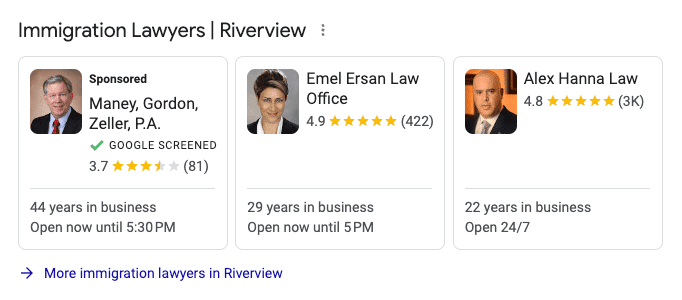 How To Get Google Screened
The screening process is free and available to most professional service businesses such as lawyers.
To get Google Screened, you must first register your Google Business Profile (formerly Google My Business) with Google Local Ads. You will need to have at least 5 reviews on your profile.
Afterward, you must pass the Google Screening and verification process. The requirements vary by business category and location.
Here are a few of the requirements that could be required:
Business owner background check
Submission of business insurance
License Information
Business registration checks
National Provider Identifier (NPI for Healthcare in the US only)
To illustrate, a professional service provider would have to pass a background check and submit insurance information, and license information to pass the Google screening process.
Learn more about running Google Local Ads here.
Should You Get Google Screened?
In short, yes you should! Google Local Services Ads or LSAs have been an extremely profitable way to run an online advertising campaign for many businesses.
For our customers, we see an average of 500% Return on Ad Spend at the time of this writing with LSAs. Comparatively, Google Search Ads have been more expensive over the years since the surge of the pandemic and more businesses began to advertise online.
Google screening also establishes more trust. We have seen many businesses showcase their credibility outside the regular Google Ad, such as on their website.
Just be sure, as, with any advertising strategy, you are running a lead-tracking tool to monitor your leads and performance.
Start Advertising Today With Google Local Service Ads
Google screening or Google Guaranteed is a fantastic advertising strategy for professional service businesses. Start advertising with Google Local Ads today to get Google screened.
If you are looking for professional help with your online advertising strategy, consider scheduling a consultation with WolfPack Advising to boost your profitability from online marketing. We help businesses from various industries and various sizes.