In today's digital age, businesses are constantly seeking effective ways to stand out and build trust among potential customers. One such way is through Google's innovative program known as Google Guaranteed. But what exactly is Google Guaranteed and how much does it cost? How does it work, and is it worth the investment?
In this comprehensive guide, we will delve into these questions and more, providing you with all the information you need about Google Guaranteed. So, with a hot cup of coffee in hand, let's begin our journey into understanding Google Guaranteed!
A Brief Overview Of Google Guaranteed
Google Guaranteed is a certification program launched by Google in 2019. Both Google Screened and Google Guaranteed aim to enhance customer trust, but they differ in terms of coverage. Google Guaranteed focuses on home services businesses and provides a money-back guarantee. On the other hand, Google Screened is tailored for professional services such as law, financial planning, and real estate. It's important not to mix up these two programs, as they cater to distinct business categories.
Checking Google Guaranteed Status
The Google Guaranteed Badge is a green checkmark badge that serves as a visual indicator for businesses that have met Google's eligibility criteria and received certification. This badge appears beneath the names of these businesses in search results or other relevant listings, providing a visual marker for users.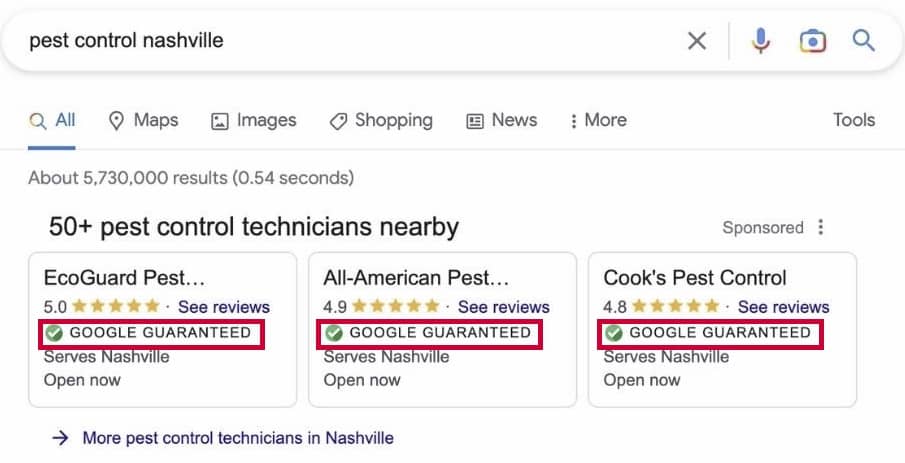 In addition to this, Google also offers an Audio Confirmation feature for voice-activated searches. When customers use services like Google Assistant or Google Home to ask questions instead of typing them on a screen, Google provides an audible confirmation of the business's Google Guaranteed status. This means that users will not only see the badge but also hear an assurance of the guarantee when they interact with a certified business. This feature ensures that users are aware of a business's trusted status even during voice-based interactions.
How Much Does Google Guaranteed Cost Business Owners?
Participating businesses are required to pay a monthly fee of $50 for the Google Guaranteed program, resulting in an annual cost of $600. This fee grants them access to the benefits and features of the program, which helps boost their online visibility and customer trust. This fee is solely for those who aspire to become a Google Guaranteed business. Once you become a part of this program, your profile within the Google My Business listings gets an upgrade, enhancing your online visibility significantly.
In addition to the monthly Google Guaranteed cost, businesses should also consider the additional fees for every lead generated through the program. It is important for businesses to meet specific performance standards set by Google, which include maintaining a high click-through rate (CTR) and having a low complaint rate. Failure to meet these standards may result in potential removal from the program.
Furthermore, the Google Guaranteed cost provides coverage for buyers up to $2,000 with a lifetime cap. This coverage includes various scenarios such as property damage, pricing complaints, responsiveness issues, and cancellations. These specific conditions under which the guarantee can be invoked provide a sense of security for both businesses and customers.
How To Get Google Guaranteed?
Businesses seeking to apply for Google Guaranteed cost can utilize the Google Local Services Ads program. The application process is straightforward – they need to sign up and submit an application. It's essential to note that certification is contingent on service availability in their specific area. To uphold quality and trust, Google conducts a thorough screening and verification procedure for businesses. This involves comprehensive checks encompassing business licenses, insurance coverage, online reviews, and background verifications for both employees and owners.
Upon successful completion of these screening protocols, businesses earn a badge denoting their prequalification by Google. This badge not only bolsters their credibility but also fosters trust among potential customers. In cases where customers express dissatisfaction with the service, Google offers a reimbursement avenue. Customers can file claims with Google, which are meticulously assessed to ensure a just resolution.
Additionally, Google plays an active role in mediating disputes between businesses and customers, ensuring equitable outcomes for all parties involved.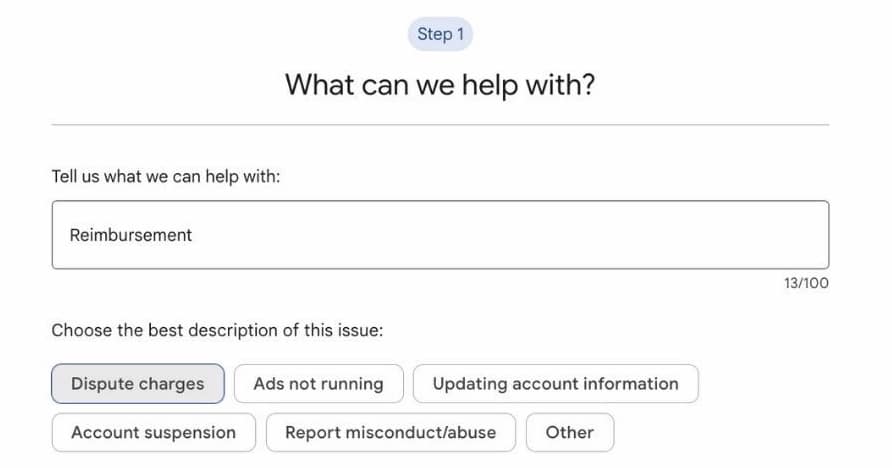 Google-Guaranteed Criteria:
Membership in Google's Local Services Ads (LSA) program.
Possession of an Google Ad account with a PPC advertising budget.
A website with at least one year of existence.
Utilization of Google AdWords and/or Google Analytics for a minimum of one year.
Adherence to Google's policies.
Demonstrated high CTR or conversion rate.
Key Factors to Consider Before Getting Google Guaranteed:
Confirm that your business provides a valuable service or product.
Ensure your content is useful and not solely keyword-driven.
Ascertain the authenticity of your business.
Double-check that your business is free from any fraudulent activities.
Make certain that your website is compatible with mobile devices and has a responsive layout.
Strive for a low bounce rate on Google Search.
Prioritize originality in your website design.
Understanding Google Guaranteed Lifetime Limits
Google Guaranteed Coverage offers a range of benefits for businesses, providing peace of mind to both customers and service providers. However, it's important to understand the lifetime limits associated with this coverage.
Lifetime limits refer to the maximum coverage an eligible business can receive under the Google Guarantee program. These limits are put in place to prevent misuse or abuse of the guarantee, as well as to maintain the program's integrity. The specific limits may vary depending on various factors such as geographical location, industry, and history of claims.
Typically, the lifetime limit for a business is set at an amount that would reasonably cover multiple instances of claims within a certain timeframe. It's essential to note that the lifetime limit applies to all claims made by the same customer, relating to the same issue or service provided. Once the limit is reached, no further coverage can be claimed under the Google Guarantee program for that particular customer and issue.
Lifetime limits serve several purposes: they prevent excessive claims, encourage quality service, and protect the program's sustainability. Understanding these limits is crucial for businesses participating in the program. By adhering to these limits, businesses can efficiently manage customer claims, enhance their service quality, and contribute to the overall success of the program.
What Isn't Covered by Google Guaranteed?
Customers are eligible for coverage under certain conditions. To be eligible, they must have booked the service through Local Services Ads and submit a reimbursement claim within 30 days of the service's completion. You can find all the guidelines for reimbursement here.
However, there are several restrictions on the reimbursement claim. The claim should match the amount on the invoice for the original service, up to the lifetime maximum set by the program. It is important to note that the claim cannot include any additional work, future projects, damages, or cancellations.
Furthermore, dissatisfaction with the price of the service is not considered a valid reason for a refund. This policy primarily aims to address issues related to the quality of service rather than pricing disputes.
Is Getting "Google Guaranteed" Worth It?
The Google Guaranteed Cost program offers businesses enhanced credibility in search results, indicated by a green badge on their profile. This accreditation can attract more customers and boost sales. The program also provides a safety net for unsatisfied customers, offering reimbursements of up to $2,000 if the business is found at fault.
Claims can be easily submitted online and are typically processed within six weeks. Businesses can also earn referral bonuses for bringing in new customers. To qualify for a refund, claims must relate to misrepresented services and be filed within 30 days from the completion of the service.
Google Guaranteed aims to simplify the search for local services, making it easier for users to find reliable businesses. However, there are limitations, including a maximum of three link variations in listings and a risk of badge suspension for irrelevant links. Despite these, the Google Guaranteed badge can significantly improve online presence and increase sales, making it a valuable consideration for businesses looking to expand their reach and reputation.
The Verdict
The Google Guaranteed program is an invaluable asset for businesses. It offers a reliable and trustworthy solution that significantly enhances a business's online presence and credibility. Investing in this program is absolutely worthwhile.
In the ever-evolving landscape of digital marketing, maintaining relevance is key to a business's success. This is where Google Guaranteed comes into play. It provides an effective way to stay relevant by boosting a business's visibility and reputation online. By becoming Google Guaranteed, businesses can distinguish themselves from their competitors and attract more potential customers.
Moreover, businesses can greatly benefit from Google Guaranteed in conjunction with local SEO strategies. Local SEO helps businesses promote their products and services to local customers at the exact time they're looking for them online. When combined with the trust and credibility offered by the Google Guaranteed badge, it can lead to increased visibility, higher traffic, and ultimately, more sales.
Learn more about how Local SEO can help your business.
Signing Up for Google Guaranteed
To sign up for Google Guaranteed, local service businesses must follow a series of steps. Here is a breakdown of the process:
Create Your Google My Business Listing
If you don't already have a Google My Business listing, it's time to get one. This is an essential step for any business looking to increase their online visibility. The verification process involves receiving a postcard from Google with a unique code or verifying through a video call or live video chat.
Visit the Local Services Ads Page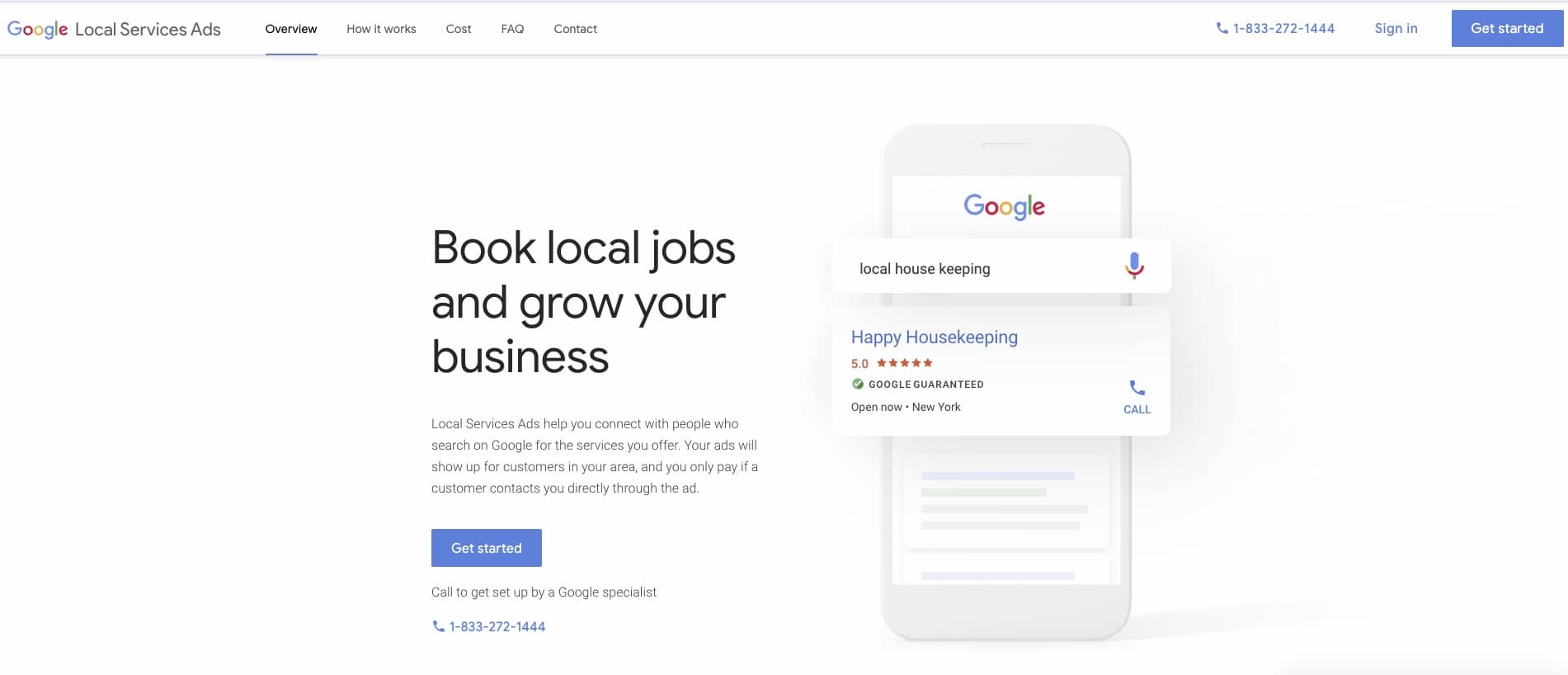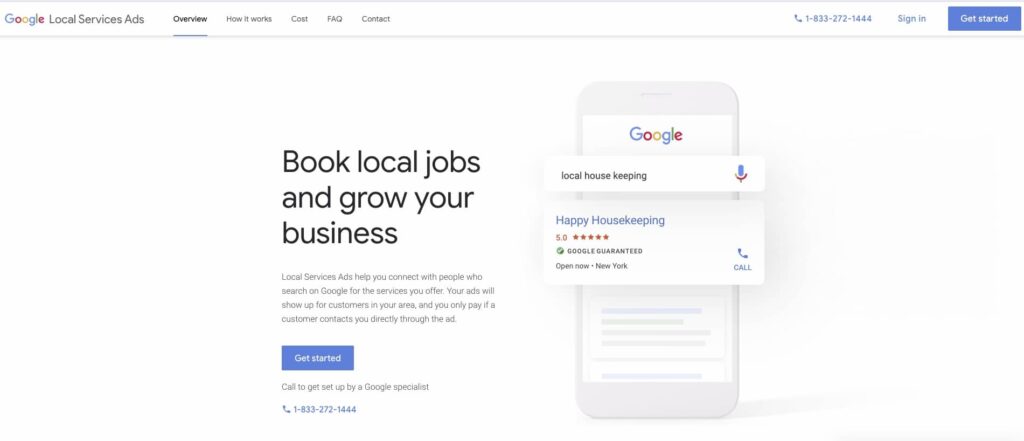 Next, navigate to ads.google.com/local-services-ads. Here, you'll find the "Get Started" option in the top right corner of the page. Clicking this will begin your journey toward creating effective local service ads.
Check Eligibility
To ensure that your business qualifies for local service ads, enter your postal code and select your job category. After providing this information, click "Check Eligibility." Google will then determine if your business meets the necessary criteria.
Eligibility for This Program
However, not all businesses will be eligible to participate in this program. Google Guaranteed requirements vary by country. Unsure about your business eligibility? Here is a complete list of eligible business categories.
Provide Your Email
In this step, add your email address and click "Next" to proceed. This email will be used for all communication regarding your local services ads, so make sure it's one you check regularly.
Business Information
Fill in the relevant business details to make it easy for users to contact you. This includes your business name, address, and contact information. While you can start with just a phone number, it's advisable to include your website for additional information. This allows potential customers to learn more about your business.
Set Up Service Areas
Define your service areas by specifying the locations where you offer your services. Additionally, select the services you provide and add your service times. This information helps Google direct relevant customer queries to your business. Once you've completed these steps, your profile will be up and running.
Obtain the Google Guarantee Badge
The Google Guarantee badge is a symbol of trust and credibility. To earn this prestigious badge, you'll need to provide further details and necessary documents through the "Business Verification" tab. This may include proof of licensing and insurance, depending on your business type.
By following these steps, you can establish a strong online presence and enhance your credibility on Google, making it easier for potential customers to find and trust your business.
Conclusion
In conclusion, Google Guaranteed is a powerful tool for local service businesses looking to build trust and increase visibility among potential customers. By undergoing a rigorous screening process and meeting Google's high standards, businesses can earn the coveted Google Guaranteed badge, which serves as a mark of credibility.
Participating in the Google Guaranteed program, utilizing Local Services Ads, and implementing Local SEO can greatly enhance a business's online presence and customer conversions. As always, it's important for each business to carefully consider its specific circumstances and goals before deciding to participate.
If you're looking to maximize your online marketing efforts and expand your customer base, we are here to help. We conduct thorough audits, perform keyword research, optimize on-page elements, build quality backlinks, and regularly track and analyze performance metrics.
Don't hesitate to reach out to us. Get a proposal from WolfPack today!