According to MD Connect, "61 percent of people compare at least two offices before making an appointment." This goes to show that ranking highly on search engines and making a good digital impression is imperative for doctors. But this requires strategic planning to take place. Let's check out some 'must-do's for SEO for doctors to help your business rank highly in 2023, as well as some practices to avoid.
What is SEO for Doctors?
Search Engine Optimization, aka SEO, is a strategy to help your medical practice be more easily found online. SEO can include multiple layers such as content creation, on-page SEO optimization, Local SEO optimization, and technical SEO audits.
Content writing, or blogging, helps drive traffic to your website as well as, builds backlinks from other sites to yours. Search engines and consumers are more likely to trust you if you provide accurate information for free via blogs.
On-Page Optimization reviews your web pages and optimizes pages for specific search keywords your business would want to be found for.
Local SEO might include profile optimization (such as Google My Business), citation management, and review management. It is important to have your NAP information (business name, address, and phone number) listed correctly and easily available. Prospective customers will move on and select a complexity if they have to dig to find your information. Once your business info is found, reviews can help to show your office in a positive way by highlighting happy customers.
Finally, technical site auditing is the practice of auditing a website for technical SEO errors and making improvements to the site structure or code.
Why is SEO for Doctors Necessary?
A lot of times, when an individual is searching for a doctor's office, it can feel like a chore. When looking we want to find a quality candidate, make an appointment, and go on with our day. According to Backlinko, "The top three Google search results get 54.4% of all clicks." It is extremely unlikely to rank within the top three search results without strategic SEO in place. Without SEO for doctors, you can miss out on many potential leads.
SEO for Doctors – Must Do's
Let's check out some strategies to implement to rank your medical practice more highly on search engines!
Optimize and Update Your Website
Remember, more content isn't always better. Assess the current state of your website before adding new content. Your website should be fully updated. This includes all plugins, PHP, themes, and content. We recommend getting into a routine of updating your website weekly and completing an audit about once a month. Keeping your site up to date can help improve site security, speed, and overall online presence. Moreover, adding new strategic content gives your site more chances to appear in search engines.
Some web hosting providers will check and update your website themes and plugins routinely. This would be one reason to select a more premium hosting provider for doctors.
Learn more about how to update your website.
Use Google Business Profile, Facebook, & Yelp Reviews
If you are a medical practice, in order to be found well locally, you need to have great online reviews. The most popular review platforms are Google Business Profiles, Facebook, & Yelp. Focus on getting the most 5-star reviews as you can on those platforms. Your business information on those platforms should also be complete and accurate. The majority of individuals shopping for a doctor will look for offices with the most five-star reviews in their area.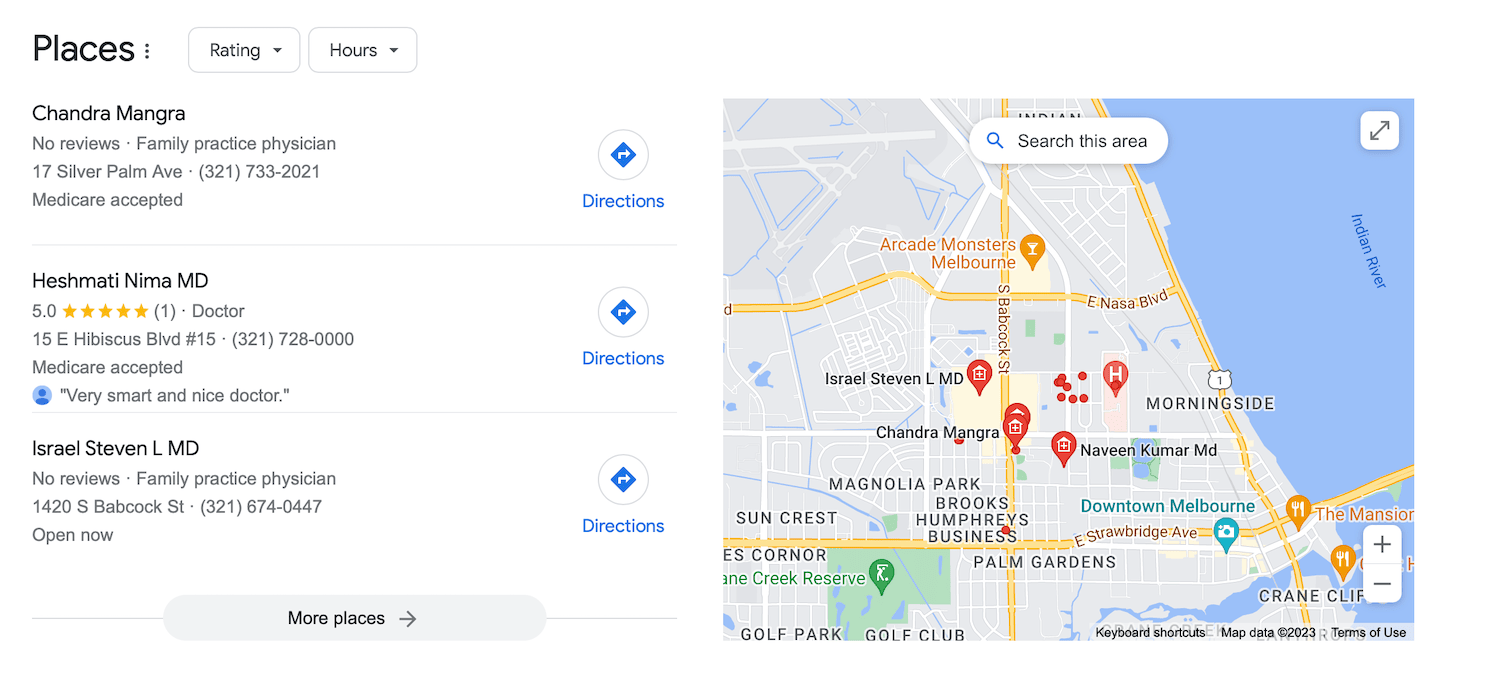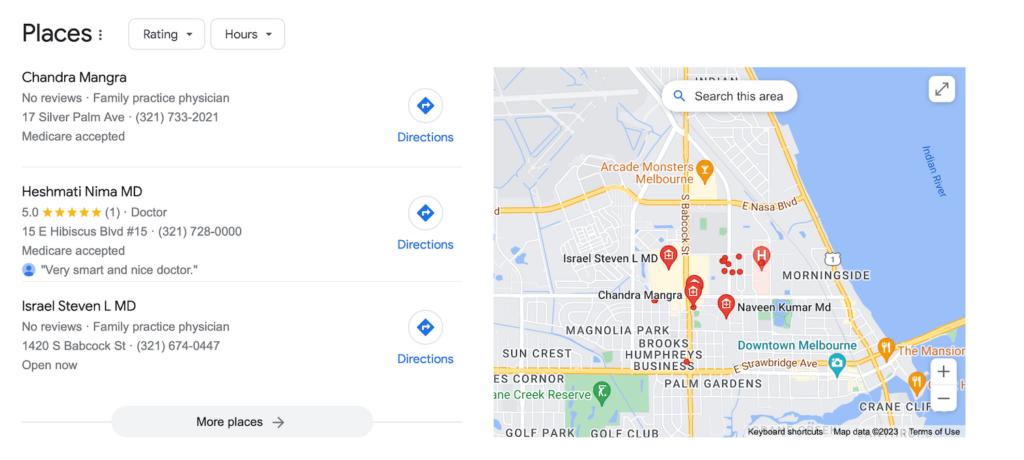 To get the most out of Local SEO, consider signing up with a Local SEO plan.
Informative Content Writing
Blogging is helpful for doctors because the average individual does not have extensive knowledge of healthcare and will need guidance. How can they find help? Online! They can find informational blogs if they have questions they want to be answered. They can also find ways to contact you if they have further questions. The first way to gain traffic to your business online is to attract prospects with valuable information. Here is how you can do that!
First, you can focus your efforts on answering the questions your target audience has. This included individuals who may not exactly be ready to hire you just yet. For example, try targeting keywords and questions of individuals looking for healthcare guidance. Here are a few examples.
Ways to treat a headache?
Should I visit an ER or my doctor for a sprained ankle?
What symptoms are flu and not cold-related?
Targeting these questions can give your site authority with Google and Bing. It can also help you gain the trust of those who come in contact with your site such as potential customers. If you give consumers correct and digestible information for free, they are likely to want to return to you when they need assistance with a more complex problem.
After you have conducted some keyword research, you can begin to optimize your website and web pages for those keywords. To do this, you should optimize the following around your keyword:
Image Title
Image Alternative Tags
Keyword in body text
Page Title
HTML heading tags
Meta-description
Taking on Search Engine Optimization can be a large undertaking and very time-consuming. Consider hiring an SEO agency for doctors to help with the process.
Conduct Keyword Research
Next, you can do is focus on improving your business's search engine optimization (SEO). You can conduct keyword research and find out what your target consumer or audience is searching for. Knowing what prospects are looking for can help you publish content aligned with high-traffic searches.
For example, if you are a doctor in Melbourne, FL, you want to target keywords such as…
Pediatricians Near Me
Check Up for Adults Melbourne, FL
Top Rated Medical Practices in Florida
To learn more about search engine optimization, check out our SEO blog category.
Use Tools To Track SEO Analytics
Don't enter into the SEO space blindly. SEO takes time. If you waste time on SEO strategies without assessing your starting point as well as your progress, you will not see the full benefit You should also get into a routine of tracking your website analytics. We recommend using Google Analytics and Google Search Console.
If you are looking for user insights and trends such as how people are finding your website we suggest Google Analytics. IT can also tell you how long visitors are staying, and which pages are most visited.
Google Search Console is a critical platform for seeing how your website is performing on search engines or where you can make improvements. Search Console has insights like page speed, user experience scores, top keywords, and more.
SEO for Doctors – Don'ts
Now that you know what you can do to improve your search result rankings, let's look at what should be avoided.
Don't Give Up Too Soon
Search engine optimization does take a while, and it's for a good reason. If SEO was easy and did not take a while, everyone would be doing it. Many companies quit SEO after two months or three of SEO, but in reality, it can take anywhere from six months to a year to see results. If you pause your SEO, it could allow competitors to surpass you in rankings. Stick out your SEO strategy and know that the longer you push further into your SEO journey the less amount of competition you have in the long run.
Don't Plagiarize from Other Sites
Copying content or using someone else's content in any way will not help boost your website's SEO performance, in fact, it may do the opposite. Search engines boost original and authoritative content. In order to rank highly write about something that you are a knowledgeable source in.
Don't Use Black Hat SEO Strategies
Don't try to stuff keywords (plug them in excessively) or pay for backlinks. There are no 'easy and quick' ways to improve your online presence. Trying to take shortcuts can prolong the process as your site gets flagged by search engines.
Doing SEO the right way involves doing many things right over a prolonged period of time. Any SEO company that promises results in a few weeks is not reliable and is most likely using improper methods such as paying for links.
Always refer back to Google's Search Essentials for questions if something seems suspicious.
Conclusion
If you own a medical practice and are considering SEO to support your business growth strategy, use these tips to improve your search engine rankings. Lastly, consider hiring an SEO agency for doctors to assist you through the process.