Last updated on March 24th, 2023 at 10:47 pm
Marketing has evolved over the last 20 plus years from calling potential customers from a list to faxing unsolicited information. It was also newspaper ads, billboards, and tv and radio. This also continued with the introduction of the internet in the 1980s but the creation of Netscape in 1994 began to introduce many strategies that have evolved today.
Slowly, many businesses began to realize that the internet and digital marketing were the way to go. The late 1990s saw the introduction of Google, AOL, and Yahoo. This takes us to the development of the digital marketing funnel and changes each year to now 2022. Let's take a look at what this means and how it can help your business grow!
What is the Digital Marketing Funnel
It is a marketing strategy that outlines the journey of a customer from when the brand is introduced to the end step of purchasing the product or service. This process starts with sending the customer to the site, nurturing the customer with relevant content marketing, and then converting them into a customer where they are buying your product.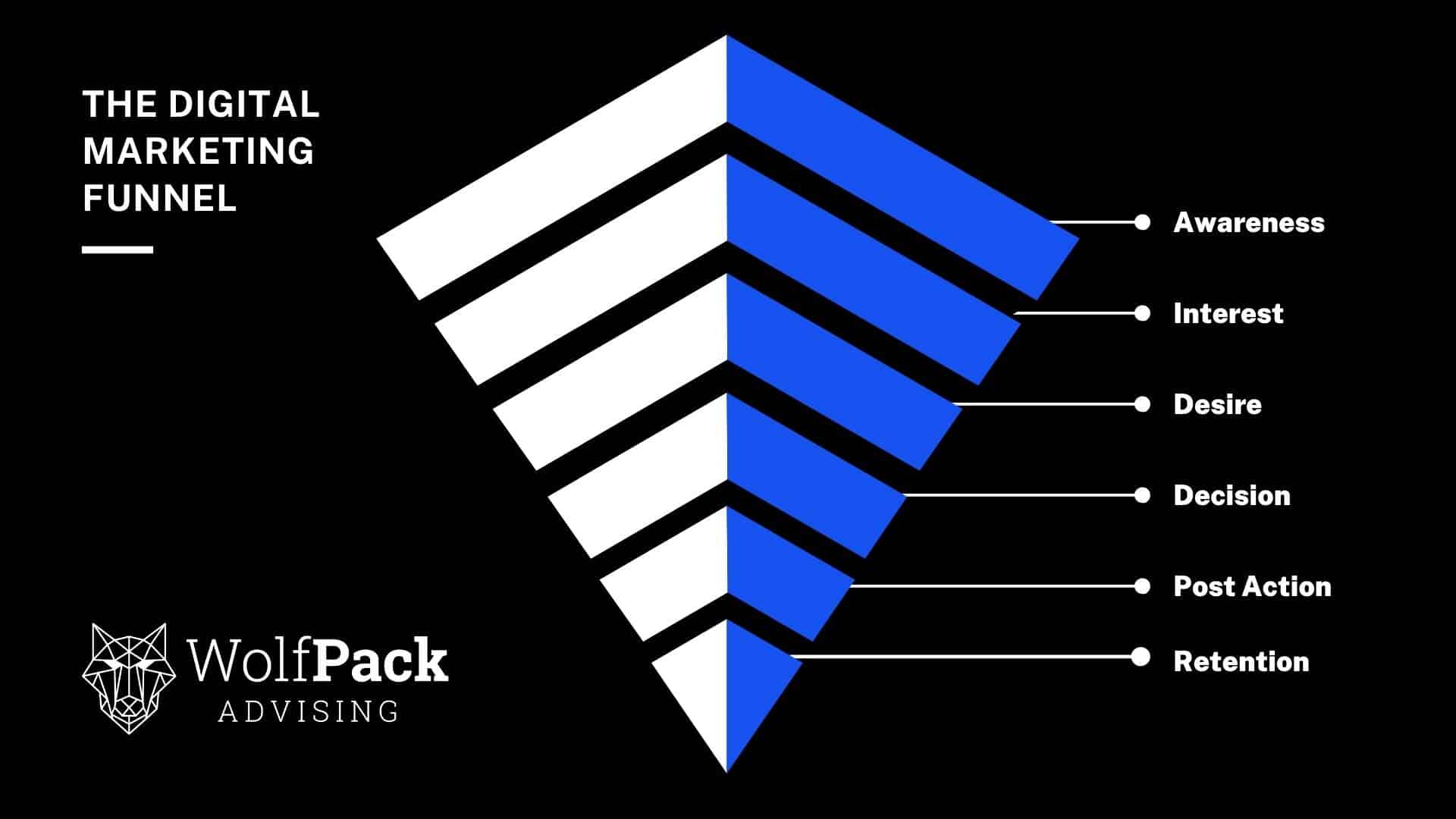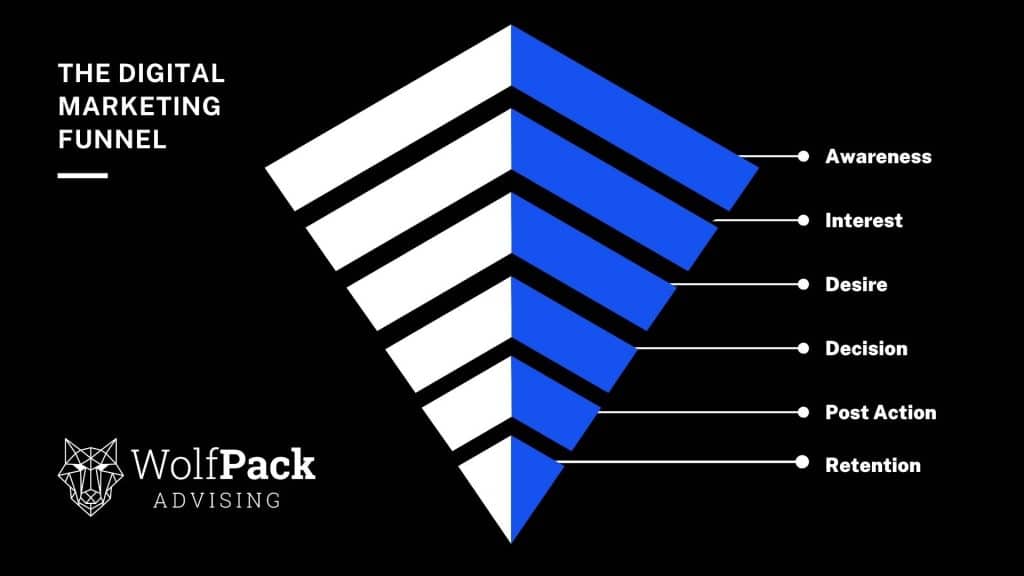 The Funnel Explained
1. Awareness
This is the first stage and the top of the funnel and where the potential customer doesn't know yet that they need your product. Sometimes this is done via broadcast channels. Also, this allows the potential customer to realize that the product is something needed.
Different digital marketing strategies that increase awareness:
Social media and display ads
Blogging
Video marketing
2. Interest
In the next stage of the funnel, a customer knows what the problem is and has an interest in buying a product or service to solve this problem. However, they are needing more information as they are not ready to buy just yet. This is where you want to offer solutions for their problems.
Here's how to increase interest:
Social media marketing and platforms such as: Facebook, Nextdoor, Instagram, Pinterest, and YouTube
Webinars
PR Campaign
3. Desire
In this middle of the funnel stage, the customer already has an interest and wants the product or service. However, they may be doing more research, checking out the competition, and comparing what each company offers.
How to increase desire for your company:
Social channels
Paid Search Ads
Positive customer reviews
Case studies
Video testimonials
4. Decision
The decision stage is when the customer knows the product they want to buy and has a small list of companies they have narrowed down to buy the product. Hopefully in this stage, this is where you see the conversion rate increase from the potential customer to a customer.
How to increase conversion rates:
Put ads on the branded keywords for your competitors
Templates that are downloadable
Upgrades In content
Free consultations
Landing pages
Always test your landing pages and track conversion rates overtime
5. Post Action
Yay, you have the sale! Now what? You want this existing customer to be a repeat buyer so make sure you show how much you value them.
How to have excellent post-action strategies:
Email Marketing/Marketing Automation

Verify the purchase

How to guides
6. Retention
This is the bottom of the funnel and where you want to keep the customer. This will cost you less than when you were pursuing them, but will still require effort. Having them feel valued like in number 5 will help them become a repeat customer and buy again from you.
How to do this:
upselling
email marketing
targeting campaigns
Our marketing automation services, help boost client retention and company revenue after the initial sale.
Why You Need the Digital Marketing Funnel
The digital marketing funnel is important for helping you understand the target audience. It gives you a plethora of opportunities and chances to connect with the prospective customer, at a time convenient for them and the platform where they feel the most comfortable.
Then, this allows you to tell them why your brand is amazing, gives them brand awareness, and you have a direct conversation with the potential customer. Thus, allowing you to build trust and hopefully secure them as a customer.
Knowing the audience allows you to create content that is personalized for this potential customer. It is also based on the stage that the customer is on in the journey. A funnel that is set up properly will allow you to give the personalized service the potential customer is looking for and you will see a higher return on your investment.
Why is the Funnel Concept Important?
You want to make sure that the marketing actions you have chosen will be useful for your audience throughout the whole journey of the buyer.
Then, the work of the lead generation is more efficient and your team receives qualified leads thus making the conversion rate better. When you utilize the funnel concept correctly, you become closer to the potential customer. Also, the team feels good because the content is focused on the audience and they feel like it is not wasted time or resources.
Lastly, when you also are a part of the customer's journey, you can urge them to move to the next stage and make better use of the company's resources and time.
How to Create Your Own Digital Marketing Funnel in 2022
1. Content and advertising campaign
When the customer is searching for their problem, you want to be at the top of the results they find. This can be done by:
Creating Blog Posts – the blogs will be relevant to what the customer is looking for and your company.
SEO Optimization – SEO will be a good investment and you can hire a company to do this for you.
Social Media Platforms – invest in your online profiles for Facebook, YouTube, Instagram, and Pinterest. You can also consider social media advertising.
Email Marketing – you can attract an audience if you give offers. Email marketing can be e-books, free trials, case studies, cheat sheets, etc.
2. Landing Page
When you place an ad, you want to make sure the landing page on your website is optimized so it is customer-friendly. The page should be clear about the offer you are giving to customers and also have eye-catching visuals that are easy to understand. Additionally, there should be a form the customer can fill out for contact information so you can follow up later after they have visited your website.
Another great suggestion for your landing page is to add testimonials and security badges. This allows people to feel your company is safe, legitimate, and offers good products or services. Lastly, adding a "Buy Now" or "Subscribe to Newsletter" call to action is a great addition to making it clear what you want the customer to do.
At WolfPack, we like also like to remove header and footer navigation so users cannot navigate away from the page and incentivize the conversion.
3. Available to the Audience (Customer Care)
Even when it is after hours, you need customer care. Using a chatbot to react to questions a customer may have is one idea. Another idea is creating a FAQ section on the site. You want the customer to have a good experience. If you are a big brand, you may have employees working day or night shifts, allowing customers from all over to be able to contact you when it is convenient for them.
In this new era, when the consumers have many options available to them on the table, you must focus on creating a strong brand presence and brand value that would help you distinguish yourself in this competitive atmosphere. 
4. Brand Recall
Your brand needs to be known and needs to be out there to the consumers. However, also showing that you understand what the consumer's needs are and that you care for them is important. This can be done by SEO and content marketing, as mentioned above.
Also, as we mentioned earlier, testimonials show you are trustworthy. Additionally, adding to a strong social media presence is helpful so consumers can see that what you have to offer will meet their needs.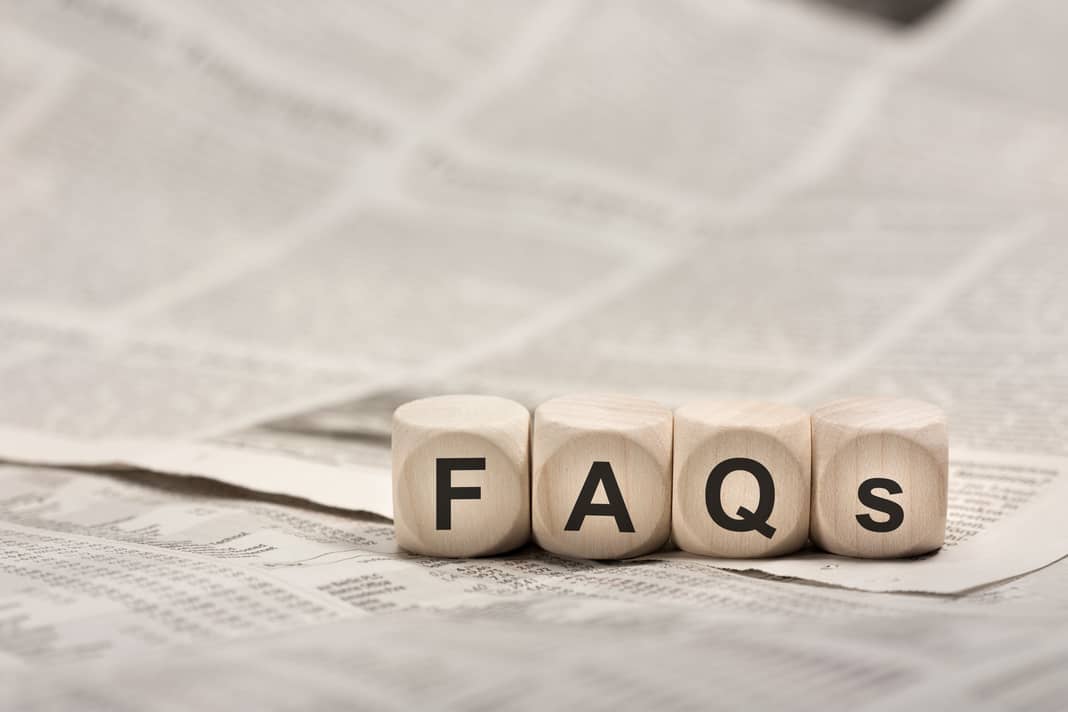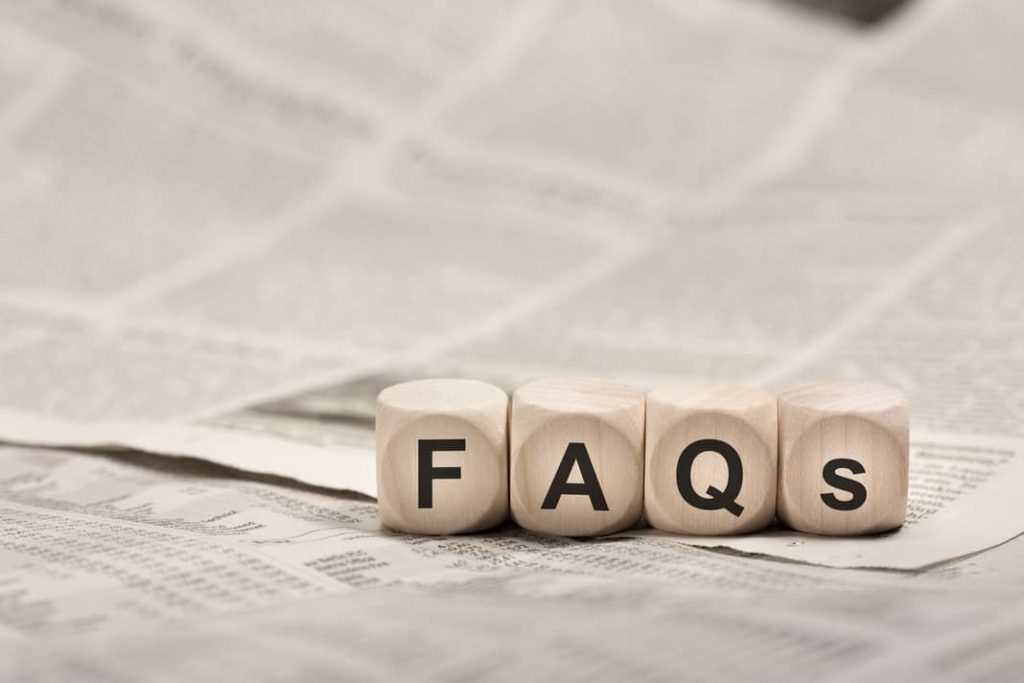 FAQ'S
I am sure now you are saying, "Okay Wolfpack Advising, you mention all these terms and I have questions about those and also about how to make my business the best!"
Here you go:
1. What is Search Engine Optimization
Search Engine Optimization is also known as SEO. It's the practice of optimizing content and technicals on your website so content is better shown for what your business would want to appear for in search engines. Conversion rate is the number of visitors to the site that become customers. Having a high number of visitors is great but if they don't convert to be customers then that isn't doing you any good. Keep in mind that it takes time and money to see results from SEO so patience is a virtue.
2. What is local SEO?
Local SEO is a branch of search engine optimization. As the name suggests, it is about optimizing search engines on the local level. This can be by zip code, city, county, or even as large as a state.
Local SEO comes into play anytime a user searches for a product/service that is intended to be near the user or in a certain geographical area. An example is looking for "home inspectors near Tampa" or "kitchen stores in Orlando." When the consumer does the search, you want your business to show up. This is done by hiring a company to do the SEO or Local SEO.
3. Do I need a website?
Yes! A website gives the consumer confidence that you are a legitimate business and also allows the consumer to research who you are. Additionally, it also brings you credibility, leads, and organic traffic.
Your website should be considered as your virtual public office. You will want a clean, modern office for visitors.
4. How does a website increase sales?
If a website is optimized for SEO so it is more likely to appear on relevant searches by potential customers. This will then drive traffic to your site and allow the consumer to see how amazing your company is. As the funnel suggests above, having the landing page is essential.
This will allow the consumer to fill out a contact form and allow you to build the relationship. However, the landing page needs to have good information, pictures, current content, and be useful to the consumer.
5. What pages should I have on my website?
You want to have pages that will be necessary for the consumer to learn about your brand and develop the relationship. It isn't a set number of pages but needs to be relevant pages as well as SEO-optimized pages and blogging. We typically recommend a page for every service/product you offer, a home page, contact page, terms of use/privacy policy, about page, and resource page if needed.
6. How often should I update my web content?
Your web content needs to be updated as often as information changes. Also, having blog posts at least twice a month shows the site is active. Ultimately, you always want to have a current website so consumers know you are legitimate and trustworthy.
7. What is the Purpose of Social Media Marketing?
The purpose of Social Media Marketing is to help your business grow its online presence. When you utilize social media, your name is out there and thus increasing brand awareness. You can meet new potential customers and help retain current ones.
8. What is Social Media and the Platforms that work best?
Social media is a way for people to network and learn about other businesses but also to build relationships. According to Global WebIndex, 54% of social browsers use social media to research products. Thus, making it important to have an online presence not just on a website but also on social media. Also, if you don't think you have the time to keep up with the posts and engagements, hiring a company to do this for you may be the way to go.
9. Do I need to pay for Facebook Ads?
Facebook, the social media platform is free. However, if you want to increase your presence, Facebook ads might be one way to go. Additionally, another idea is Google Ads or Pay Per Click. Keep in mind, it does take 4-12 months to see results as it doesn't happen overnight. Consulting with a professional about the right direction to go for your company is a great idea.
Conclusion
Creating a digital marketing funnel is important and part of the marketing tactics. The good news is it is not difficult to do. However, it will take time and may take expertise. If you are looking for help in creating a successful digital marketing funnel, contact Wolfpack Advising. Wolfpack Advising is here for all your digital marketing needs and can take care of the various stages of the digital marketing funnel for your business.