33% of local Google searches go to Google Business Profiles. That being said, it's critical to set up and optimize your Google Business Profile. In this post, we are going to learn how to set it up, how to optimize it, and how to improve your Local SEO rankings.
What Are Google Business Profiles?
To start, Google Business Profiles are online listings of businesses within the Google ecosystem. They help users easily find businesses on Google Maps, as well as, find all sorts of information about the specific business like reviews, photos, services, and more.
Why Set Up a Google Business Profile?
Ultimately, if you are a business, you need a Google Business Profile. As mentioned at the beginning of this post, Google Business Profiles get a third of all local SEO traffic and can bring tons of business your way if done right.
In fact, for most service area businesses like home inspectors or plumbers, most of your business could be driven through this profile.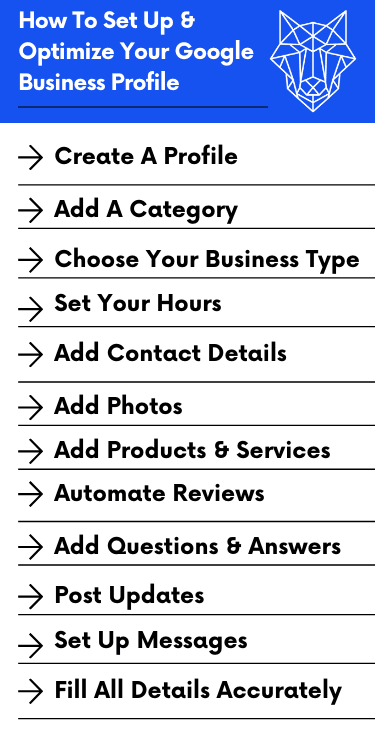 How To Setup Your Google Business Profile
Let's break down all the steps to set up your Google Business Profile.
1. Claiming and Creating the Business Profile
On the Google Business page, you can create or claim the Business Profile for your business. How do you do that?
Click here and then click on "Manage now." Sign in to your Google account. If you do not already have one, you can create one from that page as well.
Maybe you have already claimed your Google Business Profile? If you did, you will see a management dashboard once signed in.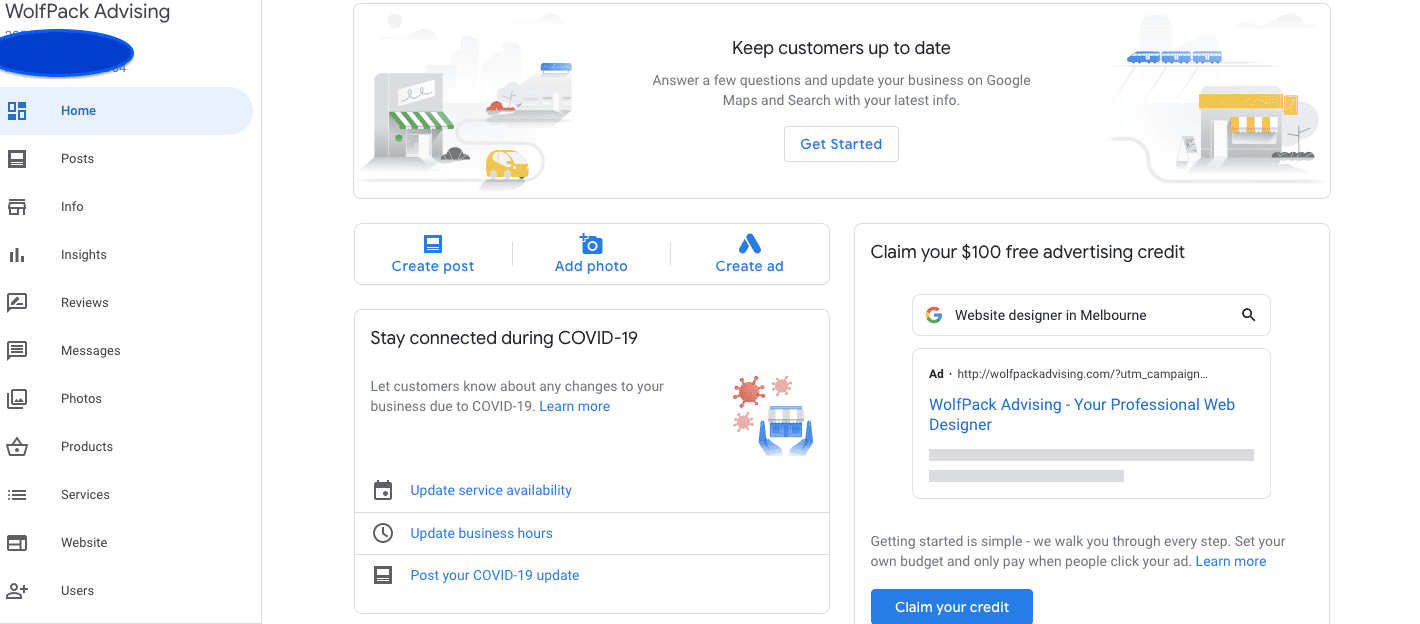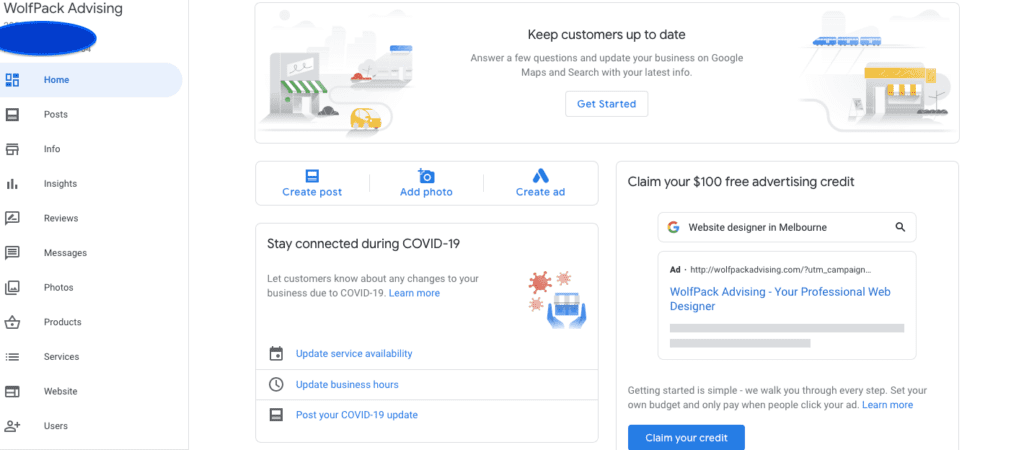 If not, there is an option that says, "Find and Manage Your Business." Type in the name of your business. If it appears, that is great! Then claim it. If it does not come up, there will be an option to create a new business with that name.
Your business name on your business profile should be just your business name. It is not the optimized name. For example, list your business name as "Business Name", not "Business Name Near Me", or "Business Name in City". For us, it is WolfPack Advising as that is the name used in the real world. It is not "Wolfpack Advising Digital Marketing for Small Businesses."
This is stuffing it with keywords for optimization and not what you want for your business profile. Adding the keywords like in the example can actually get you in trouble with Google.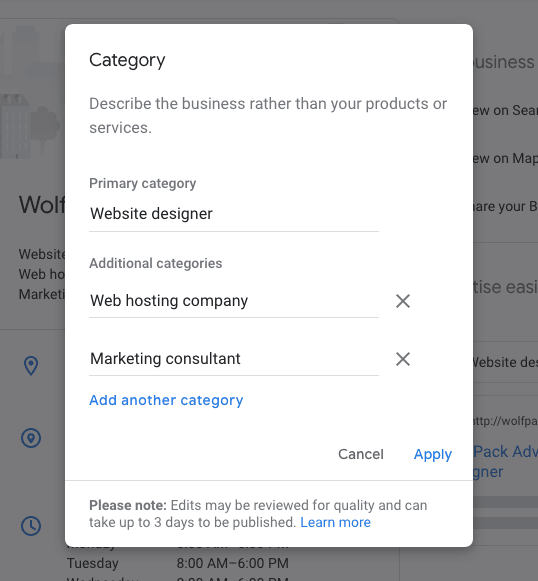 2. Set Your Business Category in Your Google Business Account
Next, you are going to select your business category. This category describes what your business does, not what it sells or services. If you are a home inspection company, you will look for "home inspection" or "home inspector" for your business category. If there seem to be several options, choose the one that is closest to what your business does.
Also, if your business does more than the category you chose, you can choose another area. For example, if you are a home inspection company but also offer accounting services, you can add the accountant category.
In the example above, WolfPack's primary category is Website designer. However, we also fit into Web Hosting Company and Marketing Consultant.
3. Choose Your Business Type
There are three different types of businesses in the Google world.
Storefront business – you have customers and clients at a business address. For example a gym, hair salon, pet store etc.
Service-area business- you deliver to clients and customers but don't serve them from a business address. For example, a mobile dog groomer or a plumber, or a website designer who works with clients remotely.
Hybrid business- serves customers and clients from a business address but also visits them or delivers to them. Examples are photographers that have a studio in their home but also go out to take pictures. Another example is a restaurant where you can dine in or get delivery.
Are you a location business? Then put in the address and then under the Info tab, leave the service area empty.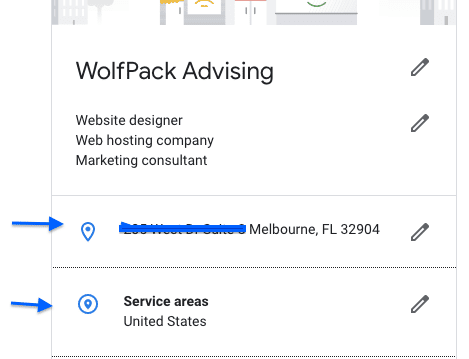 Service area business? Click on the option to set your service area. You can choose up to twenty places or put in zip codes. A good rule of thumb is no farther than 2 hours from your location. Lastly, clear your address from the listing since you service other areas. This will hide your address but won't keep your business out of search results.
In the example above, WolfPack has a mailing address but does not see clients there. Instead, they work with clients all over the U.S. thus setting service areas in the U.S.
If you are a hybrid business, do the same steps above as the service area business but KEEP your address in the listing as you have a storefront or office and need people to physically find your business.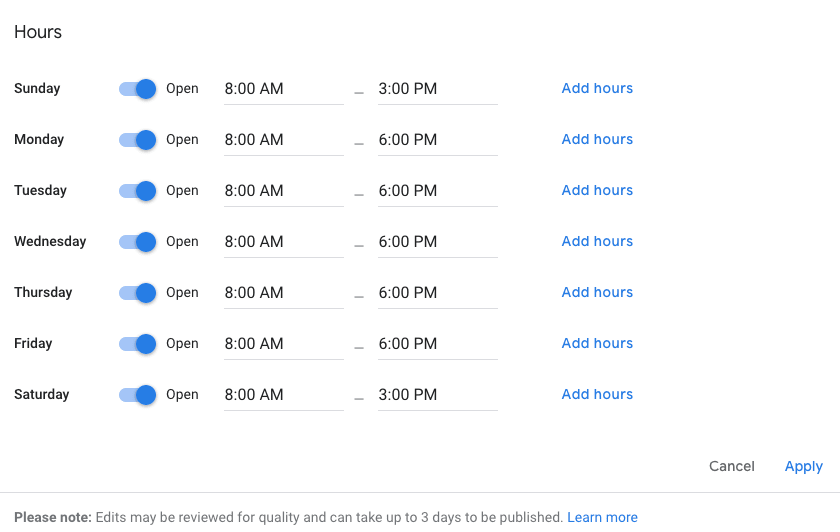 4. Business Hours
You may think it is crazy to add business hours, but every business has different hours and different days they are open. Some businesses don't have hours listed and that can drive people away.
To add business hours, you will go to:
Dashboard >add info>hours.
Push the blue slider over and put in the times you are open. If you are a company that opens for certain hours and then closes and then opens again later (like a restaurant), click on "add hours."
If there is a day you are closed, leave the slider on grey and reflect, "closed." Click on "Apply" in the bottom right corner when you are done.
5. Set Holiday Hours
Many businesses have different hours on holidays such as opening later or closing earlier or closed. It is important to set these for your potential customers. This can be fixed by going to:
Dashboard >info > add special hours.
Are your holiday hours the same as regular hours? You need to confirm them so they show in green and the potential customer knows it has been updated.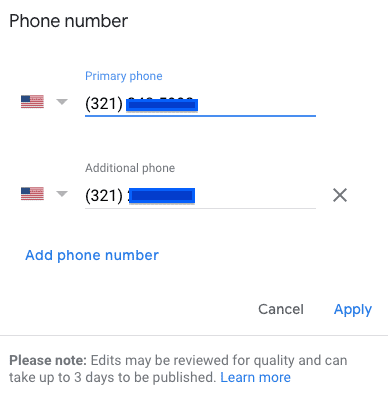 6. Add Contact Details
If you don't put in info on how to contact you, you won't get any business. You will need to add your website and phone number on the "Info" tab. If you don't have a website, then make sure the phone number is listed. If there is no information then there is no way to contact you.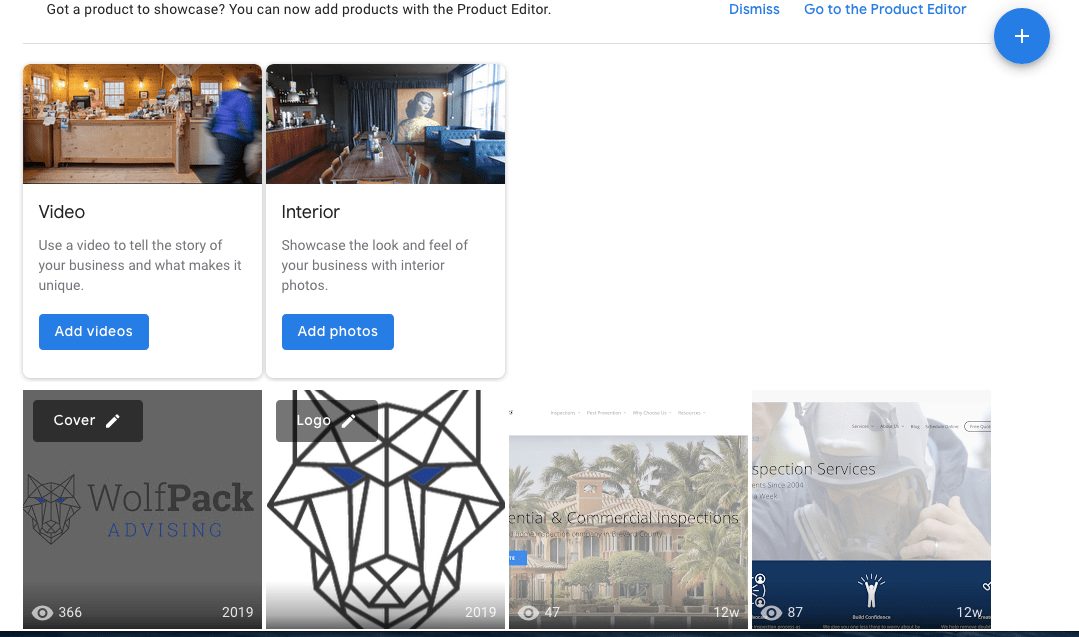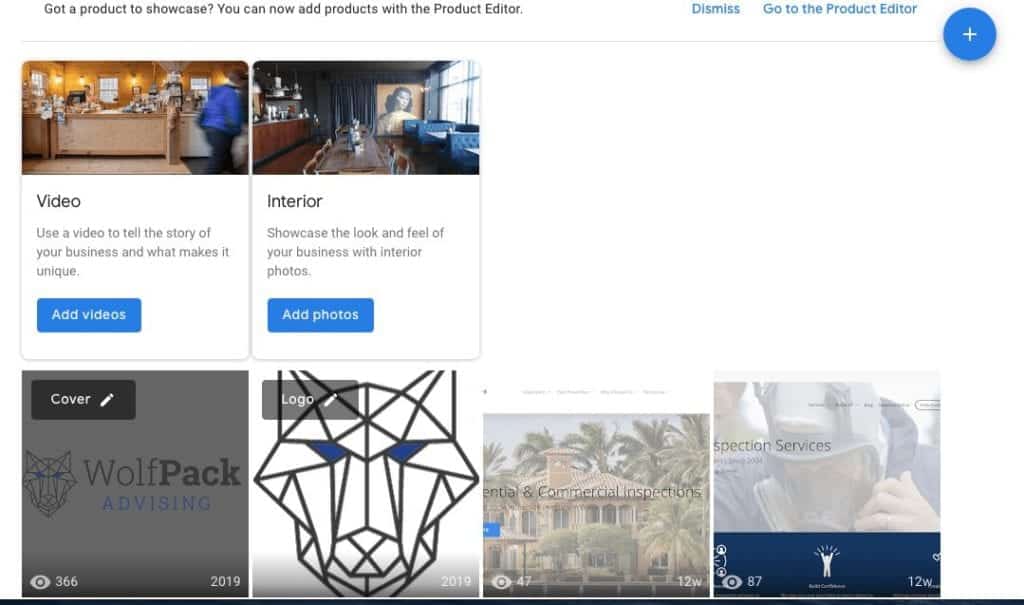 7. Add Photos to Your Profile
According to Google, 42% more businesses have a request for driving directions when there are photos attached. They also receive 35% more website clicks than those who don't have pictures.
Here is a great link for rules on business-specific photos.
Add the logo– you are proud of your logo, make sure it is added as many businesses have the same name. In the image above, you can see the logo for WolfPack is in the Logo section.
Cover photo– this should show the personality of the business. In the image above, you can see the cover photo for WolfPack.
Exterior photos 3+ – you want to have different angles in these pictures so the customers can find you.
Interior photos 3+– show off the inside of your business and the ambiance so people can get a feel for what they will see.
Product photos 3+ – show pictures of the most popular items you have in your place of business.
"At work" photos 3+– show what the team is like when they are at work. This will also help lure customers in.
Photos of your "team" 3+– We aren't talking about your favorite sports team, but the personalities of the team you work with so people can see familiar faces.
Name the photos too. For example, if you have a pool inspection, name it pool inspection. Don't leave it as "1 jpg."
Businesses are all different so you may not have pictures to fill in all of the categories and that is okay!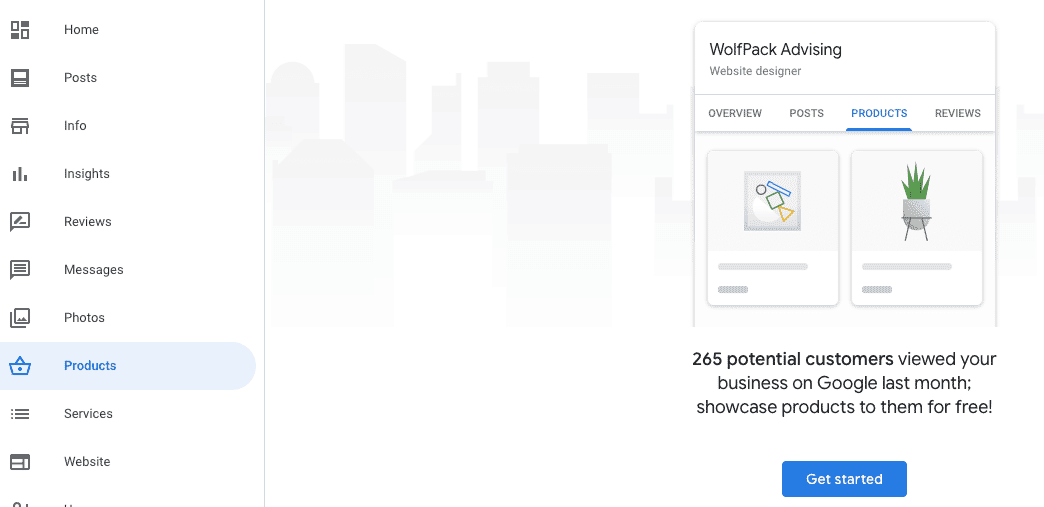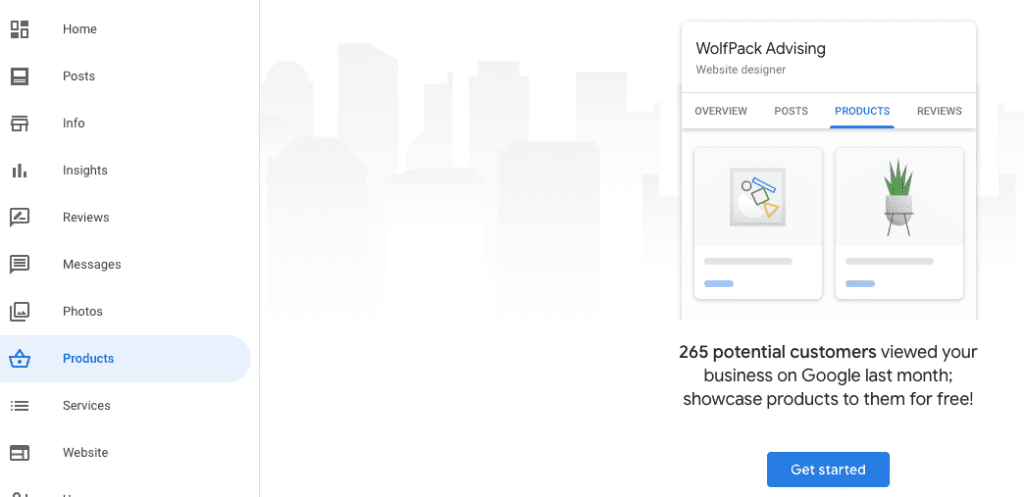 8. Add Products to Your Google Business Profile
Add products to your business profile, if this is the type of business you have. This can help your business show up in more local listings. For example, Classy Tuxedo Company lists all the tuxedos they offer on their website and uploads pictures of them. A customer searches for "RL Tuxedos Des Moines", and the website will come up on the local search in Des Moines.
However for this to work, you need to make sure that the name, price, category, description, and link to the related product or service page is on your website. Think it sounds like a lot of work to put it in? It won't be because you can copy and paste the descriptions and details.
In the example above, WolfPack does not have products so it is left blank.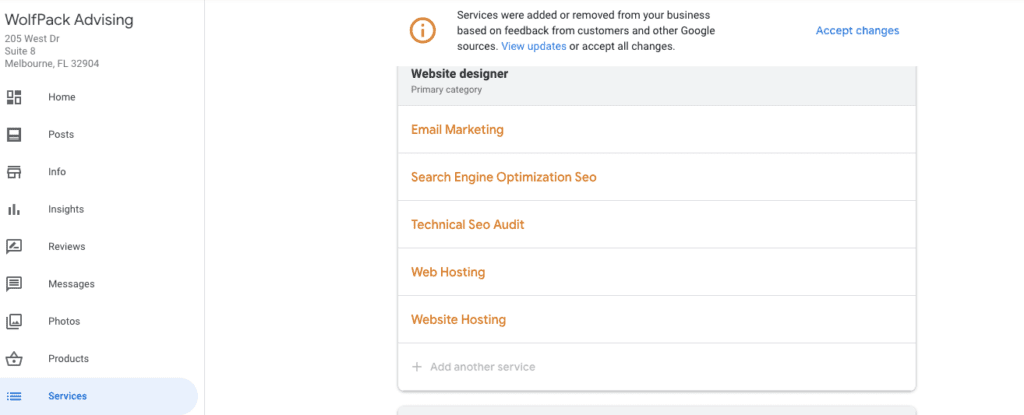 9. Add Services
Services are very important to add if you offer them. In the example above, you can see that WolfPack lists its services as Website designer, Email Marketing, Search Engine Optimization Seo, Technical Seo Audit, Web Hosting, and Website Hosting.
You don't want to be humble on this page and need to put all the services you offer on the listing. This will help you come up with more search results.
10. Reviews Are Very Important For Your Google Business Profile
Google says that high-quality reviews that are positive can help with your business visibility and a higher chance someone will visit your location. Google also highlights keywords that are in a review.
For example, if someone is looking for the "best home inspection company in Tampa" any reviews that have the words "Best" and "home inspection" will come up in the search area for Tampa.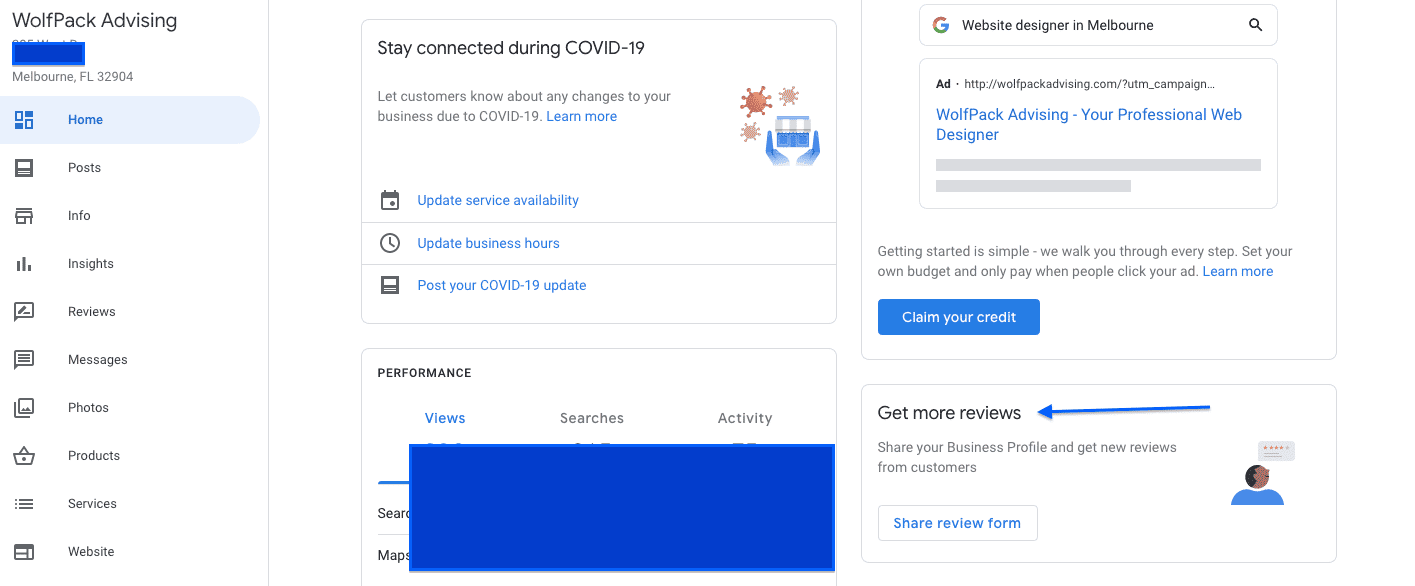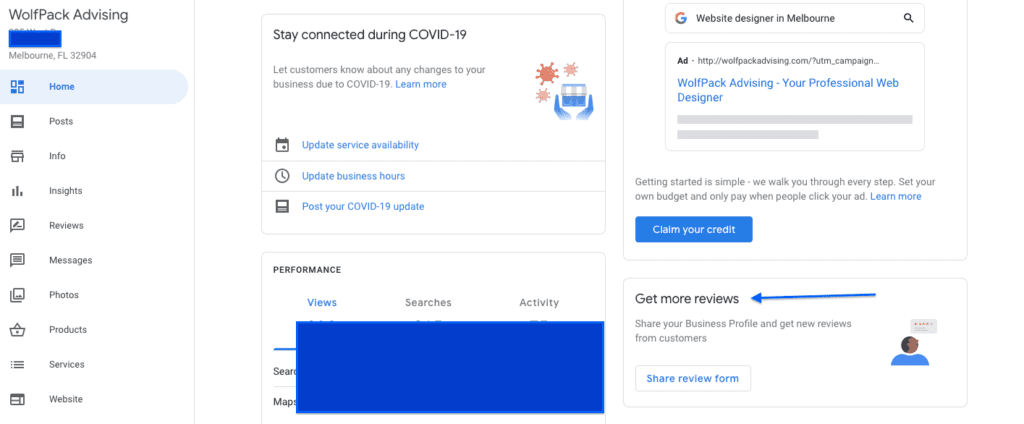 How to Get More Reviews
Not sure how to get more reviews? Well, it is difficult to ask others to leave them for you but there are different approaches you can take:
Ask customers- If you have customers that you know had a positive experience, you can ask them if they don't mind leaving a review for you.
Link to leave a review– Give a customer a link to leave a review. This can be done by going to Google business, > home > get more reviews. See the image above.
Create cards to hand out – you can create a card to hand to customers that thanks them for shopping at your business or using your service and put a QR code on there or a link for them to leave a review.
Review link in an email – if one way you communicate with customers is through email, you can put the link for the review in your email signature.
Check out our blog on how to get the most reviews for your business.
Automate your review requests with marketing automation.
Replying to Customer's Reviews
You want the customer to know they are important and valued so it is important to reply to reviews. The customer is also notified when you reply. This shows that the time they took to leave the review for you was appreciated.
Keep in mind, that you aren't allowed to offer incentives or prizes for leaving a review as it is against Google's policies.

11. Questions and Answers in Your Google Business Page
Answer Questions From People
Your Google Business Profile has a place where people can ask you questions about your business. It is a section called, "Questions and Answers."
Taking the time to answer the questions (and quickly) is necessary. If not, there are others who will answer the questions for you. They may be thinking that they are helping but may provide false or inaccurate information. How do you make sure you see these questions?


Turn on the notifications- you will be alerted when someone asks a question and then you can answer it quickly. If you don't have the alert on, you will miss it and someone else will answer it. You won't get a lot of questions on there unless your business is extremely busy so it shouldn't be more than what you can handle.
Provide answers to FAQs – On your website, you probably have an FAQ section. You can take those answers and put them on your Google listing. Make sure you are logged into your Google Business Profile so you are posting them as you.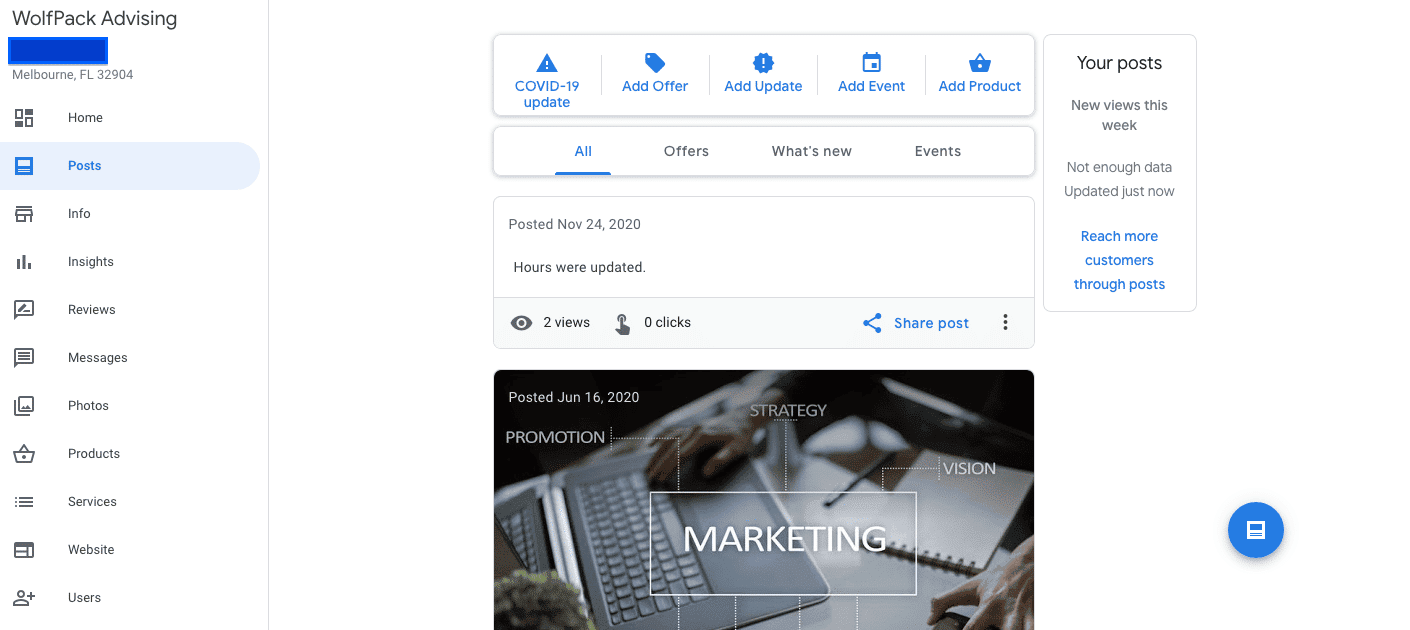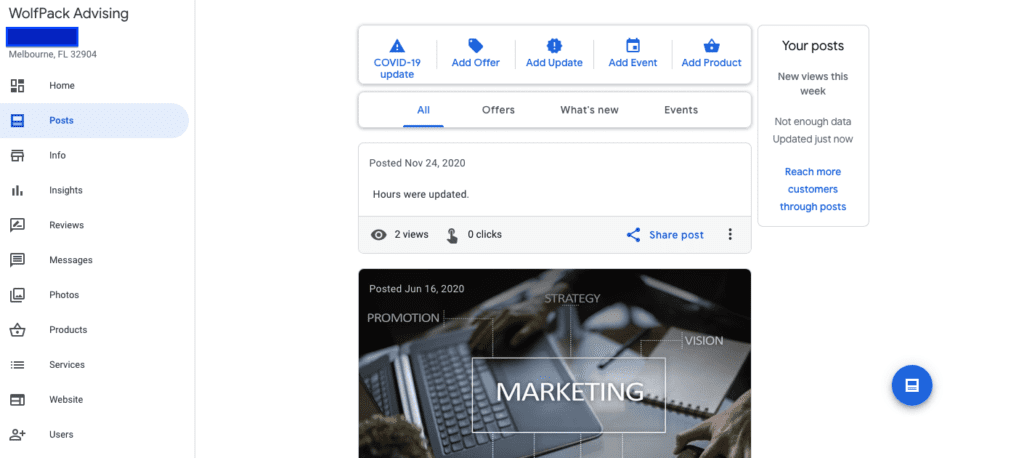 12. Post Updates
On the left-hand side of your Google Business dashboard, you will see Posts. Click on this and you will see where you can post updates, offers, and events with your business. To do this, click the button to create your post.
1. Use photos that are clear and well lit
2. Create headlines that are captivating such as: Save $100 this weekend!
3. Give precise information such as: For every 3 referrals, you get $100 back!
4. Be on time– if you are advertising a special for St. Patrick's Day, don't wait until March. It should be done in February.
5. Post if it is meaningful– don't post just to post.


13. Set Up Messages
You want to be able to have potential customers send you a message. In order to do this, you need to enable the messages button. To do this, click on Messaging Settings and then a box will appear and slide the bar over to turn on the messaging.
14. Fill in the Rest of the Options
Look at the menu on the left side of your dashboard and fill in as much as you can. This is helpful for your business. If you are a home inspection company, maybe upload a copy of a sample home inspection report. If you are a restaurant, you will have a space to upload a menu.
ProTip: Download the Google Business App
If you download the app to your phone you can accept messages directly to your device.
Additionally, a Request Quote button can appear on your profile depending on your business type.
15. Optimize Your Website
After you have set up your Google Business Profile page, now it is time to optimize your website. Google picks up words that you have used on your website so it is important to make sure you have your products and services listed. Then, take the names of the products and services and put them into keyword research.
The Bottom Line
Just setting up your Google Business Profile is not enough. To ensure greater visibility, you should continue asking for reviews, posting pictures, creating posts, and ensuring all of your information is accurate.
For those that want to go above and beyond, you can track how much business your Google Business Profile is bringing you through lead tracking.
You can also check out our Local SEO plans that monitor your Google Business Profile, as well as, our marketing automation services to automatically request reviews for your Google Business.