Welcome to the world of Search Engine Reputation Management (SERM). SERM is a powerful approach to digital marketing, all about taking control and ensuring your brand's best face is always forward in the digital landscape.
A brand's online reputation can be your greatest asset or your most significant liability. Negative comments or unflattering reviews can quickly impact your image and customer trust. But what if you could actively manage your online reputation, turning potential pitfalls into opportunities for brand enhancement?
Whether you're an established brand looking to manage a few unfavorable search results or a new business aiming to create a positive online presence, this guide to SERM is for you. So, stay with us as we navigate the essentials of SERM and reveal how it can transform your digital reputation.
Understanding SERM: Key Components and Strategy
Search Engine Reputation Management (SERM) is a strategic combination of several crucial elements, each contributing to effectively controlling your brand's online narrative. At its core, SERM involves Search Engine Optimization (SEO), content creation, social media management, and online review management.
SEO
When it comes to SEO, it's all about optimizing your website and content with relevant keywords. A robust SEO strategy ensures high visibility in search engine results, often shaping the first impression of your brand online.

For instance, a roofing company might focus on local SEO, optimizing for keywords like "roof repair in [city name]" or "best roofing company near me." This can help the business appear at the top of search engine results when potential customers are searching for these specific services in their area.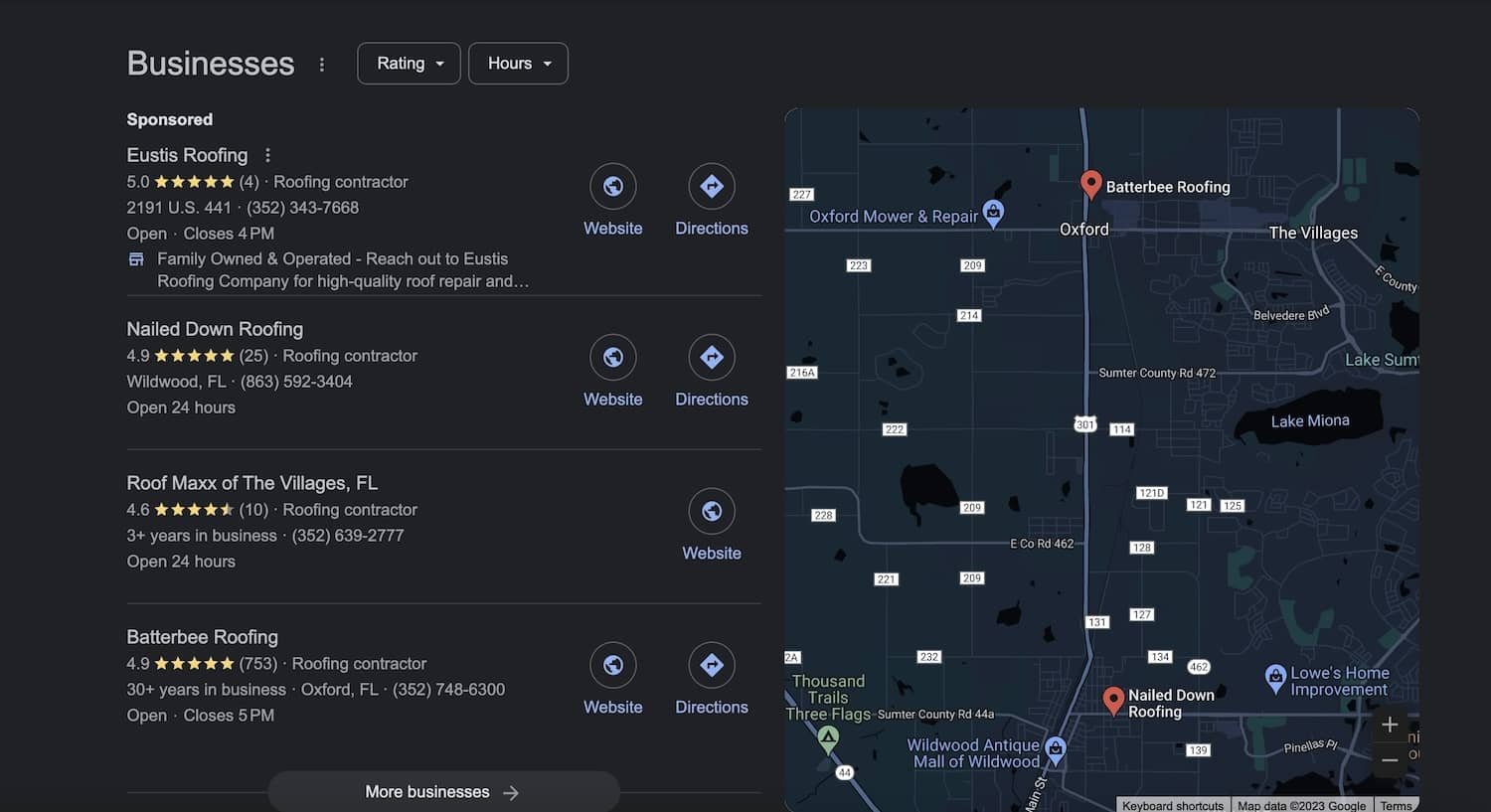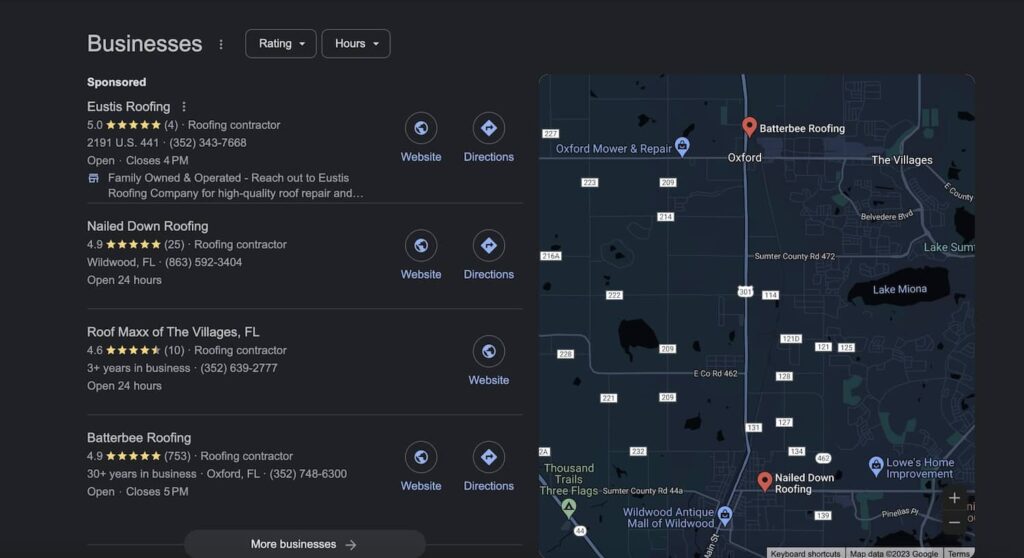 Roofing Company Near Me Results in Google Maps – Optimized Citations & Online Reviews
Content Creation
This is not merely about achieving a high ranking in search results but also about delivering value to your audience. Crafting high-quality, engaging content helps position your brand as an industry authority and shapes your online narrative.

For example, if you have a home improvement company, a blog post titled "The Ultimate Guide to Preparing for a Home Inspection" (or any other questions that your target audience may be searching for) can offer practical advice to homeowners, establishing the company as a knowledgeable and reliable source. This can enhance the company's reputation and potentially attract more clients.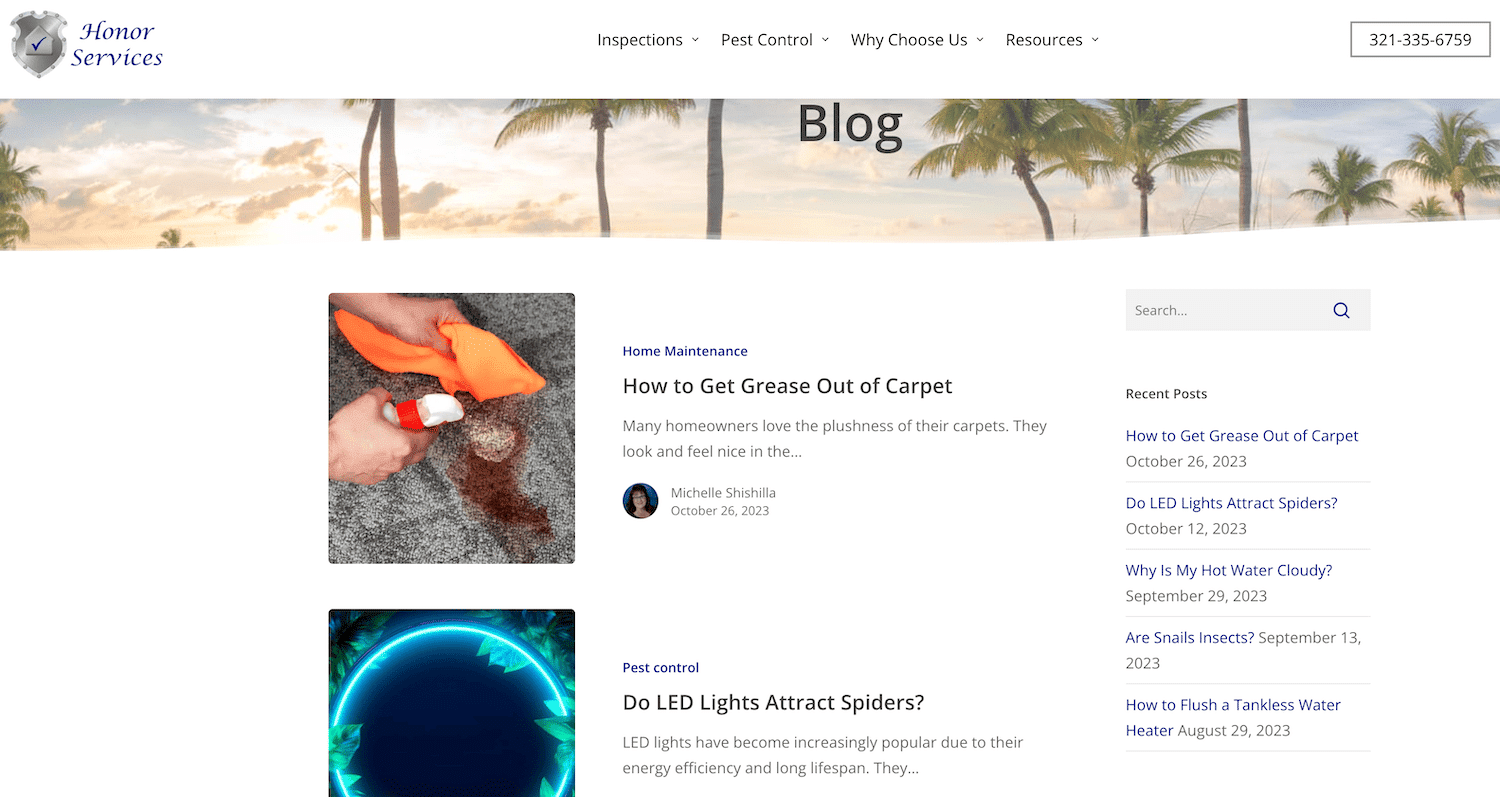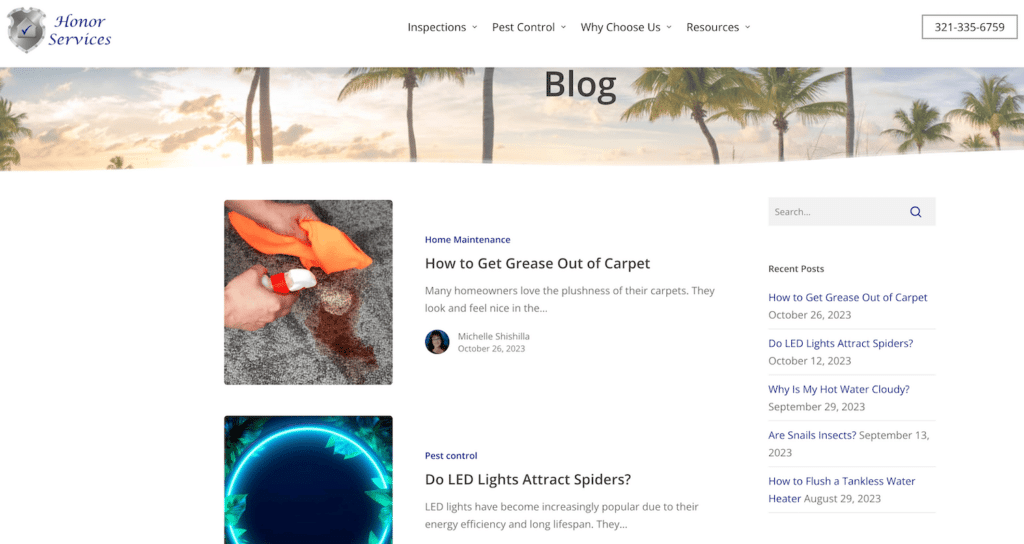 Honor Services' Blog Page and Relevant, Optimized Content
Social Media Management
Social media platforms serve as direct channels to engage with your audience. Active participation on these platforms enables you to respond to inquiries, manage negative feedback, and maintain a positive brand image.

Consider a pest control company that regularly posts helpful tips on how to prevent pest infestations on Facebook or Twitter. They might also share customer testimonials or before-and-after photos of their work.

When negative feedback arises, the company can promptly address the issue, showing its commitment to customer satisfaction. This approach not only promotes a positive brand image but can also boost customer trust and loyalty, contributing to a solid online reputation.
Social Listening
Social listening is another crucial component of SERM. It involves tracking your brand's mentions across digital platforms — not just social media, but also blogs, forums, news sites, and review platforms. This helps you gain insights into what people are saying about your brand, industry, or competitors.
For instance, if you run a coffee shop and a customer tweets that they love your new pumpkin spice latte but it's a bit too sweet, you can quickly respond to their feedback and even consider adjusting your recipe.
In short, social listening keeps you in tune with your audience's needs and helps you manage your online reputation effectively.
Online Review Management
Finally, online reviews are the new word-of-mouth. Addressing both positive and negative reviews demonstrates your commitment to customer satisfaction and allows you to manage potential fallout from negative feedback.
By leveraging these elements in harmony, SERM empowers you to control the information that surfaces when someone searches for your business online. Effectively implementing these strategies can build trust, influence your audience favorably, and take command of your online image.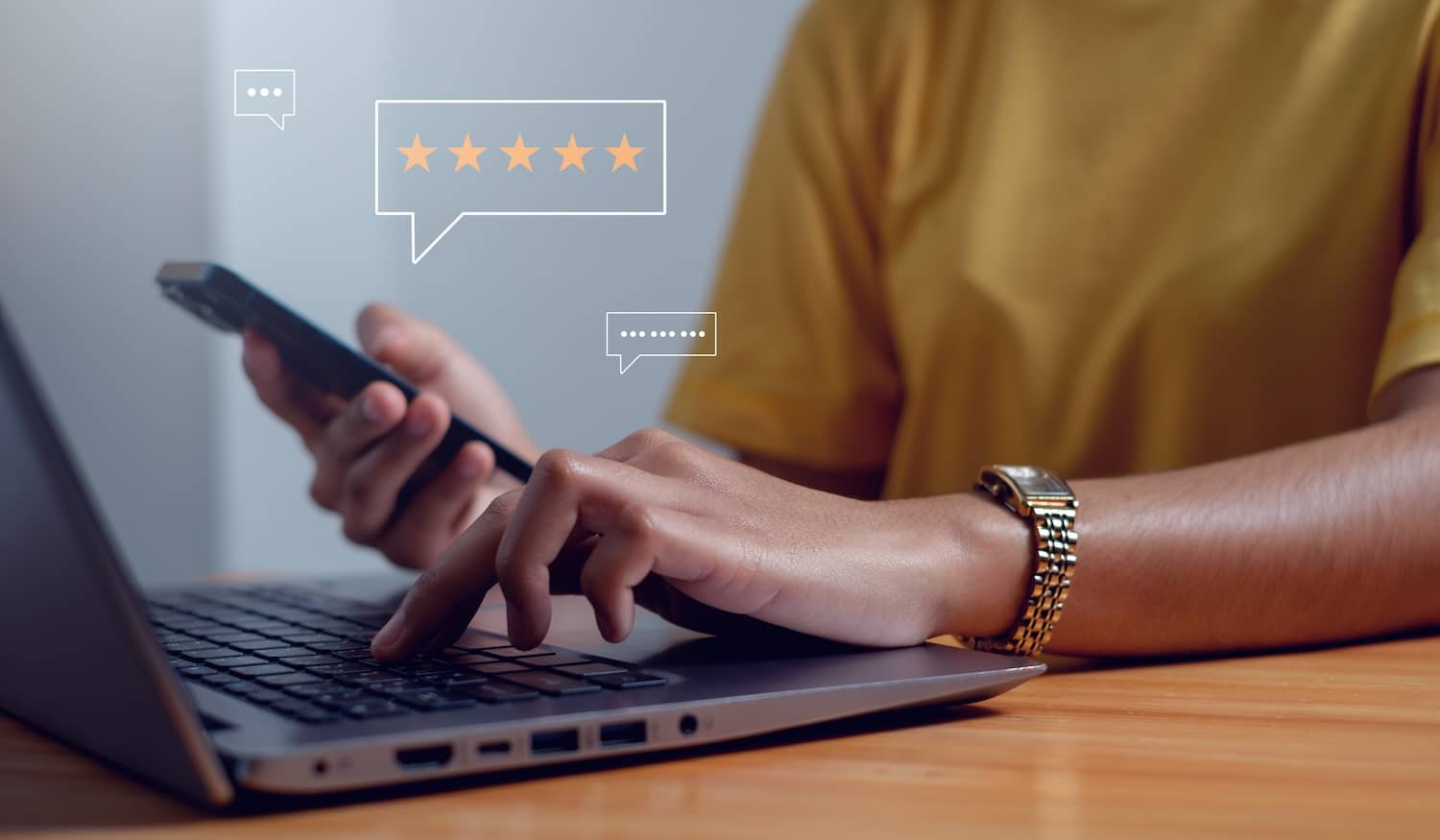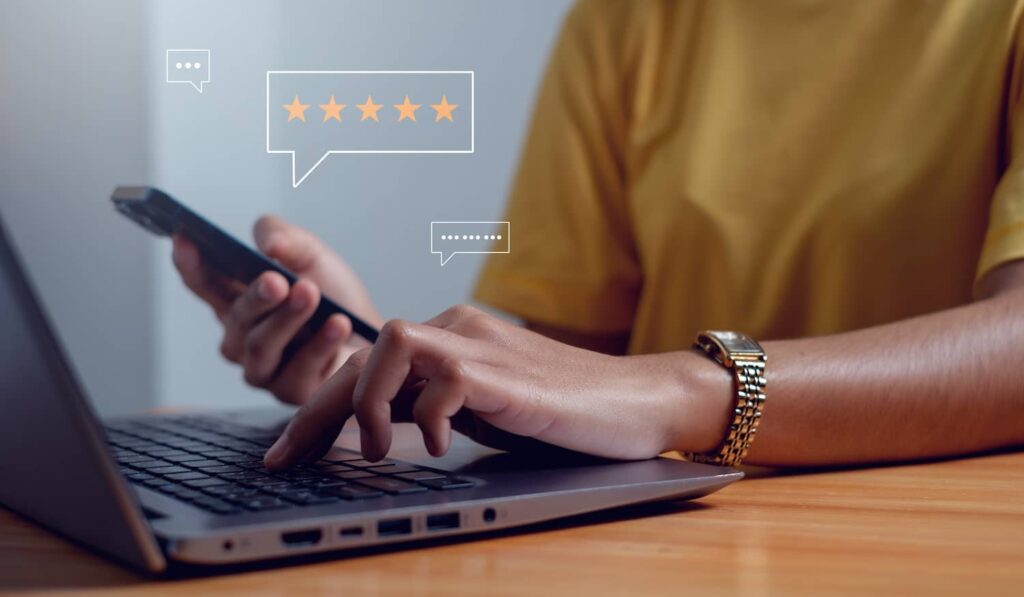 Why is SERM Important?
In today's digital era, your online reputation can significantly impact your business's success. Here's why Search Engine Reputation Management is crucial:
Builds Trust and Credibility
A positive online reputation builds trust with your audience. SERM helps create and maintain that positive image, enhancing your brand's credibility.
Influences Purchasing Decisions
Online reviews can strongly sway a potential customer's decision to interact with your brand. Effective review management ensures your business is presented in the best possible light.
Improves SEO Rankings
Effective SERM can also boost your SEO rankings, as search engines value websites with a positive reputation and high-quality content.
Mitigates Negative Publicity
No business is immune to negative feedback. However, with SERM, you can manage and respond to negative comments or reviews effectively, mitigating potential damage.
In essence, SERM is your tool to positively influence your brand's online narrative, turning prospects into customers and customers into loyal advocates.
Implementing SERM: Steps and Tools for Success
Taking control of your online reputation with SERM might seem daunting, but with the right steps and tools, it becomes a manageable and rewarding process. Here's how to effectively implement SERM:
Understand Your Current Reputation
Firstly, start to assess your online standing. Utilize online tools, such as Google Alerts and social media listening software, to monitor brand mentions and sentiment. This initial assessment will serve as the foundation of your SERM strategy.
Define Your Reputation Goals
Are you seeking to improve overall sentiment, respond to negative reviews, or increase positive brand mentions? Clear objectives will provide direction for your SERM efforts.
Optimize Your Website and Content
Use SEO tools like SEMrush or Moz to ensure your website and content are optimized for relevant keywords. This helps you rank high in search engine results, enhancing your brand's visibility.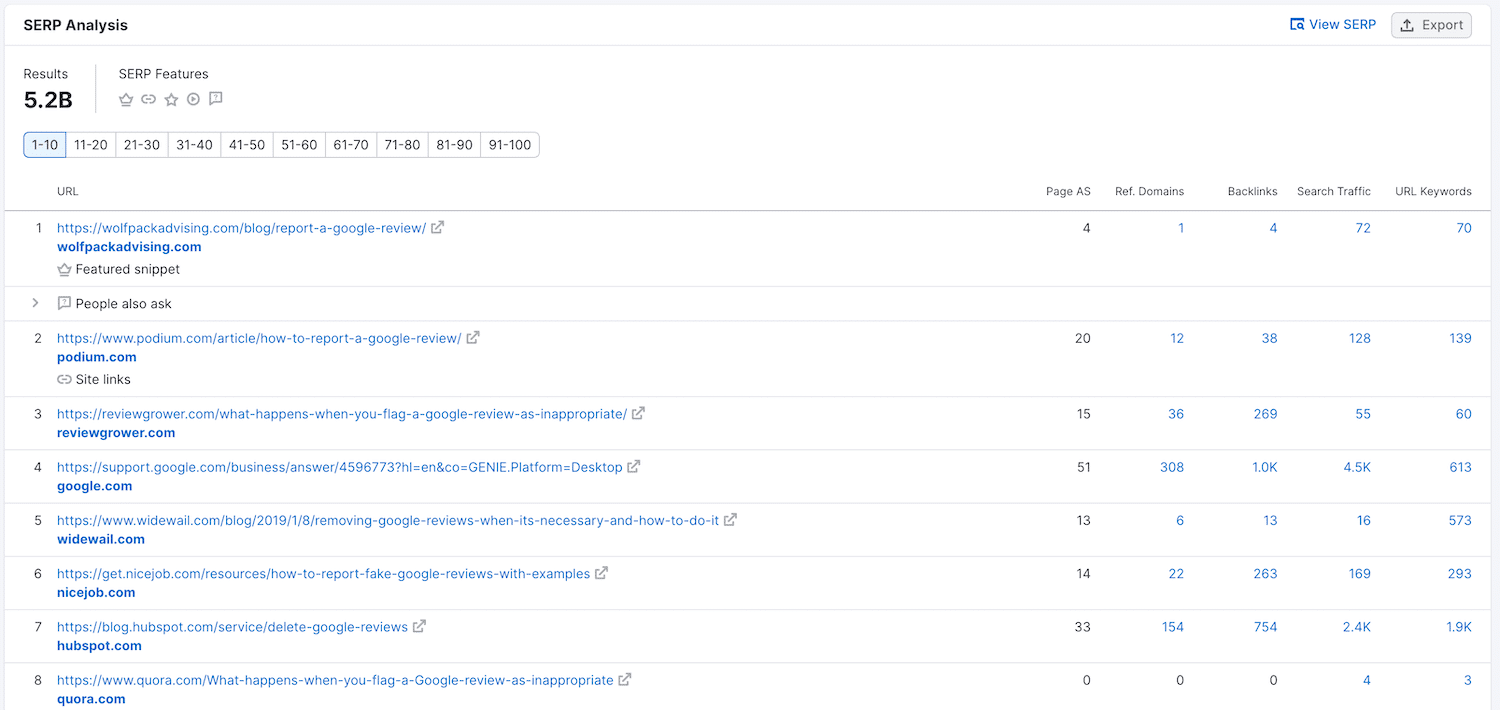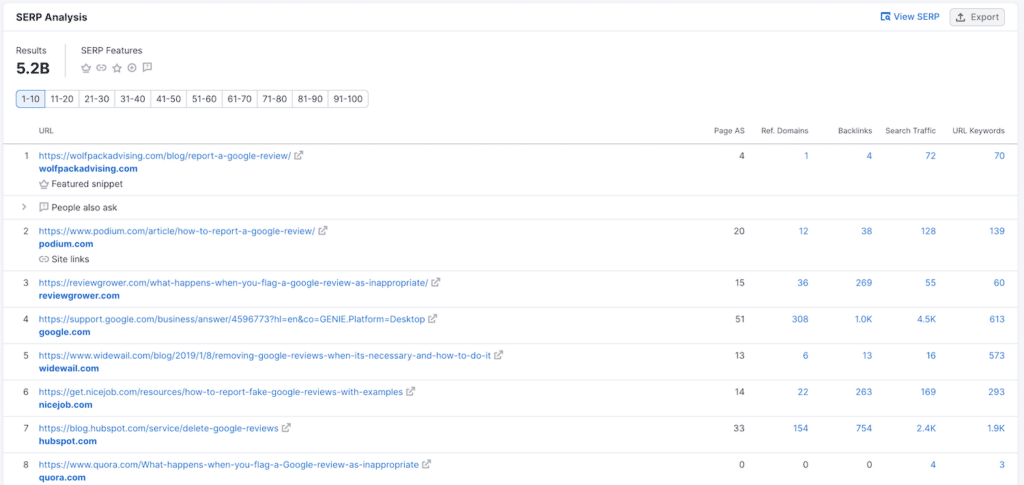 WolfPack Advising's Search Engine Result Rank in SEMRush for Relevant Keyword
Produce High-Quality Content
Content is king in SERM. Creating engaging, quality content using platforms like WordPress or Medium can position your brand as a thought leader and positively influence your online reputation.
Engage on Social Media
Engage your audience using social media! Active and thoughtful engagement on various social media platforms can help you control your narrative, respond to customer feedback, and showcase your brand's personality.
Business Profiles: Google and Apple
Incorporate business profiles into your SERM strategy. Platforms like Google Business Profile and Apple Business Connect can significantly enhance your online reputation management. Actively managing these profiles ensures a cohesive online narrative across multiple platforms.
Manage Online Reviews
Use review management tools like ReviewTrackers or Yotpo to monitor and respond to both positive and negative reviews. This shows your commitment to customer satisfaction and helps manage potential damage from negative reviews.
Monitor and Adjust
Finally, keep track of your SERM strategy's progress using reputation management platforms like Reputation.com or BrandYourself. Monitor changes in your online reputation and adjust your tactics as needed. Consider your business growth roadmap. It is essential to always revisit and re-assess each element of your business including your online reputation. Remember, SERM is a dynamic, ongoing process that evolves with your brand and audience.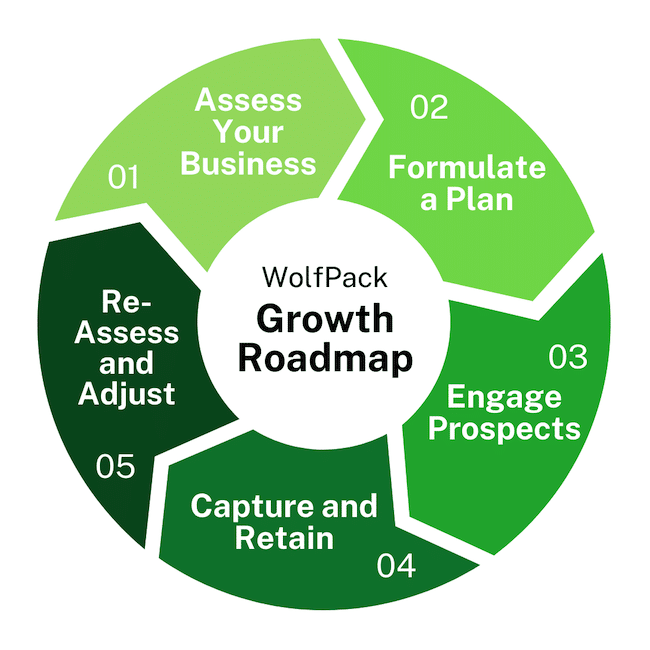 The Bottom Line on Search Engine Reputation Management
By understanding your current reputation, setting clear goals, optimizing your content, engaging on social media, managing reviews, and continually monitoring and adjusting your strategy, you can implement a successful SERM strategy. With the right tools by your side, the process becomes even more manageable and effective.
Remember, SERM isn't just about dealing with negative reviews or comments — it's about proactively building a positive online presence that resonates with your audience. So, why wait? Start redefining your brand's online narrative today with SERM.
If you need any help, WolfPack Advising is happy to assist you in your digital marketing journey. Schedule your consultation to learn more today.