Your website is like your office that can be visited from anywhere. It's a place your customers and prospects can go to see who you are and find out more information. Therefore, it's more important than ever to write awesome website content.
It's the first thing potential customers see when they visit your site, and it can make or break their decision to do business with you. But how do you write content that people actually want to read? How do you write content that will passively earn you more revenue? In this blog post, we are going to explore content writing tips to write effectively and efficiently.
Content Writing Tips Outline
Pre-Writing Tips

Define the Purpose
Keyword Research
Research Top Performers
Know Your Audience

Writing Tips

Draft With AI
Add a Hook
Keep It Simple & Nontechnical
Add Statistics & Data
Add Images
Link to Internal Pages
Link to External Pages
Add A Call to Action

Post-Writing Tips

Optimize For SEO
Check with Grammarly
Peer Review
Create An Update Schedule
Monitor Performance
Pre-Writing Tips
The first step in writing great website content is to define your purpose. As with any business, generally, your end goal is to obtain more business but really think about the direct purpose your article can have. In this instance, our goal is to inform readers on how they can write effective content.
After you have your purpose, you can conduct keyword research to find search queries relating to your content. To conduct keyword research, you can look at keyword research tools or review Google autofill suggestions. Your goal would be to find keywords (search terms) where you are an expert. Moreover, you should be confident that you can write a more informative article than the leading search engine result web pages.
Next, use those leading search engine result web pages to see what they are referencing. You can use their articles to help draft and plan yours, but you should also consider what they are missing from their articles to make yours better.
Finally, before typing your keyword to write your article, you should think about your audience. Knowing your audience, their expectations, and current knowledge will help tell you a lot about how to position your article, what words to use, and what items may be more important to them. For example, your content can be drastically different if your audience is an expert in their field versus beginners.
Now, let's get into writing our content.
Writing Tips
With the birth of Chat GPT, drafting content has never been easier. However, we should keep it as that, drafts. More often than not, AI is not going to know the ins and outs of your expert topic anyway.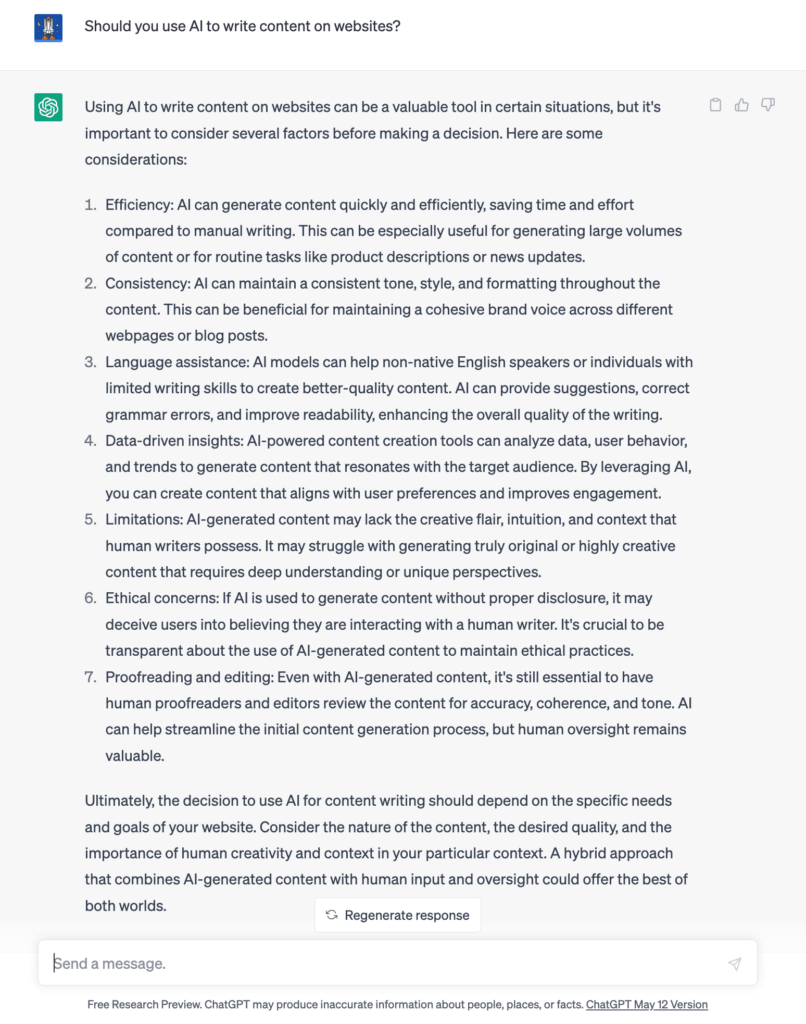 Thanks Chat GPT!
Be sure to add a hook at the beginning of your article while drafting. This can be through a quote, question, statistic, or even a joke. A hook helps grab the reader's attention quickly and then gives the purpose of the writing. The hook is a critical piece to any writing as it helps give the reader a reason to read!
Next, while writing, keep your content nontechnical and simple. Follow these readability tips to keep the reader's attention:
Write in active voice.
Avoid using large vocabulary.
Then, use transition words.
Avoid starting consecutive sentences with the same word.
Add subheadings.
Keep your sentences shorter.
Break up your paragraphs into smaller chunks.
Once you have a good draft in place, you can add statistics and images to your article to help showcase your points. For example, in the image below you can see the Google search trends of "content writing" over time.


Content writing has become an increasingly searched-for topic on Google. This most likely means that more people are looking for content writing positions or are concerned about the content on their websites. It just goes to show you are doing the right thing by reading this article!
In our next-to-last tip for writing well, you should add external and internal links to your blog posts. External links are links to other websites. Internal links are links to other web pages on your own website.
For example, you can learn about the importance of internal linking through our blog post on domain authority 301 rebrandings.
On the other hand, you can learn about the importance of external links with this post from Hubspot.
Finally, the last part of your writing is to add a call to action. This is where you direct the reader to another article, submit contact information, or even make a purchase. Our call to action is generally asking the reader if they want to schedule a consultation to learn more about our services.
Post Writing Tips
So, you have finished writing your content what now? Now, you have to clean it up with some post-writing tips.
First, you should optimize the content for search engine optimization. To do this, ensure you have the following centered around your keyword:
Your keyword in the page title.
The keyword in the meta-description.
The keyword in the slug/URL.
Your article should mention the keyword throughout subheadings and body text.
Add images named after the keyword and have alternative text around the keyword.
A WordPress plugin such as Yoast SEO can help you accomplish this. Once you have completed the above, you can move on to the next step!
After optimizing for SEO, be sure to review the article on your own and use a tool like Grammarly to help fix errors. Then, you can pass the article off to a peer to review.
Once you and your peer have reviewed the content together, publish your content!
Lastly, create a schedule to update your content as things can change. Additionally, you may want to consider adding new information later on. You will also want to create a schedule to check the content performance to see if it has been effective for your business. Here are a few metrics to consider when reviewing content writing effectiveness:
Bounce Rate – the rate at which users immediately leave the web page after arriving.
Time on page – the average time users are on the page.
Traffic overtime – is the page gaining or losing traffic overtime?
FAQs
How do I know what my audience wants to read?
Conduct market research, analyze customer feedback, and look at your competitors' content to see what is resonating with their audiences. Typically if an article is ranking high on Google, users are reading that web page.
How often should I update my website content?
It depends on your industry and audience, but aim to update your content once a year to keep it fresh and relevant. Sometimes we only do minor tweaks to our content yearly. Other articles may get a total rewrite or deletion if we realize the web page got no traffic.
Can I outsource my website content writing?
Yes, you can hire a professional copywriter or content marketing agency to help you create high-quality website content. Just make sure they understand your brand, your target audience, and are able to show you the results of their work.
Conclusion
Writing great website content is not easy, but it's essential if you want to attract and retain customers. By knowing your audience, keeping your content simple and engaging, using keywords strategically, and editing carefully, you can create awesome website content that people will actually want to read.
And hopefully, you can turn your readers into subscribers or customers!