Last updated on April 25th, 2023 at 02:30 pm
You might have heard of landing pages for search engine optimization (SEO) and how they can boost your website's traffic and total conversions. In this post, we are going to cover what SEO landing pages are, best practices, and ultimately how to increase your web conversions.
Let's get started.
What Are Landing Pages For SEO?
A landing page for SEO is a webpage that is optimized for a keyword likely to drive conversions, i.e. calls and form submissions. Therefore, users are likely to "land" on an SEO-optimized webpage and complete an action.
Landing pages for SEO are designed for two reasons.
To attract users from search engines.
To convert site traffic.
That being said, landing pages are often concise and have many calls to action. Additionally, it is common practice for links and navigations to be removed from landing pages to prevent users from clicking to another page without converting.
Here is a great example of a landing page from Monday.com.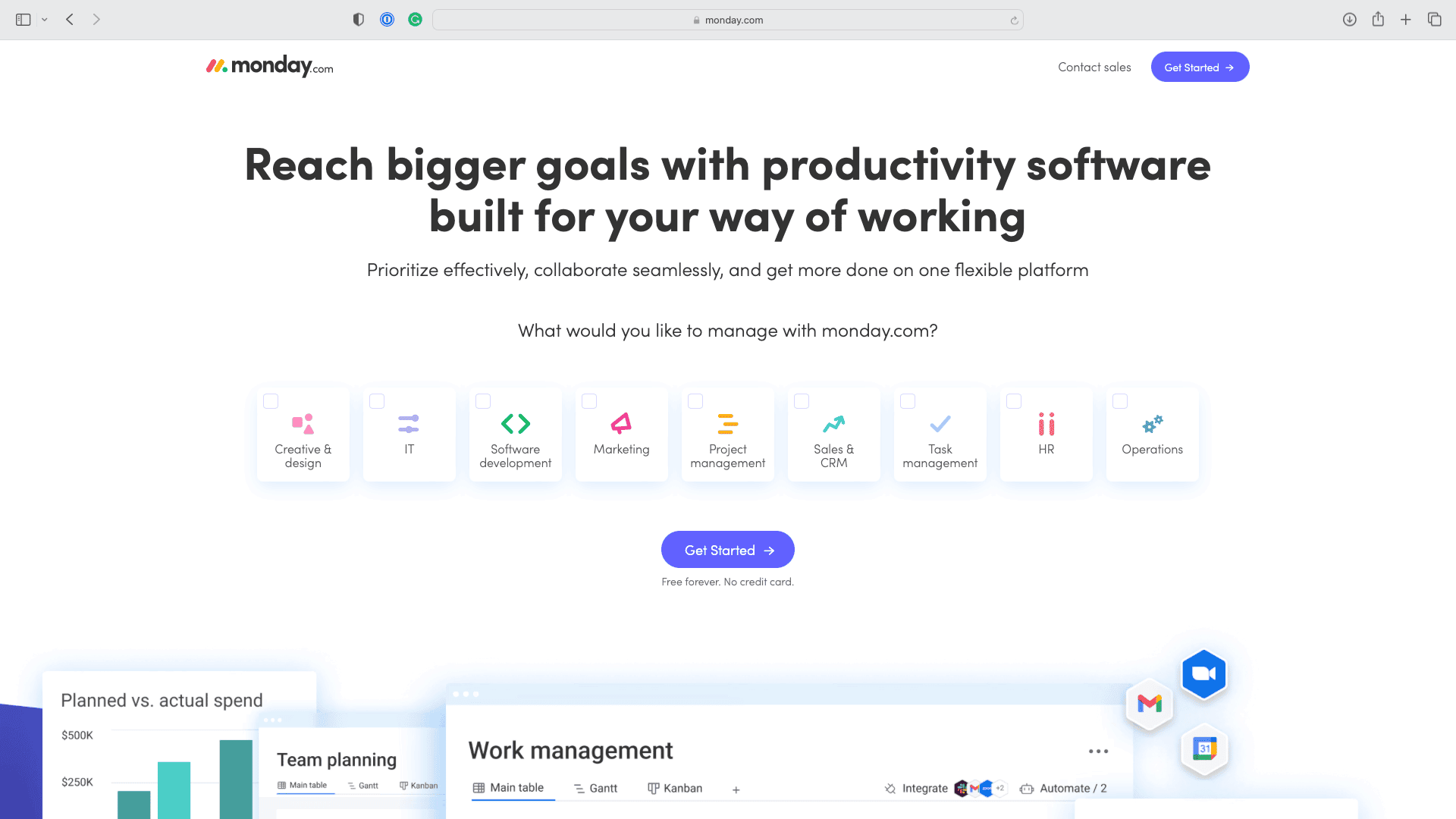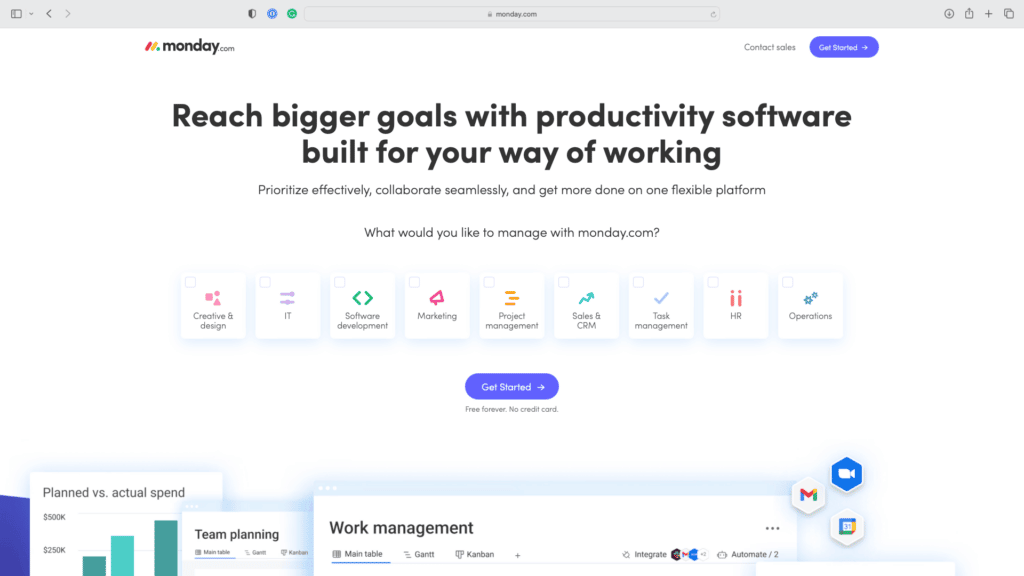 Landing pages for SEO could also be the homepage of your website. For example, ClickUp's homepage has a quick call to action, includes testimonials, and the page is optimized for SEO.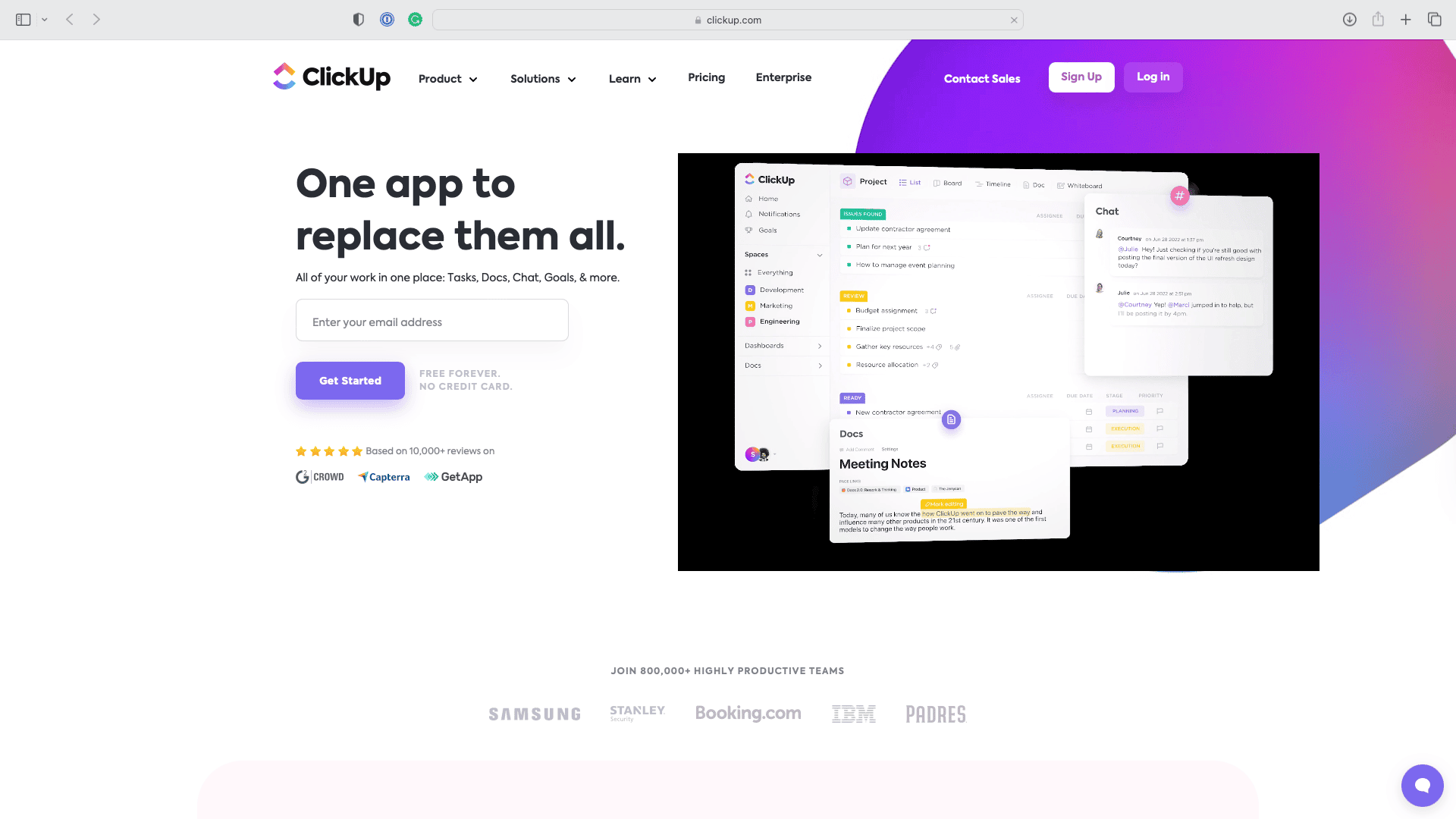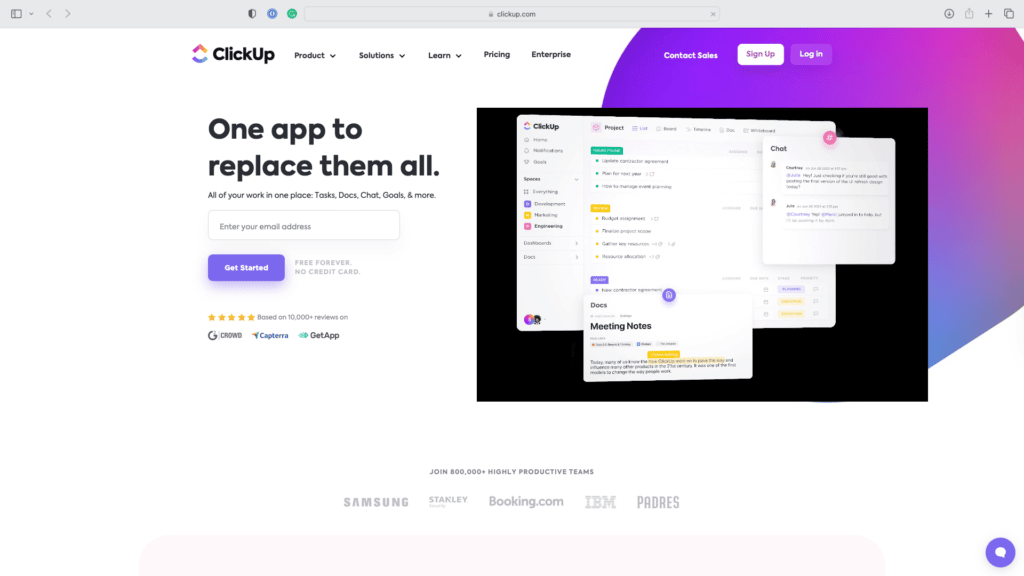 So the question becomes, how do you make an effective landing page for SEO that converts traffic?
Best Practices For SEO Landing Pages & Conversions
Using these best practices and tips, you will optimize your webpage for search engines effectively, as well as, have the best strategies to convert visitors.
How To Optimize Your Landing Page For SEO
To get started, you first need a keyword. This keyword is what people are searching for to find businesses like yours. For example, this could be "Plumber in Orlando, FL" if you are a plumber local to the Orlando Florida area.
After you have your keyword, you are going to want to complete the following:
Insert the keyword in headings and in the body text.
Insert the keyword in the URL/slug.
Use images that describe your keyword. Your alternative and title text of the image should have the keyword in it.
Use the keyword in your meta description.
In addition, you should also consider the following for SEO:
Check your landing page speed with a tool like GTMetrix.com.
Check your mobile responsiveness with Google's tool.
Ensure your webpage and site can be crawled by checking Google Search Console.
After you have optimized your webpage for SEO, you can focus on improvements to increase conversion rates.
How To Optimize Your Landing Page For Conversions
Once your webpage is optimized for SEO, you will want to ensure your webpage can convert visitors. Here are the best practices to do so.
Add testimonials and social proof above the fold (i.e. before the user scrolls).
Add a really simple call to action above the fold such as a call button, or form submission.
Add an attractive heading and subheading above the fold.
Add additional information about your product/service below the fold. Ensure you have calls to action throughout the page.
Add a call to action at the bottom of the page.
Use call tracking to track the ROI of your landing page.
Here's an example of a webpage optimized for conversions.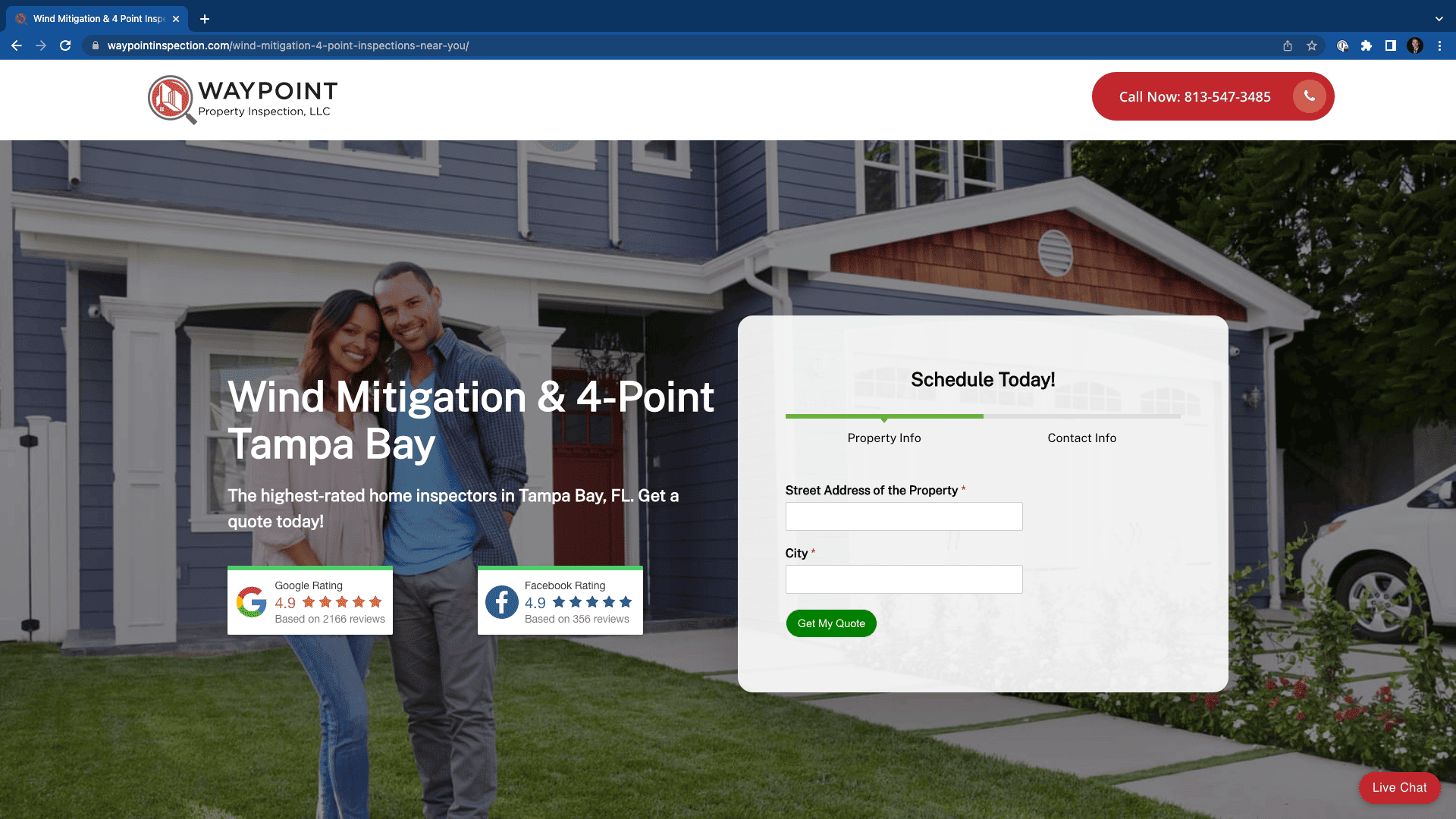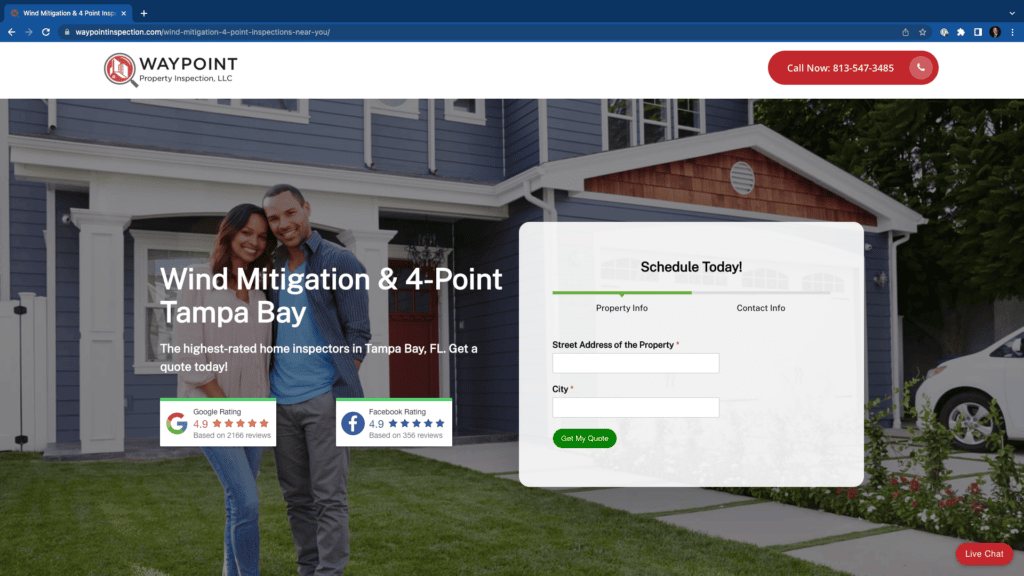 As you can see above, they have a form submission, call button, social proof, and attractive wording all above the fold.
Check out our blog post on ways to improve website copy to get even more conversions or read up on conversion rate optimization (CRO) marketing to improve conversion rates across your website.
Get More Conversions From Landing Pages Today
Using these recommendations and tools, you can optimize your landing pages for SEO to get more visitors. Once complete, focus your attention on the recommendations to increase conversions from site traffic.
If you are a home service professional, such as a home inspector, pest control company, or HVAC professional we specialize in your search engine optimization and landing pages for SEO. Schedule a consultation today to see how we can help your company!