The words written on your website can have a profound impact on your site's conversion rate. If you are looking to increase your online sales, improve your SEO, or simply update your website copy then, look no further than these 6 ways to improve your website copy.
Did you know, 73% of people admit to skimming rather than reading a blog post, according to Hubspot? Your website copy needs to capture the attention of the right audience, tie them into your writing, and ultimately, convince them to make a purchase.
Here are the best ways to do just that!
Getting Started With Improving Your Website Copy
Before jumping into the best ways to improve your website copy, you need to have a solid foundation first. Here are a few things to consider before using our strategies.
Shorten Your Copy & Get To The Point
People want answers to their questions fast. As you probably know, it's like your customers have the attention span of a Goldfish so treat them as such. Shorten your copy, get to the point, and elaborate where necessary.
Check Your Readability Score
There are a few online tools, like this one, that show just how readable your content is. Test your content with one of those tools before publishing. This will ensure your writing is grammatically correct, as well as, easy to understand.
Keep Your Writing Conversational
Generally speaking, it's easy to capture attention and keep attention when writing is a conversation. So, while you are typing away, consider you are speaking directly to the perfect audience for your topic. This way, your wording is conversational in nature.
Use Active, Not Passive Vocabulary
You should write in the active tense. This means your verbs should come before the subjects. Compared to passive tense, in which, your subjects receive the action.
Break Up Your Text
There are heading structures for a reason. Use them. Break up your long-form text into smaller bite-sized pieces with smaller headings to show what the paragraph is about.
Use Clear Visuals
Visuals help get your point across and are easy to digest for readers. Use visuals often, but ensure they are clear.
Think About SEO
After writing your draft, implement SEO strategies to ensure your content can be found in search engines. Here are a few strategies to keep in mind:
Use images.
Name image filenames and alternative text of your keyword.
Use the keyword in headings.
Use the keyword in the body text.
Link to external sites.
Link to internal pages on your website.
After implementing those foundations, let's check out the best ways to start improving your website copy!
6 Ways To Improve Your Website Copy & Get More Conversions
These are our best strategies after years of marketing services. Over time, we have implemented new tools, tested new approaches, and ultimately uses these processes to get the best conversion rates.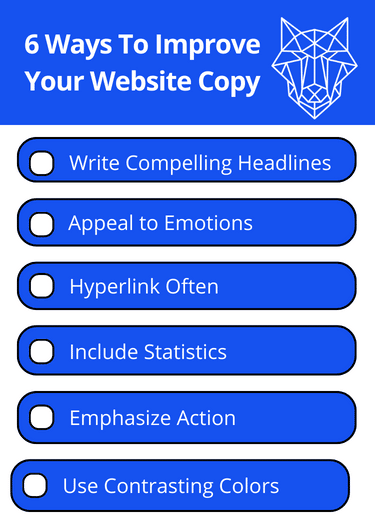 Write Compelling Headlines
Most people skim articles so your headlines have to be powerful and capture attention. Before writing a generic headline, think about what the reader wants and what will get them to keep reading.
Appeal To Emotions
In your body text and headings, appeal to the reader's emotions. For example, if the reader could be experiencing pain, talk about that! If your solution will ease the reader's pain or trouble, talk about that!
Hyperlink Often
Hyperlinking internally to your other pages is going to give context to the reader when they need it. Moreover, this will dramatically improve your website's SEO.
Include Statistics, Quotes, & Original Findings
Statistics help convey the importance of your message. Additionally, original findings help improve your website's SEO as Google wants to show new, valuable content. If you regurgitate the same message as another article, your article really does not have an impact.
Emphasize Action
Personally, I like to emphasize action throughout the article so my message is always there. You can do this with a sticky sidebar, or directly in your website copy. Be sure to have a sentence or two as to why the reader should take action. In other words, what benefit are they going to get out of making the action?
Use Contrasting Colors
This is especially true for buttons on your website or in your email designs. Contrasting colors make your call to action clear to the reader.
Start Optimizing Your Website Copy Today!
Start using these strategies today when updating your website! While you are at it, check out our Do's and Don'ts of SEO.
If you need some assistance or are looking for a professional web designer, we have your back! All of our web designs are modern, SEO-friendly, responsive, and written by specialists. 🙂