Last updated on February 9th, 2023 at 07:17 pm
Are you considering spending more time and financial resources on your social media platforms? It is well known that social media is a very valuable tool when it comes to inbound marketing. Additionally, "The average person uses 7 different social networks each month", according to G2. While investing in a strong social media presence is a great idea, do not jump in blindly. The companies that see the best results from social media marketing are those who spend the time to research the landscape. Do competitors in your service area use social media? What platforms are they using? The answers to these questions and more can be answered using a social media competitor analysis.
What is Social Media Competitor Analysis?
First things first! What is a social media competitor analysis report? This type of research allows you to identify where you fall in comparison to brands with similar service offerings in your service locations. It will allow you to know your adversaries' strengths and weaknesses and capitalize on them. Lastly, social media competitor research can allow you insights into ways to reach your target audience members. If you are going to invest in social media as a viable marketing strategy. You will want to know the current expectations in the space.
The Importance of Competitor Research Analysis
While this process might seem like a huge rabbit hole to jump down, when social media competitor research is done purposefully it can help you in the following ways.
Knowing Where You Stand – Do you have the largest social media presence in your area or the smallest?
Select Which Platforms to Focus On – If a platform like Twitter so not very attractive to competitors and consumers in your target audience and location, it may not be worth the time and financial resources to produce and monitor content on that platform.
Create a Social Media Plan – If you are noticing that the biggest competitor is posting multiple times a week and you are only posting once a month, it may be time to make some adjustments.
Know Your Target Audience Better – Check out where the majority of your competitors' engagement is coming from. Then, make it a point to interact with those groups or individuals.
Publish Relevant Content – Researching competitors in your area allows them to do the trial and error of posting different types of content for you. Check out what types of posts and what hashtags get the best engagement and try those for yourself.
Identify Realistic Expectations and Goals for Performance – Maybe your findings lead you to see that you have a very small audience size compared to your peers. Well, using these findings you can set a goal to increase your numbers by a determined amount to match what you are seeing with other local businesses.
Selecting Competitors to Track
When selecting competitors to research and track, look for companies within your industry with a decent number of Google reviews. Also, check that they are within or directly outside your service area. Target audience members in California may have different social media habits and cues than audience members in Florida.
You will then want to check those companies' social media profiles to ensure they are active and not duplicate accounts. Lastly, click on their followers to ensure their followers were not purchased and are not bots. Click on a few of the followers' profiles and check to see if they are ligament.
Social Media Platforms to Analyze
When beginning your social media research journey, try not to cast your net too wide. This can lead to an overload of information and you feeling overwhelmed.
We recommend starting with Facebook and Instagram as your profiles of focus. This is because of their large audiences and connectivity. Because both Facebook and Instagram belong to Meta, you can link your business accounts making it easy to post the same content on both platforms saving you time and effort. Because of this ease, we find that the overwhelming majority of successful businesses are utilizing these platforms.
Next, check out Tik Tok, Youtube, and LinkedIn. Youtube and TikTok are great for businesses in the home service industries to showcase their services in action and what they see out in the field. Researching what video content your competitors are publishing is a must. LinkedIn is also a great place to connect with individuals as your business. You can easily post the content you are posting on Instagram and Facebook on LinkedIn.
Lastly, consider researching Twitter. This platform can be tricky since a lot of the content text based rather than visual. However, it can still be a helpful tool.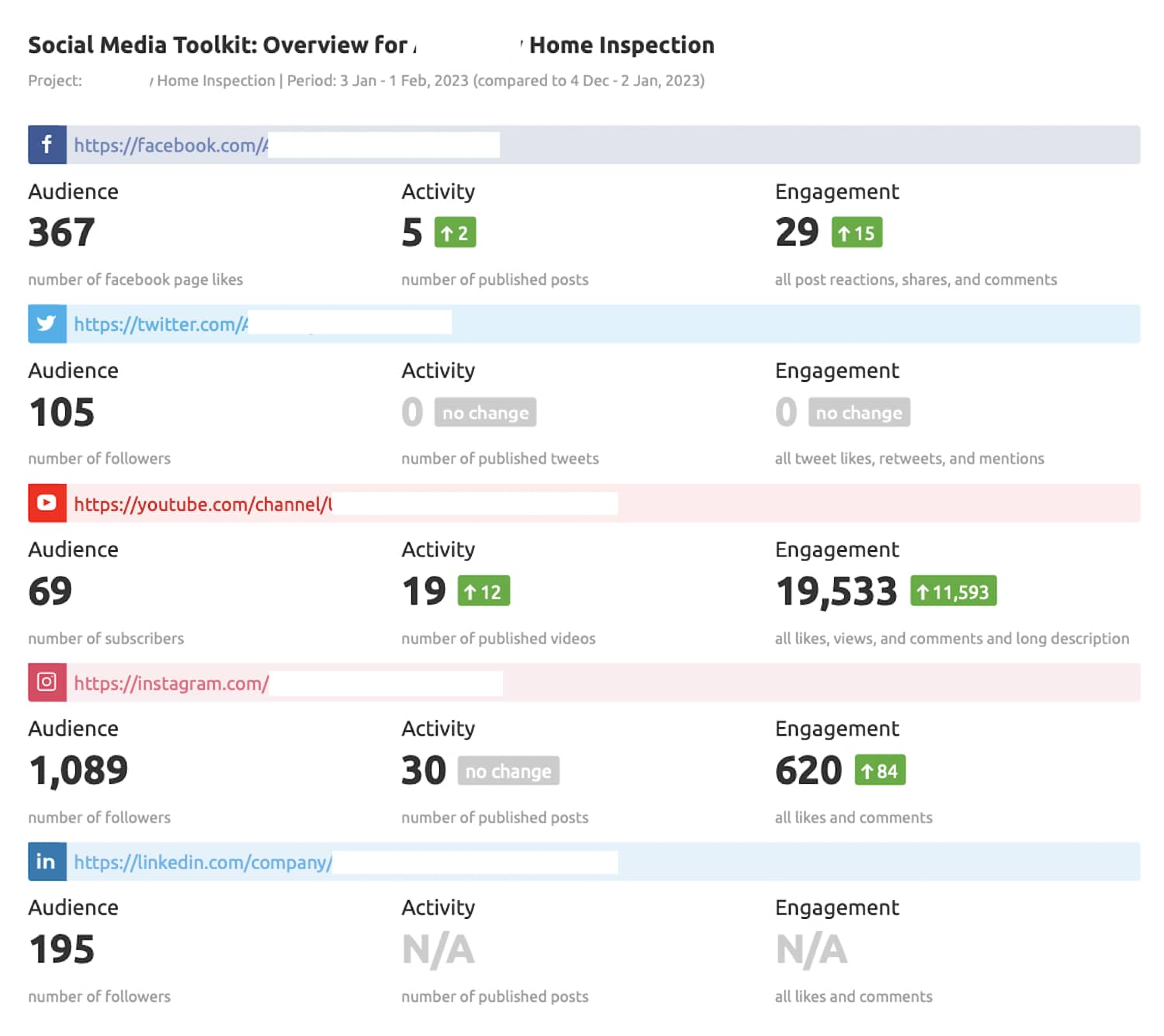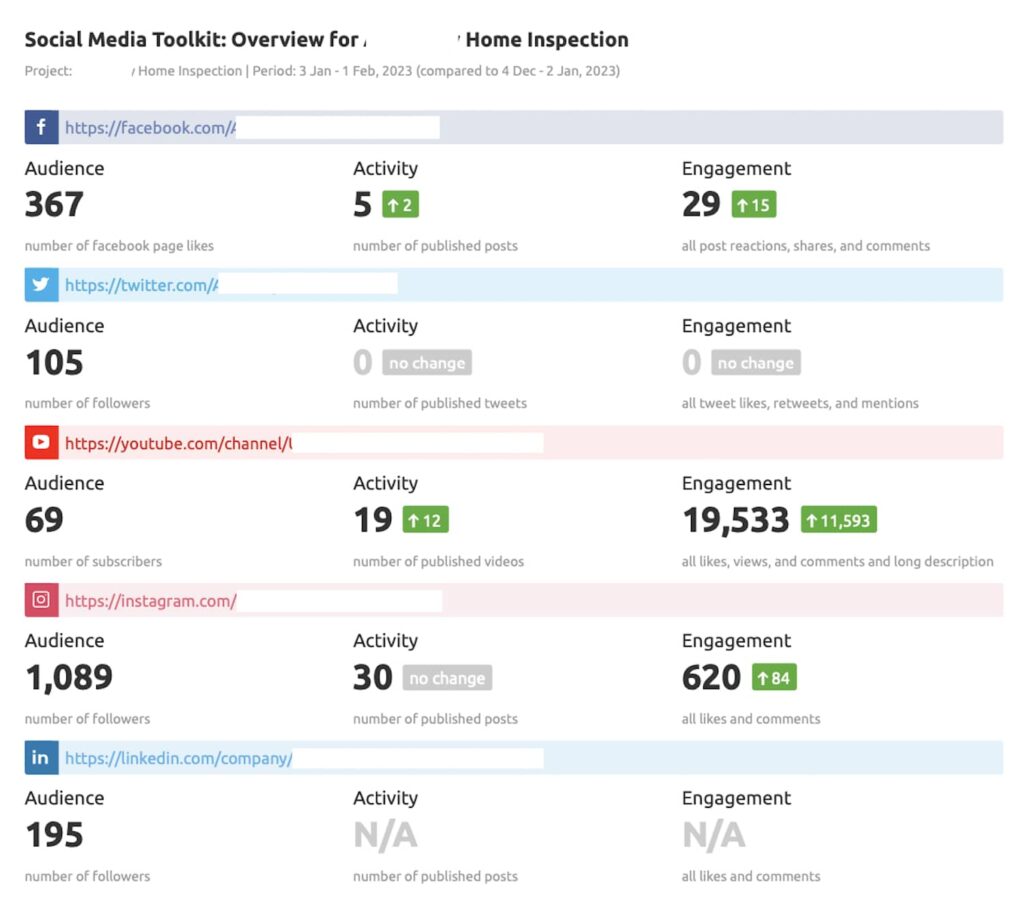 Metrics to Focus On
Now that you are digging into each platform. Let's look at the data to focus on. You will want to look at the audience size and reach of each company on each platform. Engagement and activity are also important metrics to consider. Lastly, look into these metrics change over time compared to your own. If you hire a professional marketing agency to complete this research for you and can even produce different reports based on length of time.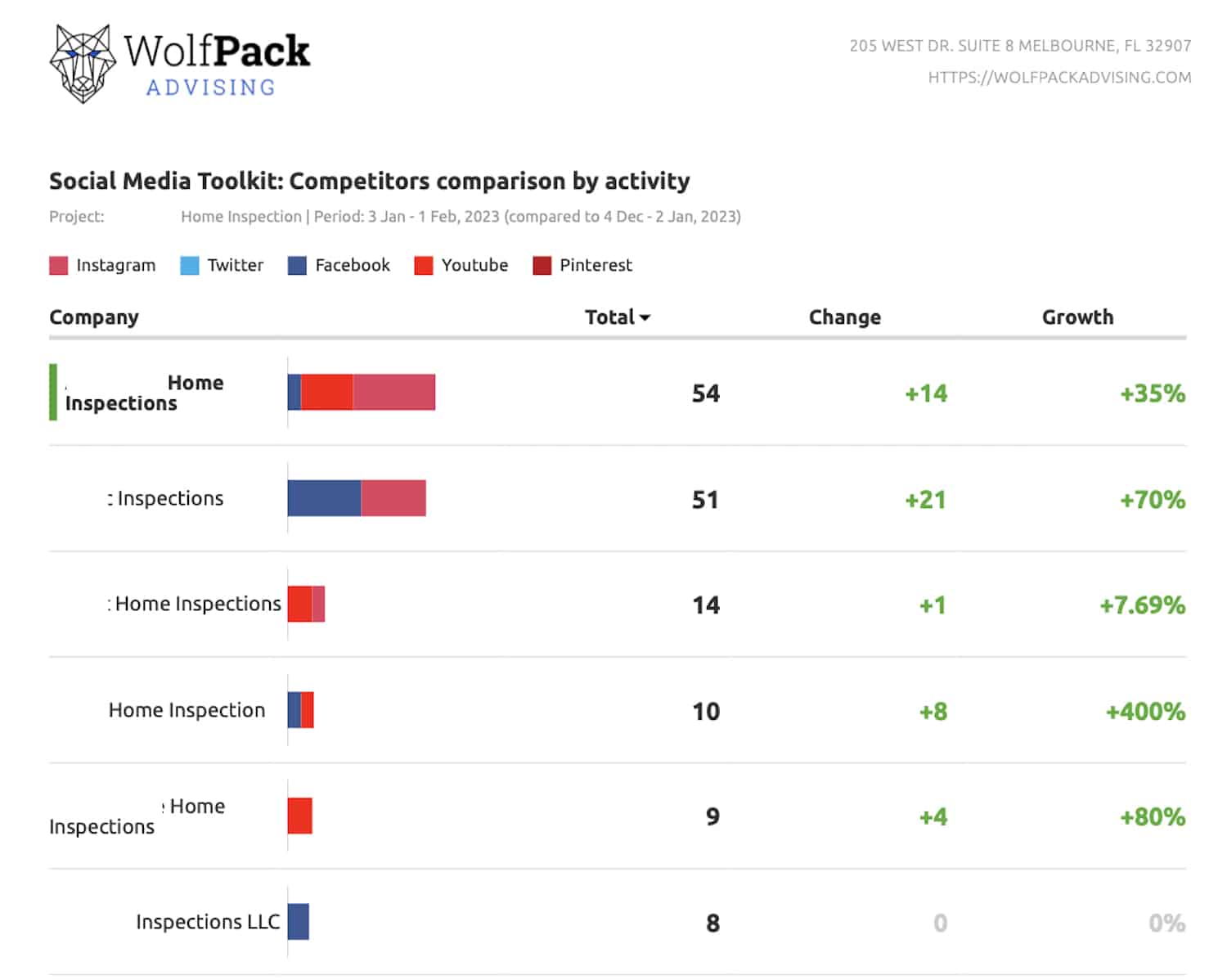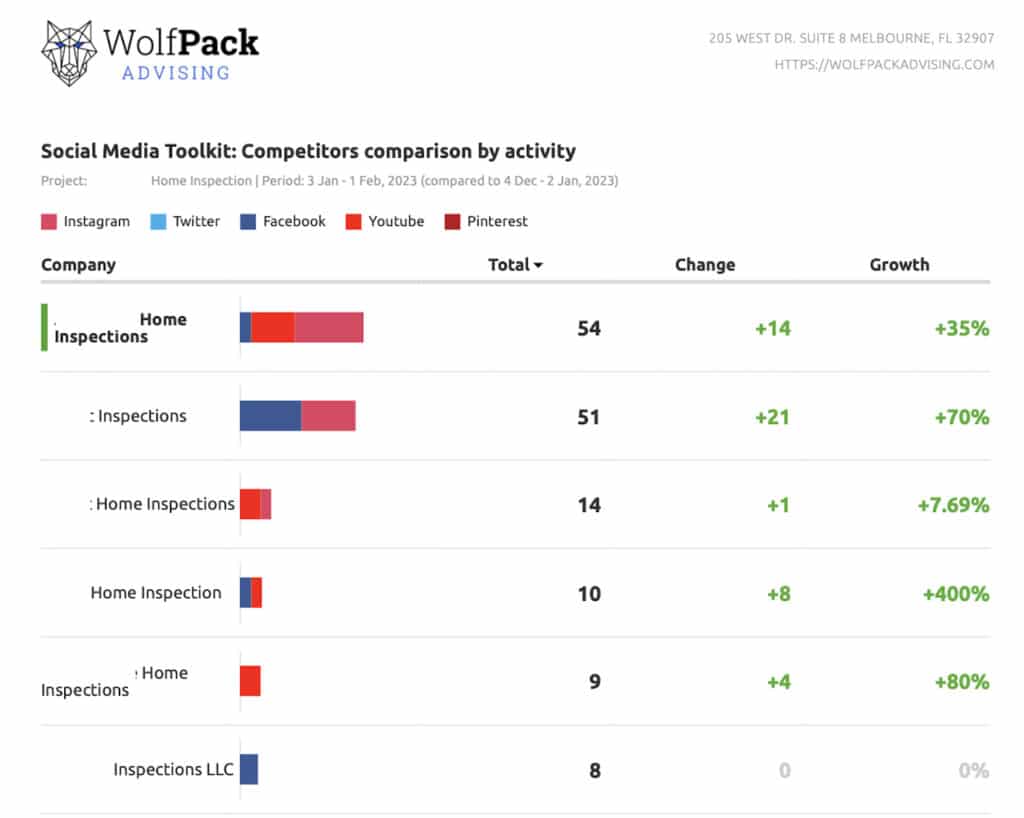 Actionable Items to Implement Based on Research Findings
Now it is time to use the data you have gathered to improve your social visibility.
Start implementing similar content and hashtag ideas to profiles that you have determined to be successful. Also, update your bio as well as your cover and profile photos!
Additionally, engagement and outreach are a must! Engagement strategies that your team can implement include following past, present, and prospective customers in your area who are active on social media every single week. Once you follow them, like, comment, and message them to encourage interaction with your profile. This will help your posts gain more traffic and grow your audience size. We have found looking at competitors in your area's profiles, clicking on their list of followers, and interacting with those agents is a way to gain followers as well.
Conclusion
There are plenty of online resources which can assist in this process. However, consider hiring a professional social media agency to assist in this data collection process.
A professional agency will have in-depth knowledge of how to select competitors to analyze, which metrics to focus on, and how to dissect them into actionable items moving forward. This can be especially helpful if you are considering hiring them to complete your post creation, engagement, and outreach to them in the future. Lastly, hiring a professional can save you time in this lengthy process.