Last updated on April 20th, 2023 at 12:54 pm
In today's world, a digital presence, especially one on popular social media platforms, is imperative. According to Sprout Social, "78% of consumers are willing to buy from a company after having a positive experience with them on social (media)." Moreover, much of the Gen Z population would select a company they can find and interact with on social media over a business without a digital presence. How can you use this information to your company's benefit? Investing in social media can lead to lead generation for your business. Keep reading to learn some strategies that can encourage more leads from social media.
What Platforms Should I Use for Social Media Lead Generation?
Instagram
The number one social media platform we recommend for service and product-based companies looking to increase their leads and conversions is Instagram. "Instagram is the 8th most visited website in the world", according to Hootsuite. This platform has seen astounding growth over the last few years, especially among younger individuals. It is also capable of displaying content in various ways.
Here are the ways Instagram can display content for your business.
Posts – photos or videos with captions that appear in a users timeline
Stories – which appear at the top of a users screen and last for 24 hours only, 'highlights'
Highlights – a compilation of previously posted stories shown on a users profile underneath their bio
Reels – short-form videos similar to TikTok that appear in a separate tab
Live – real-time Livestream video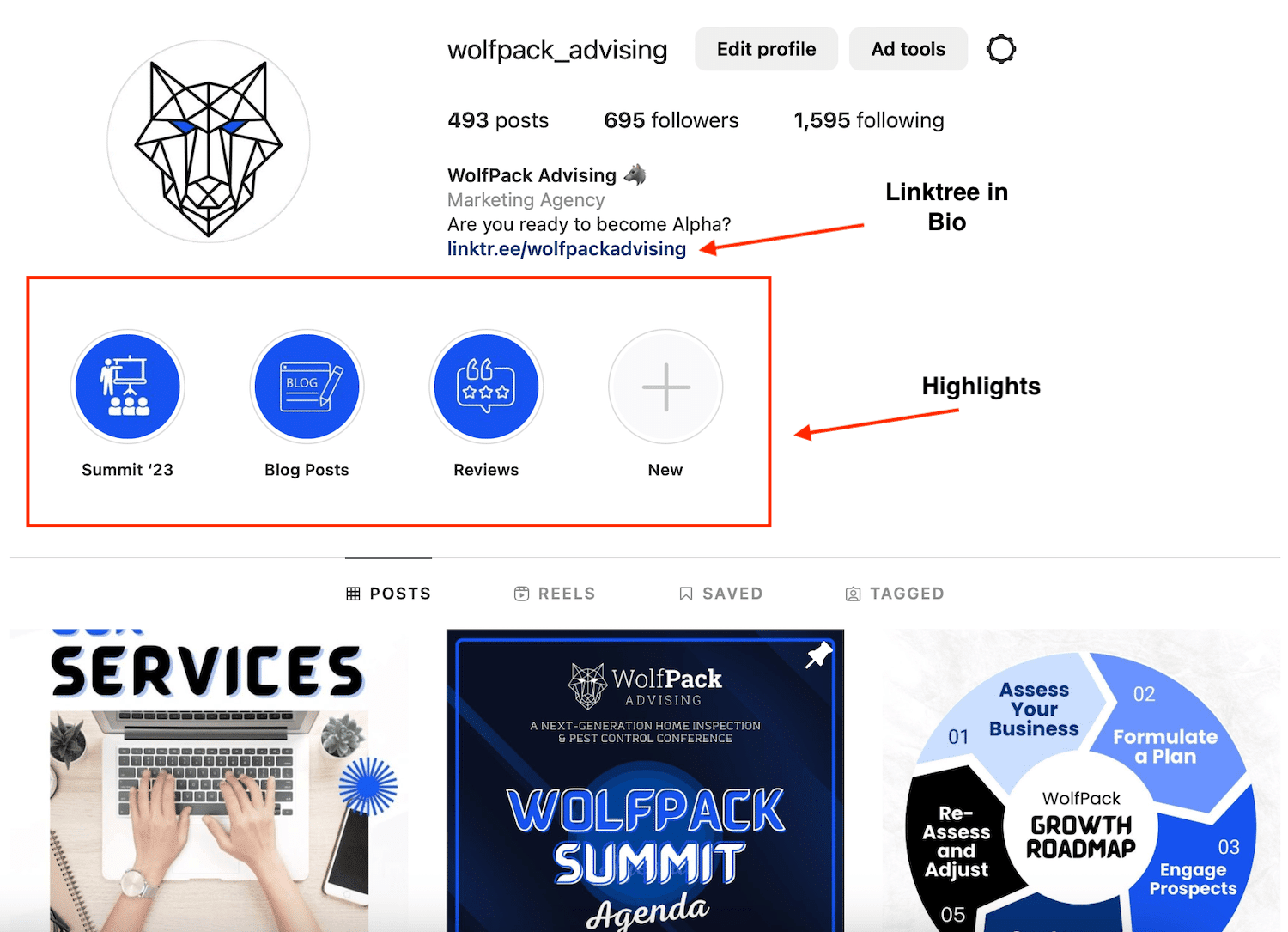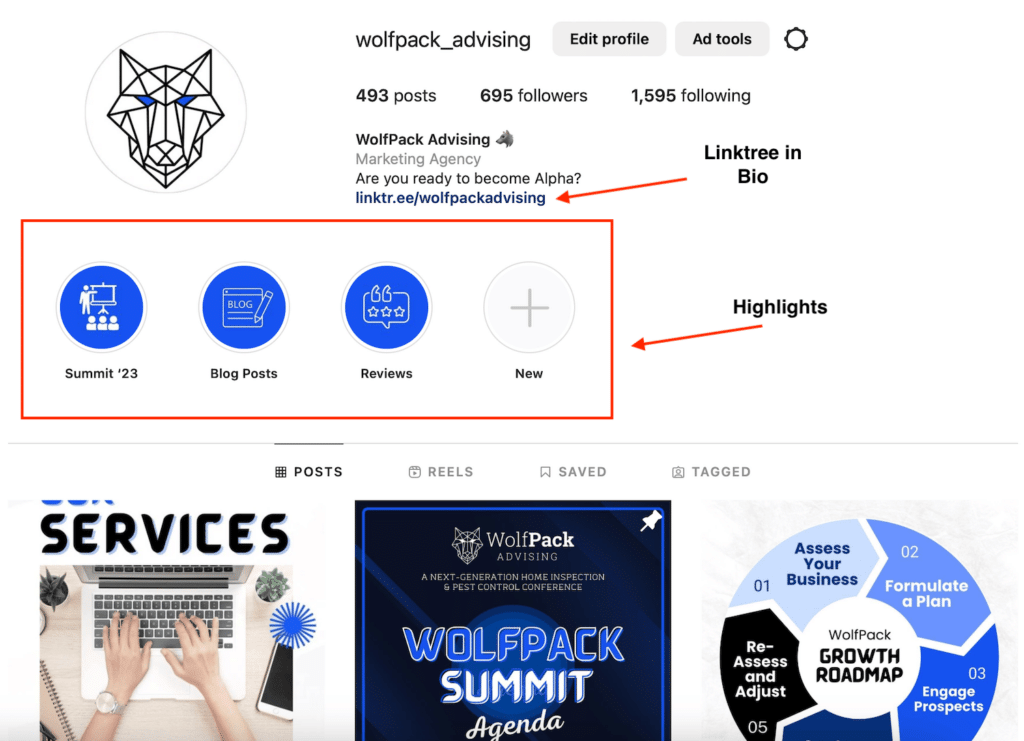 Instagram is a great platform for businesses to use because you can insert links into your bio or post captions. This link can redirect to your company website for a purchase to be made. You can also consider using a link such as Linktree. Linktree links can be placed into bios and include multiple links for the user to choose from. For example, if a roofer has a Linktree in their profile, a prospect can click on the Linktree link. Then the prospect is proved with multiple options to navigate to. For example, they could choose to navigate to a quote landing page, a business review page, a blog, and more.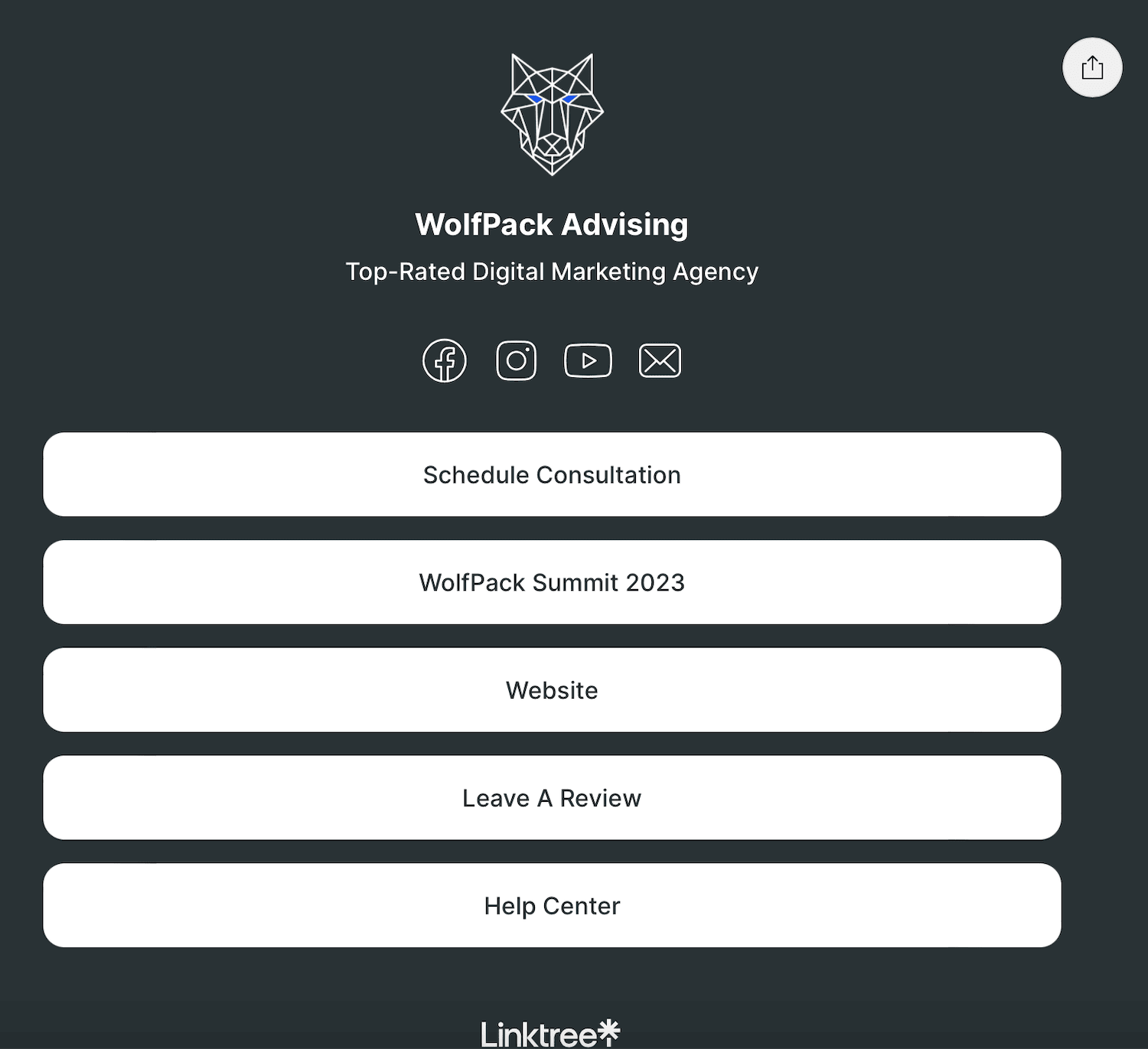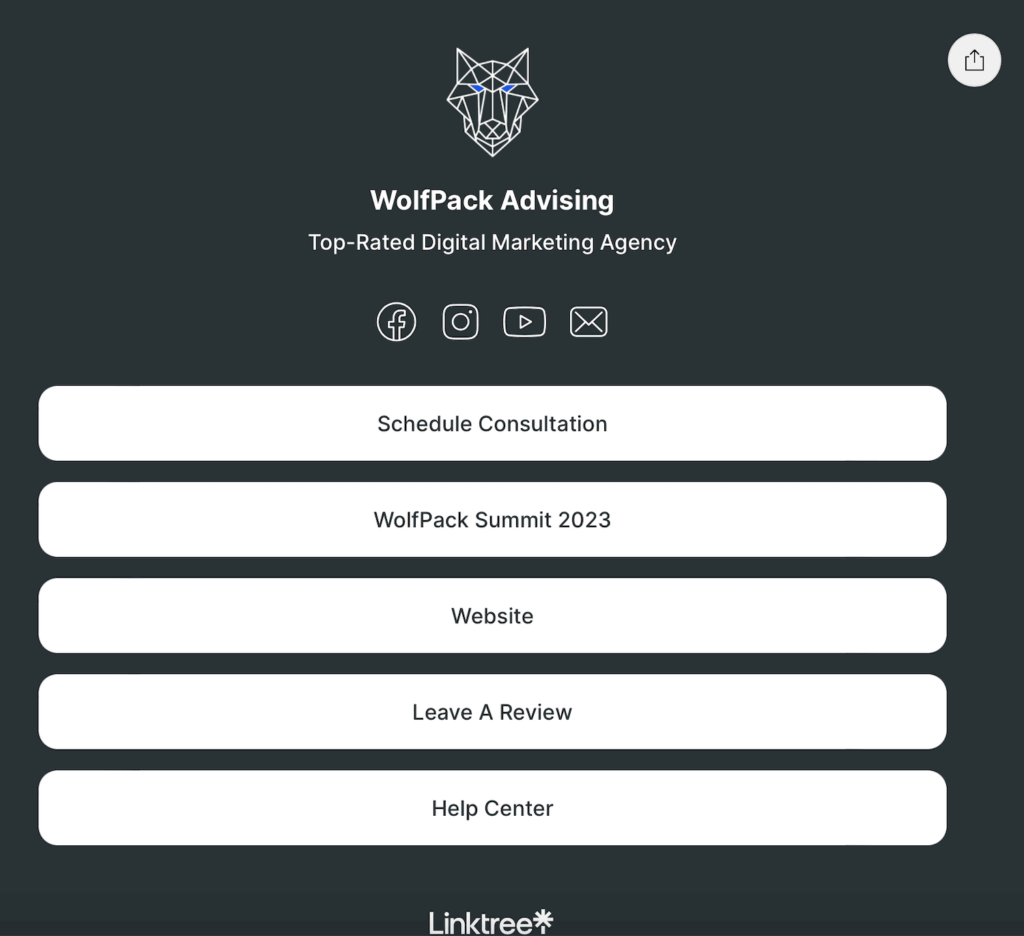 Facebook
Facebook still remains the most utilized social media platform with 2.934 billion users. While it has lost a little traction over the last few years among the younger population, Facebook is still very popular among older adults and should not be ignored.
Facebook can be very easy to use if you are already using Instagram or vise-versa. This is because both belong to the same company, Meta. There are many features that overlap with both platforms. For example, if you connect your account using Meta Business Suite, you can automatically post duplicate content (posts and stories) on both accounts with the click of a button. This can save your team time and energy. It can also help with brand consistency across multiple platforms.
LinkedIn
LinkedIn can be a great platform to post the same content being posted on your Facebook and Instagram accounts, especially if your social media lead generation strategy is directed towards an audience that thrives on the platforms such as real estate agents, business owners, etc.
TikTok
This platform has exploded over the past few years. While many may think it is brand new, it actually takes inspiration from platforms such as Vine and Musically from the early 2010s. TikTok went on to merge with Musically in 2018. TikTok's content is entirely video based. The majority of the content is short-form video-based with the option for live video interaction with follows as well.
TikTok's algorithm provides an angle that businesses can take advantage of which differs from the platforms mentioned above (except Instagram Reels). This difference is that the user's feed is split into the sections – 'Following' and 'For You' Page.
This differs from regular posts on other platforms where the feed is almost if not entirely made up of content from accounts the user is already following. TikTok's 'FYP' (for you page) suggests content from users all around the world based on the assumed preferences of the audience members. TikTok's algorithm tracks the amount of time spent on particular videos by each user as well as the content of those videos. This includes elements such as sounds, hashtags, keywords, and images. If the algorithm notices you are spending more time on videos that fit into a particular theme or with a specific element, your 'for you page' will show you videos of similar content.
For example, if TikTok notices a user is spending a lot of time on video with different styles of bedding decor, the app will likely recommend a video produced by a furniture store. TikTok algorithm identified a potential lead for your furniture business that you were completely unaware of.
Also, consider investing in a social media self and competitor analysis report to identify the current state of your social media presence compared to others in your industry.
Elements to Utilize for Social Media Lead Generation
Now that you know which platforms to focus on. Let's dive into what to include in your content on these profiles.
Items to Include Your Posts
Links to Help Conversions – Post about recent blogs and link to your website to help increase website traffic. Once users make it to your site, they are more likely to convert.
Faces To Relate To – Include images of your team members or repeat customers. Just like Gen Z likes to cyber stalk their Bumble date before meeting them for the first time to make sure they know what to expect, users will do the same with your business and employees.
#Hashtags to Connect – Hashtags are a great way of helping users discover your content they are not already following. Think of them link a keyword for searches on Google. For example, Susan is a young woman who is looking for a new outfit for a concert, she may do some digging to find examples of outfits from other users on social media. Susan could search #countryconcertoutfit or #westernfit to find pictures of other young women wearing outfits she wants to try. If you own a clothing business, you could add these popular hashtags to your post. Next thing you know, Susan has discovered a skirt your store sells and decides to purchase it.
Product or Service Images and Videos – Consumers want to be able to cyber stalk and know what to expect from your product or service. Social media is the perfect place to show them.
Testimonials – Consumers also want to know what others like them think of your product or service. Use social media to show them your review. these reviews can be video testimonials or written ones.
Items to Avoid for Social Media Lead Generation
Posting plain/still images – Add brand-related graphics that catch the users' attention
Long gaps between posting – Users like consistency!
Lack of responses to comments or direct messages – In some use cases, social media can seem to lack a personal touch. Remember to respond to those who interact with you!
Robotic-sounding comments or DMs – Similar to the previous point, interactions are meant to show personality and connection!
Being too serious all the time – Funny never goes out of style! Funny posts tend to get more engagement. People laugh and then want their friends to laugh, so they share funny content which widens the audience.
Check out more common issues with social media lead generation plans.
Engagement, Outreach, and Interaction
While posting content is important, engagement and outreach are even more important. This is when you follow active users who fall within your target audience. Once you follow them, then like and comment on their posts. Even DM them! This will make them feel seen and in turn encourage them to follow you back and interact with your company's content. This connection would be what we consider a 'positive interaction' as mentioned in the statistic at the beginning of the article.
This should be completed at least once a week. However, the more time spent on engagement and outreach, the better. Just remember not to spam users. That could get your account reported. Consistently and strategically interacting and following other users will increase your number of followers over time.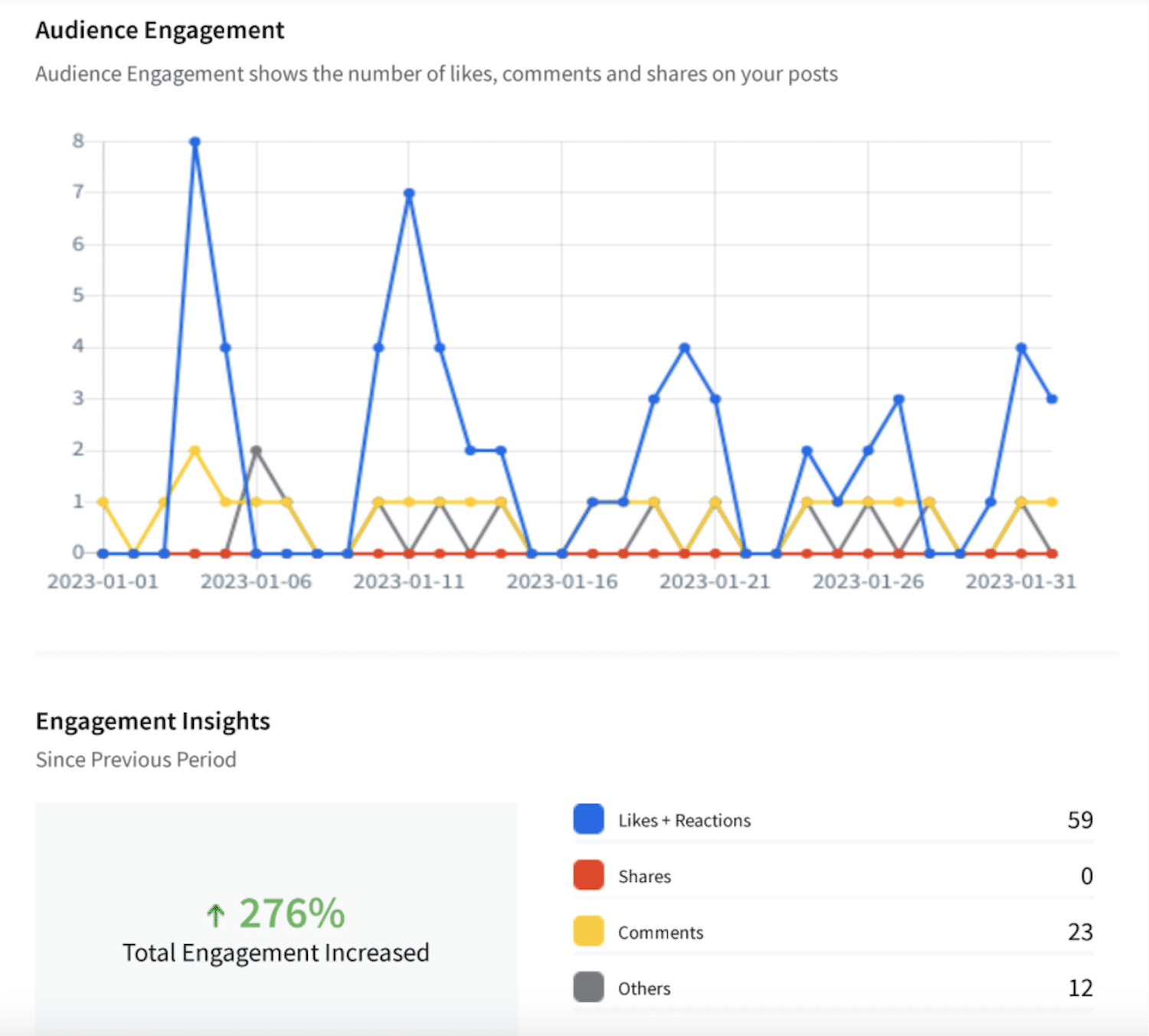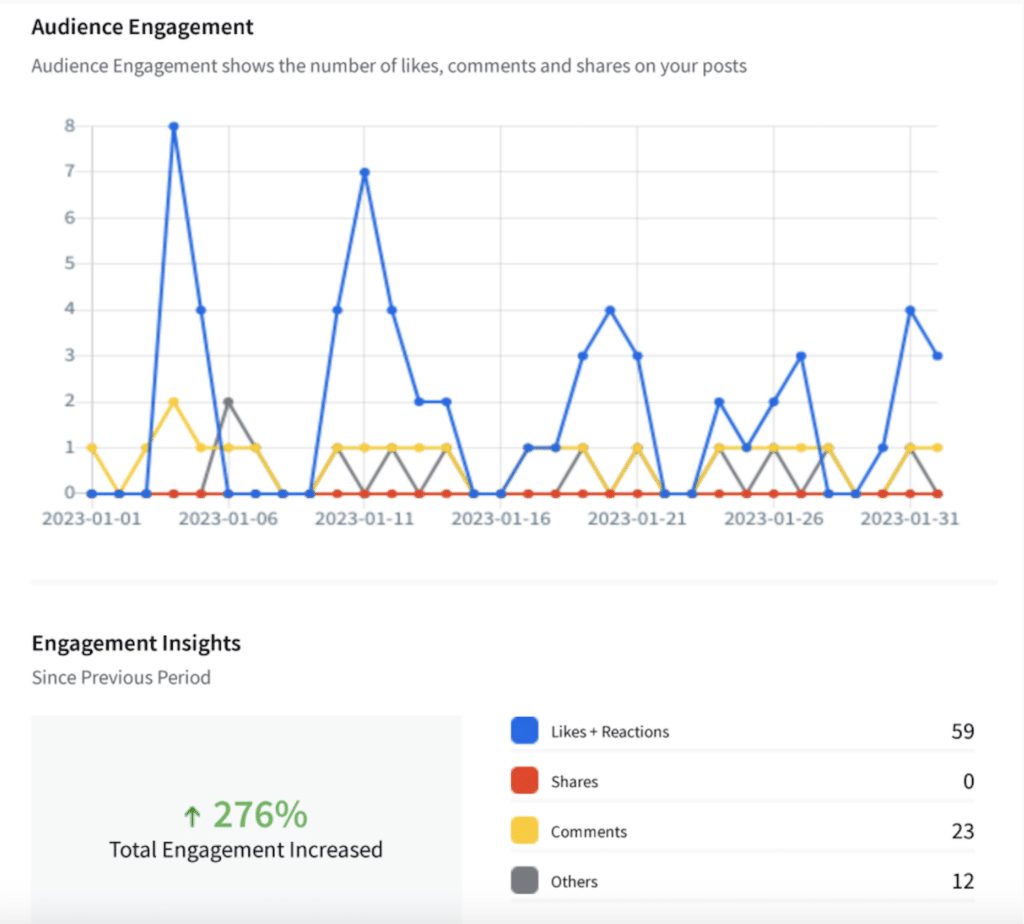 What Social Media Lead Generation Metrics Should You Track?
But how do I know it's working? Here are some metrics to track! You can use Meta Business Suite to track basic social media analytics, or you can invest in a more detailed reporting platform.
Post Engagement
This includes the number of likes, comments, and shares your posts receive. This number should increase steadily over time. Occasionally, a post will explode and receive very high engagement, so it is normal to see an inconsistent spike in engagement every now and again.
Audience Volume and Reach
This includes not only your account followers, but the users your posts reach through shares, hashtags, tagged posts, etc.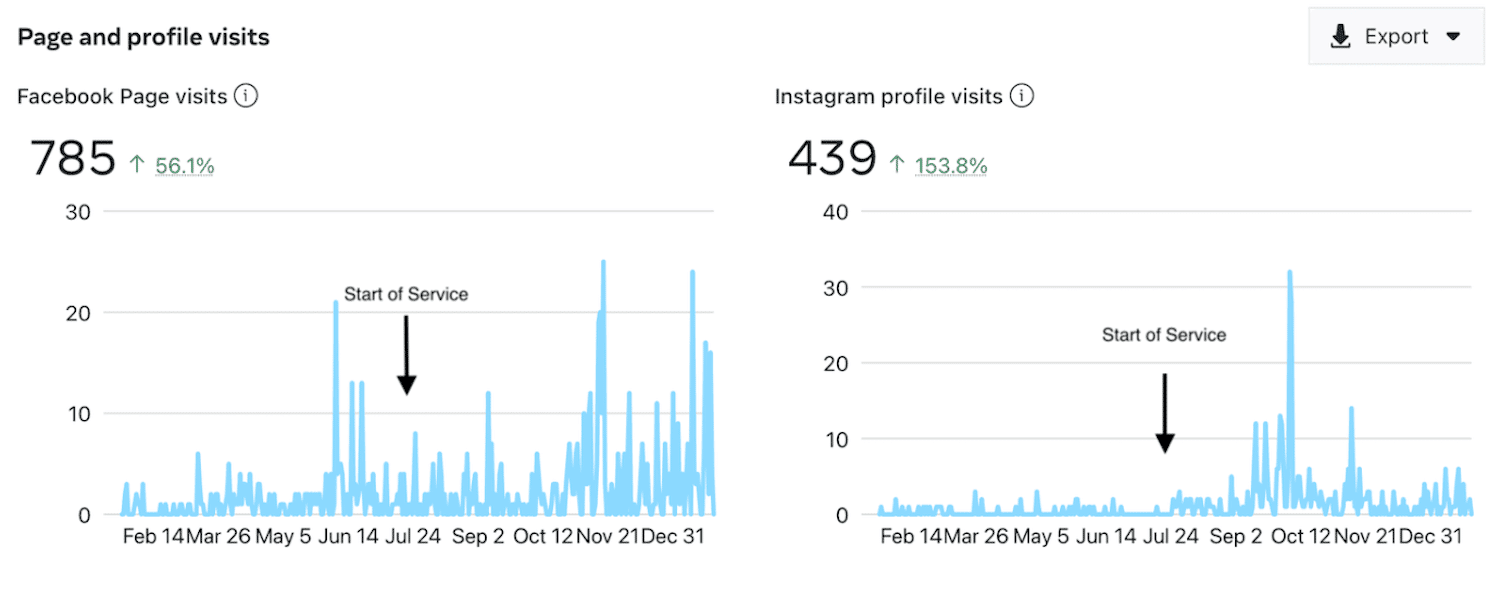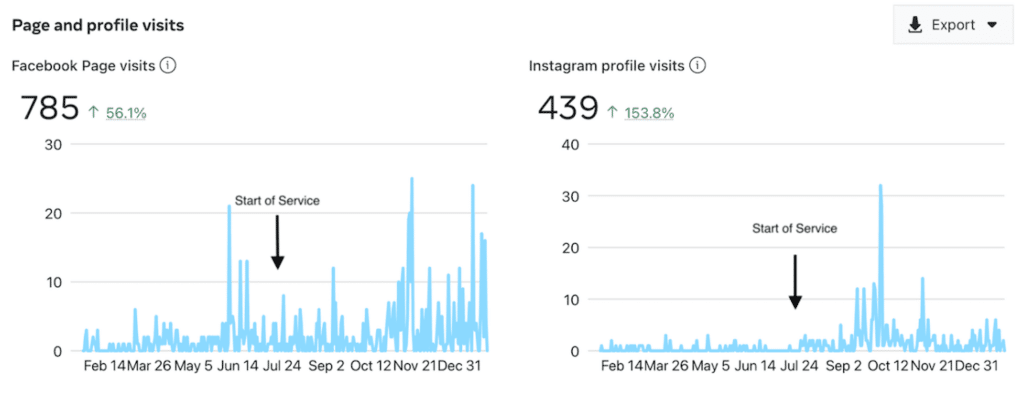 Profile Views
While getting likes and comments is great, your ultimate goal is social media lead generation. While social media ROI can be difficult to track, looking at the number of people using posts to navigate to your profile page is a great place to start. This is because once they make an effort to navigate to your profile, that means they are interested in your service or product. They can then use the link we discussed earlier in your bio to navigate to your company's website.
Conclusion
While social media management can be a daunting task, it is imperative to have social media lead generation as a business growth strategy. Check out our other post on hyper-local social media marketing or consider hiring a social media management company to help track your social media analytics and create engaging content to improve these analytics.