According to The Knot, "The largest chunk of couples' wedding budgets are usually spent on their venue. This average venue spend is around 37% of the overall budget." With the average wedding costing $30,000 in 2022 according to NerdWallet, many couples are spending $10,000 or more on their venues. With such a large emotional and monetary investment going into their selection, how can you encourage couples to select your venue as the right choice for their special day? Let's check out the top wedding venue marketing strategies for 2023 to get more couples saying 'I Do' to your venue!
Wedding Venue Marketing – Social Media
As the saying goes 'A picture is worth a thousand words'. Couples dream of how their wedding will look for years before walking down the aisle. Social media can be a valuable tool for you to use to show potential clients what their special day could look like on your property. And the best part! It is free! Here are some ways to use social media to market your wedding venue!
Here are some effective strategies that you can use to encourage customers to use social media.
Show Off Your Beautiful Venue
Share stunning pictures and videos of your venue on social media channels such as Instagram and Pinterest. Partner with wedding photographers who frequent your venue by asking to use their photos taken on the property in exchange for tagging their photography business accounts. These platforms allow users to showcase their products visually, which can help potential customers picture themselves tying the knot at your venue. However, avoid always posting still images with no logo.
Landing Page Link
Consider adding a link such as Linktree or a Buffer start page to give your social media page visitors a choice in where they can navigate next. This can help with conversions, lead tracking, and encouraging navigation to your website.
Creating and Designing a Linkree
To create a Linktree you will need a unique email address. Go to Linktree's website and create an account.
Ensure color codes, logos, and fonts match those in your brand kit. They should match those on your social media posts and your website.
Consider adding links for…
Tour scheduler or quote form
Website homepage
Blog
Yelp Profile
Google My Business Profile or Review Link
All Social Media Platforms (using the social buttons tool)
Paste that link into a new browser and test that all of the linked buttons are functioning properly and navigating to the right locations. View an example Linktree.
Share Real-World Stories and Testimonials
Social proof is a powerful wedding venue marketing tool for convincing potential customers. Share testimonials and stories of couples who have used your venue. This will make your venue more relatable and trustworthy and helps build confidence in your services by showing potential customers what they can expect from their wedding day.
Offer Special Weekday and Off-Season Promotions
Everyone loves a deal! Offering special promotions and discounts is an excellent way to encourage customers to choose your venue over your competitors. Share these deals on social media and watch the bookings roll in. This can be especially helpful with getting clients on the books during weekdays and during the off-season months.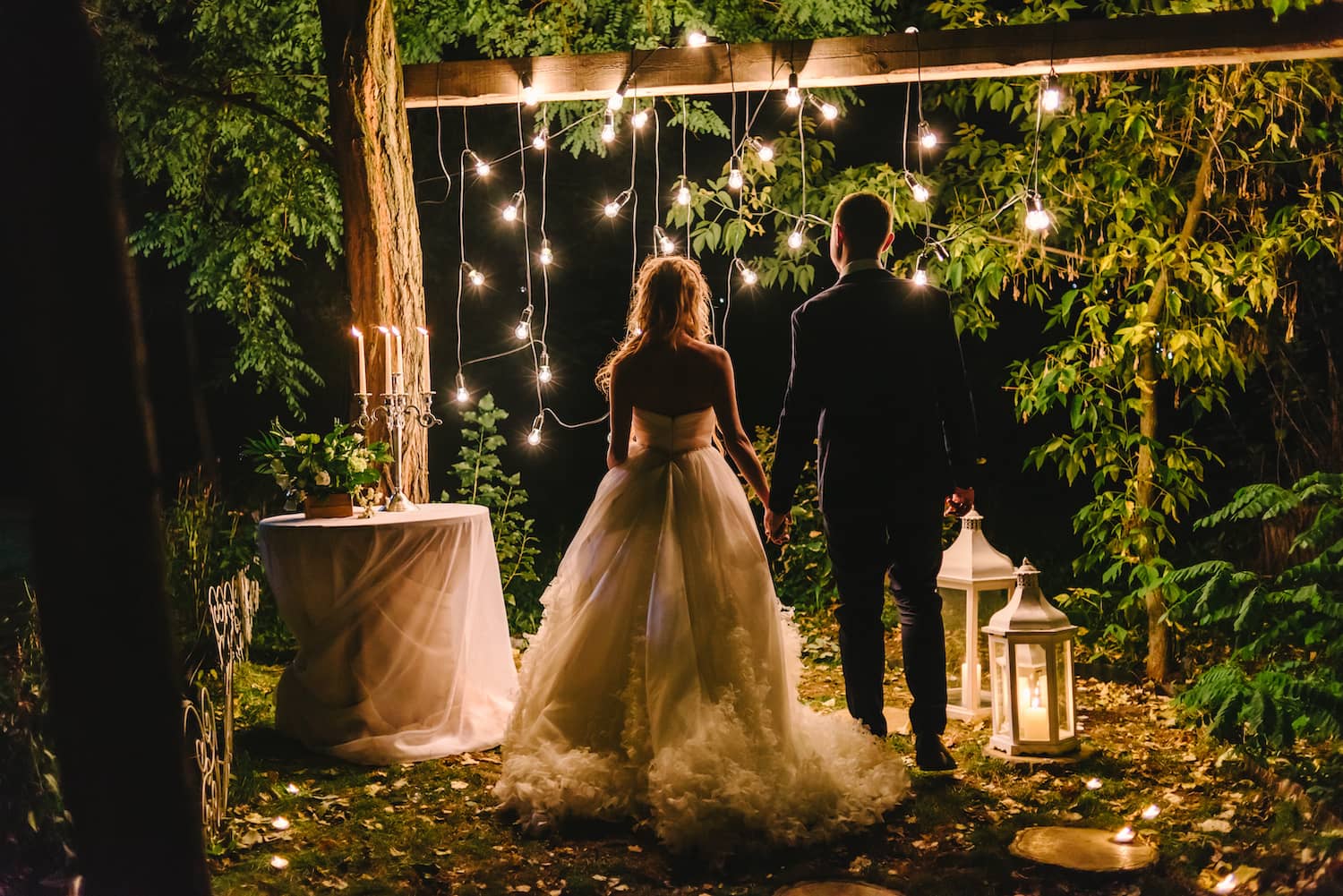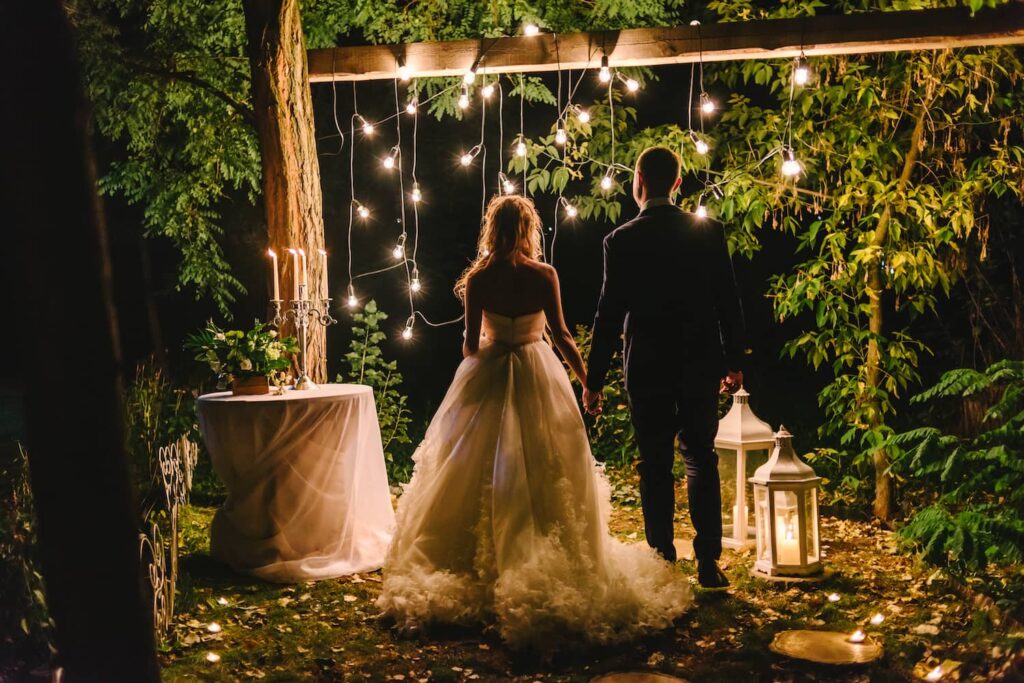 Host Virtual Tours
Planning a wedding can be very exhausting for couples. Eliminating the long drive to your venue can set you apart from other venues in your area. Hosting virtual tours can be a game-changer for attracting potential customers. Livestream a tour of your venue, answering any questions viewers may have along the way. This strategy helps give potential customers a feel for your venue, even if they can't visit in person.
Engagement and Outreach
Lastly, social media can be a great wedding venue marketing tool to connect with potential and previous customers as well as industry partners by following, liking, and messaging them. Here's how to do so!
Consider searching #engaged or #isaidyes on social media sites like Instagram to find couples who recently got engaged and may be in the market for a venue like yours. View their profile and see if they are near your area. Like their post and comment to congratulate them! Once they see your comment, they are likely to click on your profile to see who you are and what your venue is like!
The work isn't over after the big day on your property is complete! Message past clients a few days or weeks after their big day saying congratulations and that you can't wait to see the photos. Ask them to tag you when their wedding photos are posted so you don't miss them! Now all of the couple's friends, family, and followers will be exposed to your profile through the tag!
Referral Partners
Lastly, connect with other wedding vendors that serve your area such as caterers, bakers, florists, planners, videographers, and more! They could have a client looking for a venue and they may bring your venue up in conversation just because they have seen your presence on social media. This could foster a potential partnership down the road!
While social media can be free, it is also a large time investment when completed in-house. Consider hiring a social media expert to assist in your efforts.
Wedding Venue Marketing – Search Engine Optimization
By optimizing their website and content, wedding venues can increase their online visibility and attract more potential clients through organic traffic.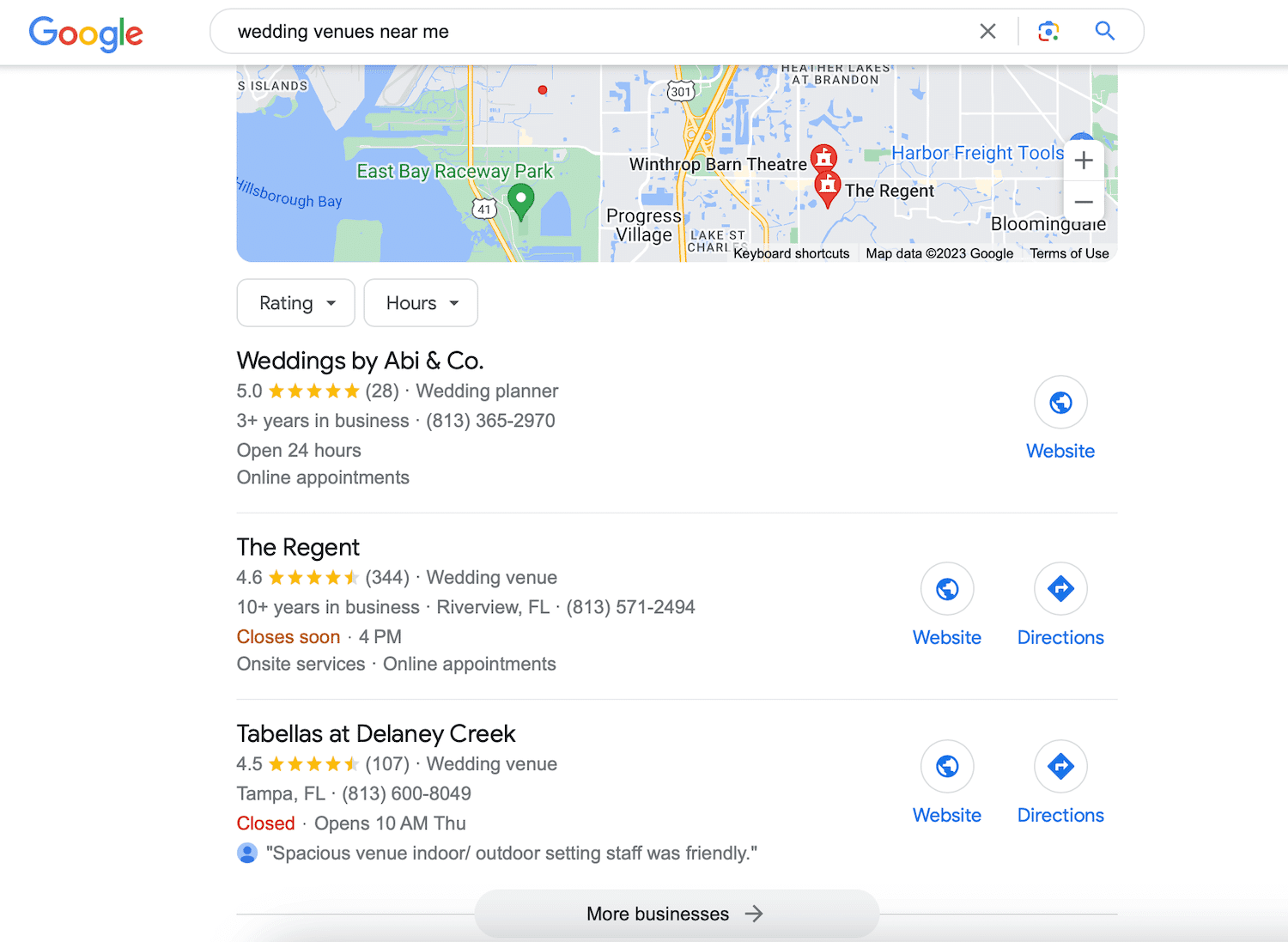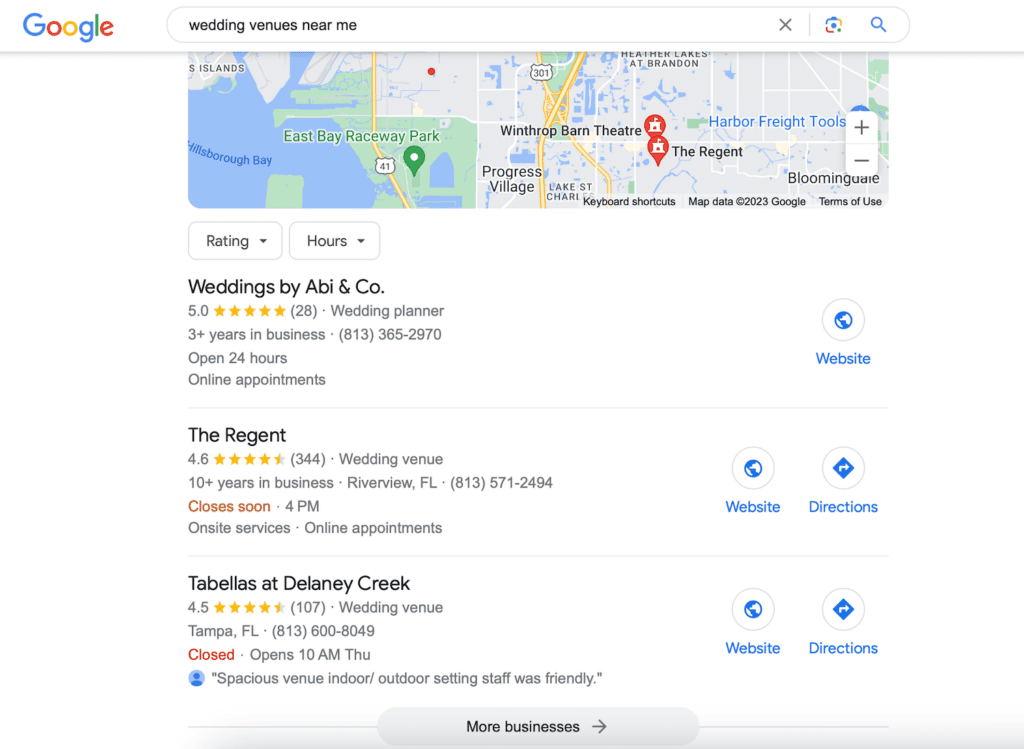 Here are some tips for wedding venues to market by improving their SEO over a 3-9 month period:
Conduct Keyword Research: Identify relevant keywords that potential clients in your area might use when searching for wedding venues. Use these keywords throughout the website, including in titles, descriptions, and content.
Some examples of keywords for venues in Tampa, FL would be…
Wedding Venue Tampa Bay
Lakefront Venue South Florida
All-Inclusive Venue Near Me
How much does a wedding venue cost in Florida?
Optimize Website Content: Ensure the website has high-quality and relevant content that utilizes keywords naturally. This could include blog posts, testimonials, and images.
Utilize Google My Business: Register the venue with Google My Business so it appears in local search results. Include accurate information such as the address, phone number, and business hours. Check out our blog for a more in-depth guide on using setting up and optimizing your Google My Business Profile.
Encourage Reviews: Encourage satisfied clients to leave positive reviews on various review platforms such as Google Reviews or Yelp. This can help the venue's overall online reputation and increase its credibility. Check out our blog for more ways to encourage Google reviews.
Content Writing: Use the keywords mentioned above to write blogs providing information that couples planning a wedding would search and read. This will help them navigate to your site and give your presence more authority.
By following these tips, wedding venues can improve their online presence and attract more potential clients. Consider hiring an SEO specialist to help assist in keyword research and content writing.
Wedding Venue Marketing – Pay-Per-Click Ads
When starting wedding venue marketing, SEO may take many months to show an increase in traffic because while you are working to gain traction alongside your competitors, you also must await Google's bots to redraw your website pages. If you would like a quicker increase in wedding venue leads, consider PPC (pay-per-click) ads. You can set a budget to bid on keywords that are searched relating to your business.
Google ads, Google local ads, Yelp ads, and Facebook ads can provide a decent ROI if managed by someone familiar with these campaigns. Considering hiring a PPC specialist to help set up and manage your campaigns to avoid overspending and receiving a poor ROI.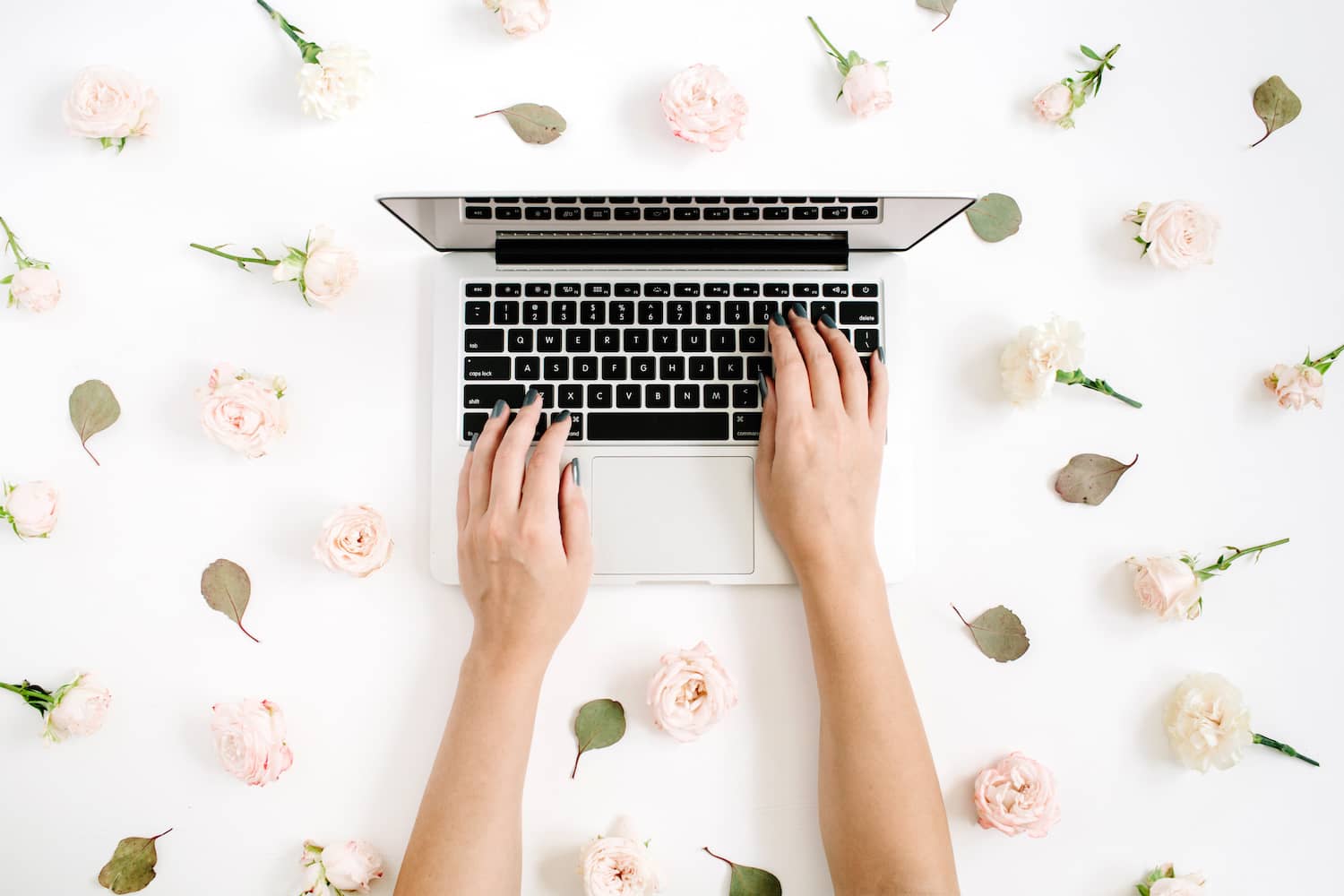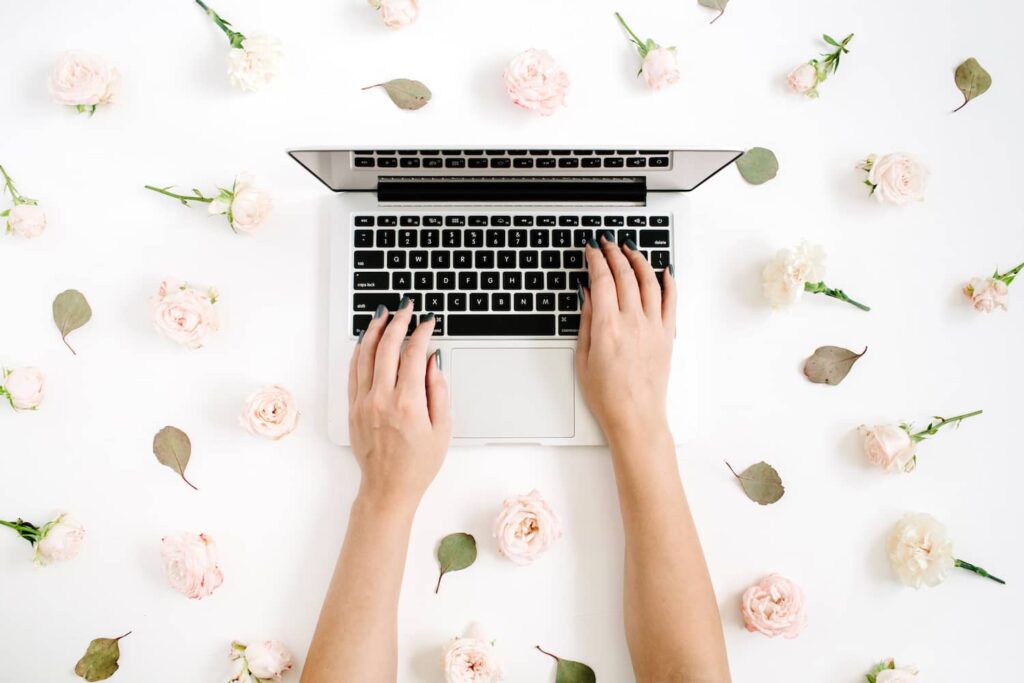 Jaw-Dropping Website
While SEO and PPC can be great tools to drive traffic, they can both be for nothing if potential customers navigate to your website and then choose to leave because they are not impressed. Ensure your website is clean and modern, includes more than one page, meets ADA legal requirements, and includes Call-to-Actions. Lastly, be sure your website is mobile-friendly, secure, and fast. Test how mobile-friendly your website is here. If your website does not meet all of these standards, clients may not convert. Consider hiring a web designer to re-vamp your website to have it look as good as your venue.
All-Inclusive Offerings
Lastly, if you are capable, add an all-inclusive offering to your venue package list. In today's busy world, many couples would prefer an offering where they do not have to pay mind to all of the little choices and decisions that wedding planning requires. If you have good relationships with other wedding vendors near you. Discuss with them the opportunity of a package deal where they discount their services to be your preferred vendor in your package. This can give the couple a cheaper price and take away the stress of having to select a florist, DJ, bakers, caterer, and more.
Conclusion
According to Zippia, there were over 2 million weddings in the U.S. in 2022! Now you know the top wedding marketing strategies for 2023 to encourage more weddings at your venue!
Looking to learn more? Schedule a consultation with Wolfpack Advising, a top-rated digital marketing agency that helps businesses grow every day!