Last updated on September 14th, 2022 at 08:04 pm
If you own a small business, you understand the importance of getting local customers into your store. Thankfully, you can grow your local customer base organically online. With Local Search Engine Optimization (Local SEO), you can grow your digital presence over time, appear in online searches, and grow your business.
This niche of SEO is continuously growing and is almost required today. In fact, "4 in 5 consumers use search engines to find local information" – Think With Google.
That being said, let's talk about what Local SEO is, the importance of it, and how you can use its power to grow your small business.
What Is Local SEO?
Local SEO is a branch of search engine optimization. As the name suggests, it is about optimizing search engines on the local level. This can be by zip code, city, county, or even as large as a state.
Local SEO comes into play anytime a user searches for a product/service that is intended to be near the user or in a certain geographical area.
For example, a user could search for "home inspectors in Orlando, FL" or "plumbers near me", or "best restaurants in Tampa". In all of those examples, the intention of the user is to find a product/service in a local area.
With Local SEO, you can optimize your business to appear in the rankings for those local searches.
How Does Regular SEO Differ?
In a most basic sense, regular SEO does not focus on local searches while local SEO does. Therefore, there are some key differences in SEO strategies for local businesses versus say an online e-commerce business.
Why Is Local SEO Important For Your Small Business
Local SEO is a game-changer when it comes to your business's long-term growth strategy. The online world is continuously growing and every year more and more people are searching on their mobile devices.
Therefore it is critical that your business appears well online. Here are some key statistics on local searches.
"46% of all Google searches are looking for local information." (Source: GoGulf).
"Local searches result in purchases 28% of the time." (Source: Joel House Search Media).
If you are still a skeptic, just take a look at the interest in Local SEO overtime from Google Trends.


Local SEO's traction continues to grow year over year. With a better user experience on applications like Google Maps, Apple Maps, and sites like Yelp.com, it is only a matter of time before every business has to have a good presence online (if that hasn't happened already).
So what can you do about it?
What Success With Local SEO Looks Like
For one company, Google My Business alone drives over 30% of their online leads. Read on to learn how you can optimize and set up your Google My Business account.
Now this is not even counting leads from Yelp, Bing, Yahoo, and others that add up overtime!


Success like that will not be reached overnight. It takes time. However, with persistence and focusing on your online presence, you can start obtaining organic leads from online sources.
Getting Started on Local SEO For Your Small Business
If you are wanting to get started on Local SEO for your business, you can do a lot yourself.
The first step is checking your online presence of your business through a citation checker like the one from Moz.
Head on over to Moz Local and enter your business information to see how well you perform. Moz Local will search the web for your business info and check for missing info, duplicate info, or incorrect info.
Here is what happens when I search a local business.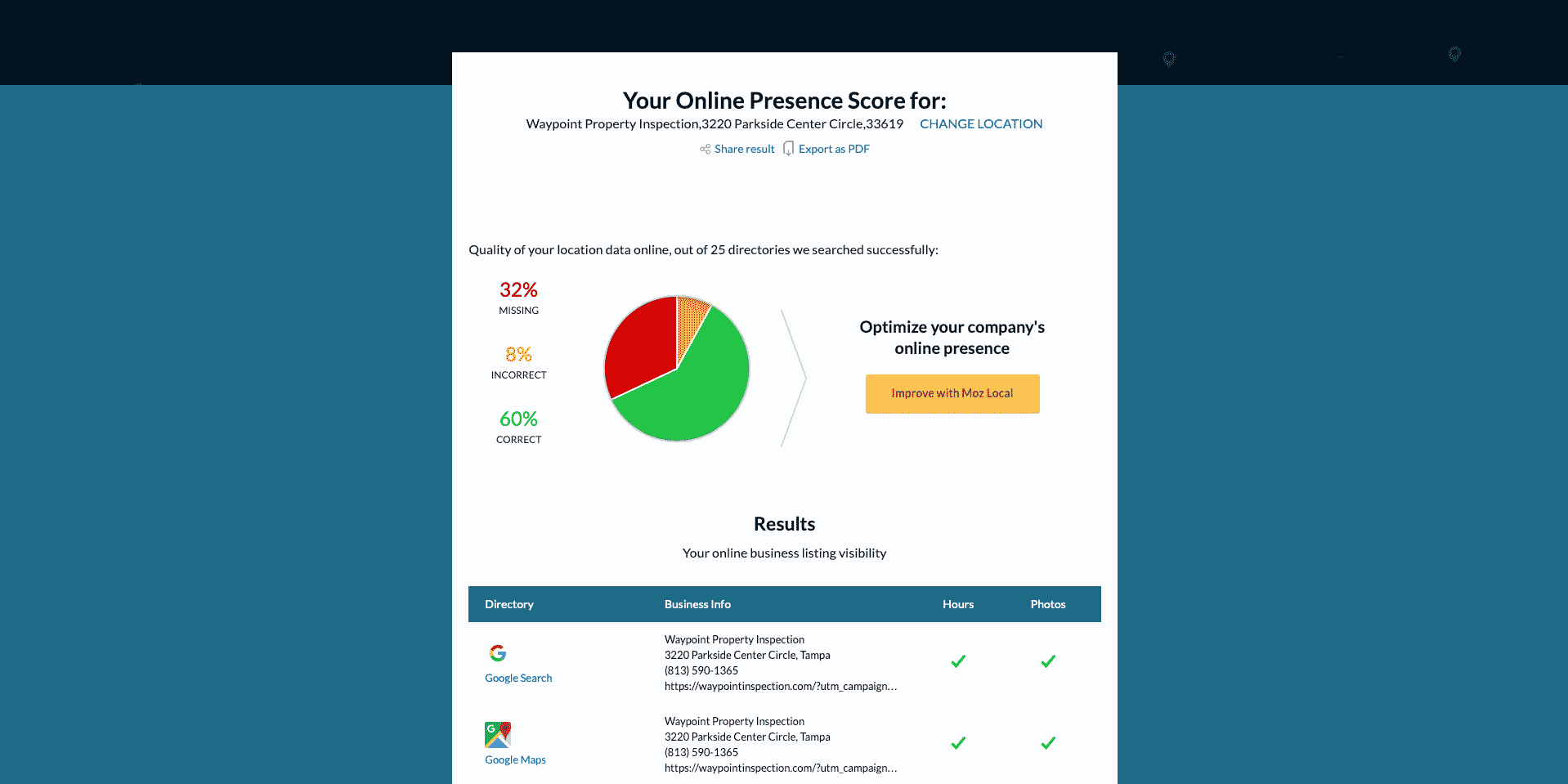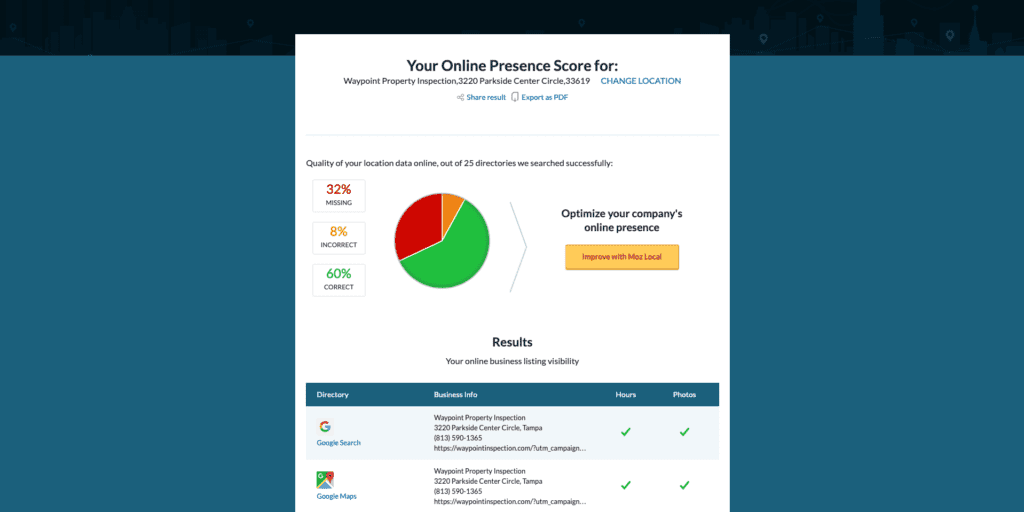 Now there are a ton of other tools out there that will fix these missing/incorrect listings for you like WhiteSpark, BrightLocal, & Yext. You should do your own research and find one that fits your needs.
Growing Your Local SEO
After checking your online visibility through a platform like Moz, get to work by creating the different profiles that are necessary for your business. For example, these are the platforms critical for home inspectors or some professional service businesses.
Almost all businesses will want to be on Facebook, Yelp, Google My Business, & Bing Places. Start there, ensure all information is complete, and get as many reviews as you possibly can for all profiles. Then, work on being extremely active on those platforms.
Here is an example of a business with great Local SEO. They have a lot of reviews, their information is complete and accurate, and they are also using photos to their advantage. You can even see other profiles they have created with reviews like the ones from Facebook and Zillow in the search results.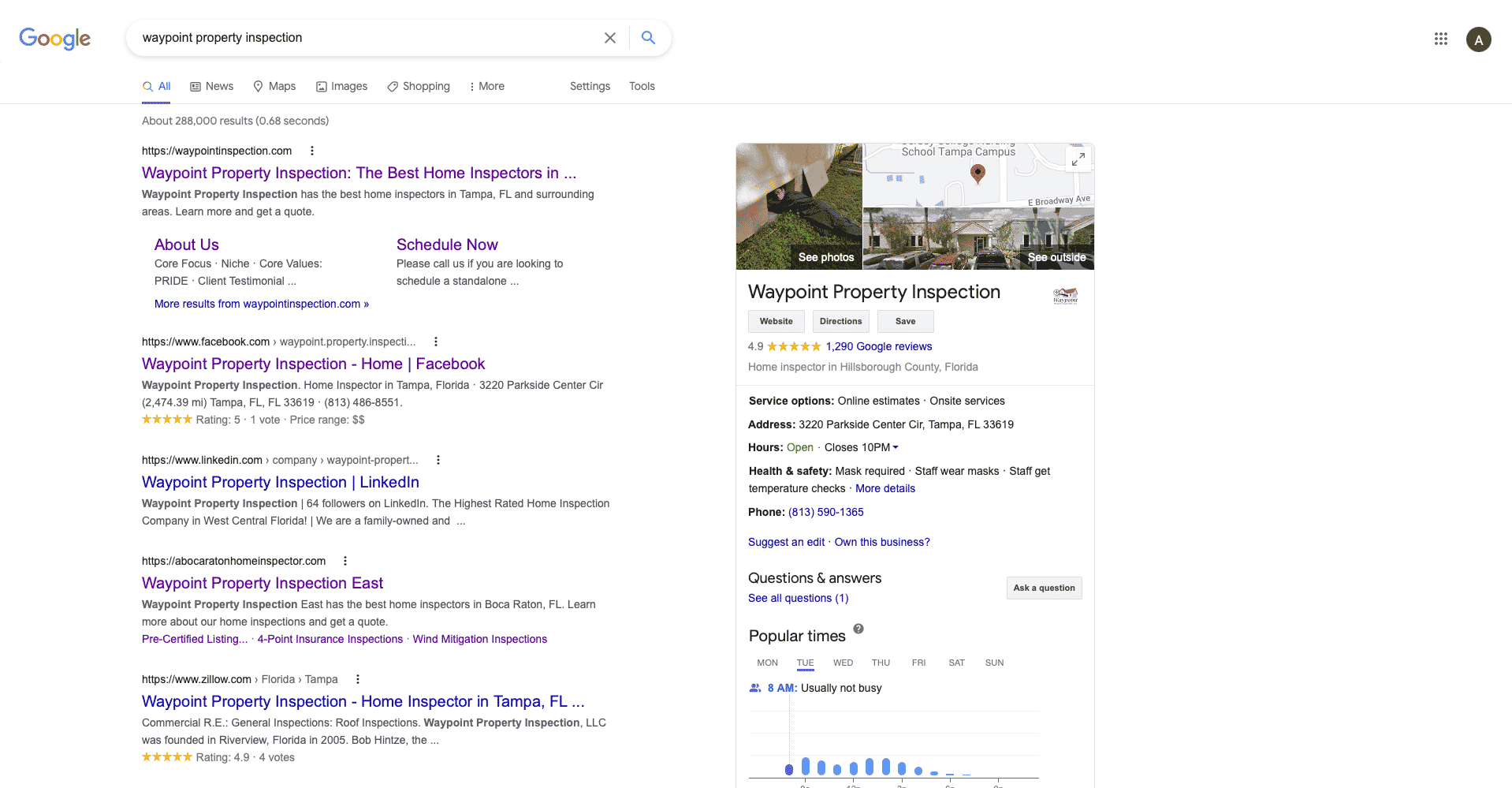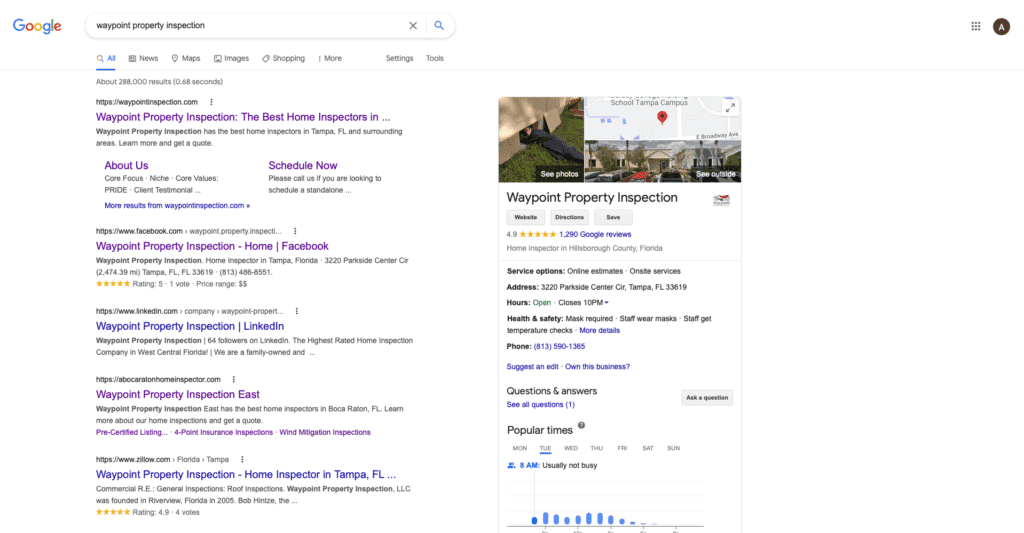 Here's how to properly set up your Google My Business account. I still see a lot of businesses today with their profiles improperly set up.
After using these different platforms for a while, you will begin to learn how you can use them to access a new audience on that platform.
For example, using hashtags on Instagram, you can show your posts to people that would be interested in them. Or, you can post onto your Google My Business profile to showcase your latest deals to potential customers.
Next Steps on Local SEO
There is so much more to Local SEO besides what was mentioned such as having a mobile-friendly and SEO-optimized website.
We will talk about everything that is included in Local SEO in another article, but for now, here is one of my favorites on local SEO.
Final Thoughts
I have seen many businesses make the mistake of not using Local SEO for their business. In my opinion, you are practically throwing away your future as a company every day you leave Local SEO off the table.
I can say with certainty the companies that are not using Local SEO are on average much smaller and lack growth year over year.
Local SEO creates a new life for your business.
This niche of marketing is continuously growing and soon enough every business will have to have a good online presence to be relevant if that hasn't happened already.
Be sure to up your business strategy with Local SEO. For more information, read our post on the best local internet marketing tips.