Last updated on April 20th, 2023 at 12:55 pm
According to Go Gulf, 46% of all Google searches are looking for local information. That means nearly half of every search on Google could go to a local business. Ultimately, if your business is not optimized for local internet marketing, you could be missing out on a ton of website traffic.
We have put together the top 7 local internet marketing tips in this post to help you optimize your business and expand your reach.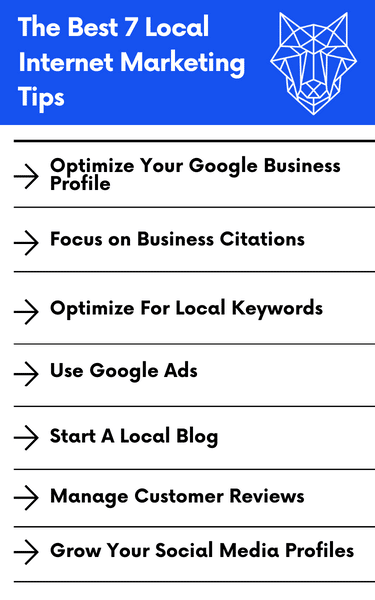 What Is Local Internet Marketing?
First, what is local internet marketing? Local internet marketing is the practice of marketing a business to a local community using the web. This could be through paid advertisements or through free services like Google Business Profile.
With Local Internet Marketing, your business can generate many leads through online means.
Optimize Your Google Business Profile
With any local business, you are going to need to set up and optimize your Google Business Profile. Google Business Profiles show up in local searches, like the image below.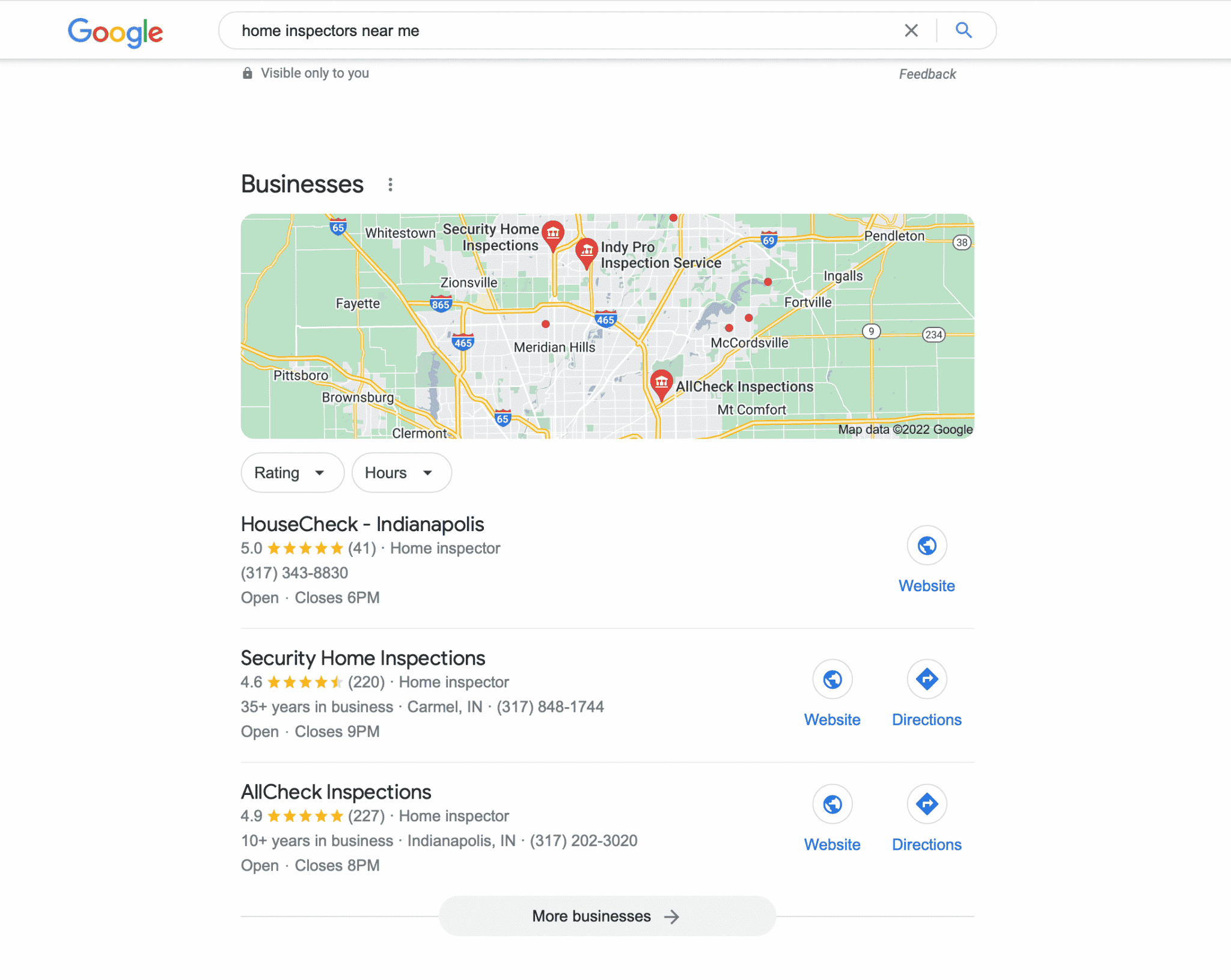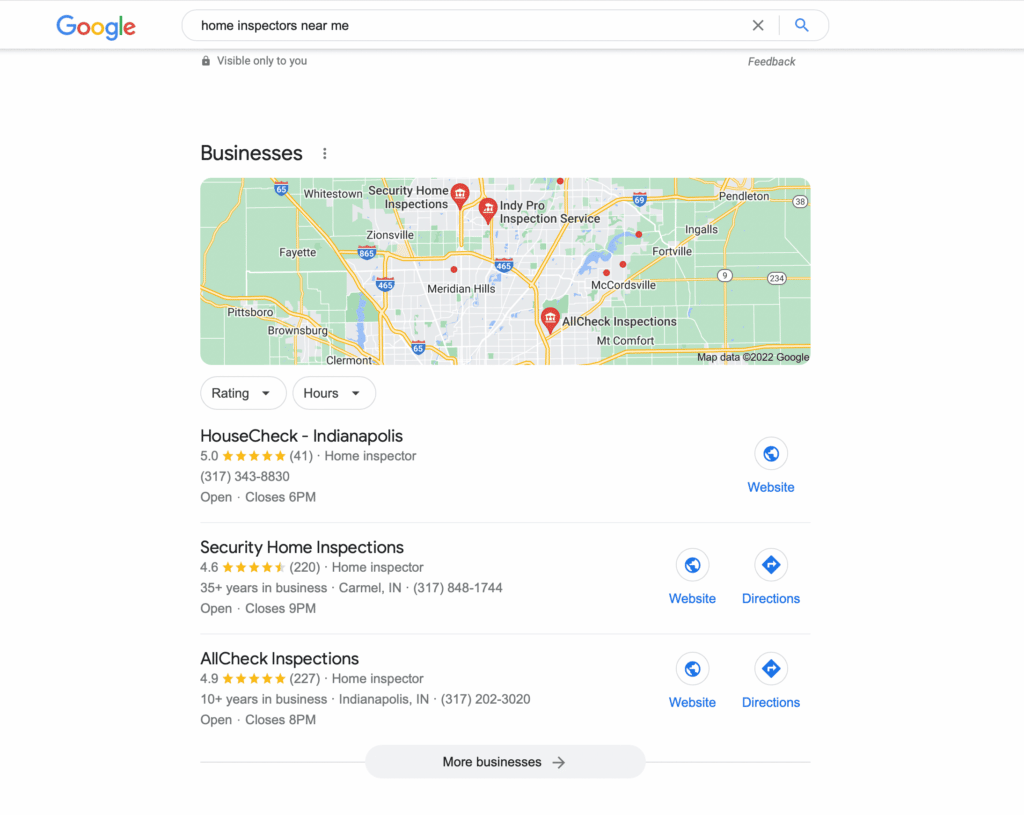 About 33% of local searches end up going to Google Business Profiles, so it's a necessity your business is set up and optimized to the fullest.
Consider reading our optimization guide to get the most out of your Google Business Profile. Ultimately, fill out everything in your Google Business Profile completely and accurately. Then, frequently post to the platform, respond to customers through messages, and ask for customer reviews.
Focus On Business Citations
Next, you should focus your attention on business citations. Business citations are directories or listings of your business information on website directories, such as Google, Yelp, Facebook, Apple Maps, Yahoo Local, & Bing Places.
Business citations typically include your business name, address, and phone number (NAP info), but can also include photos, videos, hours, and service area.
They help improve your local internet marketing by helping customers find your business and contact your business. In addition, Google's search algorithm uses data across the web so, the more your business appears online the higher credibility you have to Google.
Read our local citation guide for home inspectors, or consider reading up on our Local SEO plans to push your business info to 60+ local website directories sites including Amazon Alexa!
If you wish, you can go to these sites one by one to create a free, or sometimes paid, profile. Just as with Google Business Profile, fill out your business information completely and accurately. Consider setting reminders for yourself to check back on these directory sites every quarter or so to ensure the information is still up to date.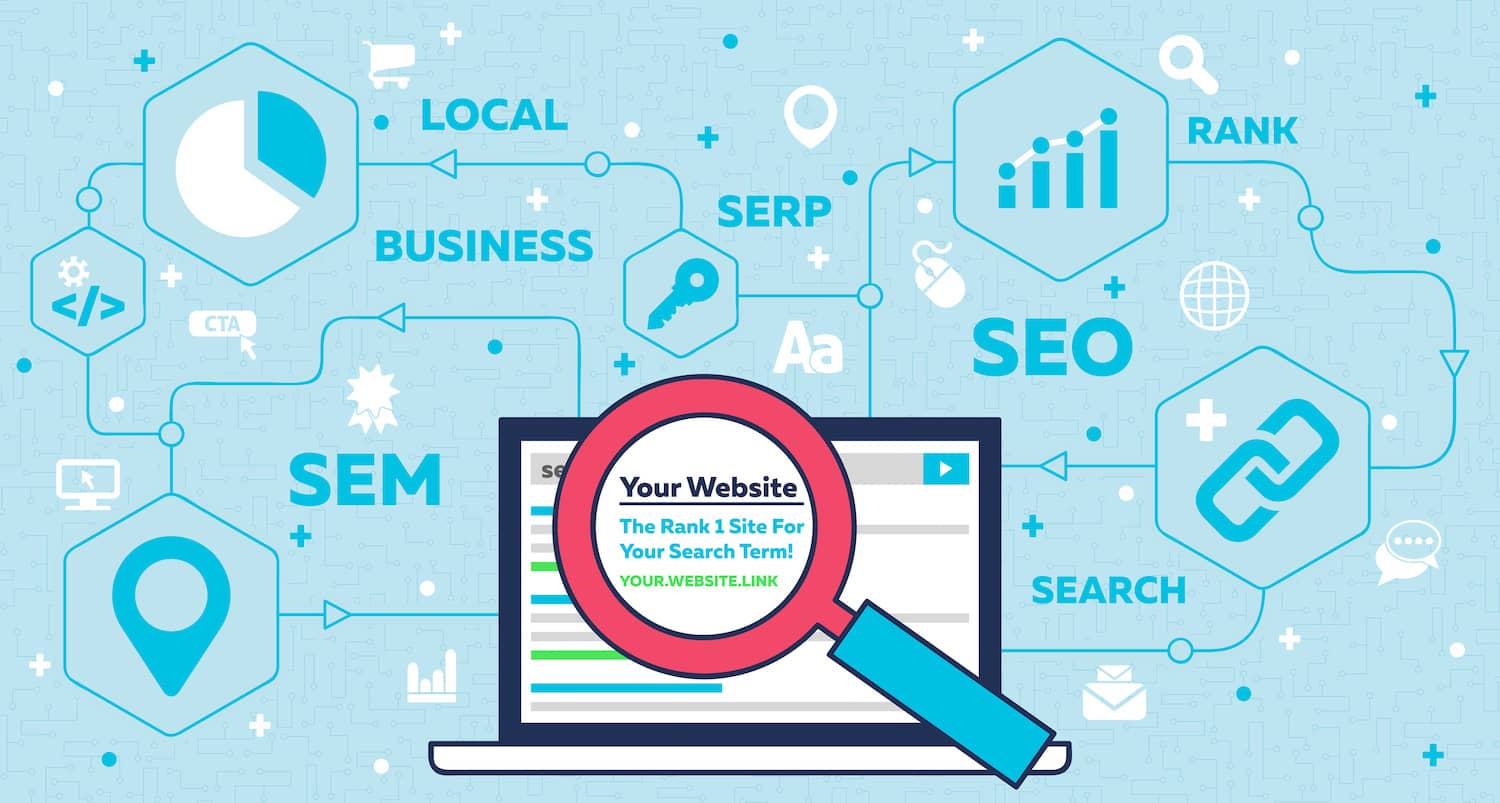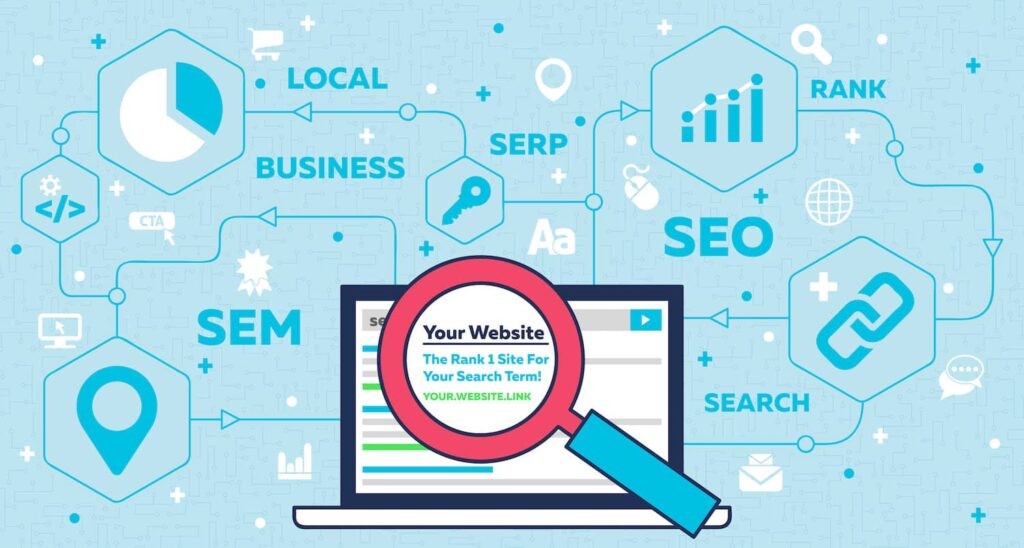 Optimize Your Webpages With Local Keywords
This next local internet marketing tip can be a little more technical than others. Local keywords refer to what users would search for to find your business in your area. Here are a few examples:
Home Inspectors near me
Plumbers in Chicago, il
Drain cleaning Orlando, fl
HVAC repair near me
To start, create a list of local keywords you want your business to be found for. This could be for your general service and then all of your specific services. To illustrate, home inspectors may make their homepage centered around the keyword "home inspectors in city", but have additional pages optimized for their other services such as, termite inspections, commercial inspection, radon testing, mold testing, and more.
Then, optimize your web pages for each of those keywords. You should aim to have one keyword, and its synonyms for one page.
For each page, you should aim to include the local keyword or phrase in each of the following areas:
Page title
Page meta-description
Image Alternative Text
Image Filename
Page Header Text
Sprinkled throughout your body text in natural ways
For more information on optimizing your webpages for local keywords, you can use a tool such as Yoast SEO for WordPress websites.
Check out one of our client's sites as an example – Waypoint Inspection.
Use Google Ads To Target Your Area
Next up, you can use Google Advertising campaigns to showcase your business in your local area. Google Ads allows you to target specific countries down to the zip code so you can target the exact group of people you want. In addition, tracking your leads through Google Ads is easier than ever before so you can note your exact return on investment.
Google Ads has multiple campaign structures that could make sense for your business. A common strategy for local home service companies is to use Google Search Ads or Display Ads to showcase ads in Google searches, as well as, on millions of websites.
A word of caution, running Google Ad campaigns without expertise can quickly run through your ad budget. Consider hiring a Google Ad partner or expert for assistance running your campaigns as their return on investment will pay for itself many times over.
Start A Local Blog
While Google Ads can bring traffic to your website through paid means, starting a local blog can help optimize your local internet marketing by bringing organic traffic to your website.
Organic traffic is traffic from search engines like Google or Bing, without paying for ads. The idea behind local blogging is simple, write posts on common questions your customers have. People in need of your services will typically search for their questions online to find answers and help. Ultimately, this can bring a ton of website traffic to your site.
While this website traffic not only may be future customers of your business, the visitors also help establish domain authority. Domain authority is a figurative number of how well your website will rank in search engines. The higher the domain authority, the more likely a website will rank well for your main local keywords.
Local blogs also allow more opportunity for others to link to your site. The more links you have, the better off you are in ranking for your local keywords.
Example Local Blog – Honor Services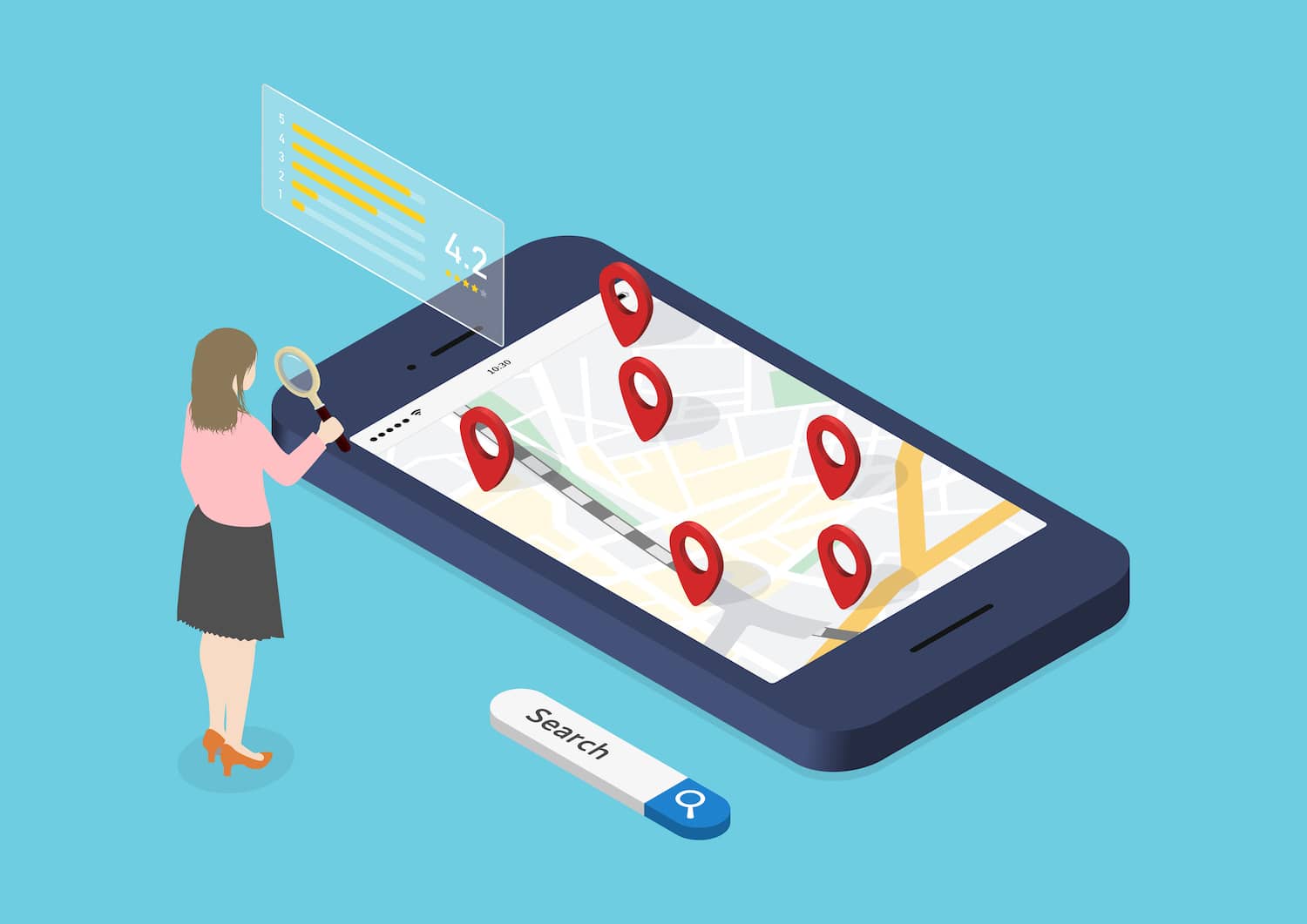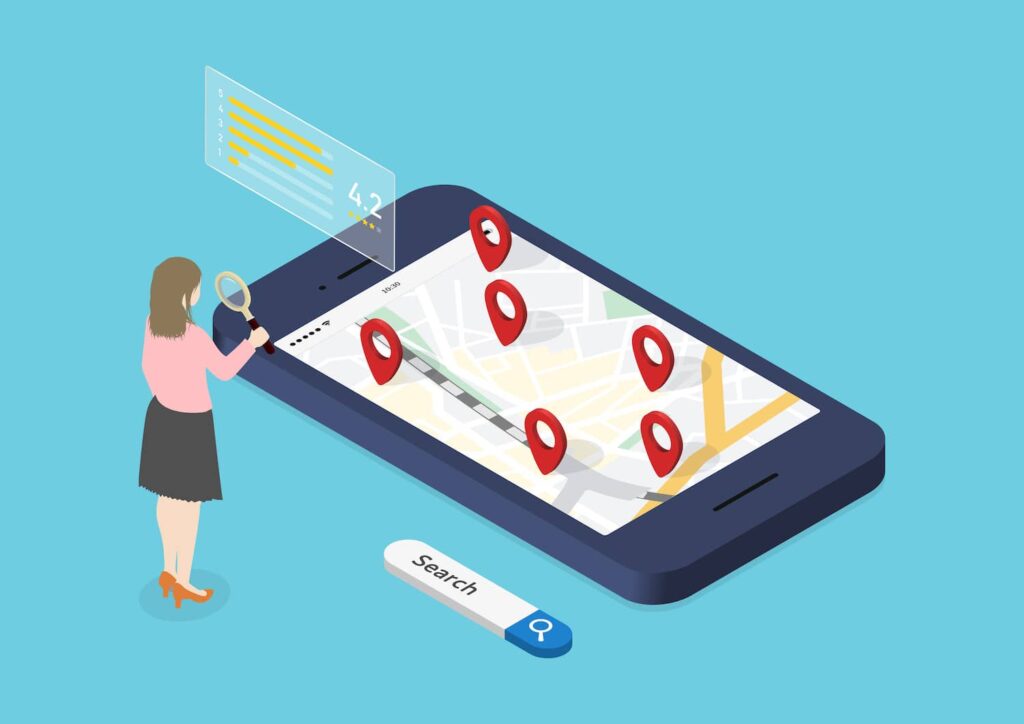 Manage Customer Reviews
Customer reviews are a critical aspect of your local internet marketing since 93% of consumers read online reviews before purchasing a product, according to Qualtrics. Customer reviews are also one of the most important ranking factors in search algorithms, like Google.
As a business, you should aim to get the most online reviews possible, as well as, respond to online reviews. The more high-quality reviews your business has the better off you are for gaining online leads.
The most important review platforms for local businesses are going to be Google Business Profiles, Facebook, & Yelp in that order. Other review platforms that are specific to your industry are also helpful, but should not be the main focus. This is because most consumers use Google, Facebook, & Yelp to find local companies.
After each review, be sure to respond and thank your customer for the review. If you happen to get a negative review, responding professionally and helping the customer find a resolution can turn a negative interaction into a positive one. How you respond to negative reviews also can influence if potential customers work with you.
You can use marketing automation to automate the process of collecting reviews.
Grow Your Social Media Profiles
Lastly, we have growing your social media profiles. Social media marketing can generate leads for your business, increase brand awareness, and increase customer retention. This is through reaching out to referral partners and engaging with customers on the platforms.
The most common platforms to grow your social audience are Facebook, Instagram, TikTok, LinkedIn, YouTube, & Pinterest. If you are just getting started in your social media journey, start with one platform and scale to others after you are comfortable with one.
Most businesses will want to start with Facebook, however, each platform will have different audiences and pros/cons for your business.
After choosing a platform, just start posting! After a few weeks, you will naturally learn what types of posts perform well (gets more engagement) and what do not perform well.
After posting, spend some time interacting on social media each day by liking posts and commenting. Moreover, find new people to follow to include them in your daily interactions. These people should be referral partners or future/past customers.
Finally, rinse, analyze, and improve. Learn what did well each week and how you can better your social media analytics week by week. Also, reviewing competitor profiles or top social media accounts can give you ideas to implement in your accounts.
WolfPack Advising helps businesses manage their social media profiles with posts, engagement, and outreach.
Scale Your Local Internet Marketing
These 7 strategies are the best ways to increase your leads from local internet marketing. As years pass, more and more people will be using online means to find products and services. Failure to properly optimize your business online can critically impact your business's future potential.
If you are serious about scaling your digital marketing, schedule a consultation with us.