Last updated on May 29th, 2023 at 03:14 pm
According to Forbes, "Presenting a brand consistently across all platforms can increase revenue by up to 23%." I have never heard a business owner say that they would not like to easily improve their revenue so drastically. So, what steps can you take to develop a constant brand presence online and off and increase your revenue? Let's check out some brand kit examples and resources to help you get there.
What is a Brand Kit?
A brand kit provides a sense of uniformity for a company's visual presence both online and offline. Brand kits should be used as the design basis for social media posts, newsletters, emails, website pages, brochures, business cards, billboards, and more. Not only will a brand kit give you the skeleton of your design work, but it will also help make your brand more easily recognizable.
Brand kits typically include the following.
Logos: Remember to ensure you have logo options with and without text.
Fonts: Ensure the fonts you choose are easily legible. Many script fonts look pretty, but take extra time for the eye to decipher. Your potential customer could decide on another choice in those few seconds.
Color Codes: Remember that colors may look similar from afar, but to ensure your colors are truly consistent make sure to insert the color code for an exact match.
Organizational Templates: You may have multiple team members publishing content for your brand. Creating templates for social medial posts, emails, and other elements can save your team time and prevent differences in overall look.
Photography: Allowing your team to have access to example photographs can let them see the look you are going for. Do your images typically have a realistic appearance or more of a cartoonish one?
This being said, just because your company has chosen to use a brand kit does not mean you have to choose only one of each of the following elements. Successful brand kits will include a few staple fonts that complement each other and can be mixed and matched to display a message to the audience.
The Most Important Brant Kit Questions
The first and most essential items to consider when drafting your brand are "What do I want my brand to convey to my audience?" and "How do I want my customers to feel?".
According to Citygro, different colors foster different feelings amongst consumers. For example, red branding typically is associated with "attention-getting, warmth, power, passion, action. Red raises blood pressure and makes people hungry." Consider brands such as CNN, Lay's, McDonald's, and Budweiser. In contrast, the color brown subconsciously reminds consumers of "natural and earthy, rich, rough, and utility. Brown can represent construction and depth. Think of brands such as Cracker Barrel, UPS, UGG, and Hershey's.
This also can apply to fonts. Typically fonts that are in all capitals can be considered as yelling or aggressive in contrast to script fonts that are viewed as softer and more feminine.
Consider drafting multiple brand kit examples and having your team narrow down from there by looking at which fonts and colors pair well together.
Other Things to Consider When Making Brand Kit Decisions
Avoid Using Well-Known or Overused Colors: Approximately 1/3 of brands incorporate blue into the brand. While blue can resonate with trust, avoid blending into the crowd. Also, avoid colors that are synonymous with other well-known brands. Don't choose the exact same red as your top local competitor. Don't choose the exact shade of Home Depot orange that the majority of the population will already automatically associate with another brand.
Consider What Will Be Appealing to the Eye: Looking into the science of colors and the color wheel can come in handy. Don't choose two contrasting colors that may turn off potential customers.
How Will the Colors, Fonts, and Other Elements Translate to Print: While some elements may look great online, you must make sure the brand kit elements you've chosen look good when printed as well.
Helpful Resources
There are many free online tools that can assist in creating brand kit examples and selecting your foundational elements. Let's check out a few.
Finding Brand Kit Example Color Codes
Consider using Coolors to find colors for your brand kit examples. This site allows you to view complementary colors side by side using their rotation feature. Then select colors to stay stagnant when you find ones you like. It will also allow you to easily copy the color codes into your brand kit.


Finding Brand Kit Example Fonts
Google Fonts is a great place to look through free font choices. You can insert your company name, slogan, or other text to see. That way you know how it would look when written in each particular font and then compare them. You can also download the font family to use it elsewhere. Many of the fonts listed on Google Fonts are also available in Canva.
Where Can I Store My Brand Kits?
Canva is a great place to store brand kits. Using Canva Pro, you can select choices of fonts for each size of the text you are planning on using, and allows you to see them side by side to ensure they are complementary. The same goes for colors. It also has designated spaces for logos, photos, and other elements. Another perk is that you can share your brand kit with your team and duplicate it to make edits or adapt it for different projects.
Lastly, we all know social media is important for inbound marketing. If your team uses Canva to design content such as social media posts, business cards, posters, or any other graphic, the elements of your brand kit will be shown first and featured in your design space. This way you do not have to upload your logo or hunt down and paste in your color code every time you use it.
How Often Should I Update My Brand Kit?
Knowing when to update your brand kit can be tricky. Replacing existing marketing material can be costly. Consider sticking with the same branding kit elements for a few years before making changes. When making changes, consider sneaking in some new fonts and colors a little at a time, rather than completely flipping a switch overnight and changing everything. This will allow consumers to get used to these new elements naturally. It can also save you from having to scrap all of your marketing and brand materials and replace them overnight.
Brand Kit Examples
Check out some other brand kit examples to get some ideas for your company's brand kit.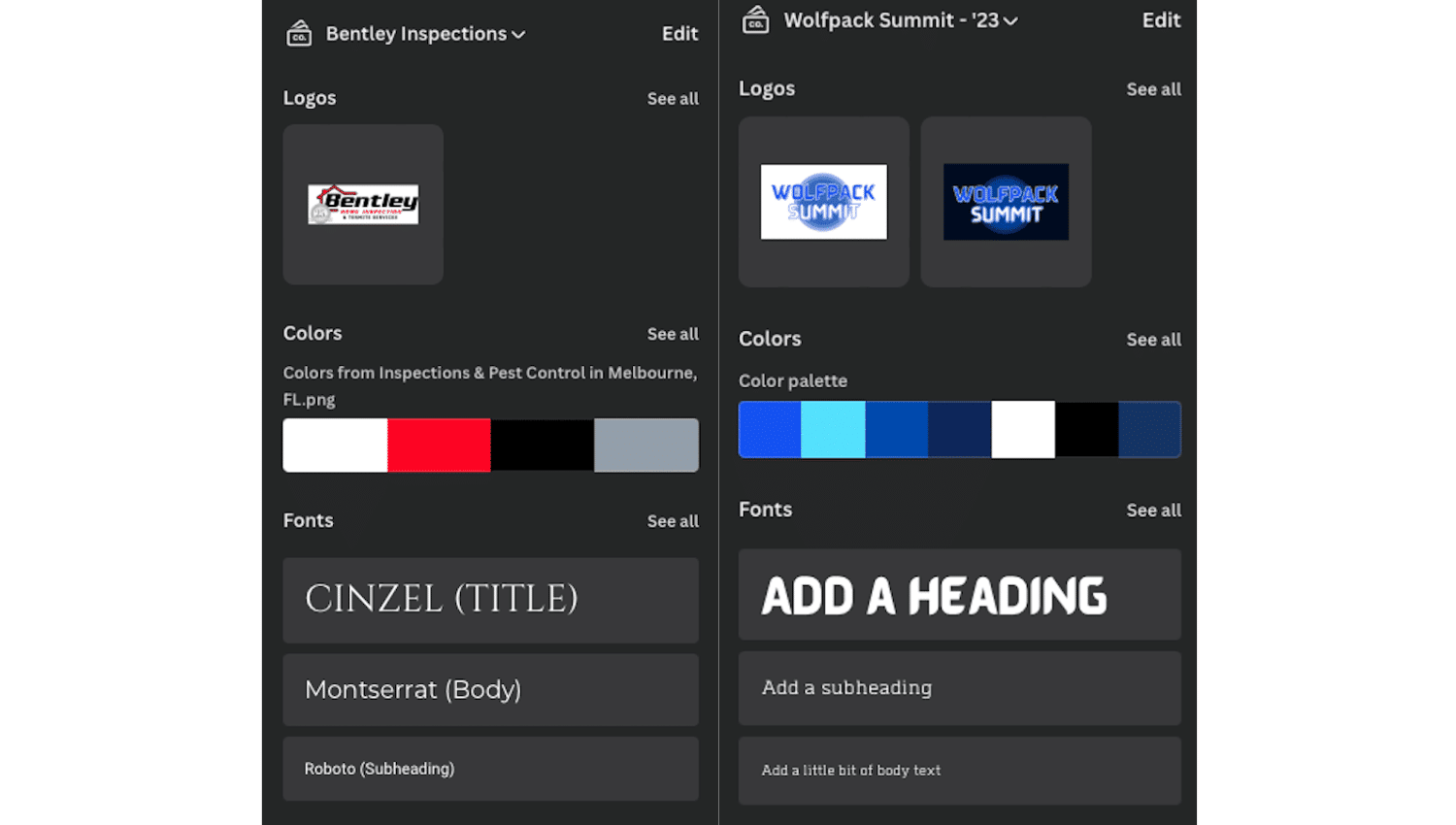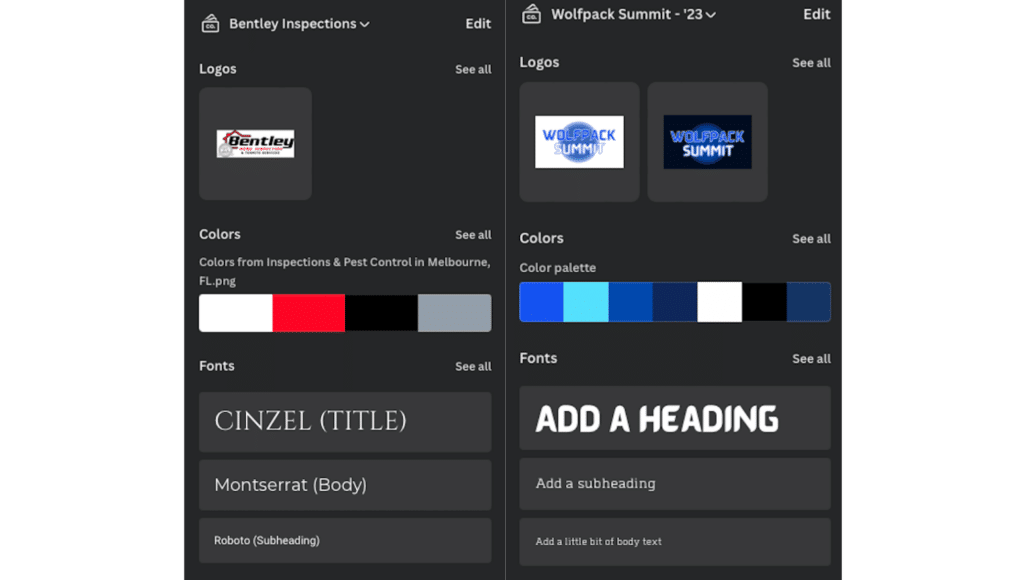 Conclusion
Creating a branding kit from scratch can seem like a daunting task, but with these examples, tips, and resources, you're one step closer to success! Have more questions about building a brand kit or other elements of your digital marketing plan? Schedule time to chat with an expert in digital marketing!