Last updated on January 18th, 2023 at 09:56 pm
Typically, consumers do not look forward to calling a plumber. Part of a plumber's job is to help in a pinch when a problem occurs at a property that the owner does not know how to handle. While this may not always be the case, when this situation occurs, property owners are typically flustered and frustrated and look for the quickest possible solution to their problem. According to Invoca, "54% of consumers shopping for a plumber ran an online search before deciding on a plumbing company to use and 76% of potential customers looking for a plumber did not have a specific company in mind before deciding on one." How can you use this information to generate leads for your plumbing business?
Use These Strategies to Maximize Plumbing Leads
Have the Answers to Customers' Questions Ready – SEO
Pull in Leads with an Appealing Plumbing Website
Five-Star Customer Reviews
Make Your Business Contact Information Easy to Access
Be Recognisable – Outbound and Inbound Marketing
Paid Online Advertising – PPC
Lead Tracking – Track Your ROI
Why Can Generating Plumbing Leads Be So Challenging?
No matter how amazing of a plumber you are, strategic online content is necessary to generate leads. That being said, online presence and lead generation are going to take some patience. Companies that have been in business longer than you and those that have executed the above online marketing strategies for longer amounts of time will rank more highly in search engines. Why should you care about ranking highly on search engines like Google or Bing? Well, according to Backlinko, "The top three Google search results get 54.4% of all clicks."
Let's dive deeper into the strategies you can start today to rank more highly on search engines and in turn capture more online leads.
Have The Answers Your Plumbing Customers Are Looking For
This is helpful for plumbers because the average homeowner does not have extensive knowledge of plumbing and will need help to solve any plumbing problems they encounter. How are they most likely to find help? Online! They can find informative blogs if they want to attempt to solve the problem on their own or they can find ways to contact and hire you if they do not want to problem solve on their own. The first way to gain traffic to your business online is to attract prospects with valuable information. Here is how you can do that!
Gain Plumbing Leads Using SEO
First, you can do is focus on improving your company's search engine optimization (SEO). To do this, you need to conduct keyword research and find out what your target audience is looking for. Knowing what prospects are looking for can help you generate and post content aligned with high-volume searches.
For example, if you are a plumber in Tampa, FL, you want to target keywords such as…
Plumbers Near Me
Plumbers Tampa, FL
Top Rated Plumbers in Florida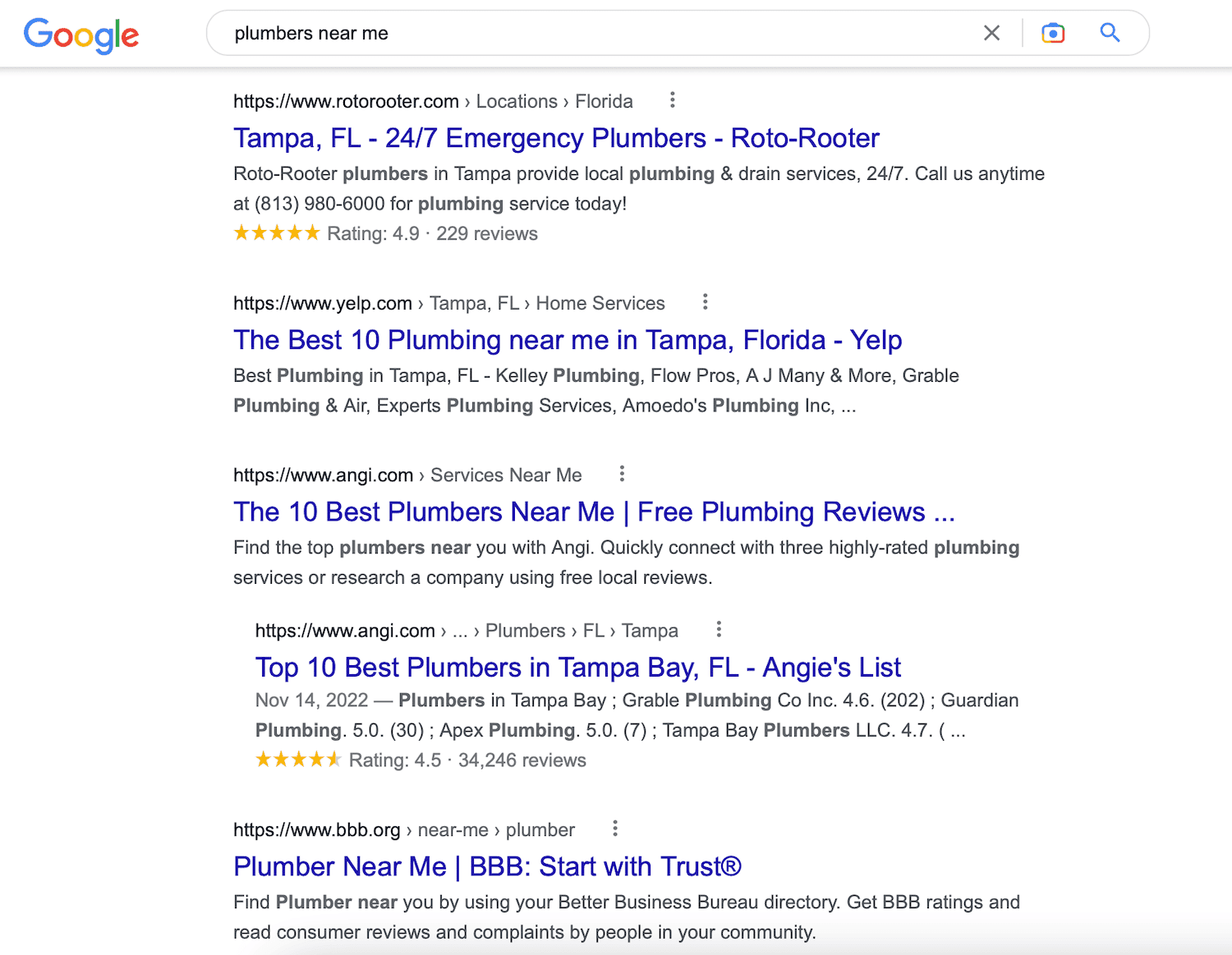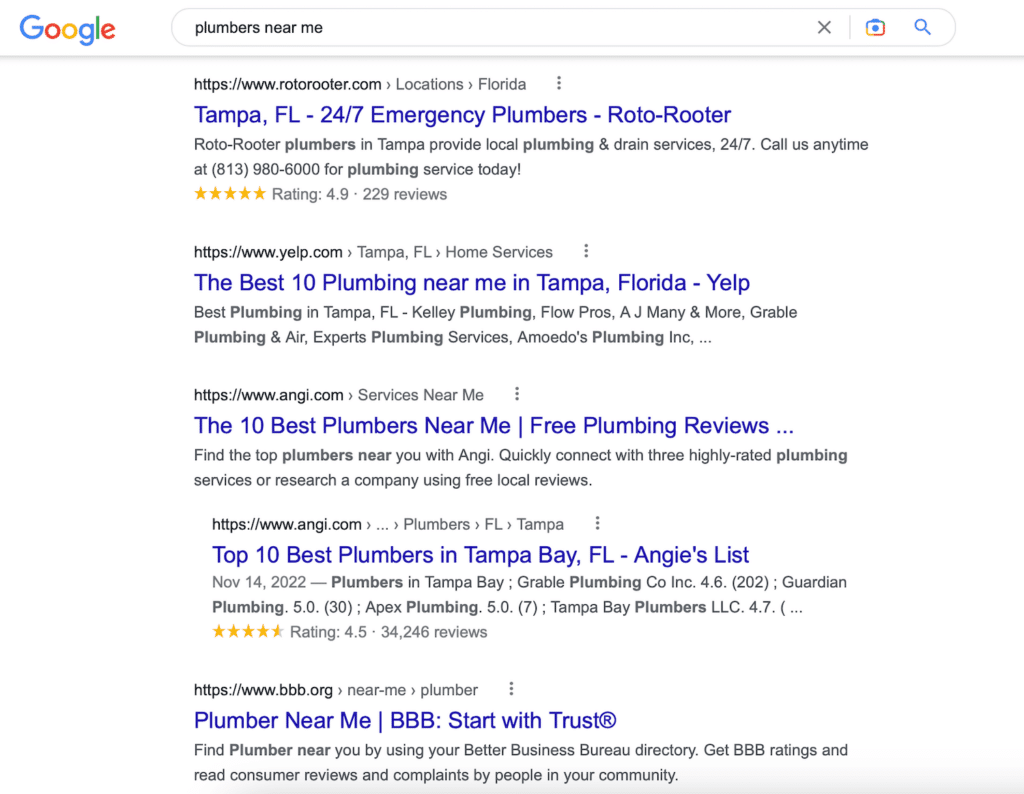 Content Writing
Next, you can focus your efforts on answering the questions your target audience has. This included individuals who may not exactly be ready to hire you just yet. For example, try targeting keywords and questions of individuals looking to solve plumbing problems on their own. Here are a few examples.
How to fix a running toilet?
How to tell if my pipe is leaking?
Why has my water bill increased?
Targeting these questions can give your site authority with search engines. It can also help you gain trust with potential customers. If you give consumers accurate information for free and help them, they are likely to want to hire you when they are unable to solve a more complex problem on their own.
After you have conducted some keyword research, you can begin to optimize your website and web pages for those keywords. To do this, you should optimize the following around your keyword:
Image Title
Image Alternative Tags
Keyword in body text
Page Title
HTML heading tags
Meta-description
Taking on Search Engine Optimization can be a large undertaking. Consider hiring a plumber SEO agency to gain more leads.
Pull in Leads with an Appealing Plumbing Website
Next up, ensure your website puts your best foot forward. It would be a shame to rank highly on Google or Bing and have prospects click on your site only for them to leave right after. In an effort to avoid this, make sure your website has the following.
Easy-to-follow and functional navigational menus
Accurate and up-to-date information
Personalized images reflecting your branding
Client testimonials
Fast loading speeds
Correct company contact information
As mentioned previously, individuals who are looking for a plumber are often looking for help in a hurry. They are not likely to be patient with a website that is not loading properly or contains inaccurate information. That lead will likely leave your site and move on to the next plumbing company in your area.
Consider hiring a professional to build or update your website. A professional web designer should build your website with SEO in mind.
Five-Star Customer Reviews
The next strategy to implement to generate additional plumber leads is to ask for positive reviews. BrightLocal's research found that "60% of consumers feel that the number of reviews a business has is critical when reviewing and deciding whether to use its services." Companies with larger amounts of positive reviews are more likely to appear first in search engine results. A few platforms which we recommend plumbers focus on include Google, Facebook, Yelp, and Bing. These platforms have the most traffic and reviews here will be seen the most. Secondary sites that plumbers may also want to utilize include Upcity, Home Advisor, or Angie's List. However, these will have slightly less traffic than the ones mentioned previously.
Here are some ways to kick-start your review count. Try asking consumers to leave a review following the completion of service before leaving the property. You could also try sending them a review link along with their e-receipt. Lastly, try to email them a thank you following the service which includes a review link and a coupon for their next service.
You can also use an email campaign system to request reviews from customers or to encourage them to use your company again. Learn more about marketing automation here.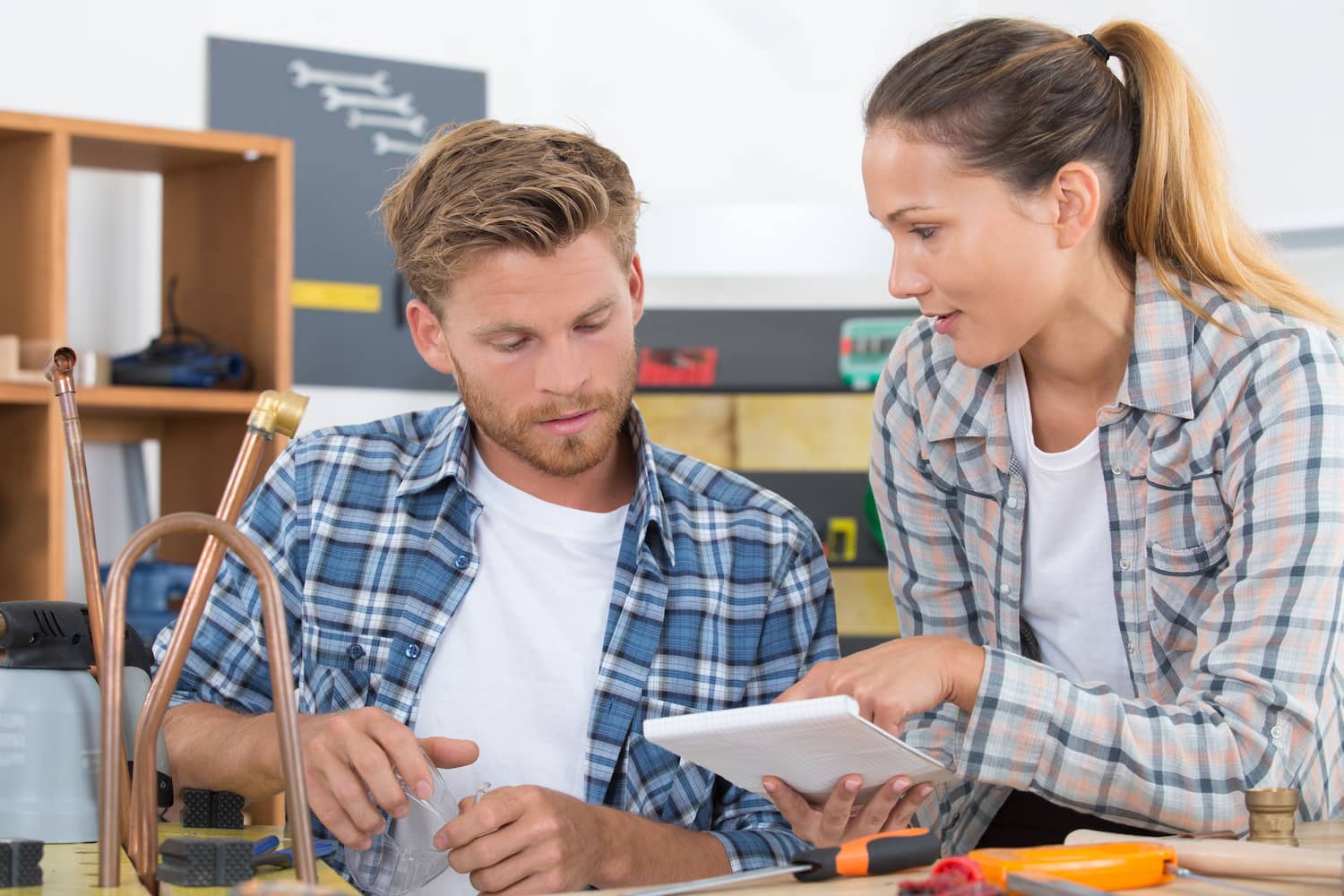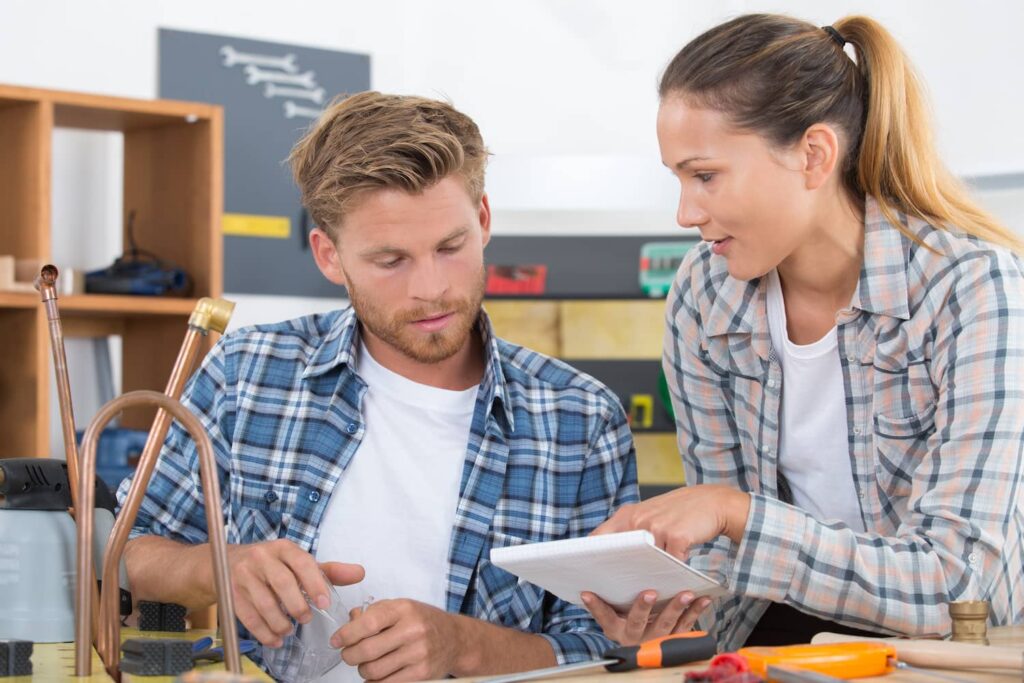 Make Your Business Contact Information Easy to Access
When potential clients are searching for a plumber if your area, as mentioned previously, they are most likely in a rush. Having your business information up-to-date and easily accessible in popular business directories is imperative. You can start by ensuring you have a Google Business Profile. Then you can move on to directories such as Apple Maps, Yelp, Bing, MapQuest, LinkedIn, and others. When updating your profile you will want to ensure your NAP information is correct. This includes your plumbing company's name, address, and phone number.
Be Recognisable – Outbound Marketing
Outbound marketing consists of advertisements where potential consumers view your company information without actively choosing to do so. For example, someone may see your branding on the side of a company vehicle, on a billboard, or hear a radio ad on their way home from work. These interactions with your brand would just happen to happen, but over time will move your brand more recognizable to consumers. People are more likely to trust and hire a plumber whose information they have seen all around town than a plumber whose logo they have never seen before.
Inbound Marketing
Inbound marketing, the opposite of outbound marketing, is when you have consumers come to you. Content writing which was mentioned earlier in this article is one example of inbound marketing.
Social Media
Another great example of inbound marketing that can generate plumbing leads is social media. Social media is at the forefront of peoples' minds nowadays and its utilization can help you stay relevant. If you create and post engaging content, potential customers will choose to follow you and then voluntarily view your content and ads from then on.
Consider hiring a social media management company for your plumbing business!
Plumbing Leads from Paid Advertising – PPC
You can generate plumbing leads by paying for online advertising also known as Pay-Per-Click (PPC). However, we suggest saving this strategy until later in the game. This is because you want to be on your digital marketing A-game if you are going to pay for ads to drive traffic to your site. For example, you will want to have an organized website, high-ranking keywords, and a large portfolio of online reviews before you start to pay for site traffic. Otherwise, you could waste your ad-spent budget just for prospects to click on your site or business profile and then leave because they are unimpressed by what they see. But, let's check out a few ways to use this strategy.
Google Search Ads
Google Ads is a Pay-Per-Click strategy we recommend because it is really effective for your long-term growth. You can see where your business is advertising, adjust budgets, and scale your advertising budget.
Learn more about how Google Ads can advance your business goals, or how long it takes to work.
However, be careful as advertising on Google Ads can easily go through your ad budget if you are not a professional. Hiring a PPC professional for plumbers almost always pays for themselves many times over.
Google Local Ads
Similarly to Google Ads is Google Local Service Ads. Google Local Ads or Google Guaranteed Ads, helps business display their local business to consumers searching within a particular area for businesses/services like yours.
Local Google Ads for plumbers are one of the most effective online advertising strategies.
To be effective with Google Local Ads and convert leads, use call tracking to track your return on investment (ROI), answer calls quickly, and have a high amount of Google Reviews.
Microsoft Ads (Bing Ads)
Microsoft Ads which is very similar to Google Ads. Consider using Microsoft Ads to increase your traffic even more with clients who choose Bing as their search engine of choice.
Yelp Ads
Lastly, we have Yelp Ads. Yelp Ads tend to perform well for plumbers and other similar industries that have good Yelp reviews. Consider Yelp Ads along with your Google Ad strategy to diversify your marketing. Many times, one platform's return on investment will be better than the other for a given time.
Lead Tracking – Track Your ROI
Now tie it all together by tracking your Return on Investment (ROI)! You have to know where your plumbing leads are coming from! How many leads are coming in? Is your office converting the leads? How much are you making from each strategy? This is crucial because marketing can take up a huge chunk of your overall budget. When utilizing so many strategies while running the day-to-day operations of your business, it can be easy to overspend in areas without seeing the full benefit from them.
For example, maybe Google Ads is a very lucrative strategy for your area and you are seeing a 300% return from it, but you are losing money every month on Yelp Ads because there are not as many Yelp users in your service area. You can use this data to make the educated decision to spend less on Yelp Ads moving forward and more on Google Ads. Knowing what is and isn't working and making adjustments as needed to all your plumbing marketing strategies is going to make you the most successful in the long term. It will also prevent your marketing dollars and efforts from going to waste.
The easiest way to track your leads is by investing in a system to help you rather than wasting time and effort doing this on your own and by hand. Consider hiring a marketing agency to help manage your leads and track your ROI.
Generate Plumbing Leads Today!
So there you have it, the best strategies to generate plumbing leads! Implement a few of these strategies at a time and track your return on investment to see which are most effective for you.
Interested in plumbing marketing services? Check out our marketing services for plumbers!