Home Services are a large chunk of any economy. "The global home services market is expected to grow 18.91% per year from 2019-2026", according to Verified Market Research. As a home services company, you should set your business goals to match this projected growth, if not, outperform it. Here's a complete guide to home services marketing so you can expand your home service business in the growing industry.
Where Are People Finding Home Service Companies?
According to our data from clients, the majority of leads are directed through Google Organic traffic, pay-per-click advertisements, direct traffic, and then other sources like Bing in that order.


So what does this tell us? The majority of leads to home service companies are driven through SEO and PPC Advertising, followed by either word of mouth or a direct recommendation from a previous customer (based on direct/no sources).
An important note is that a Google Organic lead could be sourced from Google Business Profiles or regular search results.
Now that we are armed with this information, we can get into the complete guide for home services marketing.
Start With Local Search Engine Optimization
For any local home service business, you need to start with Local SEO based on the data previously shown. Here are some action items to start improving your Local SEO.
Optimize Your Citations
Ensure your business NAP (name, address, phone number) information is listed everywhere possible on directory sites like Yelp, Facebook, Yahoo Local, Bing Places, Apple Maps, Amazon Alexa, and of course Google Maps. Do not forget industry-specific sites like Porch, Angi, or HomeAdvisor. Your goal should be to create a profile on those platforms and complete all of the sections of your profile so your profile looks presentable.
Consider using our Local SEO services to optimize for all citations at once.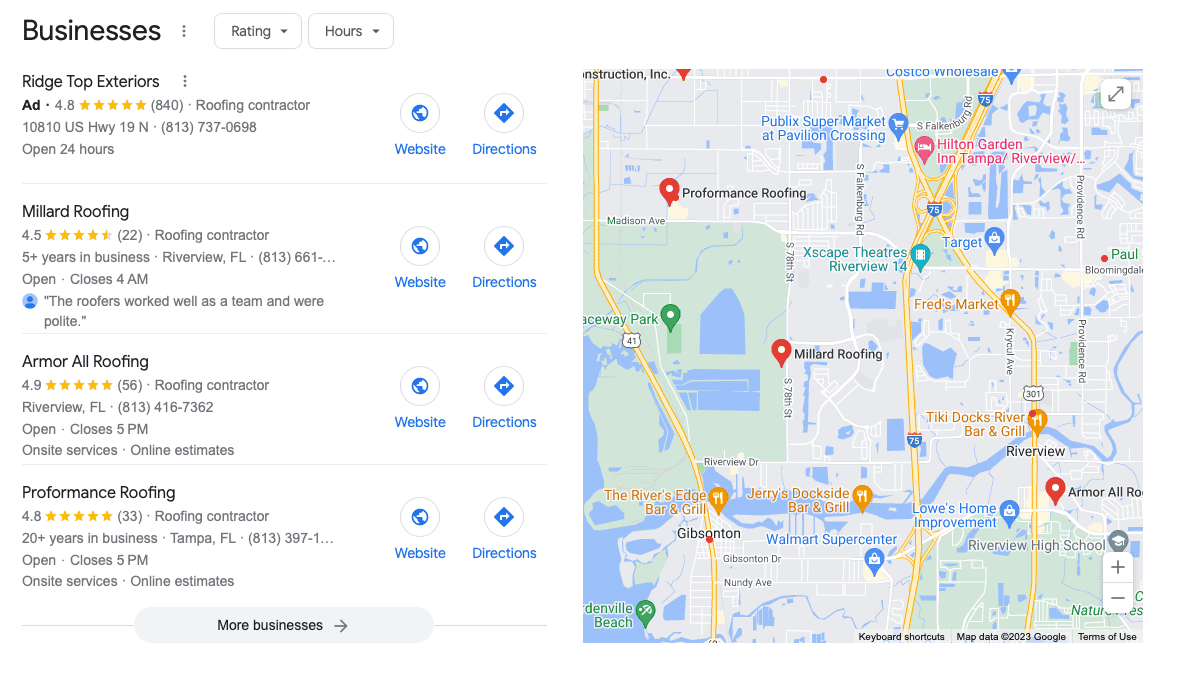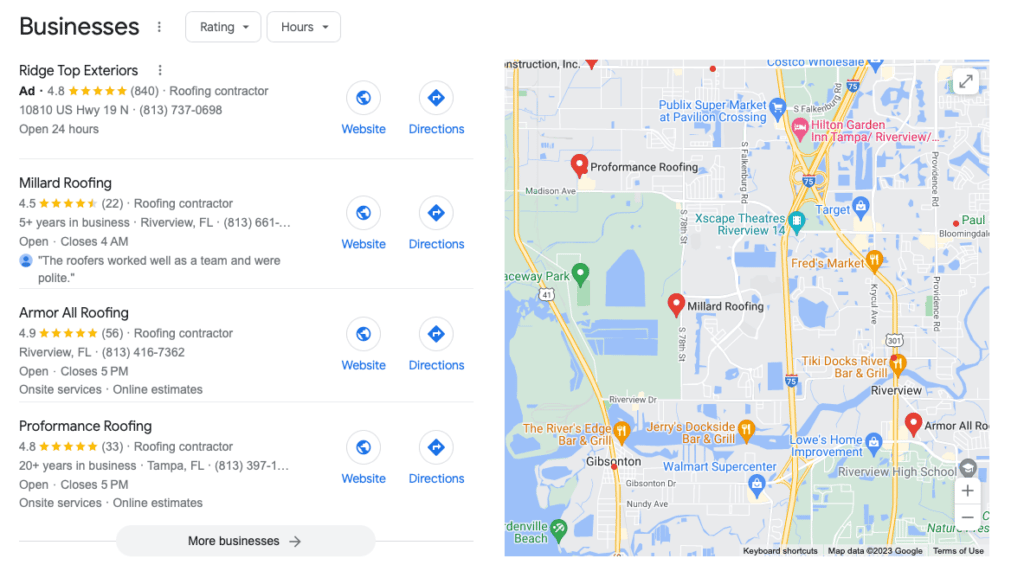 Collect Reviews
The next item on our list is to collect as many online reviews as possible. The most important review platforms are Google, Facebook, & Yelp in that order. This is because most platforms utilize Google Reviews, however, Bing uses Facebook, and Yelp is a massive source of home service leads.
However, do consider spreading reviews around to other platforms like Angi or even Porch as Bing has adjusted their Bing Places maps to utilize reviews from other sources.
Lastly, you will need review management/request software to really maximize your online reviews. The software should integrate with your current CRM or scheduling software. Our review request software is a part of our marketing automation services.
Optimize Your Website
To become effective with Local SEO, you do not need a large or complex website, a simple one will do. However, ensure your web design is mobile-friendly, loads quickly, and is structured appropriately.
You can test your web pages to see if they are mobile-friendly with Google's tools. Next, you can test your webpages' speed with GTMetrix. Finally, to ensure your website is structured appropriately and being crawled by Google, register your website with Google's Search Console.
Using those tools will give you a head start, but to really take advantage of Local SEO on your website, consider hiring an SEO professional or read our articles on SEO.
Learn more about why Local SEO is important.
Kickstart Your Advertising
From our data, the second most popular lead source for home service companies is online advertising. So, if you are running any pay-per-click (PPC) campaigns as a part of your home services marketing, you are missing a critical pillar.
PPC doesn't have to be expensive, and it should return a profit for your business. Here are the top recommendations we have to run effective PPC campaigns.
Run PPC Advertising on Multiple Platforms At Once
While you should start small, if you can, consider running PPC ads on multiple platforms at once to see which ones return the best return on ad spend (ROAS) for you. Then, spend more money on the platforms that have the best ROAS.
We often find that while one platform might be returning well for you now, that can change after a few months so important to diversify.

Run PPC Advertising on the Best Platforms
The most effective and active platforms for home service leads are going to be Google Ads, Yelp Ads, and Microsoft Advertising. While there are others like Angi, Home Advisor, Nextdoor, and Porch, we tend to focus on the first three the most.
When running ads on Google, be sure to implement Google Search Ad campaigns, as well as, Google Local Services ads, and become Google Guaranteed! As of the time of writing, Google Local Ads have been the most profitable for our clients.
Focus on Referrals & Past Customers
The third most popular lead source for home services marketing is direct leads and referrals. These can be from past customers and referral sources from business partners. Here are a few strategies to gain the most referrals and business from past customers.
Grow On Social Media
A social media marketing strategy can help you stay in touch with past customers, and referral sources, and help you meet new ones. Our blog posts on social media are a great place to get caught up on best practices for social media marketing. However, are some quick tips:
Create profiles on the most popular platforms and where your customers are. These are typically Facebook, Instagram, TikTok, & YouTube. However, LinkedIn and Pinterest can be effective too!
Post often and consistently, but create quality posts first.
Focus on creating engaging posts, posts that get likes, comments, and shares.
After implementing those steps you will be well on your way to an effective social media strategy. Need help with social media? Consider our social media management services.
Deliver Great Customer Service
No marketing or advertising strategy can beat great customer service. Ensure you are delivering the best customer experience you possibly can by reviewing the entire customer lifecycle and journey. You could also implement ghost shopping within your business to grade your business's effectiveness.
Happy customers will lead to more referrals and more online reviews, which will lead to more business.
Implement Email & Marketing Automation
Marketing automation and email marketing can help you stay in touch with past customers, and referral sources, and even prepare new customers on what to expect. At WolfPack Advising, we use a weekly newsletter to stay in touch with past, present, and potential customers. Moreover, we use marketing automation to manage our customer lifecycle from new leads to customers, to reviews, to referral sources.
Marketing automation platforms can even help you build a referral strategy and reward customers for referring your business automatically.
Read our guide on marketing automation for more information.
Start Your Home Services Marketing Strategies Today
And there you have it! The complete guidebook to growing your home service business. If any business implements all of these marketing strategies, they are guaranteed to gain more leads! Here's a recap of the different items:
Optimize Your Citations
Collect Reviews
Optimize Your Website
Run PPC Campaigns
Grow On Social Media
Deliver Great Customer Service
Implement Email & Marketing Automation
Have a question or need help expanding your home service business? Schedule a consultation with our marketing experts today!