Last updated on March 13th, 2023 at 06:24 pm
Google Local Ads, also known as Google Guaranteed Ads to some, is the hot new way to advertise on Google Search for local businesses. Many small and local businesses are already advertising and receiving some of the highest returns on ad spend we have ever seen. In fact, one of our customers received a 1,400% return on ad spend!
In this post, we are going to cover how to generate leads in Google Local Services Ads so you can grow your business.

How Does Google Local Ads Work?
Google Local Ads helps businesses connect with people searching for businesses in their category, i.e. pest control services, HVAC technicians, and home inspectors. If you advertise with Google Local Ads, your ads appear only during your office hours and in your service area. Finally, advertisers only pay when someone contacts their business, not when someone clicks like traditional Google Search Ads.
Additionally, businesses that advertise with Google Local Ads have to go through an application process. This application process includes verification of licenses, insurance, and a background check of the business owners.
Once approved through the application process, businesses earn a Google Guaranteed Badge. The badge showcases to consumers that the business was screened by Google. In addition, Google will back the work of the Google Guaranteed business. This establishes trust and credibility with consumers.
How Much Do Google Local Ads Cost?
Google Local Ads costs vary depending on the competition and category of service. However, businesses are able to control their weekly budget. Moreover, businesses only pay when a consumer contacts their business. Find out how much your Google Local Ads will cost by using Google's Cost tool.
Most businesses we see generally budget about $500/month or more to start.
Who Can Advertise With Google Local Ads?
Google only allows certain categories in certain regions. This is the most current list of categories allowed in the United States.
Acupuncturist
Animal Rescue
Appliance repair services
Bankruptcy lawyer services
Beauty school
Business lawyer services
Carpet cleaning services
Carpenters
Child care
Contract lawyer services
Criminal lawyer services
Dance instructor
Countertop services
Disability lawyer services
Driving instructor
DUI lawyer services
Electricians
Estate lawyer services
Family lawyer services
Fencing services
Financial planning services
First aid training
Flooring services
Foundations services
Funeral home
Garage door services
General contractor
Handyman
Home inspector
Home security
Home theater
House cleaning services
HVAC (heating or air conditioning)
Immigration lawyer services
IP lawyer services
Junk removal services
Labor lawyer services
Landscaping services
Language instructor
Lawn care services
Lawyers
Litigation lawyer services
Locksmiths
Malpractice lawyer services
Massage School
Moving services
Personal injury lawyer services
Personal trainer
Pest control services
Pet Adoption
Pet Boarding
Pet grooming
Pet training
Plumbers
Pool cleaner
Pool contractor
Preschool
Real estate lawyer
Real estate services
Roofers
Sewage system
Siding services
Snow removal
Tax services
Traffic lawyer services
Tree services
Tutor
Veterinarian
Water damage services
Weight loss service
Window cleaning services
Window repair services
Yoga Studio
To see a list of business categories in other countries, check out Google's Help article.
How To Generate Leads in Google Local Service Ads
So, how do you generate leads in Google Local Ads? First, you need to apply. Then, optimize your profile. Finally, you can track performance to make additional optimizations to your ads.
1. Get Started With Google Local Ads
First, sign up through Google Local Ads by clicking here. Carry through the verification and application process. You will need to check your eligibility, enter your business information, connect your Google Business Profile, and then start the application process.
Learn how to set up and optimize your Google Business Profile.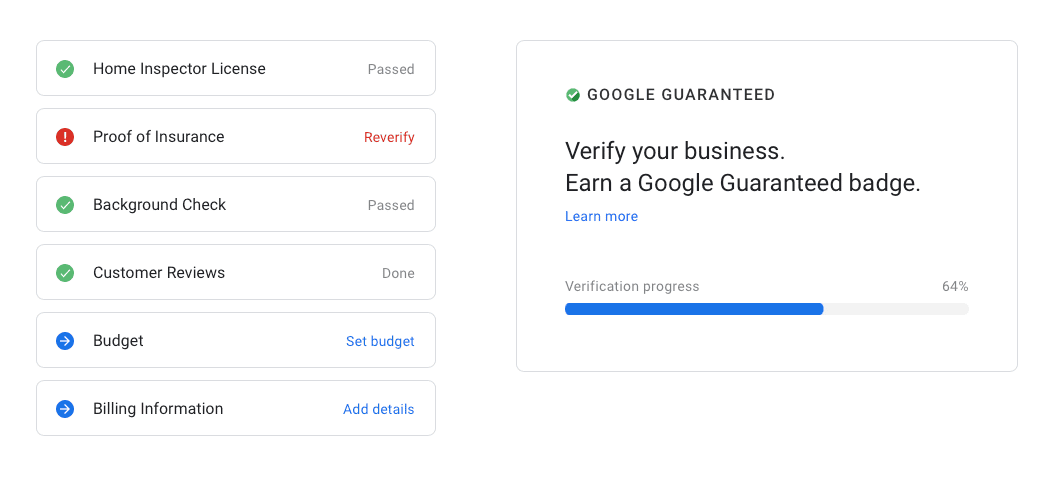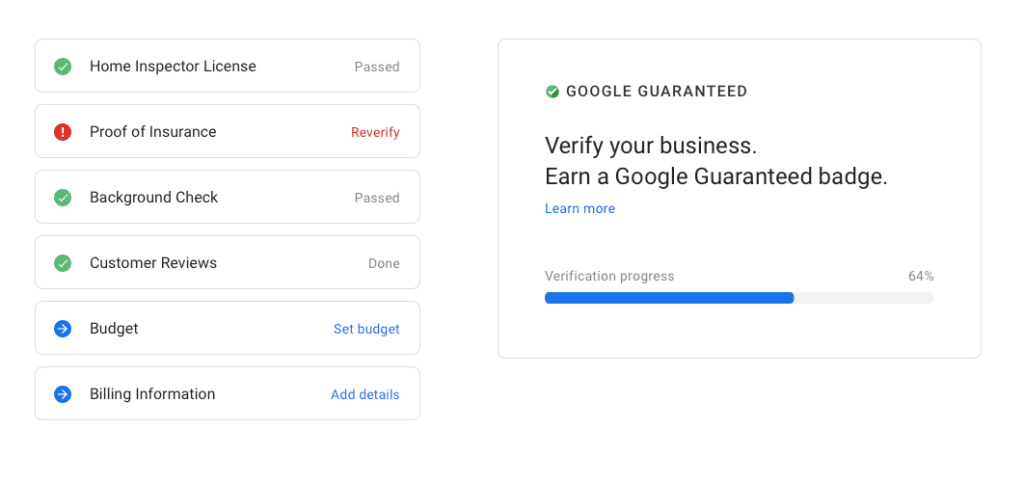 2. Begin The Application Process
After your initial sign-up, you can start applying. To apply, you will need to add your license information, and insurance documentation, and pass a background check. Background check processing could take a few weeks.
After you have submitted the information above, you will want to review your profile and add a budget.
Ensure the following is listed in your profile and is accurate:
Service Area
Office Hours
Services
Phone Number
Photos
Once your application has been approved, you can begin advertising with Google Local Ads.
3. Advertise & Optimize
In order to maximize your leads from Google Local Ads, you will need to answer every call and make adjustments to your profile.
Answering every call and message from Google Local Ads will ensure that all of your lead opportunities were maximized.
Furthermore, you should take notes on every call to see if there are general trends to help optimize your profile. Here are some things to look out for:
Out-of-service area calls
High spam calls – you can ask Google to refund money if calls are spam.
Calls not relating to your service/business
With this information, you can make adjustments to your service area or adjustments to the services you are advertising for within Google Local Ads.
Finally, with every call from Google Local Ads, you should know the return/sale. This will help you track your return on investment. With WolfPack Advising's Lead Center, we help businesses track every call using call tracking so you can take notes and track ROI easily.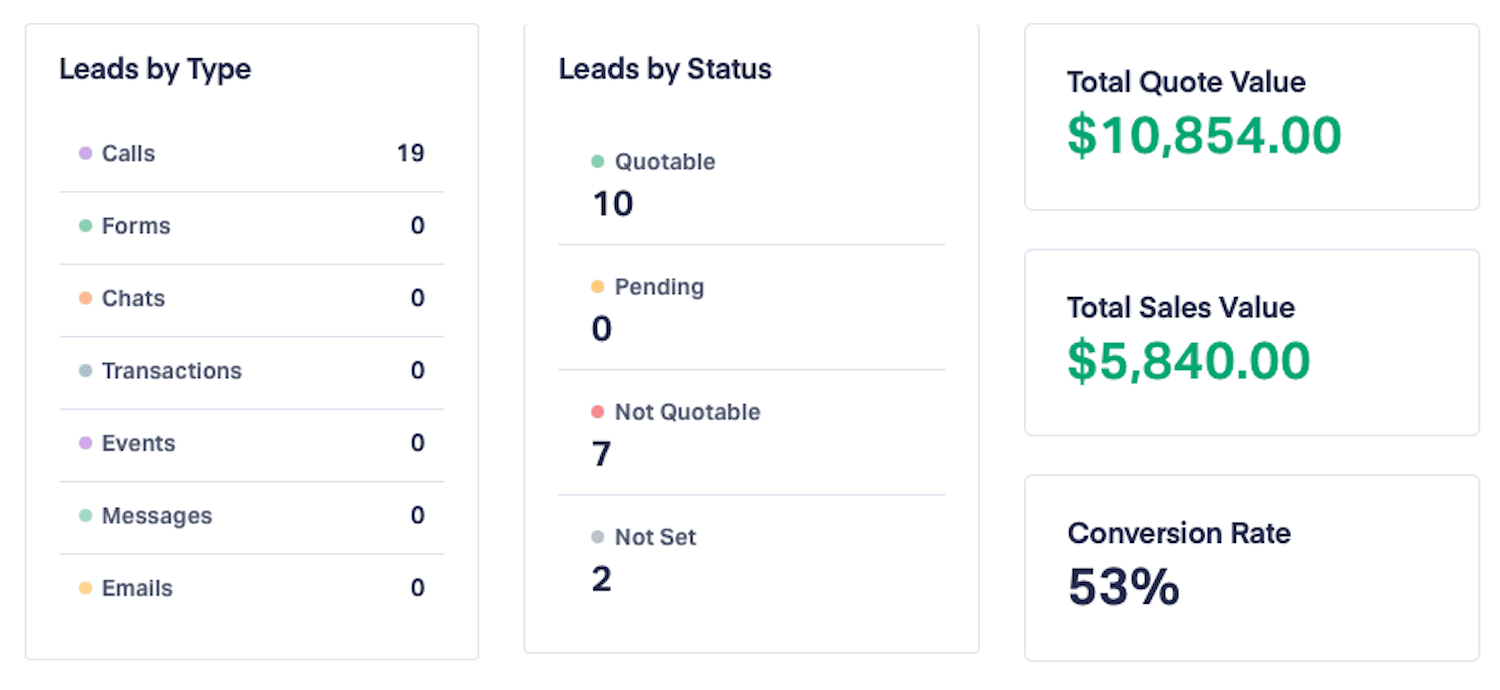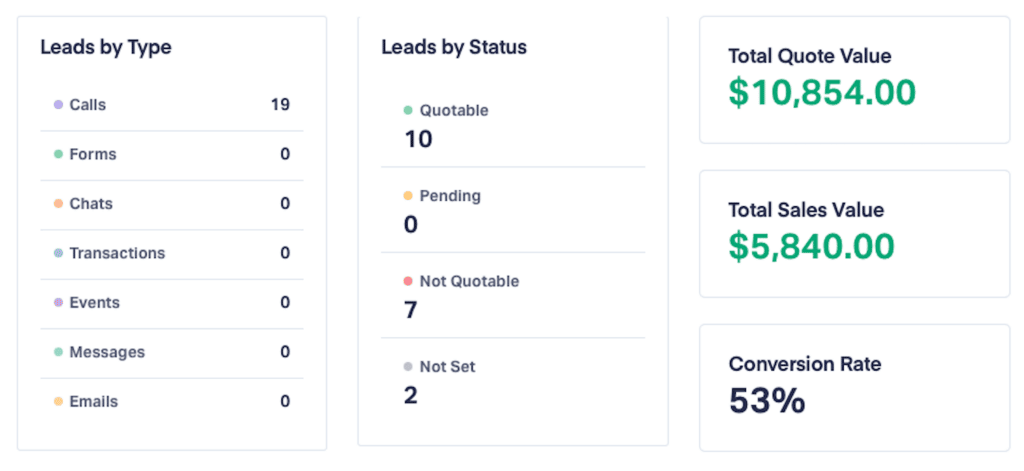 4. Maximizing Your Leads
Besides what was mentioned above, the best way to maximize your leads from Google Local Ads is to have the most 5-star Google reviews compared to your competition. In order to do this, use a review request platform, like WolfPack's Marketing Automation system. Additionally, ensure you are responding to every review left, positive and negative.
Learn the best ways to get more Google Reviews or see why your Google Reviews are not showing.
In general, consumers will choose to contact the most reputable business through Google Local Ads. However, they may call a few to compare pricing.
Start Growing Your Business Today
And there you have it! That's how to generate leads through Google Local Ads. View more information on Google Local Ad Services.
Interested in growing your business with Google Local Ads? Consider hiring a digital marketing professional to maximize your return on investment. Schedule a consultation with WolfPack Advising today.