Last updated on November 2nd, 2023 at 02:52 pm
Dermatology and its marketing are on the rise. With the increasing demand for skin cancer treatments and cosmetic procedures, dermatologists are in high demand. To stay competitive in the dermatology field and reach more patients, effective digital marketing is essential.
Furthermore, if you're ready to take your dermatology practice to the next level, continue reading our comprehensive guide for expert strategies and invaluable tips. Your journey to success in dermatology marketing begins here.
What Is Dermatology Digital Marketing?
According to the American Academy of Dermatology Association and the National Cancer Institute, skin cancer is the most common cancer in the United States, with around 9,500 daily diagnoses. However, dermatology is often not considered a high-priority healthcare item among consumers. This is where dermatology digital marketing comes into play. Additionally, it is a specialized branch of digital marketing tailored to the unique needs and challenges of dermatology practices.
To address this issue, dermatologists need to educate consumers and reach the right audience. Leveraging the digital space as a valuable platform for education and information is crucial in today's world.
Moreover, digital marketing encompasses various techniques and strategies that can be utilized to promote your dermatology practice online. From website design to local SEO, and social media ads to email marketing, there are numerous avenues that you can explore to attract new patients and retain existing ones.
Having an effective dermatology digital marketing strategy is of utmost importance. It provides the potential to target Top of Funnel (TOF) patients who haven't prioritized dermatology in their healthcare routine. Additionally, it offers the opportunity to reach Bottom of Funnel (BOF) patients actively searching for a dermatology provider.
Additionally, by utilizing dermatology digital marketing, dermatologists can effectively raise awareness about skin cancer prevention and treatment options. This will ultimately improve public health outcomes and save lives.
Types Of Dermatology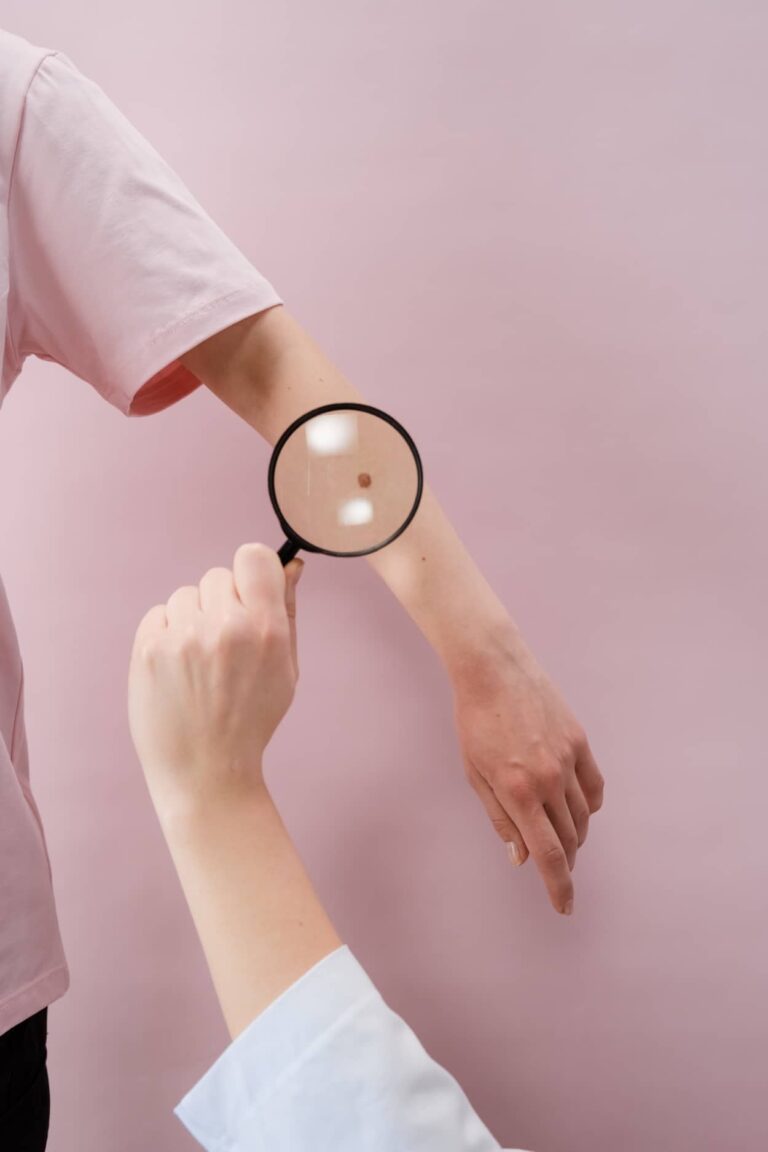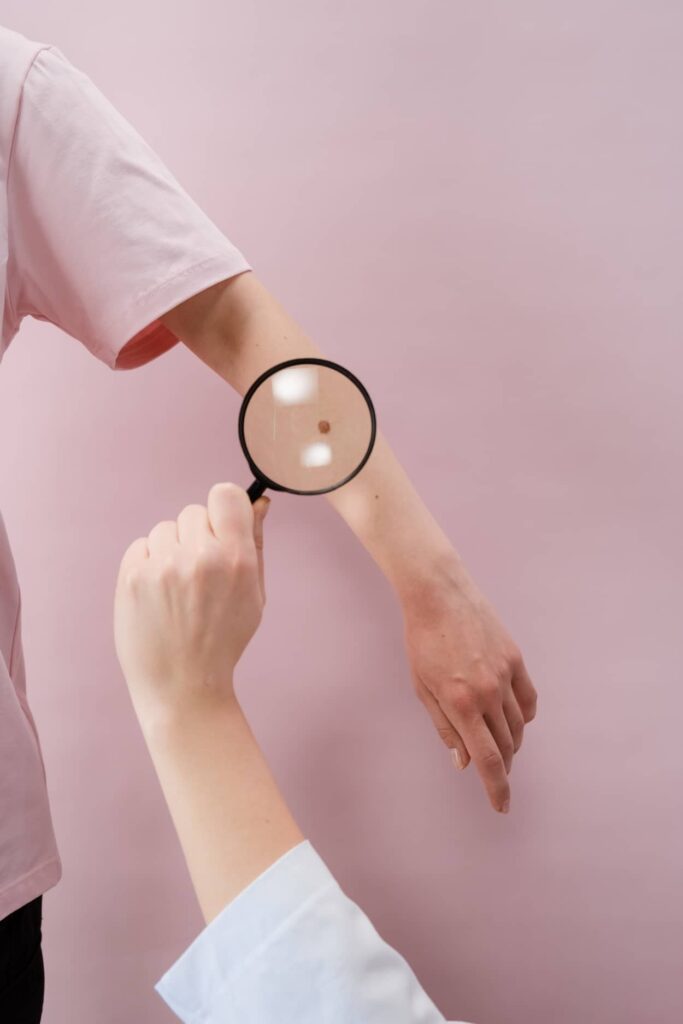 Moreover, dermatology is a medical discipline that encompasses various subcategories, each with its unique focus and specialization. By identifying these subcategories, we can gain a better understanding of the different aspects of the field of dermatology. The four main subcategories are:
Dermatopathology
This branch of dermatology involves the identification of diseases through the examination of tissue samples. Dermatopathologists play a crucial role in diagnosing various skin conditions, contributing greatly to patient care.
Furthermore, highlighting the importance of accurate diagnosis over treatment procedures is key for dermatopathology practices. Educational content, sharing case studies, and engaging with the medical community can help establish credibility and maintain a professional reputation within the field.
Pediatric Dermatology
Pediatric dermatologists specialize in providing healthcare services specifically tailored to children. As children's skin requires specialized attention and treatment, these professionals are well-versed in addressing the unique needs and challenges of pediatric patients.
Additionally, marketing pediatric healthcare services requires adherence to stricter compliance guidelines, ensuring that all promotional efforts prioritize the safety and well-being of young patients. Attention should be given to educational content creation, building trust with parents, and maintaining a professional online presence.
Mohs Surgery
Mohs surgery primarily focuses on the treatment of skin cancer. This specialized technique ensures the complete removal of cancerous cells while minimizing damage to healthy tissues. With its highly precise nature, Mohs surgery offers an effective solution for those battling skin cancer.
Moreover, referrals play a crucial role in the success of Mohs surgery practices. Establishing strong relationships with referring physicians and healthcare providers is essential. Digital marketing efforts should focus on reinforcing these relationships by showcasing expertise through educational materials, testimonials, and networking opportunities.
Cosmetic Dermatology
Cosmetic dermatologists aim to enhance the appearance of the skin. Their expertise lies in providing aesthetic treatments and procedures that improve skin quality, reduce signs of aging, and address various cosmetic concerns. In today's digital age, cosmetic dermatology may require a robust digital marketing strategy to create demand and attract clients.
Due to its emphasis on aesthetics, cosmetic dermatology may require a strong digital marketing strategy to effectively showcase the benefits of various treatments and attract potential clients. Utilizing social media platforms, professional websites, and targeted online advertising can help generate interest and increase clientele.
Website Design Ideas for Dermatologists
When it comes to designing your dermatology website, prioritizing user experience is essential, regardless of your specific subcategory. Your website serves as your digital front door, often making the first impression on potential patients, so ensure it's engaging, informative, and seamless in its functionality.
Begin with a clean and user-friendly design. Select easily readable fonts, incorporate professional images to bolster your practice's credibility, and include clear calls-to-action (CTAs) that effectively guide patients through their online journey. Given the increasing prevalence of mobile browsing, optimizing your site for mobile devices is crucial, as over 60% of website traffic now originates from mobile platforms. This means ensuring your site is responsive and loads quickly on smartphones and tablets.
Above all, prioritize user experience. Your website should both inform and engage visitors from the moment they land on your site, creating a digital environment that welcomes and guides patients seamlessly.
For instance, when prospective patients visit your website, they should easily find essential information about your dermatology practice, including details about treatment programs, specialization areas, intake procedures, and accepted insurance plans.
In addition, ensure various means for visitors to get in touch with your practice, based on their preferred method of communication. Offering a consultation request form allows patients to submit specific questions, while features like a "tap-to-call" function and chatbots facilitate instant communication for those who want to speak with a representative immediately. Lastly, for a smooth appointment booking process, include a booking link on your website, enabling patients to schedule their first appointment conveniently with just a few clicks.
By incorporating these strategies, your dermatology website becomes a powerful tool for informing, engaging, and connecting with patients, emphasizing the professionalism and patient-centric focus of your practice. To guide your website redesign efforts, consider this website redesign checklist for an effective dermatology website.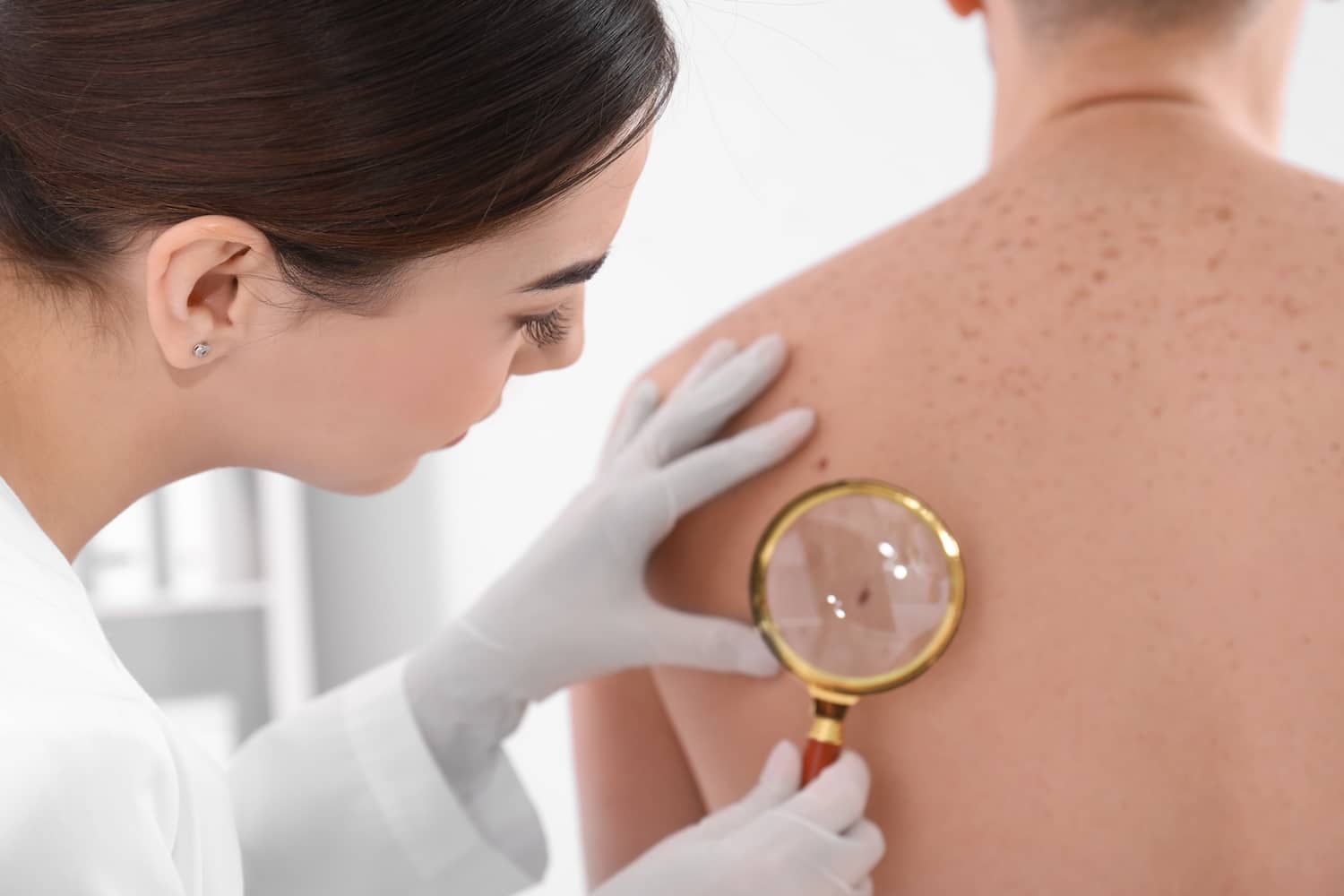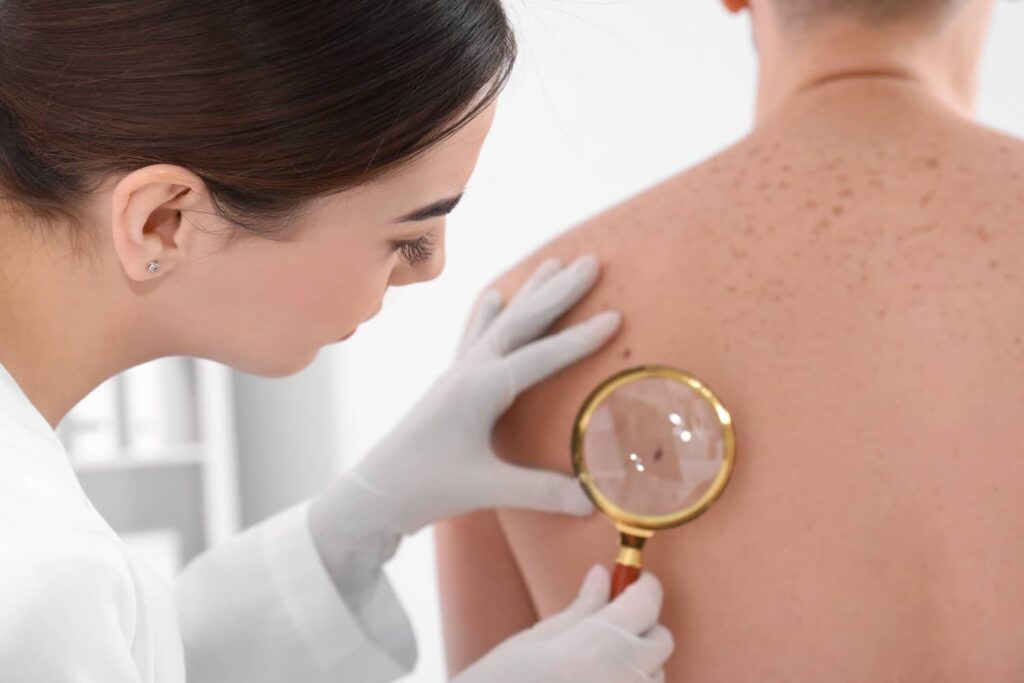 Local SEO for Dermatology Digital Marketing
The importance of local SEO takes center stage in dermatology digital marketing. Dermatology services are predominantly sought out locally, with patients favoring nearby providers. This emphasis on local presence translates into several key strategies:
Citations And Listings Play A Pivotal Role
Creating high-quality listings on reputable local directories, including platforms like Yelp and ZocDoc, helps boost local visibility. Consistency in your name, address, and phone number (NAP) across all listings is essential.
Optimizing Google Business Profile (GBP) Listings Is A Game-changer
It's critical to provide accurate and comprehensive information, share compelling practice photos, and offer FAQs that address patient queries about treatments, pricing, and insurance.
Geographical Keyword Strategy: Key For Patients In The Decision-making Stage
A geographical keyword refers to a keyword or keyphrase used in online search queries that includes a specific location or geographic identifier. These keywords are used by search engine users to find local businesses, services, or information relevant to their geographic area.
High-intent geographical keywords, such as "Skin cancer treatment in Florida" or "Best dermatologist for acne in Melbourne, Florida" can have a significant impact. Prioritizing solution-aware keywords that highlight specific treatments and accepted insurances increases the likelihood of attracting conversion-ready patients.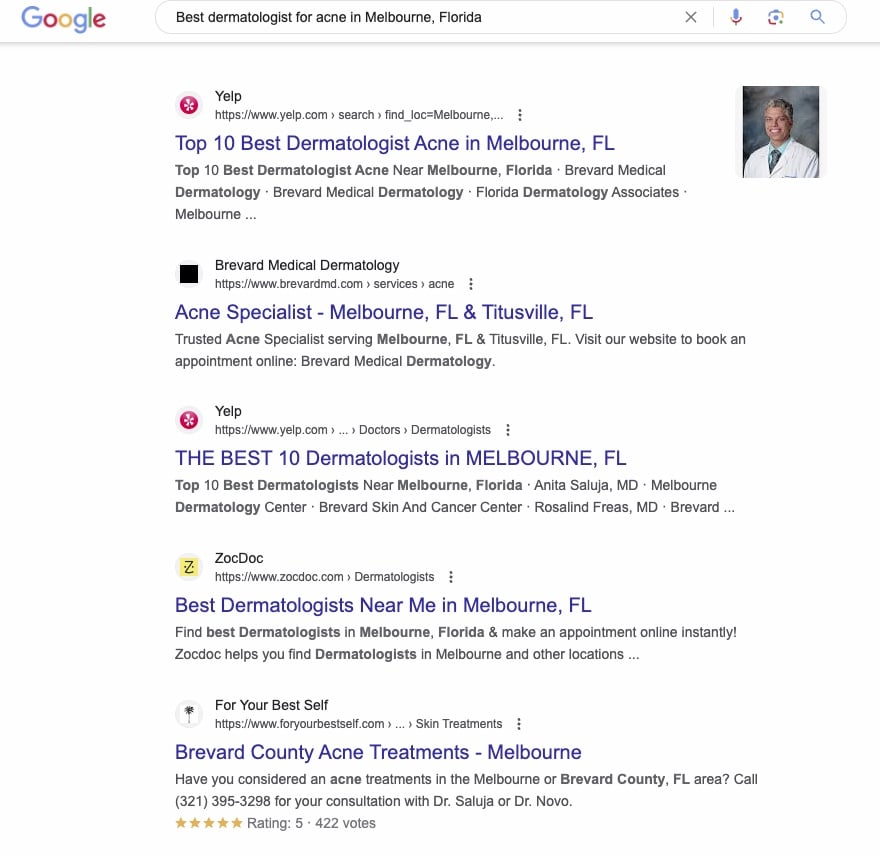 To get the most out of Local SEO, consider partnering with an agency that specializes in such by signing up with a Local SEO plan.
Social Media Ads For Dermatology Digital Marketing
Social media platforms provide an excellent opportunity to target and engage with potential patients. By running targeted ads on platforms like Facebook, Instagram, and LinkedIn, you can effectively reach your desired audience and drive them to take action.
Dermatologists can harness social media advertising to engage with their audience, boost their reputation, and generate demand. Crafting a comprehensive paid social media strategy should encompass the entire patient journey. Facebook traffic is typically divided into awareness, consideration, and decision stages, with strategies involving informative content, interactive tools, and tailored call-to-action ads to ease patient conversion.
Acquiring bottom-of-funnel (BOF) leads is a crucial step towards conversion. Before engaging in BOF strategies, it is highly recommended for dermatologists to establish a strong foundation in digital marketing. This groundwork encompasses the prioritization of a high-quality website, robust local SEO, well-defined PPC ad tactics, and the implementation of organic social media endeavors.
Transitioning from the previous section, the BOF, denoting the conversion stage, stands as the final, and most constricted, section of the marketing funnel. Individuals who reach this phase are serious buyers, poised to make a purchase, and simply require that extra incentive for conversion. This phase presents the opportune moment to offer content tailored towards conversion. Moreover, it underlines why your specific offering best addresses their distinct pain points.
Integrate Wolfpack's lead funnel, encompassing strangers, leads, prospects, customers, and brand advocates, into your social media ads. Tailor your strategies to address each stage of the funnel, captivating your audience's attention, nurturing their interest, and ultimately turning them into loyal advocates for your dermatology practice. Whether you're attracting new patients, retaining existing ones, or promoting special offers, our lead funnel framework guides you through the entire patient journey, ensuring you maximize your digital marketing efforts.
Leveraging Pay-Per-Click Advertising For Dermatology Digital Marketing
Pay-Per-Click (PPC) advertising, through platforms like Google, Bing, and Yelp, is a vital tool in dermatology digital marketing. It allows dermatologists to display ads on search engine results pages and other relevant websites, targeting individuals actively seeking dermatological services.
One of the key advantages of PPC is cost control. Dermatologists only pay when someone clicks on their ad, making it an efficient marketing strategy. Additionally, PPC offers measurable results through analytics tools, enabling data-driven decisions and campaign optimization.
Another promising avenue for dermatologists is becoming Google Screened, a status similar to Google Guaranteed. This can significantly enhance their credibility and visibility on Google Local Ads. Being Google Screened means that the professional's background has been checked and approved by Google, which can instill trust in potential patients and increase click-through rates.
Currently, Google Local Ads have been the most profitable for our clients. However, it's important to note that market trends can change over time, and strategies should be adjusted accordingly.
PPC advertising also provides flexibility. Dermatologists can modify their ad copy, targeting parameters, and budget to adapt to changing market conditions or campaign goals. To maximize PPC effectiveness, it's crucial to invest in keyword research. Identifying popular and relevant keywords can create compelling ad copy that resonates with the target audience.
Email Marketing For Dermatologists: Tips And Techniques
In today's digital age, email marketing has emerged as a powerful tool for promoting businesses, including dermatology practices. Furthermore, with its cost-effectiveness and wide reach, email marketing can be a feasible and efficient way for dermatologists to connect with their existing patients and attract new ones.
Email marketing allows dermatologists to deliver targeted messages directly to their audience's inbox. By segmenting their email list based on factors such as age, skin concerns, or previous procedures, dermatologists can tailor their content to resonate with each recipient personally. This level of customization helps to establish trust and credibility, which is crucial in the healthcare industry.
Moreover, email marketing provides an opportunity for dermatologists to educate their patients about various dermatological conditions and treatments. By offering valuable information, such as skin care tips or updates on the latest advancements in dermatology, dermatologists can position themselves as trusted experts in their field. This not only improves patient loyalty but also encourages word-of-mouth referrals.
Some Easy Email Marketing Techniques for Dermatologists
Explore these simple yet effective email marketing strategies tailor-made for dermatologists.
Build a Quality Email List
Start by collecting email addresses from your patients during their visits. You can also include opt-in forms on your website or social media platforms to capture leads interested in your services. Remember, it's important to obtain explicit consent before adding anyone to your mailing list.
Craft Compelling Subject Lines
The subject line is your first chance to grab your recipient's attention. Make it concise, yet catchy, to entice them to open your email. Avoid using clickbait tactics and focus on providing genuine value.
So, here are compelling subject lines for email marketing campaigns tailored to different goals for dermatologists:
Promos and Special Offers:
"Limited Time Only: 20% Off Your Favorite Skin Treatment!"
"Exclusive Deal: Get Your Skin Ready for Summer!"
"Your Skin Deserves a Treat: Special Offer Inside!"
Educational Content:
"Unlock the Secrets to Flawless Skin – New Blog Post Inside!"
"Learn How to Maintain Healthy Skin: Expert Tips Await!"
"Discover the Science of Beautiful Skin in Our Latest Article!"
New Patient Acquisition:
"Join Our Dermatology Family – New Patients Welcome!"
"Ready for a Skin Checkup? Schedule Your First Appointment!"
"Get to Know Us Better: Your Journey to Healthy Skin Starts Here!"
Patient Retention:
"Thank You for Trusting Us with Your Skin Health!"
"Stay Radiant and Healthy with Our Ongoing Care!"
"We're Here for You: Your Next Appointment Awaits!"
Stay-Top-of-Mind:
"Stay Glowing All Year Long with Our Monthly Tips!"
"Keep Your Skin in the Spotlight: Exclusive News Inside!"
"Don't Miss a Beat – Join Our Dermatology Newsletter!"
Personalize Your Emails
Use merge tags to insert personalized details like the recipient's name or recent appointment date into your emails. This small touch makes the recipient feel valued and increases engagement. Also, segment your email list based on demographics, preferences, or other criteria to further personalize your content.
"Subject: 📅 Your Upcoming Dermatology Appointment & Skin Care Tips
Hi Laurie,
Your next dermatology appointment is just around the corner! We're here to ensure it goes smoothly and to offer you a few skincare tips before you arrive.
Sunscreen Daily: Don't forget to use sunscreen every day.
Stay Hydrated: Keep your skin hydrated by drinking plenty of water.
Routine Matters: If you have a skincare routine, stick with it.
Note Changes: Take note of any skin changes to discuss during your visit.
Got questions or need to reschedule? Feel free to reach out.
See you on Wednesday!
Best regards,
Dr. J. Shishilla"
Design Engaging Email Templates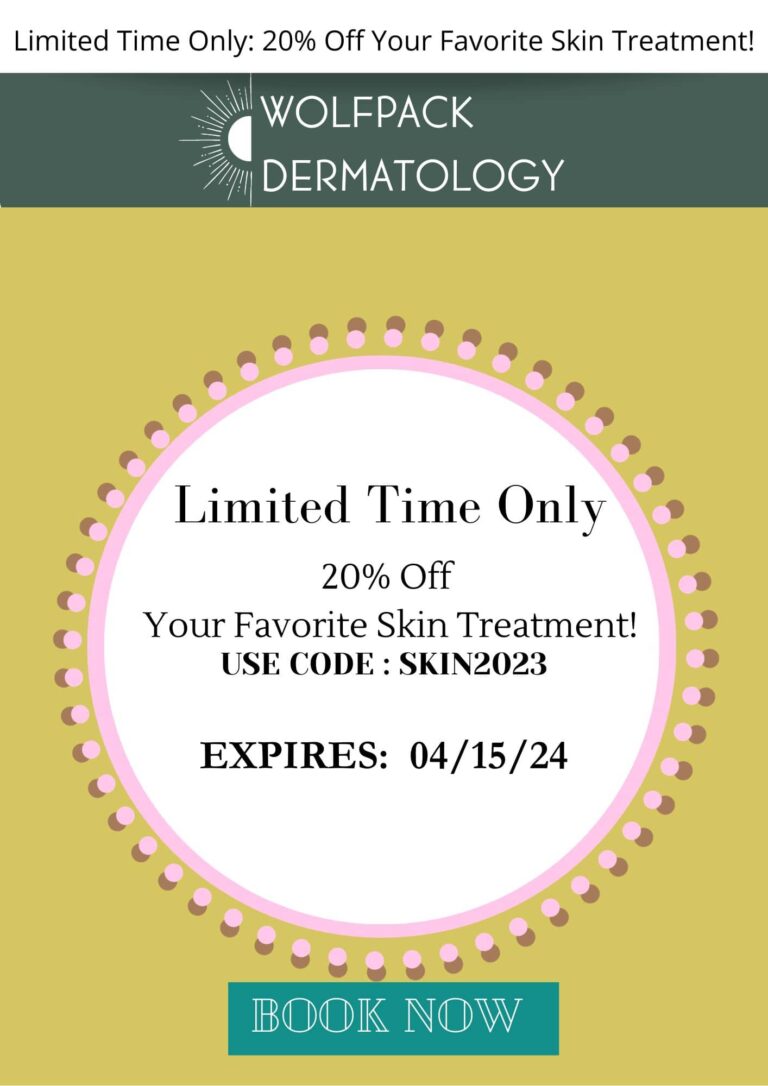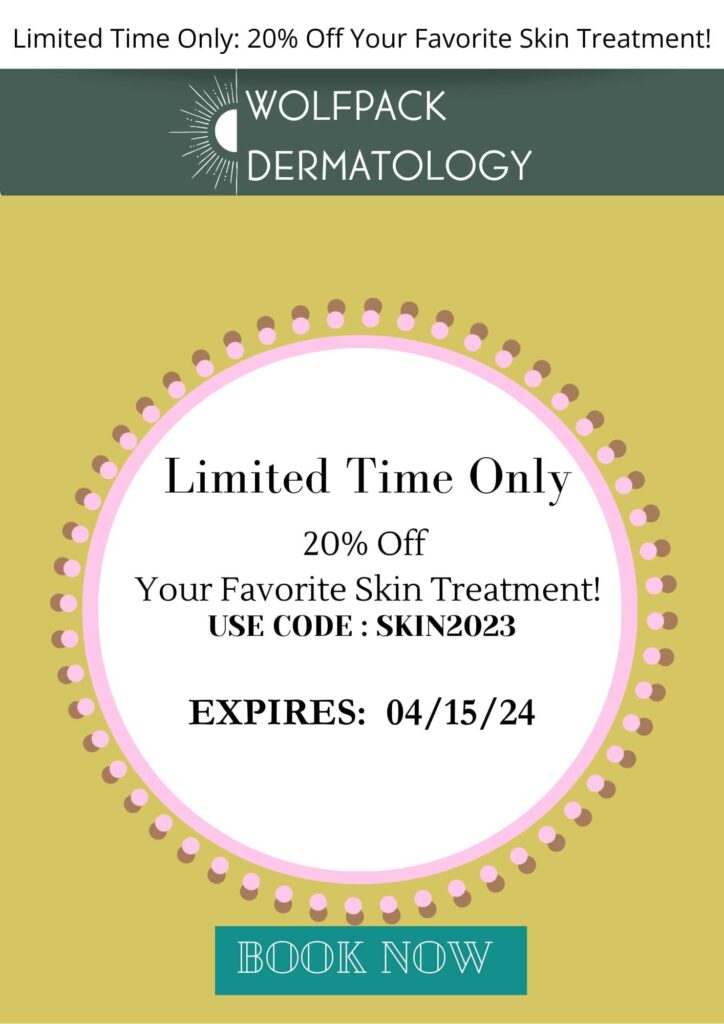 Invest in creating visually appealing and mobile-responsive email templates for consistent branding. Use high-quality images, professional colors, and clear calls to action to guide recipients toward desired actions, such as booking an appointment or reading a blog post.
Provide Valuable Content
Share educational articles, skincare tips, success stories, or updates about new treatments in your emails. Make sure the content is relevant, informative, and well-written. Avoid being overly promotional; instead, focus on building long-term relationships with your patients.
Monitor and Analyze Results
Regularly track and analyze key email marketing metrics, such as open rates, click-through rates, and conversion rates. This data will help you understand what resonates with your audience and make necessary adjustments to improve your campaign's effectiveness.
Good open rates are typically considered anything over 20%, and good click-through rates are typically considered anything over 4%.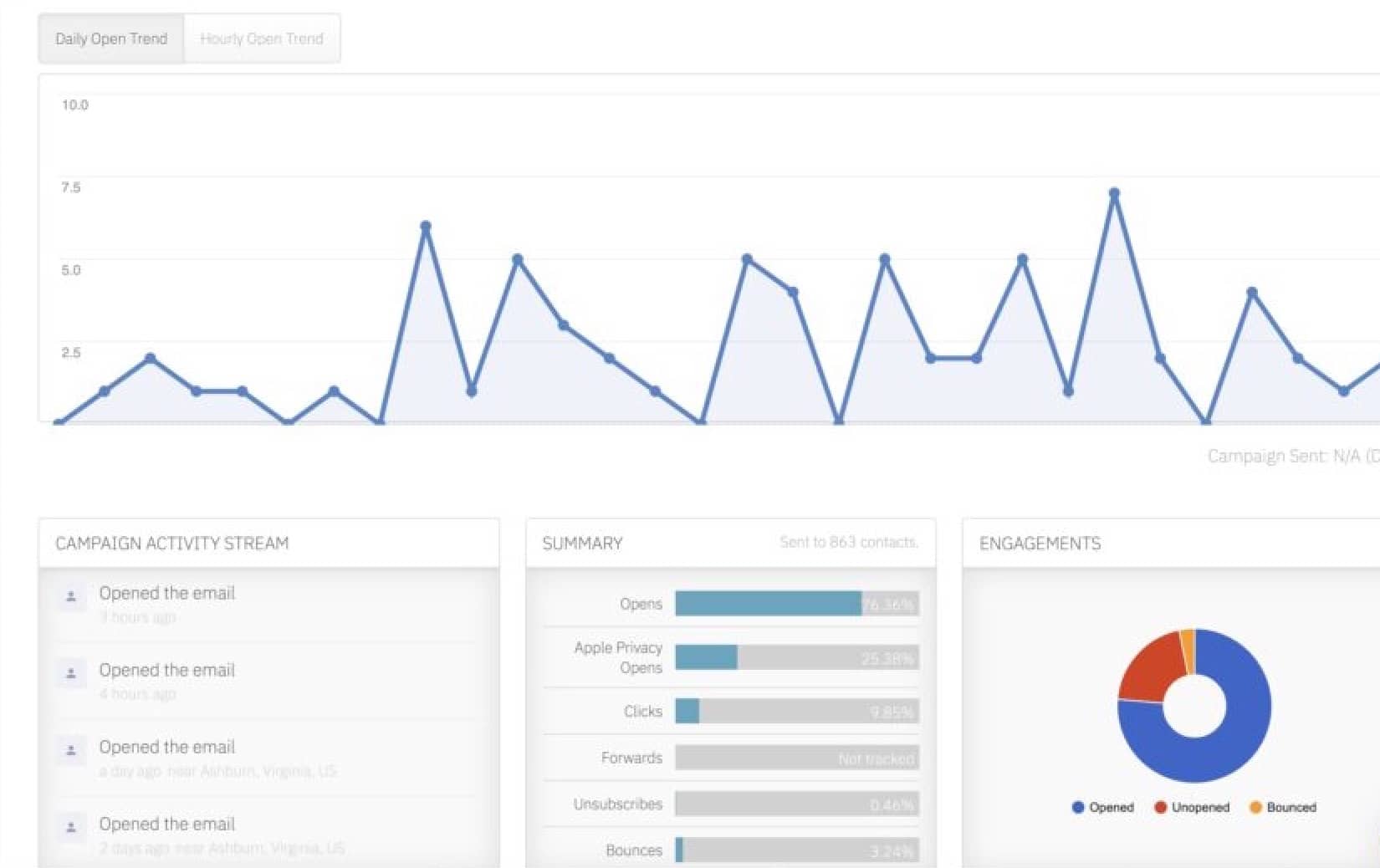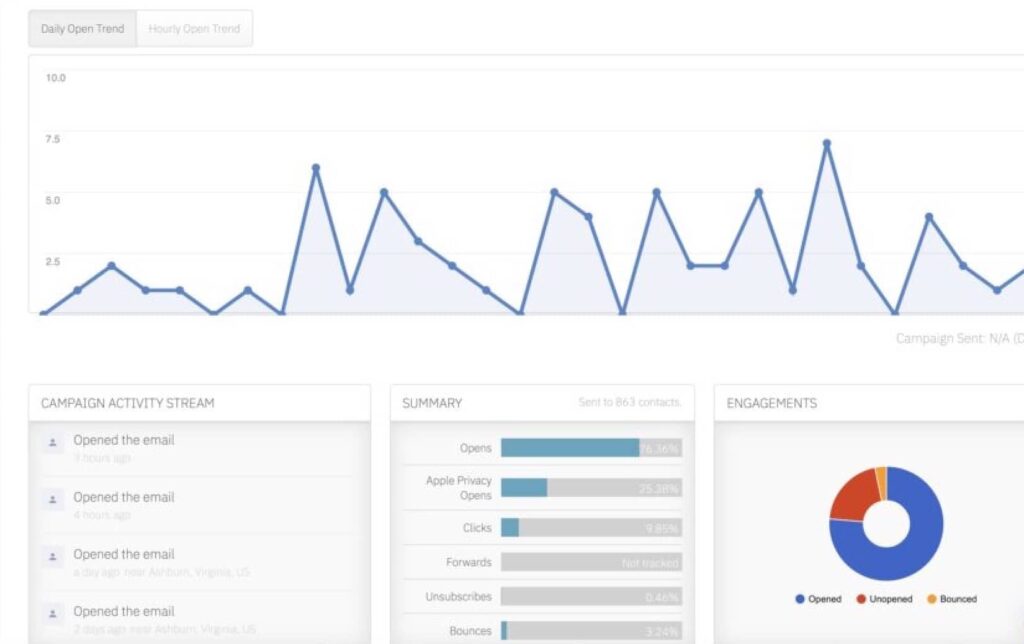 Dermatologists can harness the power of email marketing to drive patient engagement, foster loyalty, and attract new clientele. By using targeted messaging, offering valuable content, and analyzing results, dermatologists can establish themselves as authorities in their field while nurturing lasting relationships with their patients.
Data-Driven Dermatology Digital Marketing Best Practices
In the realm of dermatology digital marketing, data-driven strategies have proven to be highly effective. One such strategy is the integration of systems and channels. This involves connecting and integrating various data sources and digital channels, including Search Console, Google Analytics, CRM systems, and social media analytics. For instance, a study by McKinsey found that businesses that leverage customer behavior data to generate behavioral insights outperform peers by 85 percent in sales growth and more than 25 percent in gross margin.
Another best practice is using diverse metrics for goal assessment. Each specific goal requires a different metric to ensure a precise evaluation of performance. For example, if the goal is to increase website traffic, the metric could be the number of unique visitors. Moreover, if the goal is to improve customer engagement, the metric could be the time spent on the website or the number of pages visited per session.
Tracking offline activities is also crucial. Activities that occur outside the digital realm, such as direct calls and in-person visits, need to be monitored and tracked for a comprehensive understanding. According to a survey by BrightLocal, 60% of consumers have used good images in search ads, emphasizing the importance of tracking these offline conversions.
Lastly, cross-department collaboration is key. An interactive, responsive, and cross-department dashboard can facilitate collaboration and information sharing among team members. A report by Mulesoft showed that 89% of IT leaders believe that data silos slow down digital transformation, hence the need for cross-department collaboration.
The Dermatology Digital Marketing Toolbox For Patient Retention
In the realm of dermatology, patient retention is a critical aspect that should be emphasized for long-term practice growth. For instance, a study by Bain & Company revealed that a 5% increase in customer retention can increase profits by 25% to 95%. To achieve this, strengthening the patient-provider relationship is paramount. This can be done through various strategies such as personalized care and regular follow-ups, which have been shown to foster loyalty.
Another effective tool in the dermatologist's toolbox is seeking patient feedback. Utilizing patient satisfaction surveys and actively responding to feedback on social media platforms not only demonstrates care for the patient experience but also enhances the online reputation of the practice. A Harvard Business Review study found that businesses that respond to customer reviews tend to have better ratings overall.
Reducing wait times is another strategy that can significantly improve patient retention. By implementing digital registration and intake tools, the check-in process can be streamlined, thereby reducing time spent in waiting rooms and improving practice efficiency. A case study from Q-nomy showed that reducing wait times led to a 50% increase in patient satisfaction.
Prioritizing convenience is also crucial in today's fast-paced world. Offering options like online scheduling, automated appointment confirmations and reminders, telehealth appointments, and text messaging can meet patient expectations and enhance their overall experience. According to a survey by Accenture, 77% of patients believe that the ability to book, change, or cancel appointments online is important.
Lastly, encouraging return visits is key to patient retention. This can be achieved by using email campaigns with calls to action, such as one-click appointment booking. These prompts can motivate patients to schedule services and appointments they might have delayed, thus ensuring continuity of care.
Create Your Dermatology Digital Marketing Plan
Creating a robust digital marketing plan for your dermatology practice can be a daunting task. This is where the importance of partnering with professionals comes into play. For instance, WolfPack Advising, known for its expertise in digital marketing, could be an ideal partner to help you navigate this complex process.
We understand that each dermatology practice is unique and requires a tailored approach to digital marketing. For example, a strategy that works for a dermatology clinic in a bustling city may not work for a practice in a rural area. Therefore, customization is key to effectively reach your target audience and maximize results.
In fact, according to a study by Epsilon, personalized consumer experiences deliver 80% higher conversion rates. The ultimate goal is not just to achieve optimal outcomes in the short term but also to ensure long-term success and growth for your dermatology practice.
Here is a comprehensive digital marketing checklist for 2023 to help expand and enhance your dermatology digital marketing strategy.
Conclusion
In conclusion, the realm of digital marketing opens doors to unparalleled possibilities for dermatologists to broaden their horizons, draw in a larger patient base, and establish a distinctive presence in an increasingly competitive field.
As you implement the diverse strategies elucidated in this comprehensive guide, remember that staying attuned to dynamic industry trends is your key to positioning your practice for sustained prosperity in the ever-evolving digital landscape.
It's a journey of growth, expansion, and standing out in the digital crowd, and with the right strategies and adaptability, your dermatology practice is poised for an exciting and successful future. Schedule a consultation with us to learn more.