According to Review Trackers, "Google hosts 73% of all online reviews for businesses". Businesses must maintain a positive online reputation on Google. However, sometimes businesses may receive inappropriate or fake reviews that can harm their reputation and diminish their overall rating. Let's check out what happens when you report a Google review.
Is Reporting or Flagging a Google Review a Good Idea?
Reporting a Google review can help businesses maintain their credibility and protect their reputation. Gathering an impactful number of reviews with a positive rating can take years. Overnight, inappropriate reviews can mislead potential customers and damage the business's rating. Reporting such reviews, businesses can ensure that only genuine and relevant reviews are on display on their page.
Still in the process of gathering reviews? Learn more about gathering online reviews here.
What Google Reviews Can be Reported or Flagged?
You can flag or report Google reviews that violate the platform's policies. These include reviews that contain hate speech, personal attacks, or irrelevant content. Additionally, reviews that are fake or posted by bots are good candidates. You cannot just report a review because you do not like it or disagree with it.
You can learn more about Google's prohibited and restricted content here.
How to Flag a Google Review
There are a few different locations in which a review can be reported. Here are the most common locations to do so.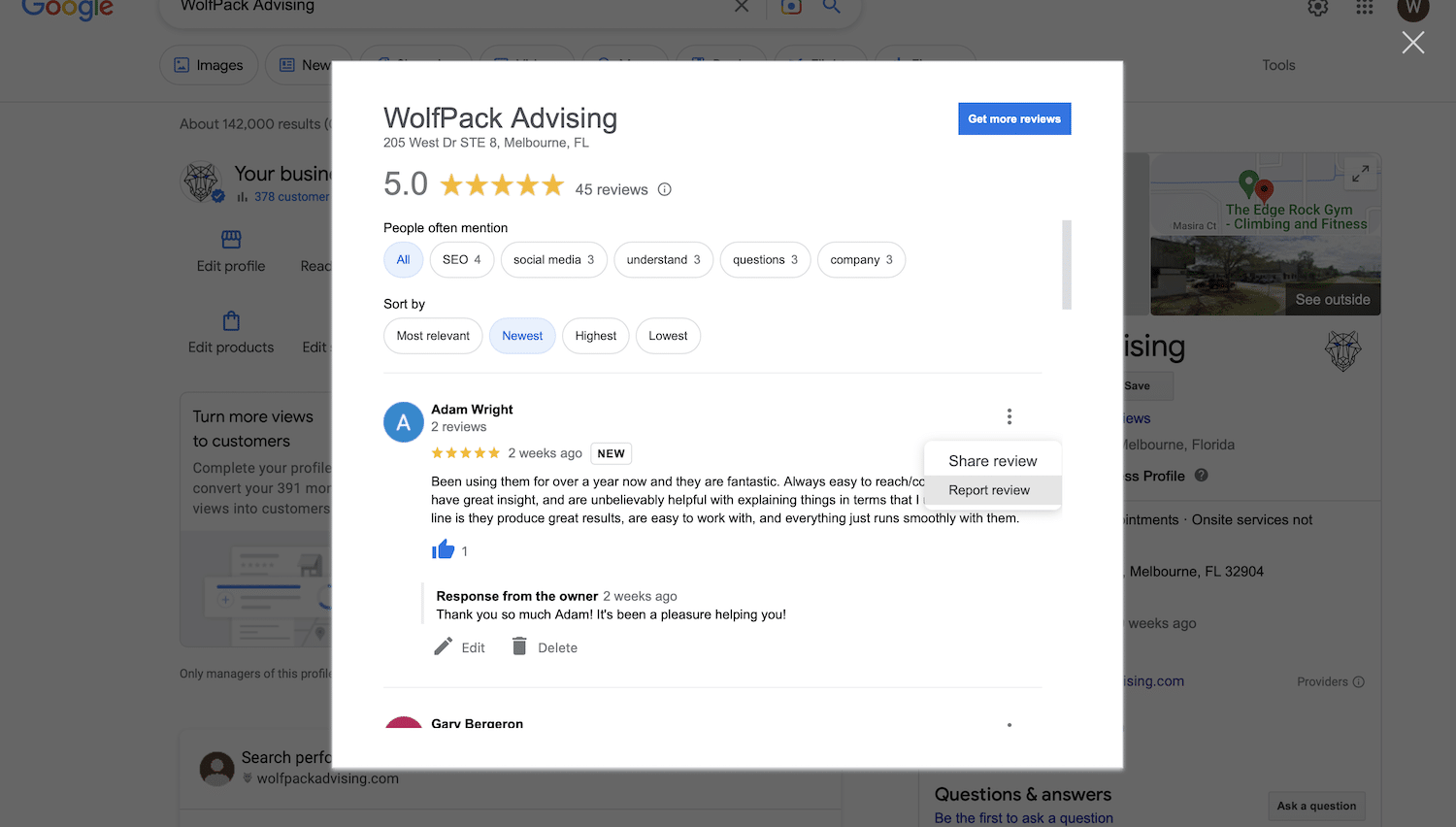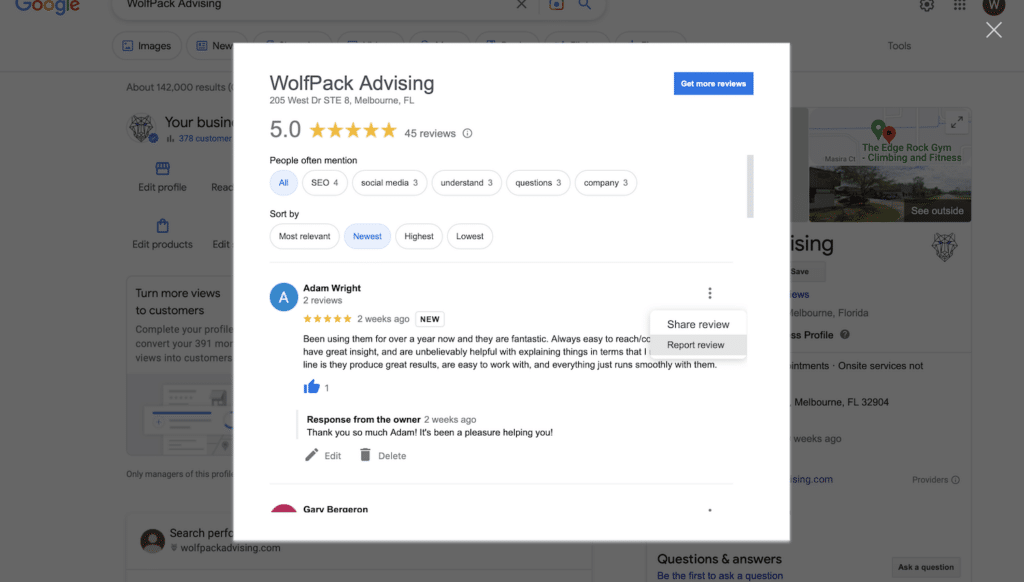 Google Maps
Open Google Maps
Find your Business Profile
Find the review you want to flag
Select the three dots next to the review
Select flag as inappropriate
Google Search
Go to Google
Find your business profile
Click on 'Google Reviews'
Find the review you want to flag
Select the three dots next to the review
Select flag as inappropriate
Business Profile
Sign into your Google Business Profile
Select the review you'd like to report
Select the three dots next to the review
Select flag as inappropriate
You can learn more about how to flag a Google review here.
How to Report a Review for a One-Time Appeal
Next, if you flag a review, but the verdict is that it does not violate Google guidelines, you can report the review for a one-time appeal. Here is how to do this.
Go to the reviews management tool
Double-check that the correct email address associated with your account is listed
Select your business
Select 'Check the status of a review I reported previously'
Navigate to the bottom of the page and find 'Appeal eligible reviews'
Choose the reviews you want to appeal (select up to 10)
Select 'continue' and submit an appeal
Complete and submit the form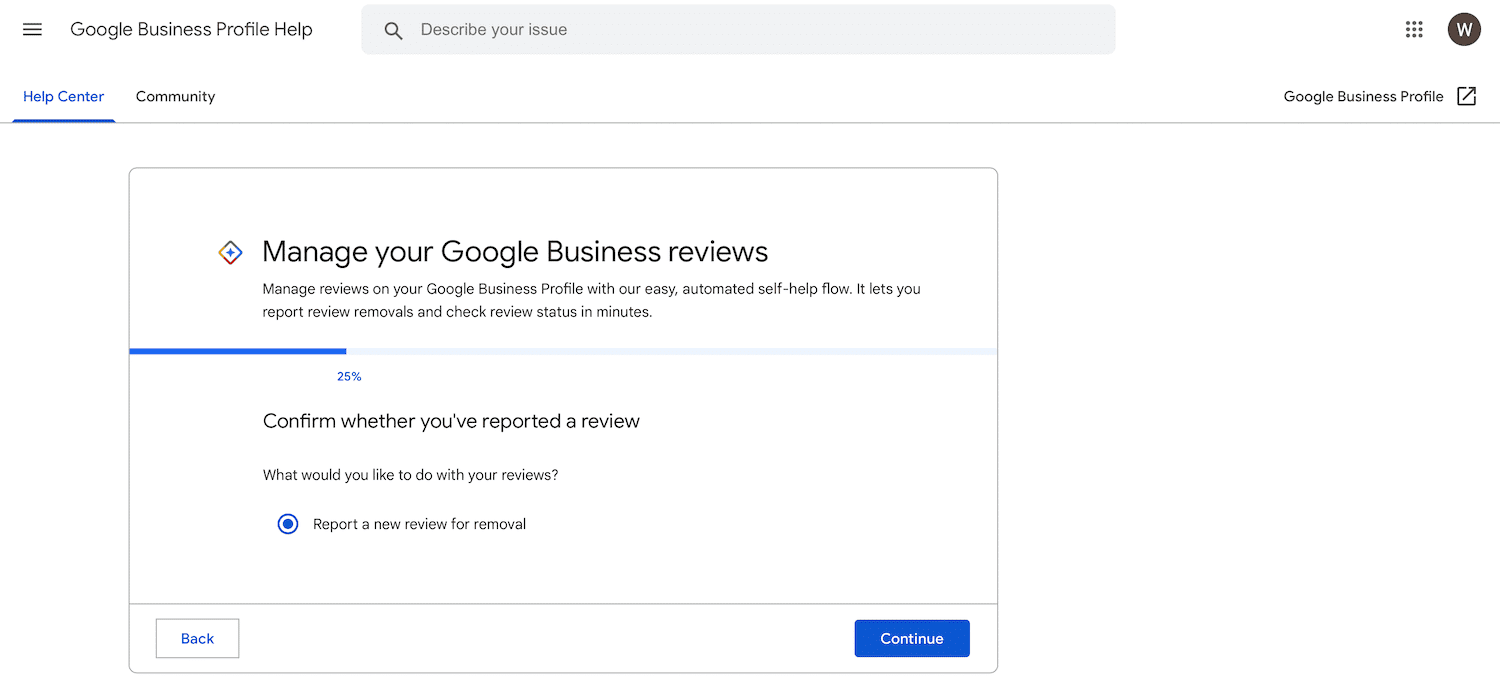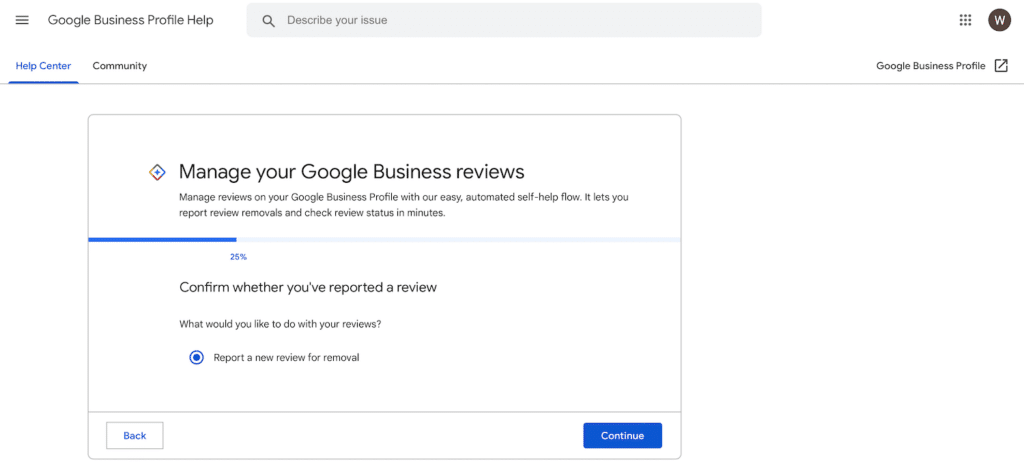 What Happens After You Report a Google Review
When you report a Google review, the following things may happen:
Google will review the reported review to determine if it violates its policies.
You will receive an email update about your verdict.
If the review is violating guidelines, it will be removed from Google Maps and Search.
If the review is not found to be in violation, it will remain on Google Maps and Search and be marked as 'escalated'.
You can check the status of your review removal request using the Reviews Management Tool.
Tips on Responding to Inappropriate Reviews
At first, your heart rate may increase and you may instinctually want to get angry and defensive, it's important to maintain a professional tone. We recommend responding to the review rather than ignoring it. This is because it will still be displayed on your profile in the meantime while the flag or report is being reviewed by Google. Here are some tips to help you craft an effective response:
First start by thanking the reviewer for their feedback and expressing your concern about their experience.
Address any specific issues or complaints mentioned in the review, and provide a clear explanation of how you plan to address them.
Avoid getting defensive or confrontational, even if the review is unfair or inaccurate. Instead, focus on offering solutions and demonstrating your commitment to customer satisfaction.
Keep your response concise and to the point, while still conveying empathy and understanding.
Invite the reviewer to contact you directly to discuss their concerns further, and provide your contact information if appropriate.
Remember, your response to an inappropriate review can have a big impact on how potential customers perceive your business. Do not stupe to their level. By responding professionally and thoughtfully, you can demonstrate your commitment to providing excellent customer service and turn a negative experience into a positive one. Lastly, remember that some individuals cannot be reasoned with. Don't let one or two inappropriate reviews get you down!
Learn more about how many Google reviews your business needs here.
Conclusion
To conclude, it is important to note that reporting a review does not guarantee its removal. Google has specific policies in place for what constitutes a violation. Occasionally, it can be difficult to tell which reviews are ligament.
Are you looking for more guidance on improving your business's digital footprint? Schedule a consultation with Wolfpack Advising today to get started!