Last updated on January 5th, 2023 at 05:58 pm
According to IBIS World, there are nearly 31,200 more electrician businesses today than there were ten years ago. With so many electricians to choose from, how can you convince consumers that you are the right choice for them? Keep reading to find out the shocking ⚡️ tips your competitors don't want you to know!
Let's check out a few of the different categories of marketing that electricians can utilize to supercharge business.
Search Engine Marketing (SEM) – This will help consumers find your electrician business easily when searching online using sites such as Google and Bing.
Social Media – Make sure to connect with prospects, past customers, and other local businesses on digital platforms such as Facebook, Instagram, and Youtube to stay top of mind.
Pay Per Click Advertising (PPC) – Advertisements where companies pay per click to encourage traffic on their website. Some examples include Google Ads and Bing Ads.
Inbound Marketing – This is when a consumer would voluntarily see your advertisement such as when scrolling through their feed of posts from accounts they follow on social media platforms. The consumer would volunteer to see the information by following you. Outbound marketing would be less voluntarily viewed. For instance, a billboard. Consumers may happen to see it while driving home from work. They viewed the advertisement without consciously choosing to do so.
Email & Text Message Marketing – Try spreading awareness of your electrician business via emails or SMS mediums.
Of course, that's not all the strategies out there! Stay tuned for even more later in this article!
SEM Electrician Advertising Strategies
SEM includes SEO and Local SEO. Let's dive deeper into those!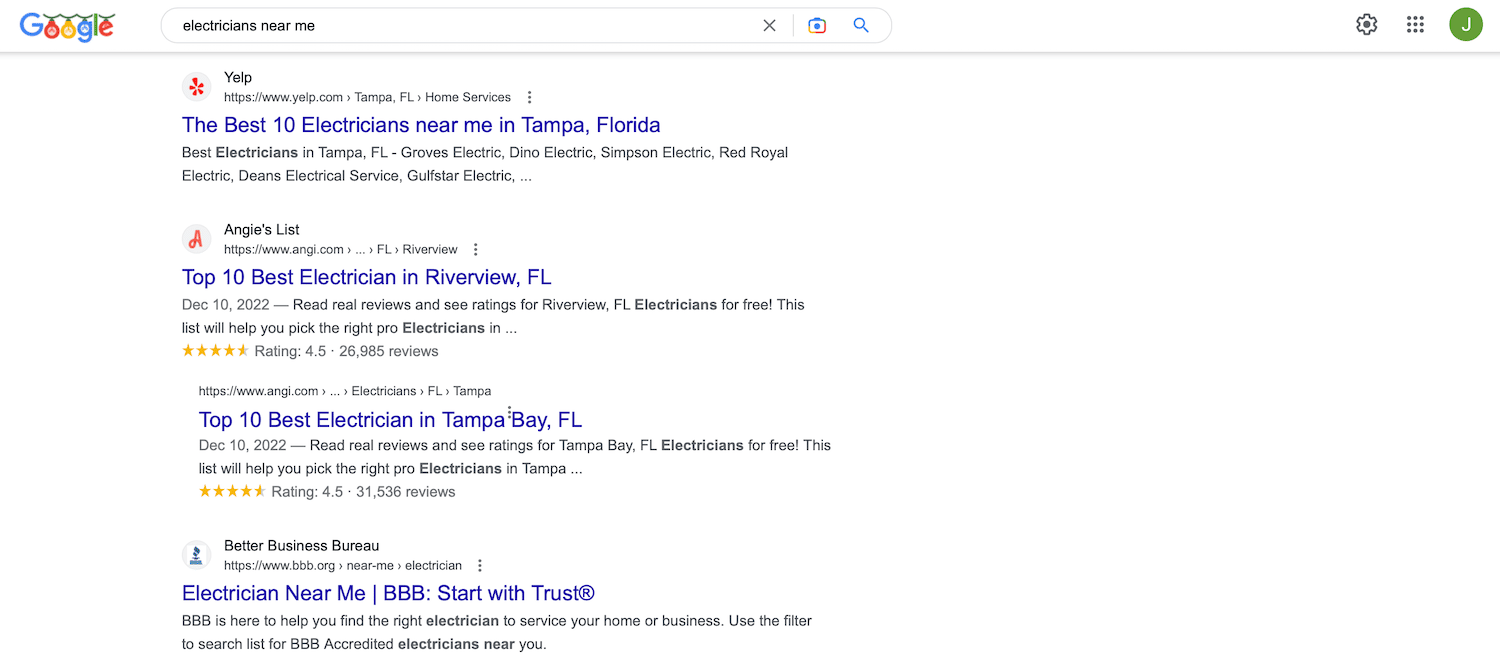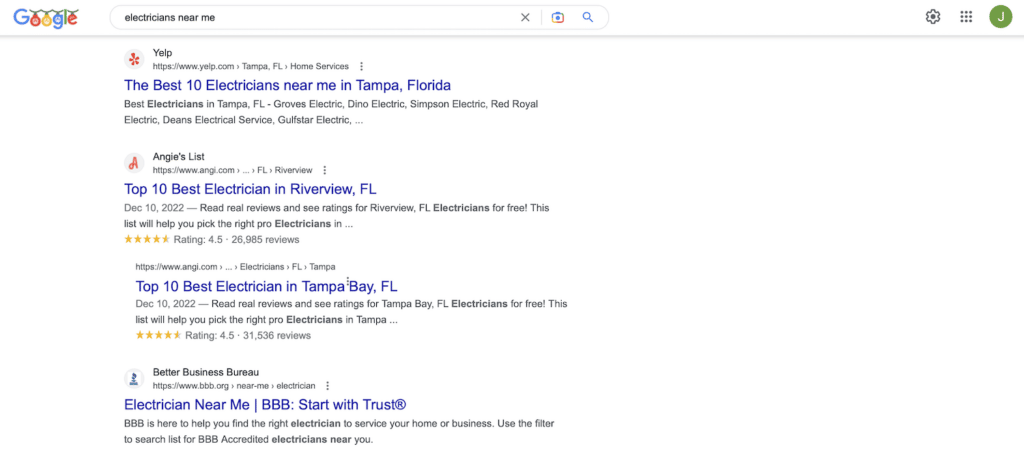 Search Engine Optimization (SEO)
For electricians looking to increase online traffic to their businesses' websites, SEO is critical. The goal is to increase your site's visibility when consumers search online by ranking for high-traffic keywords.
To start, you can research what your target clientele searched for when trying to find your type of business in your area. Below are a few examples of high-traffic keywords for an electrician business in Tampa, FL.
Electricians in Tampa, FL (or the city you are located in)
Don't forget to include questions your target clientele may search to help solve problems you can help them with. For example, "What are the steps to install a ceiling fan?"
After you have conducted some keyword research, you can begin to optimize your website and web pages for those keywords. To do this, you should optimize the following around your keyword:
Consider hiring an electrician SEO agency to help you maximize your SEO efforts.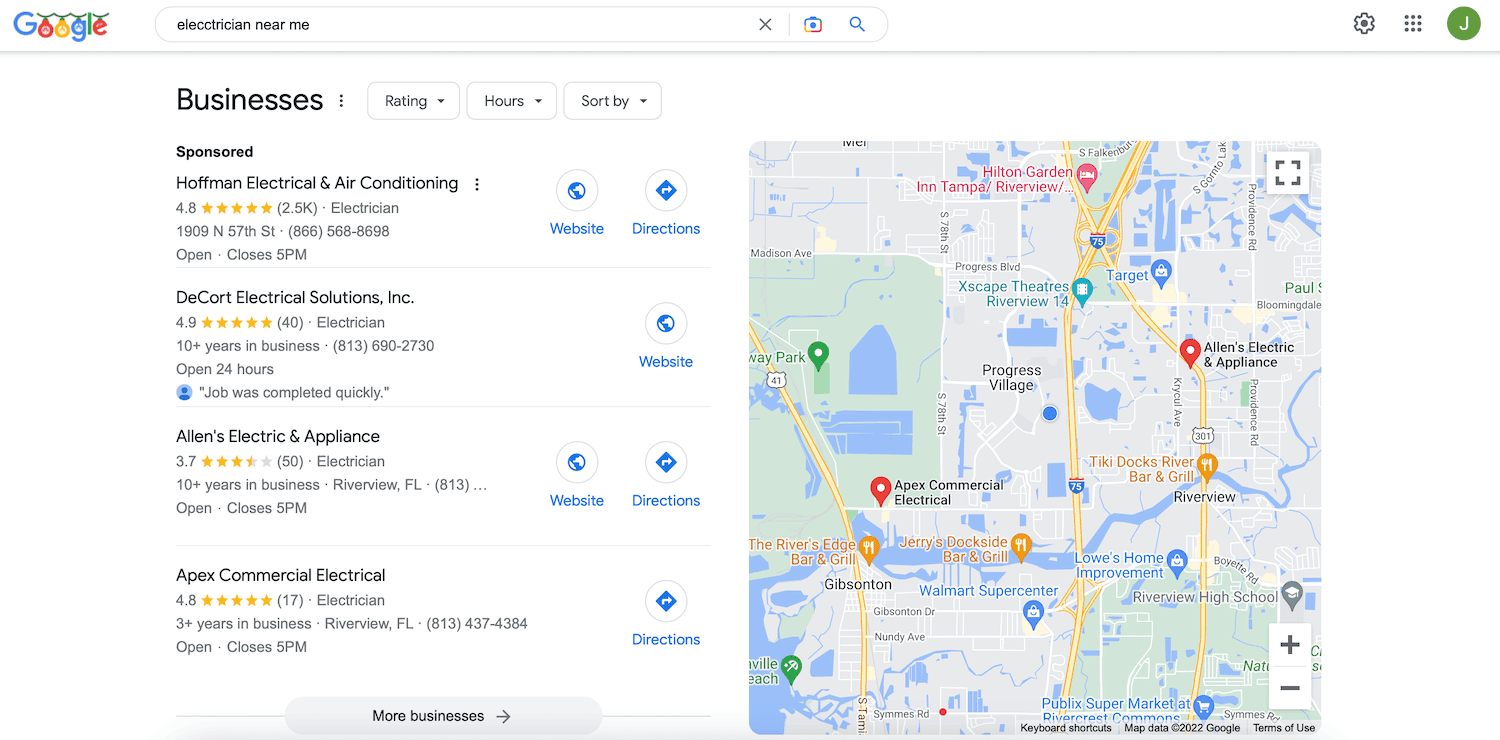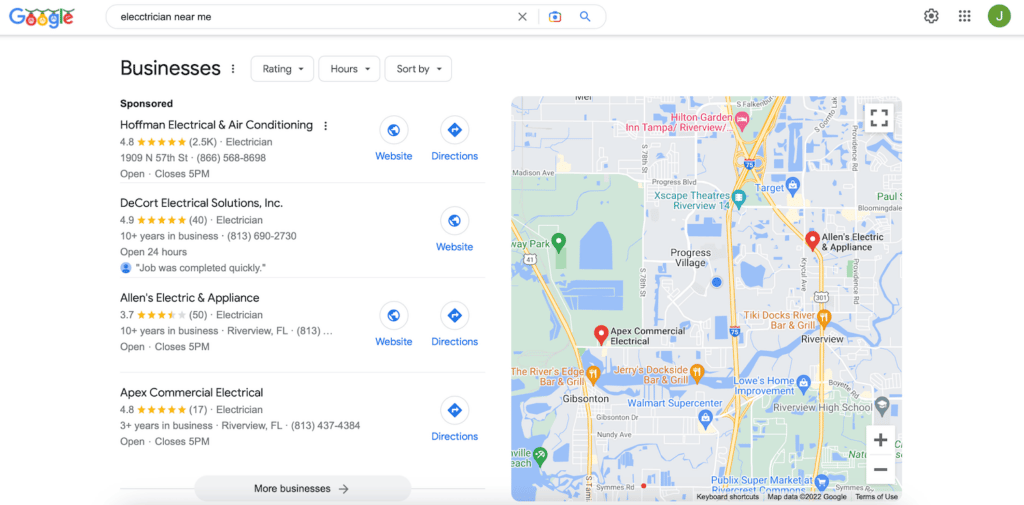 Local SEO
Once you have looked into SEO for your electrician businesses, the next step is to look into Local SEO. In addition to a focus on the keywords mentioned above, you will want to ensure your company's name, address, and phone number (NAP information) are updated and listed as citations across multiple search engines.
Examples of directories that are necessary for your electrician company's profile to be present include Yelp, Bing Places, Google Business Profiles, and Yahoo Local. Ensure your profile is complete and accurate.
Once your directory is set, you can start seeking our reviews. Platforms such as Facebook, Yelp, and Google are the ones to focus on first.
In general, to rank high in Local searches your online profiles should be complete, accurate, close to the searcher(consumer), and have a lot of positive reviews. Check out our local SEO guide or a Local SEO agency for electricians.
Social Media Outreach
Our next electrician marketing tip is to focus efforts on social media.
Paid
An example of paid social media ads is Meta Ads or even a boosted Facebook post. You can select a post that is performing well within the group that already follows your electrician business, and boost it to expose it to a larger audience outside of those followers who may be interested in your services.
Organic
Organic social media advertising includes posting highly engaging and interactive content within your following base for no cost. The percentage of our population who spend large amounts of time on social media is increasing in comparison to past years. In efforts to stay relevant, a social media presence is vital.
Below is a list of social media platforms we recommend electricians utilize.
Inbound Marketing
Let's check out some inbound marketing tips for electricians where the consumer comes to you!
Content Writing
Content writing is a great way to gain traffic on your site. Most companies do this in the format of blog posts. By offering valuable information to consumers. They are likely to voluntarily travel to your site and trust you to provide a service for them.
Similarly to our discussion in the SEO section, you will want to conduct keyword research to identify what your target audience is searching for. To have a higher likelihood that prospects encounter your site, include these keywords in your blog topics.
Content writing is a long-term advertising strategy, but can be super effective. Check out our blog post on inbound marketing for more information, or read our article on writing blogs.
Pay-Per-Click Advertising
Pay-Per-Click is another marketing strategy for electricians. Let's dive in!
Google Search Ads
Google Ads is a Pay-Per-Click strategy we recommend because it is really effective for your long-term growth. You can see where your business is advertising, adjust budgets, and scale your advertising budget.
Learn more about how Google Ads can advance your business goals, or how long it takes to work.
However, be careful as advertising on Google Ads can easily go through your ad budget if you are not a professional. Hiring a PPC professional for electricians almost always pays for themselves many times over.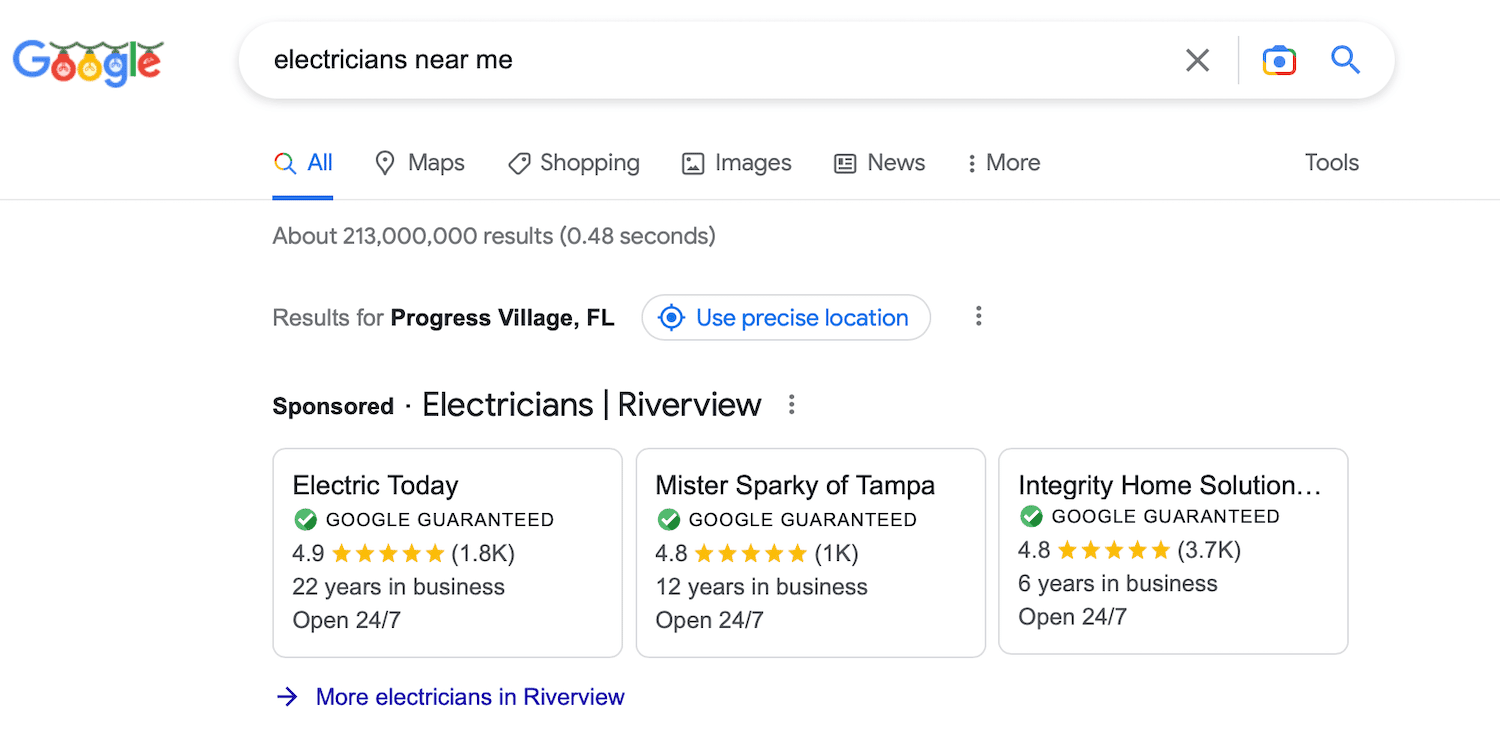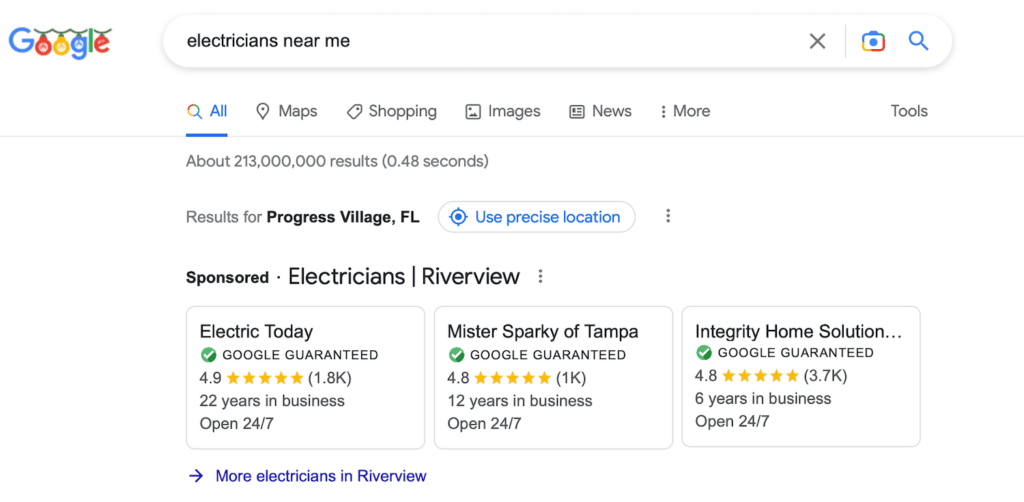 Google Local Ads
Similarly to Google Ads is Google Local Service Ads. Google Local Ads or Google Guaranteed Ads, helps business display their local business to consumers searching within a particular area for businesses/services like yours.
Local Google Ads for electricians are one of the most effective online advertising strategies.
To be effective with Google Local Ads and convert leads, use call tracking to track your return on investment (ROI), answer calls quickly, and have a high amount of Google Reviews.
Microsoft Ads (Bing Ads)
Microsoft Ads which is very similar to Google Ads. Consider using Microsoft Ads to increase your exposure even more with clients who choose Bing as their search engine of choice.
Yelp Ads
Lastly, we have Yelp Ads. Yelp Ads tend to perform well for electricians that have good Yelp reviews. Consider Yelp Ads alongside your Google Ad strategy to mix your marketing ideas. Many times, one platform's return on investment will be better than the other for a given time.
Email & Text Message Electrician Marketing
We also have email marketing and SMS marketing. Email marketing for electrician advertising is critical to your business's growth success. Many electrician businesses send newsletters to their past customers to help retain customers and boost their customer lifetime value.
On the other hand, you can also use email marketing for consumers who have inquired about your business online or subscribed to your blog posts.
SMS marketing does come with some regulatory restrictions. However, it can be beneficial to consumers who have opted in to receive SMS messages. Remember not to spam someone who has not agreed to receive messages from you.
Check out our email marketing ideas or even our SMS marketing guide.
Other Marketing & Advertising Strategies for Electricians
Direct Mail
Direct mail can benefit new communities or communities which are known to have electrical problems. Once a handful of neighbors utilize your services, the word may spread to others.
Branding on Vehicles, Uniforms, and Merchandise
Having a consistent brand presence can increase recognition in your service area. People are more likely to reach out to an electrician who they have seen repeatedly in their community compared to one that they have never seen before. Maybe sponsor a local community event and give out cups, pens, or t-shirts with your logo, colors, and branding.
Signage, Billboard, and TV Advertisements
Local TV and billboard advertising is a form of mass outbound advertising that can be highly localized to different regions.
Grow Your Electrician Business Today!
Shocking tips have been revealed! The best electrician advertising and marketing ideas and strategies! Implement a few of these strategies at a time and track your return on investment to see which campaigns are most effective for you.
Interested in electrician marketing services? Check out our marketing services for electricians!