Service pages are web pages commonly used for service-based companies. Service pages are usually coupled with service area pages so consumers can see what services a company offers and in what locations. In this post, we are going to cover a what service page is, how it helps SEO, and much more.
What Is A Service Page?
Service pages are used in search engine optimization and in web design services. They are web pages that are built around one particular service a company offers. For example, a plumber might have a page just about their drain cleaning services like the example below.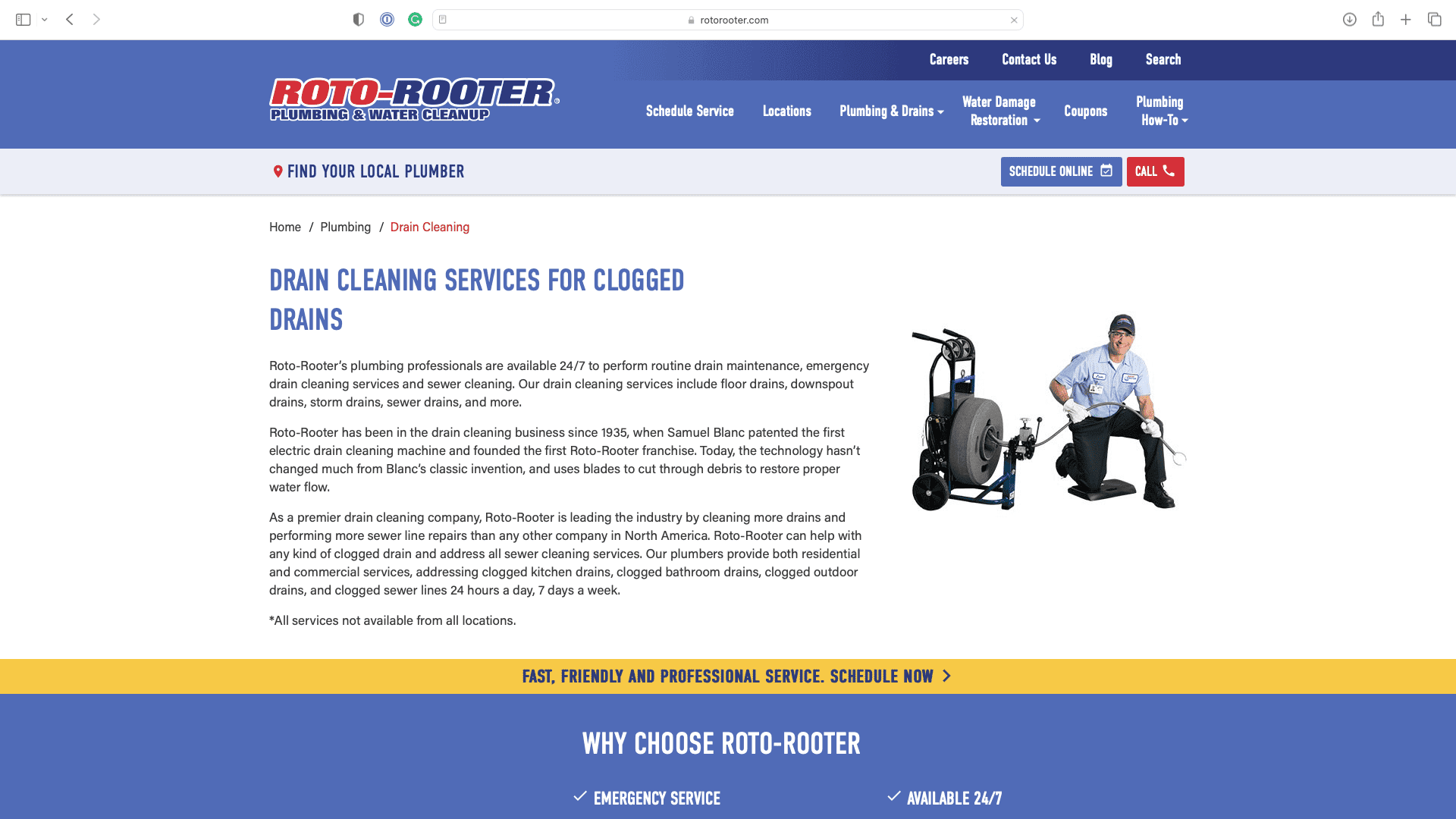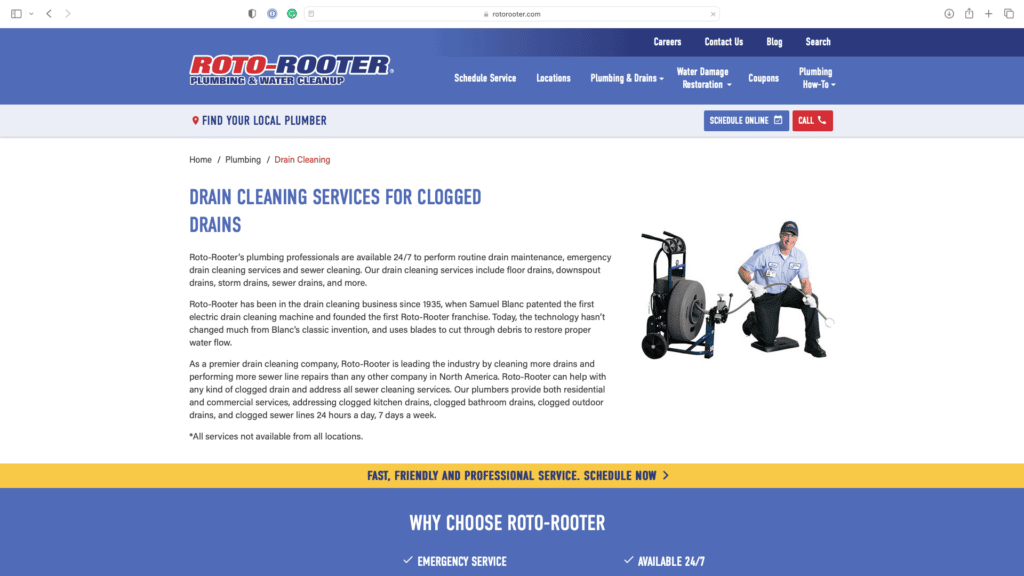 For SEO, it's important to have a service page for every service you offer. That way, when people are searching for your particular service, you will have a page optimized just for that keyword.
Listing your services on one single services page or on the homepage of your webpage can hinder your search engine optimization because it's not possible to optimize a single page for all of the services you may offer.
How To Optimize A Service Page
When optimizing your service pages, you should create a page for every service offering. The names of those pages should be optimized around what people are searching for to find that particular service.
For example, an inspection company might have a service page for home inspections, and another for commercial inspections. See the example below.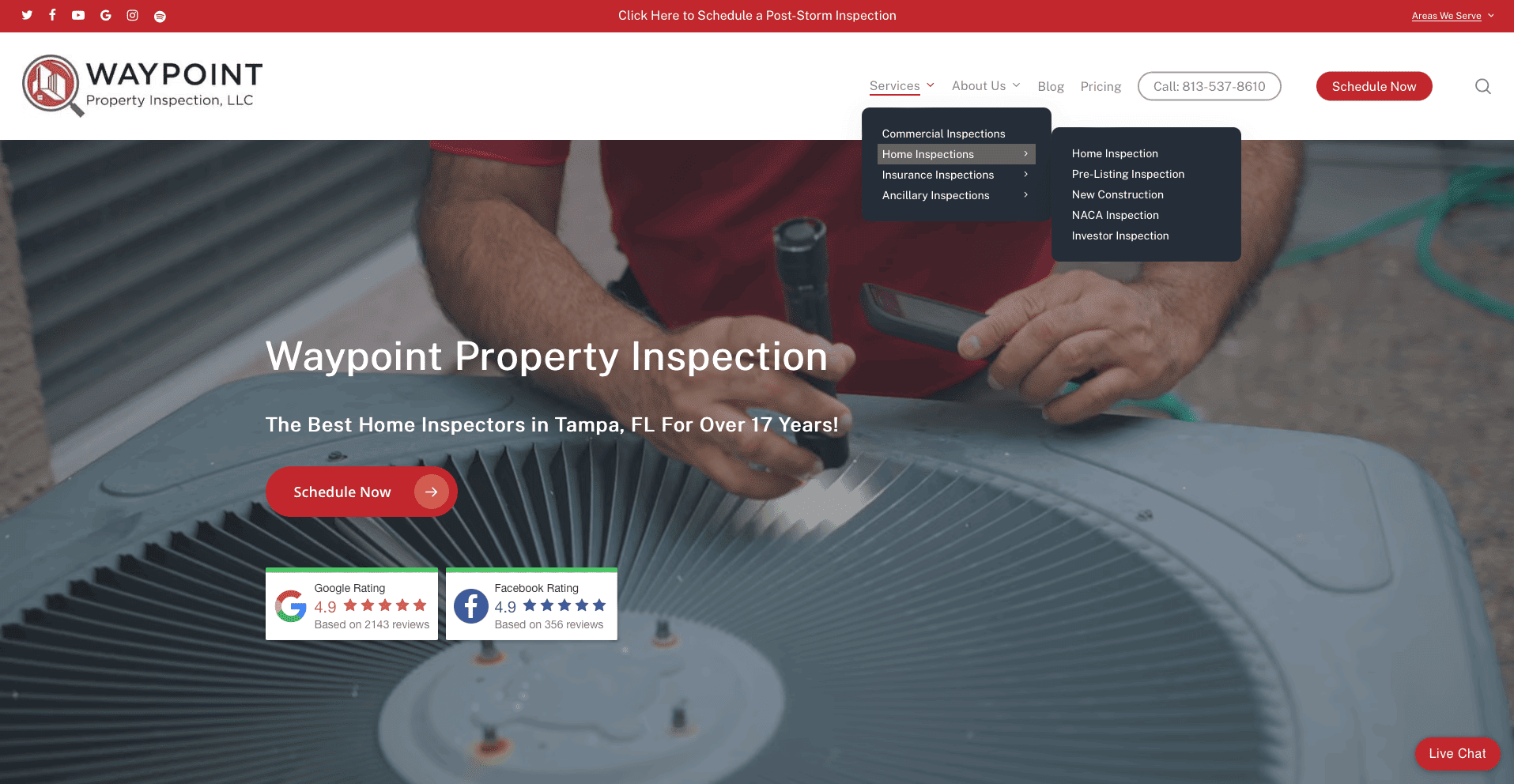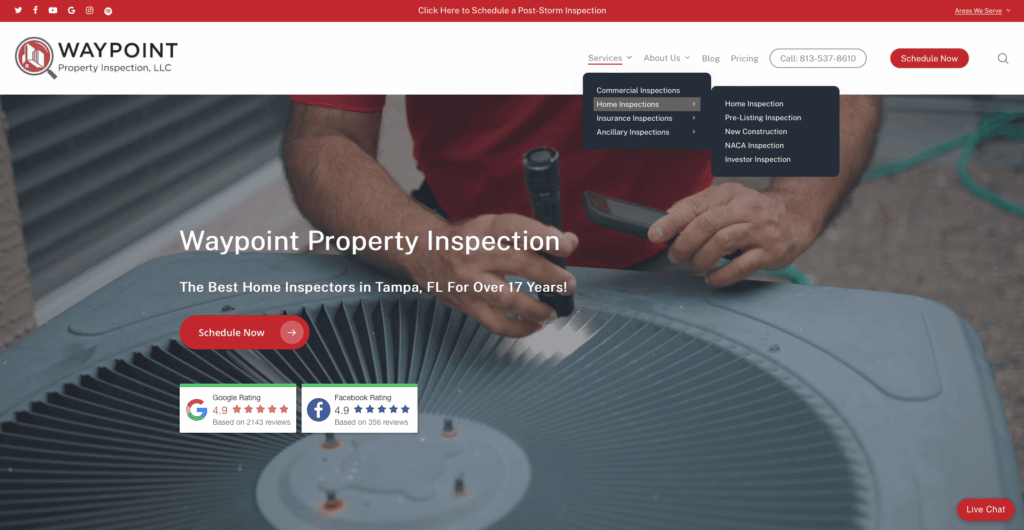 Learn how to rank your home inspection company #1 on Google.
Once a page is created for each service, use the following bullets to ensure each page is optimized for SEO.
Service name in the URL.
Service name as the page title and main heading.
Service name in subheadings.
Images with the service name as the file name, title, and alternative text.
Service name scattered throughout the page.
Service name in the meta description of the page.
Moreover, your service pages should also contain the following content:
What the service is.
What your company does and how it's different.
Pricing for the service.
Frequently asked questions.
Testimonials.
Scheduling or quote call to action.
Be sure to check your top competitors' web pages for the service and ensure your webpage for each service includes more information than theirs.
Finally, using the information above, apply a modern web design to ensure the website is pleasing to the eye and shows information in a concise manner. Just writing long paragraphs on web pages does not help the consumer, instead, breaks up content with your design.
Learn our do's and don'ts for SEO.
What About Service Area Pages?
Service area pages should be used in conjunction with service pages. While service pages talk about the service, service area pages talk about where you perform the service.
Service pages should link to your service area page. The service area page should clearly state where you perform services so it is clear to search engines and consumers.
We recommend using a combination of words to describe your service area, as well as images of maps. However, do not list all of the cities you serve as this will not boost SEO instead it can make consumers confused. Instead, list regions or counties. Moreover, list only major cities in your service area pages.
Check out the service area page from Waypoint Inspection as an example.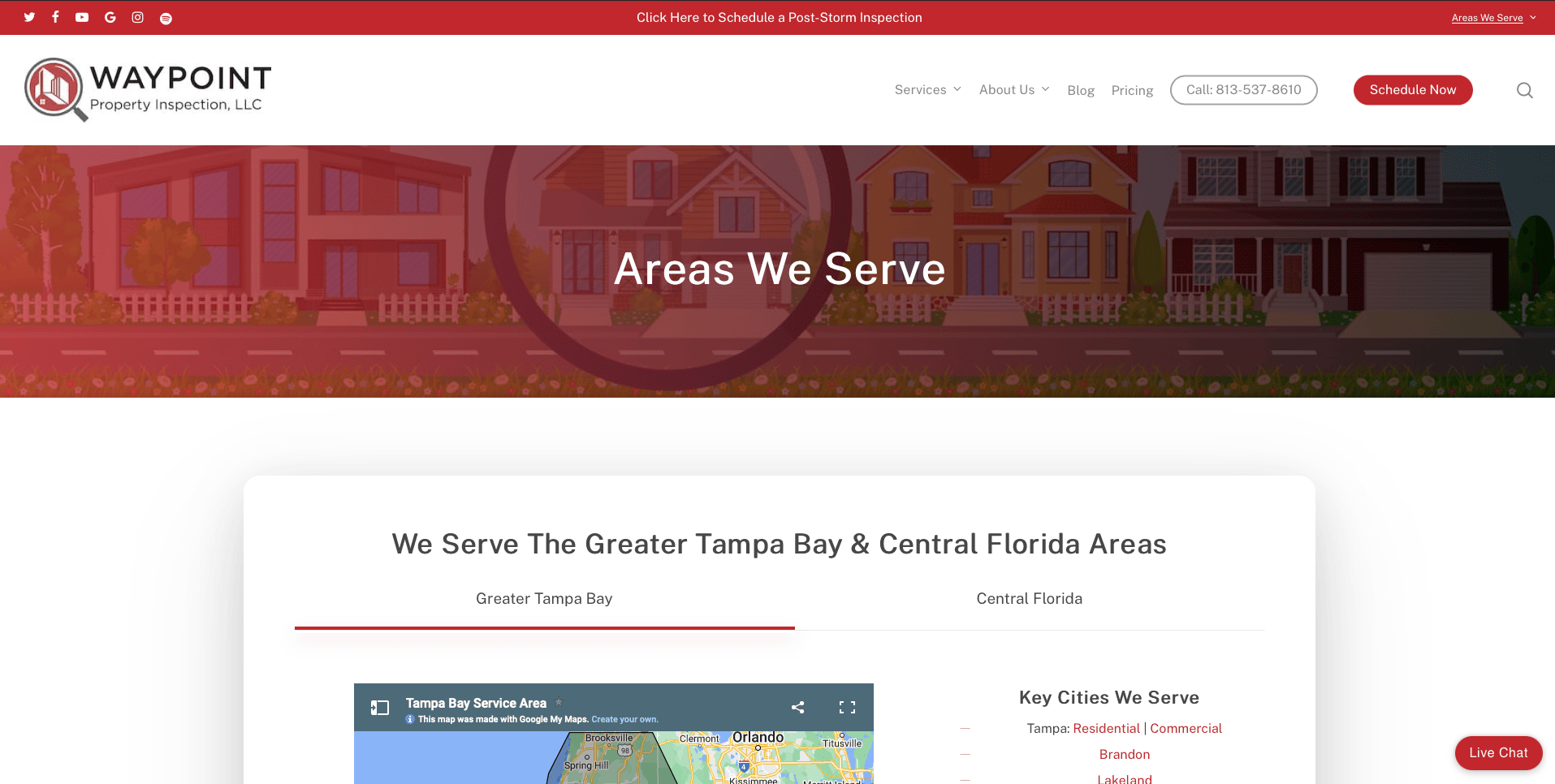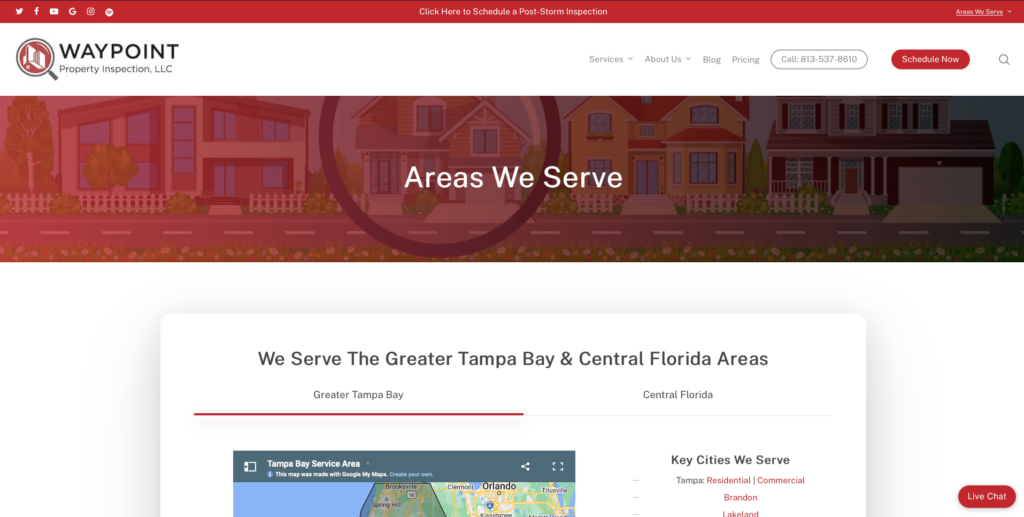 Learn our website organization best practices.
Optimize Service Pages For Your Service Area
If you serve in a general area, such as Orlando, FL, or Las Vegas, you can optimize your service pages for those cities by including the city right after the service name. If you serve many large cities, consider creating web pages for each main city and link to those web pages from your main service pages, as well as, your service area pages.
Check out this example for the keyword "Home Inspections in Palm Bay, FL" from Honor Services.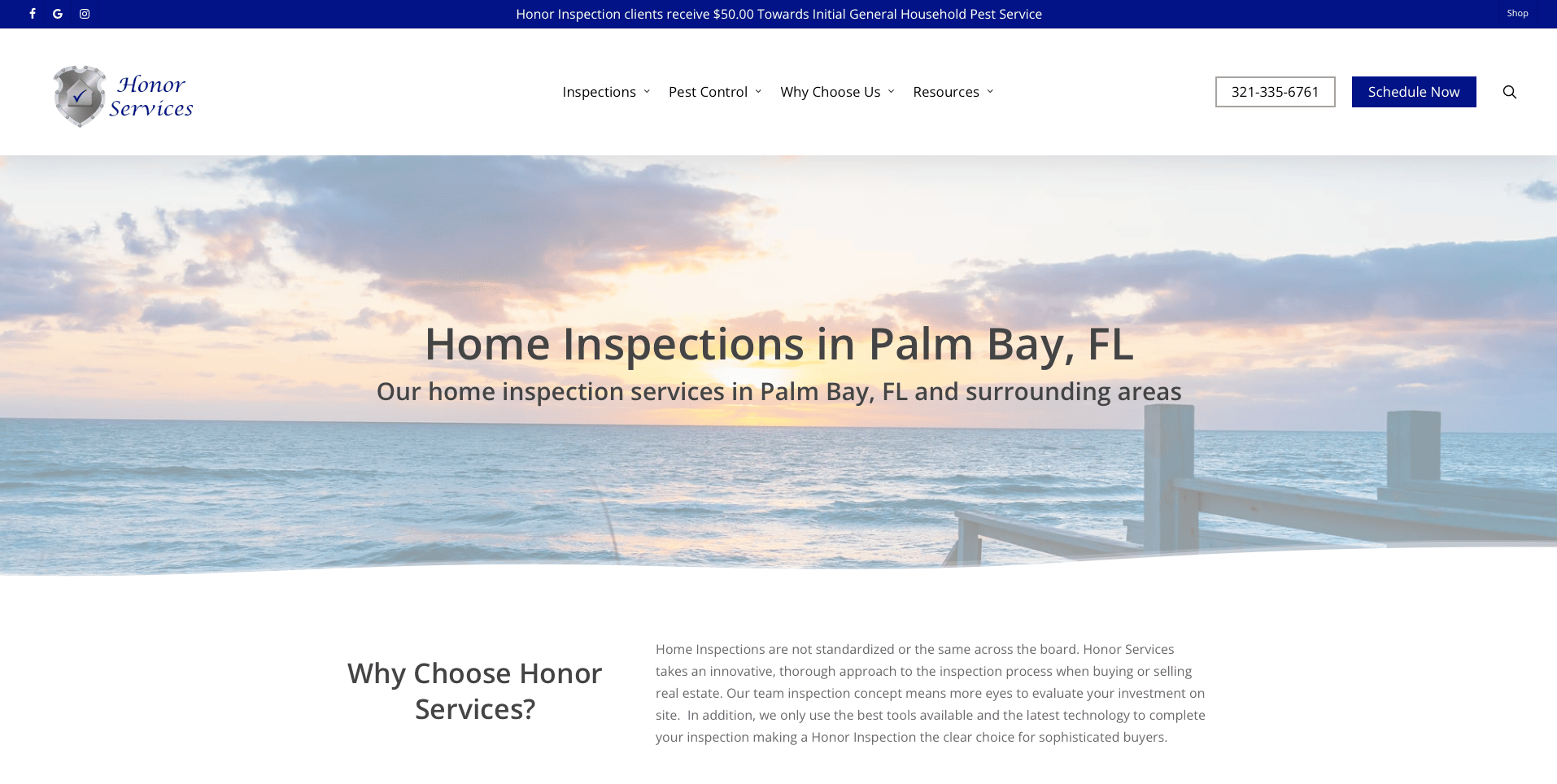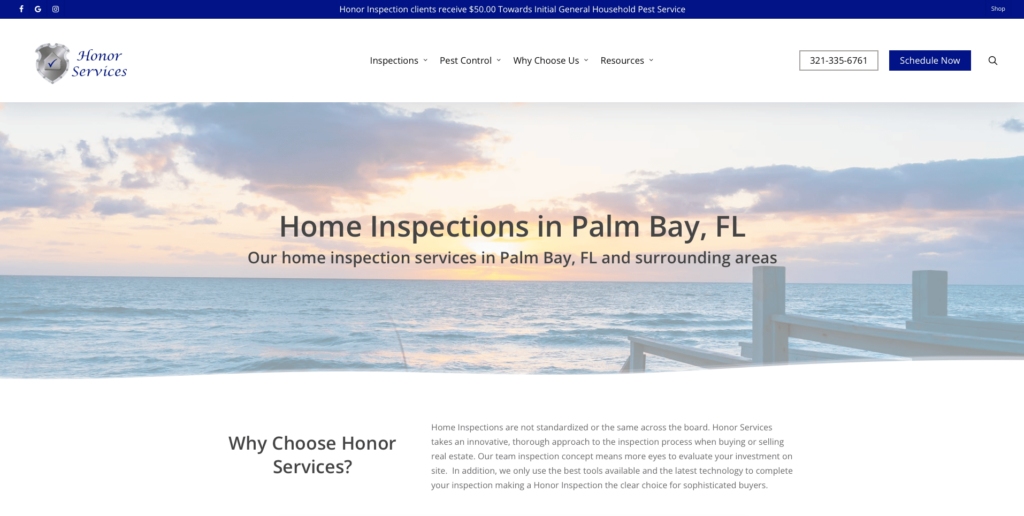 Boost Your Service Business's SEO Today
There you have it, what a service page is, how to optimize it, and even taking it a step further with service area pages. Use these strategies above to start improving your SEO today.
If you are looking for a web designer for your service pages, here's what you should look for.
If you need help with your search engine optimization, or web design consider scheduling a consultation with us. We help service-based businesses with their digital marketing.